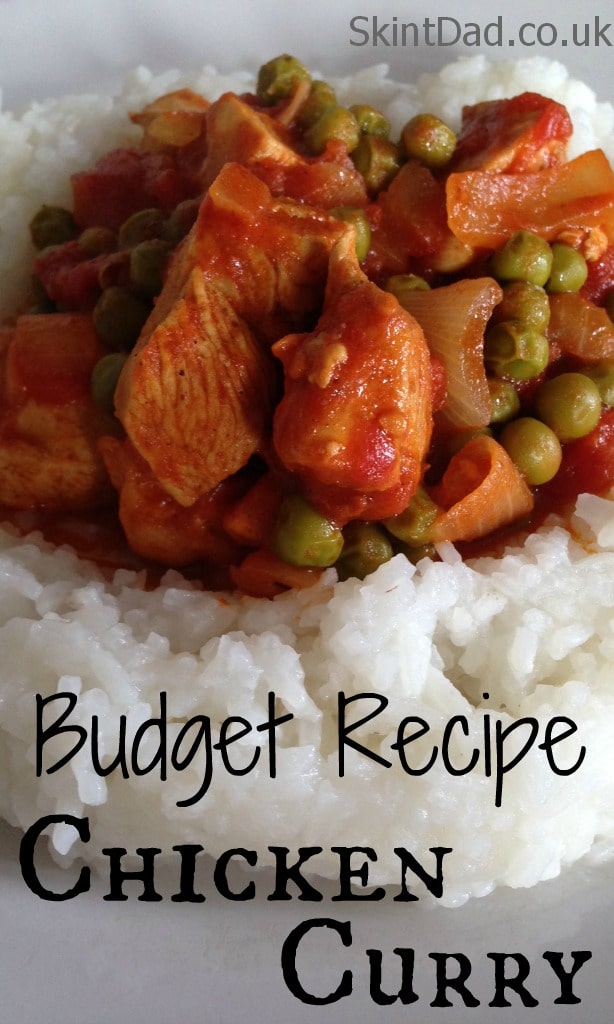 This chicken curry is a really simple, no frills recipe! You don't need to have loads of spices, create your own curry pastes or marinate anything at all.
I do like making a "proper" curry but they usually take a bit more planning and time. This is a recipe that you can cook the main ingredients then just leave it simmering until your rice is done – perfect for a week night dinner when you don't have time to mess about with intricate details.
Instead of buying a jar from the supermarket for £1.50, you could make your own with basic ingredients from your cupboard for a snip of the price! Make your food from scratch and save money!
As an added bonus, if you fancy making your own naan bread to go with this budget chicken curry, check out my vegetable masala fakeaway which contains the naan recipe for the almighty price of 46p.
Budget Recipe: Chicken Curry
Ingredients
500g chicken, diced (£2)
1 onion, chopped (12p)
2tsp curry powder (13p)
1 tin of tomatoes (31p)
300g frozen peas (29p)
1 chicken stock cube (2p)
300ml water
1tbsp oil (1p)
280g rice (11p)
£2.99 for a family of four - 75p each
Instructions
Heat the oil in a pan and cook the chicken for 5 minutes.
Add the curry powder and onion, stir in, then cook until the onion has softened.
Mix in all the other ingredients and simmer for 40 minutes
Serve with rice.
Each week I will be adding another recipe from the 
top 20 list of cheaters food
 to the site. 
Sign up here
for the recipes to land straight in your inbox.
Why not share your budget recipes to my budget recipe board on Pinterest.
Latest posts by Ricky Willis
(see all)