Last week I blogged that we absolutely love takeaway food but will not be ordering one anymore because the money can be better spent on getting us out of our dire financial situation.
This won't stop us going without though – every Saturday we're having a 'Fakeaway' instead of a takeaway.
Have a look here and see the rules we set ourselves.
___________________________________________________________
Fakeaway 12th October 2013
"Vegetable Masala Curry, Naan Bread & Onion Bhajis"
Total cost £2.57 for a family of 4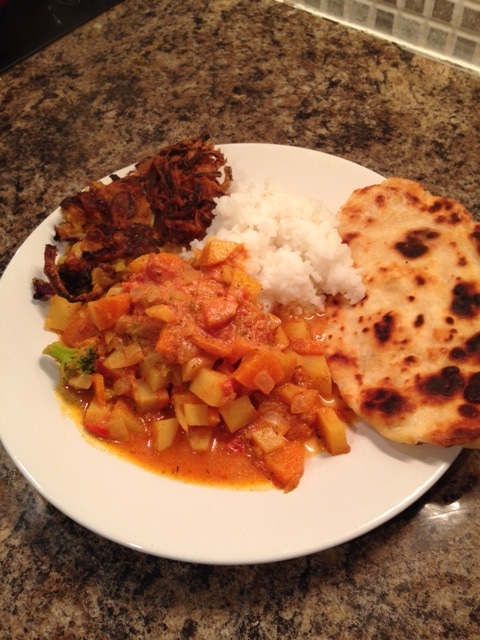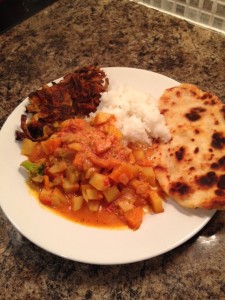 £10 BONUS OFFER: Earn easy cash by watching videos, playing games, and entering surveys.

Get a £10 sign up bonus when you join today.

Join Swagbucks here >>
Ingredients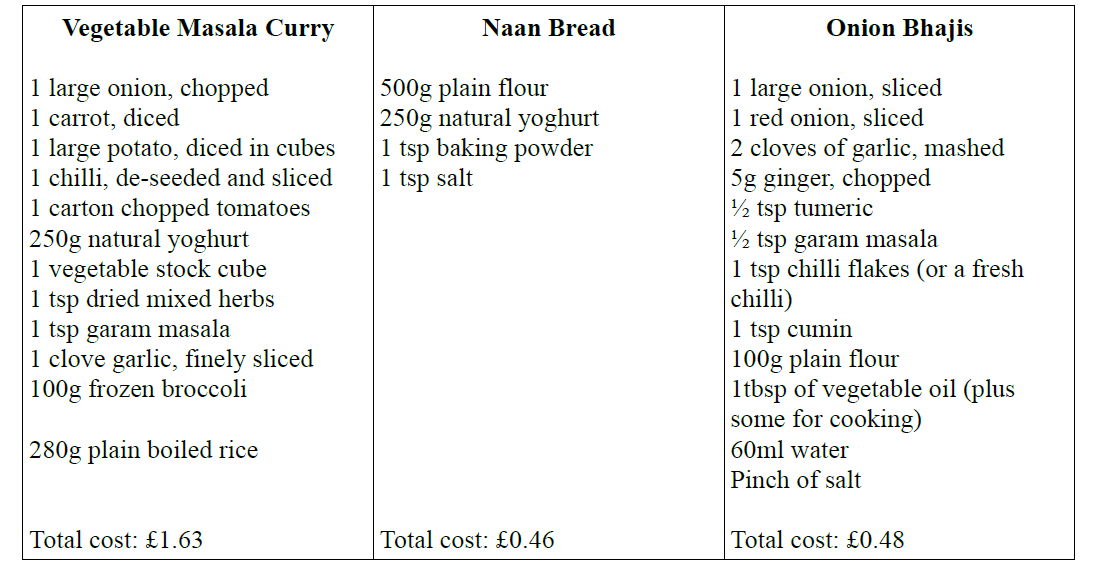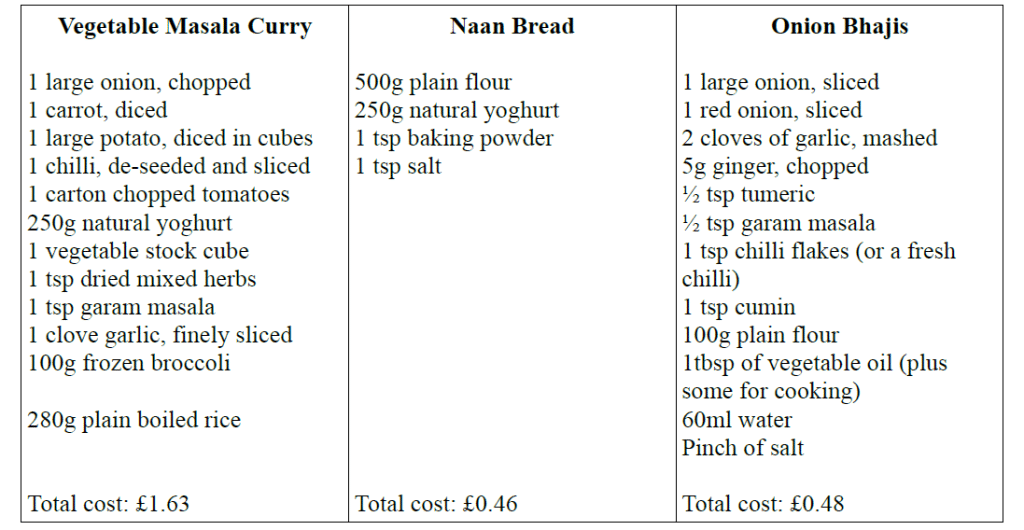 All ingredients used were either supermarket own brands or the lowest price.
We calculated the cost of each of the ingredients separately by looking at the item's total value, then working out what the amount we would need. For example, mixed herbs are £1.39 for 100g, for a 5g teaspoon full it would be 7p (£1.39/100 x 5 = 0.0695).
We own our own chilli plant (great birthday present), so this was not included in the cost.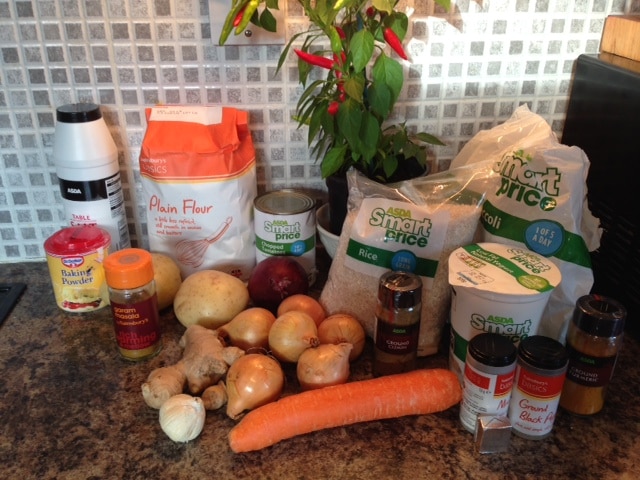 We started with the Naan bread as it needs to be left for an hour before cooking.
Plain Naan Bread
Add the flour, baking powder and salt to a bowl, mix then stir in the yoghurt.
Knead in the bowl until all the ingredients are mixed together well.
Place dough onto a floured surface, knead for about 5 minutes.
Place dough into a oiled bowl and allow to sit for roughly an hour.
While the dough is being left for an hour, you can start to cook the Vegetable Masala Curry (see below)
After an hour, take dough and divide into 6 balls.
Flatten each ball onto a floured surface with a rolling pin to about ¼ thick, and roughly 6 inches long.
Then onto the fun stuff – first toss each naan into a oiled non-stick frying pan for roughly 3-5 minutes (you should see brown spots and it will bubble slightly).
Place in the oven on a medium heat for 2 minutes to finish off (this will make the naan puff up).
Serve straight from the oven.
Vegetable Masala Curry
Add the chopped onion and garlic to a medium sized pan and sauté with a splash of oil for a few minutes.
Stir in the diced carrot and potato.
Take the sliced chilli, garam masala and mixed herbs, add to the pot.
Reduce heat and add 200ml vegetable stock, chopped tomatoes and the yoghurt. Simmer for 45 minutes minimum.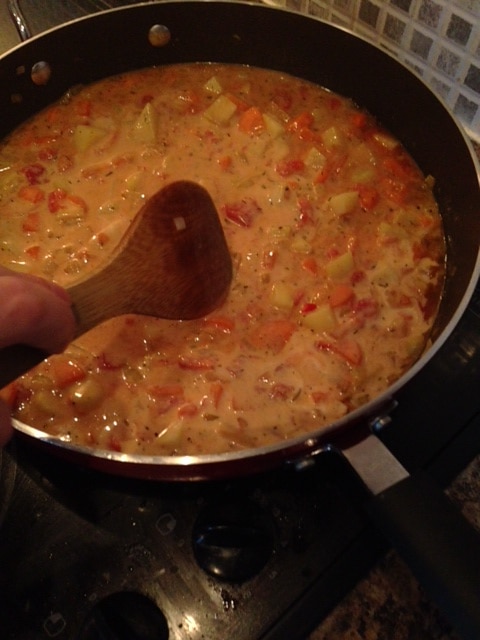 Now would be a good time to cook the onion bhajis, finish off the Naan and boil the rice.
Occasionally stir and add more water if necessary.
Add the frozen broccoli at least 5 minutes before serving to allow time to cook.
Serve with boiled rice.
Onion Bhajis
Separate the onions and mix in a bowl with the spices, flour and salt.
Add the oil and water and mix everything together until fully coated.

Heat oil in a pan and once hot, add a table spoon size of the bhaji mixture to the pan.
Fry on both sides until golden brown. Mop up any excess fat with kitchen roll.
Put on a baking tray in the oven on a low heat until they are ready to be served.
Serve all at once and eat like kings!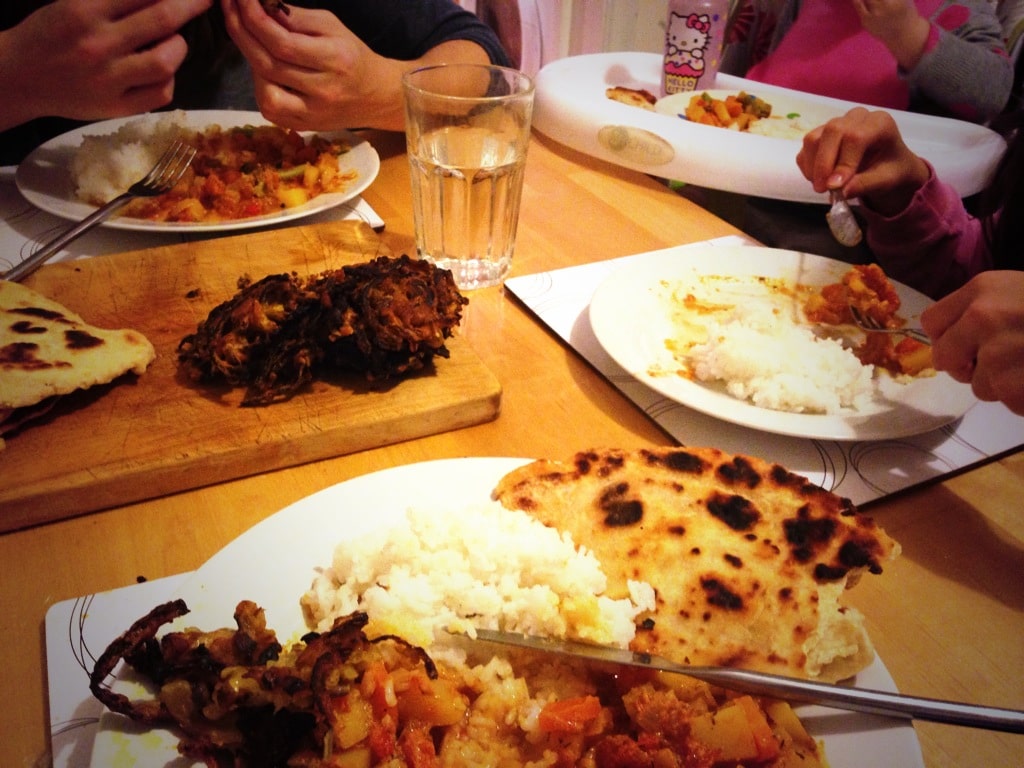 ___________________________________________________________
After all the washing up was complete, we settled down on to the sofa to watch some Saturday night TV. Absolutely stuffed.
On reflection, we would definitely cook this again. We really enjoyed learning to make some new dishes and cooking on a budget. It's amazing what you can do with a few pounds if you put your mind to it and plan ahead.
I still don't quite believe we managed to make all of this food from scratch for less than £3. It tasted great and although it had a bit of a kick it wasn't too hot for the children. Definitely a new family favourite.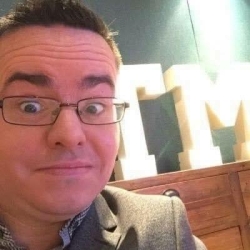 Latest posts by Ricky Willis
(see all)