This is a really easy lasagne recipe. A lasagne is basically the same recipe as my Spaghetti Bolognese but I just don't add any carrots. I don't know why I just prefer it without.
Saying that, when I batch cook Bolognese, instead of just having it with spaghetti, to make a change, I will use the meat sauce to make nice lasagne.
I often put the lasagne together the night before, or earlier in the day, and leave it in the fridge. I then just pop it into the oven in the run-up to dinner time, meaning I need to spend less time cooking (and cleaning!) after school.
There always seems to be an argument about whether the lasagne sheets get put on the meat first, or whether the white sauce is used first.
I always put the lasagne sheets on first, I don't know if it makes a difference, it's just the way I do things.
If there is a reason I should be doing it the other way around please do let me know.
Yield: 4
Easy Lasagne Recipe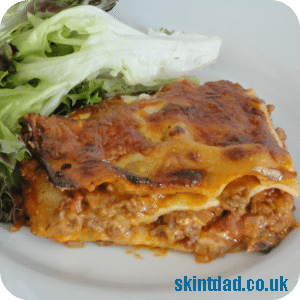 £10 BONUS OFFER: Earn easy cash by watching videos, playing games, and entering surveys.

Get a £10 sign up bonus when you join today.

Join Swagbucks here >>
Ingredients
Meat sauce ingredients
500g minced beef
1 onion, chopped
1 clove of garlic, crushed
100g mushrooms, sliced
1 tin of chopped tomatoes
1tbsp tomato puree
1 beef stock cube, dissolved in 250ml hot water
1tsp mixed herbs
1tsp sugar
salt and pepper to season
1tbsp oil
White sauce ingredients
50g butter
50g plain flour
500ml milk
pepper
50g grated cheddar cheese
Lasagne
10 lasagne sheets
50g grated cheddar cheese for the top
Instructions
Add the oil to a big based pan and gently fry to the onion and garlic.
Once the onions have turned translucent, add the beef and brown.
Add all the other ingredients, stir and leave to simmer for 30 minutes.
For the white sauce, in a separate pan, gently melt the butter then add the flour and mix in.
Stir in the milk, a little at a time to make sure no lumps appear.
Once all the milk has been added, continue to stir and it will thicken after a few minutes.
When thick, remove from the heat and stir in the cheese.
To make the lasagne, add about a third of the meat sauce to the bottom of an oven proof dish. Add the a few lasagne sheets on top to cover then a third of the white sauce. Then repeat – meat, sheets, sauce twice more and sprinkle the cheese over the top.
Bake in the centre of a 180C preheated oven for 45 minutes.
Notes
We used about 10 sheets for our dish but you may need to use slightly more or less. We served our lasagne with a little salad (22p per 80g portion).
The price comparison between cooking from scratch and buying ready-made is amazing.
The total for this lasagne recipe was £3.82.
If you bought a ready-made lasagne to feed a family of four from ASDA, you would look to spend £5.48, or you can buy kits for £3.98 (plus £1.99 for the beef mince and more for cheese) or buy the ready-made Dolmio sauces for £1.80 (versus the 59p we spent making our from scratch).
Prices correct as at June 2014.
Cooking from scratch is cheaper and, as it uses fresh ingredients, it's a lot healthier too.
Each week I will be adding another recipe from the top 20 list of cheaters food to the site. Sign up here for the recipes to land straight in your inbox or tweet me if you make your own meal from scratch to @skintdad.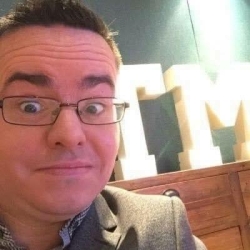 Latest posts by Ricky Willis
(see all)