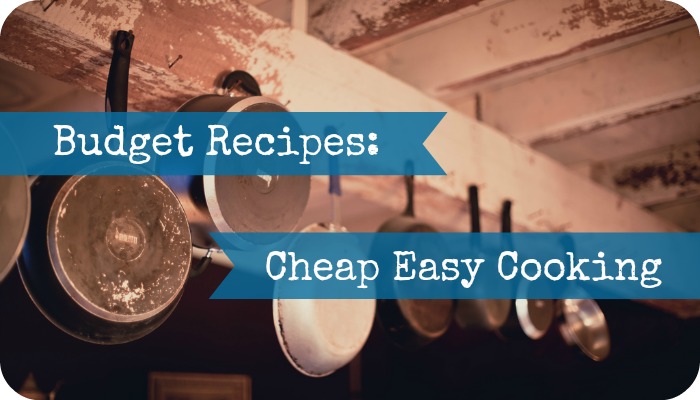 Spaghetti Bolognese is a firm family favourite in our household, and it's liked even more when we mop it up with a little garlic bread (if we are really spoiling ourselves).
This is always a quick mid week meal, with a few hidden vegetables, that fills the family and will always leave enough left over for lunch the next day.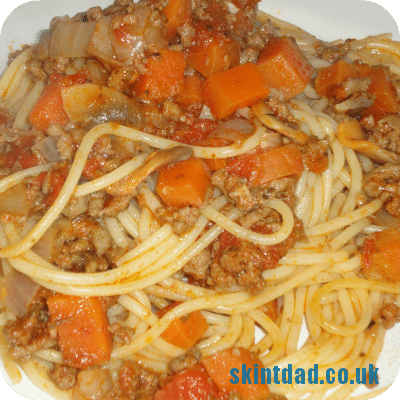 I hate measuring spaghetti and whenever I have I either cook way too little or way too much. Cooking it all at once seems to make sense as we just heat it up for a quick lunch the next day.
It may be one of our easy recipes but 1 in 6 people have never cooked a meal from scratch, and people are using pre made jars and ready meals instead of using store cupboard basics.
Spaghetti Bolognese is on the top 20 list of food that British families cheat at making. If you haven't made this from scratch before why not give it a go – you'll see it tastes so much better and it a lot cheaper!
Spaghetti Bolognese Recipe
Ingredients
500g minced beef (£1.99)
1 onion, chopped (6p)
1 clove of garlic, crushed (4p)
2 carrots, chopped (12p)
100g mushrooms, sliced (21p)
1 tin of chopped tomatoes (31p)
1tbsp tomato puree (4p)
1 beef stock cube (2p), dissolved in 250ml hot water
1tsp mixed herbs (2p)
1tsp sugar (1p)
salt and pepper to season (1p)
1tbsp oil (2p)
500g spaghetti (23p)
£3.08 total – 77p each (very big portions plus left overs)
Instructions
Add the oil to a big based pan and gently fry to the onion, garlic and carrots.
Once the onions have turned translucent, add the beef and brown.
Add all the other ingredients, stir and leave to simmer for 30 minutes (add a little more water while cooking if needed).
Cook the spaghetti for 12 minutes, drain slightly, then add to the Bolognese sauce with a little of the spaghetti water.
Mix it all in well then serve.
Notes
Prices are correct at time of cooking and are based on supermarket basic label, where they were available. We don't shop at one supermarket and shop around to get the best bargains.
Adding the pasta to the sauce makes the food go a lot further and the spaghetti absorbs the flavours of the sauce.
As a comparison, you can buy Dolmio Bolognese Sauce for £1.80 or ASDAs own for 84p, which makes this recipe not only better value for money but a healthier option as well!
Each week I will be adding another recipe from the top 20 list of cheaters food to the site. Sign up here for the recipes to land straight in your inbox.
Latest posts by Ricky Willis
(see all)