Since 5 October 2015 shops in England have been charging 5p for a plastic carrier bag. However, there are a lot of times when, by law, they didn't need to.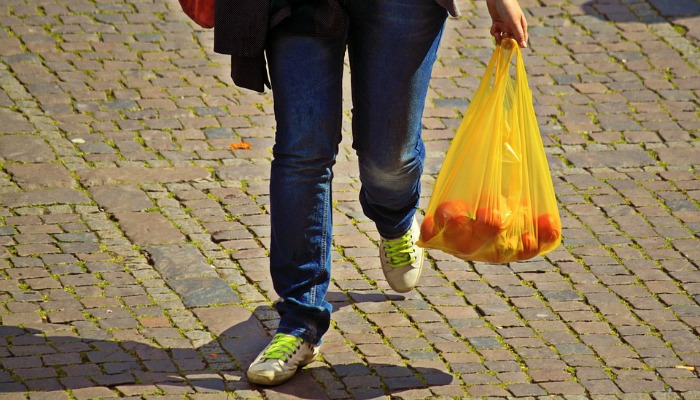 £10 BONUS OFFER: Earn easy cash by watching videos, playing games, and entering surveys.

Get a £10 sign up bonus when you join today.

Join Swagbucks here >>
First up, hear me out – I am not a major fan of throw-away plastic bags!
I mean why bother using them when there are plenty of reusable ones (like the shopping trolley ones or even a decent Ikea bag) about. And when so many plastic bags end up in landfills, in rivers or in the tummies of unsuspecting animals, not using them helps our communities to be a little more eco.
However, from time to time, you still need to buy a 5p bag (which can still be re-used to be fair). Either you've bought too much stuff (whoops!) or you made an unexpected stop off at the shops or you just outright forgot.
And, at the end of the day, we don't have mad carrying skills (like this monkey), so you will still need to buy the odd plastic carrier bag.
When does a retailer need to charge for a bag?
Since 5 October 2015, retailers in England (who have over 250 members of staff) have charged us 5p for a carrier bag. This is not just supermarkets, but all shops.
Couple of years in and I think we're pretty much used to it now – and probably all in agreement that it's a good thing, having driven down waste.
So, you get charged when you use bags from a store and if you get a food deliveries (and haven't ticked no to bags).
When you don't get a bag charge
There are quite a few instances where we are exempt from being charged for a plastic bag:
Shops who have paper carrier bags aren't required to charge us (not Scotland)
If you've been shopping at an airport, on board a train, or an aeroplane or on a ship then you don't need to be charged
And then, if you've bought a wide range of items then retailers don't need to ask us to pay 5p (see the big BUT below)
If you choose to pay more than 5p for a bag, then the retailer must class it as a "returnable multi reuse bag" which they have to replace free of charge when you take it back and it's worn out.
Carrier bag charge exemption
There are actually quite a lot of things exempt from the bag charge. That means that shops do not need to charge customers to use a carrier bag.
wholly or partly unwrapped food for human or animal consumption
This is for food safety and includes things like loose fresh fruit and vegetables, bread, pick and mix sweets etc. But also for takeaway food like chips
wholly or partly unwrapped loose seeds, bulbs, corms, flowers, rhizomes or goods contaminated by soil
This is for food safety to avoid contamination and also includes flowers and plants
uncooked fish or fish products, meat or meat products or poultry or poultry products
This is for food safety
prescription medicine
So pharmacists can comply with legal requirements and for confidentiality
wholly or partly unwrapped axes, knives, knife blades or razor blades
Again, for safety
On top of that, if you don't need to pay if the bag is for solely to contain live aquatic creatures in water as not using a bag is not an option or for dry cleaning.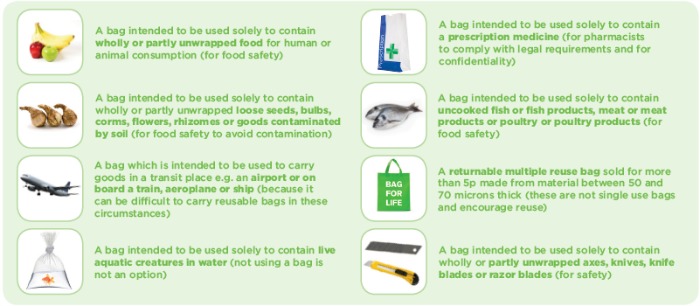 Please be clear that the bag needs to be used solely for the item purchased.
If other items are added to the bag then a charge will need to be made.
So, if you buy a dozen bananas, a bulb of garlic and some razors, then they could be placed in a bag without the 5p charge. However, if you add a tin of baked beans then you must pay for a plastic bag.
BUT
Now this is a big but!
The exemptions above mean that the retailer does not need to charge by law.
BUT….it is up to the retailer to decide if they want to do so or not, regardless of the law.
Basically it means that a shop can do what ever they please.
Feel hard done by?
Now I know that there will be a few of you how are a bit miffed.
You've no doubt been charged in the last few years for a bag that – by law – you did not need to pay for.
But (and here's that but again) shops don't have to follow this. In a way, it doesn't really matter that the government made a law with exemptions if the shops can choose their own rule.
While we may have been charged more, I think it's worth remembering why the bag charge was started in the first place.
Back in 2014 over 7.6 billion single-use plastic bags were given to customers by major supermarkets in England. Break that down and it works out as 140 bags per person.
Did we really need to use so many?!
Since the bag charge, the number of 5p bags used has gone down by more than 80% in England with the money raised going straight to charity. The government is estimating that up to £730 million will be raised for good causes over 10 years!
So, perhaps the best course of action going forward:
While we don't know if retailers will charge us for plastic bags or not (regardless of the exemption), in the hope of reducing carbon emissions and helping to reduce waste, why not try to ditch the 5p bags and have a reusable one instead?
And be sure to keep a lookout for "till tax"! Government proposals could mean we're charged to use self-service tills to put money back into community projects.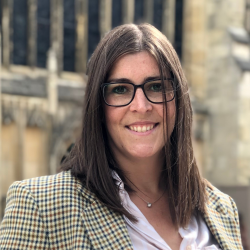 Latest posts by Naomi Willis
(see all)