In need of a new slow cooker but don't want to spend a fortune? Check out these deals and get a cheap slow cooker that costs less than £40, which are suitable if you need to feed just two people or a whole army!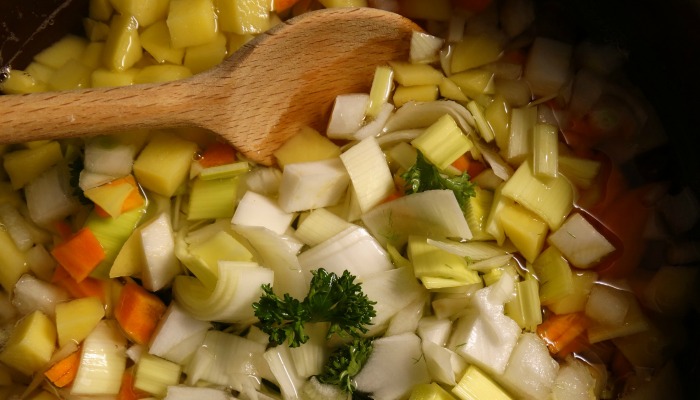 £10 BONUS OFFER: Earn easy cash by watching videos, playing games, and entering surveys.

Get a £10 sign up bonus when you join today.

Join Swagbucks here >>
My slow cooker is one of my true loves <3 (alongside my wife and kids, obvs!!)
Not only can it cook a delicious and nutritious meal for me and the family, it takes me very little effort to chuck a dinner together and the washing up is minimal :-)
I'm a relatively new slow cooker convert, having only had one for three years or so, but it is a purchase that I think all households should make and is an essential piece of kitchen kit that would sit alongside the humble can opener or a wooden spoon.
With slow cooker recipes including a turkey chilli, various soups, Bolognese, and even a slow cooked bread and butter pudding, we've taken our slow cooker for a full test drive, got the t-shirt and eaten well in the process!
Benefits of using a slow cooker
There are many benefits to having a slow cooker:
Low energy consumption – saving you money on gas and electric
Makes cheap, tough meat really tender – reducing your food bill
No effort – saving you time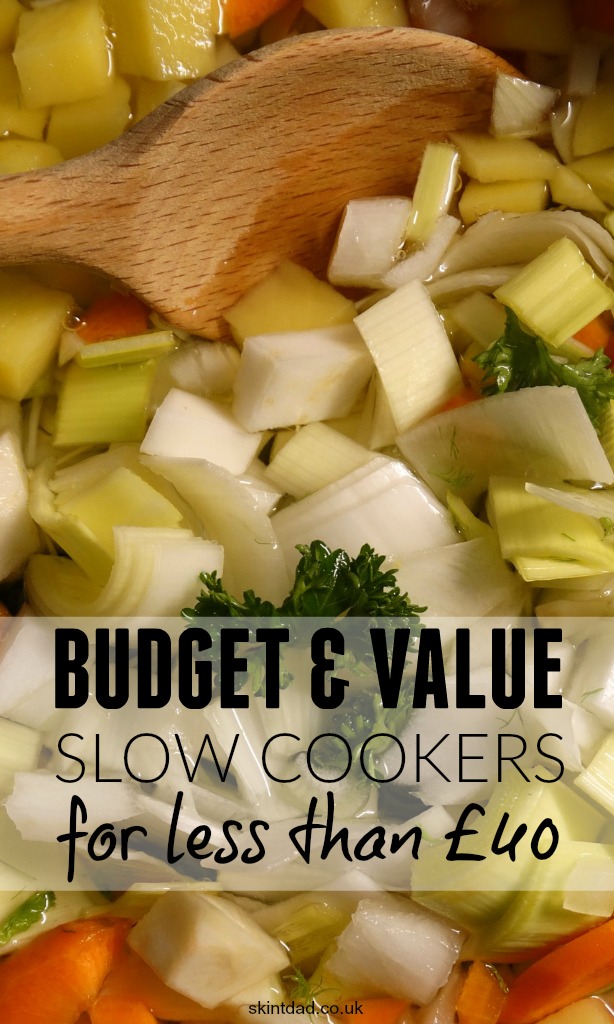 What slow cooker should I buy?
Well it's all about size!
Depending on how many of you there are in a household, you need to look at how many litres your slow cooker will hold. This isn't about how much water or liquid you put in it (because that's actually very little), but it's about how much actual food it will fit.
If there are two of you, aim for a slow cooker that is 1.5 litres. As the plates you have to serve up get bigger, get a larger cooker. If you like lots of leftovers (freeze them!) or have more mouths to feed try a 6.5 litre slow cooker. There are bigger ones that you can get hold of too!!
It's also a good idea to opt for a slow cooker that has an auto option. Most slow cookers come with a high or low and will cook your food on either setting you choose. If you select the auto option, the slow cooker will cook the food on high for an hour (some are set up for longer) and then will switch itself to low so the food can cook for longer periods of time.
Find a deal: cheap slow cooker
If you're working to a budget and want a thrifty way to cook for you and your family (no matter what the size) take a look at these cheap slow cookers selling for less than £40.
---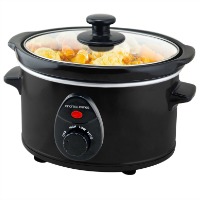 Andrew James Premium Slow Cooker
If you are after a small slow cooker then this Andrew James model may be up your street.
The slow cooker is 1.5 litre and made from stainless steel. The internal bowl is made of ceramic which means it's really easy to clean and the handles are cool-touch so you can take it to the table to serve straight up. Because it's ceramic, it will also keep the food warmer for longer after you finish cooking.
It comes with a 2 year warranty which you don't need to fill in any forms or register for.
---

Russell Hobbs 22730 Compact Slow Cooker
This low cost Russell Hobbs slow cooker has a 2 litre capacity which should feed 1 – 2 people well. Perhaps you're a student, live alone, are a couple or just need a spare slow cooker to do a side dish or cake while dinner is cooking?
The lid is clear so you can watch what you're cooking The pot is removable for easy cleaning and the handles remain cool to make it easy when serving up.
---

Crock-Pot Slow Cooker
This slow cooker made by Crock-Pot has a 3.5 litre capacity so should be able to feed up to 3 people.
The pot is made from stoneware and has a Rinse-Clean coating. The pot and lid are also dishwasher safe for even more convenience.
On top of that, the pot is oven proof so any leftovers can be heated in the oven, rather than having to store leftovers elsewhere (cuts down on washing up).
Plus, it's purple – how cool is that?! It also comes in red, putty and mid grey.
---

Morphy Richards Accents 48703 Sear and Stew Slow Cooker
The slow cooker has a capacity of 3.5 litres which will feed 3 – 4 people.
The Morphy Richards Accents slow cooker is able to sear and stew in the same pot. If you are cooking a stew and want to brown your meat off first, this slow cooker allows you to do that – saving on using another pan and saving on washing up! You can make sure you lose no flavour as the juices from the meat will stay in the same pot.
The pot and lid are dishwasher safe as well. You also get a recipe book with this slow cooker which contains over 25 slow cooker recipes from soups to curries and puddings.
---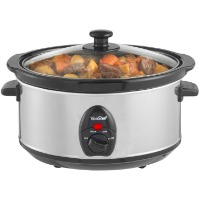 VonShef Electric Slow Cooker
You'll be able to feed a family of 4 with this slow cooker which has a 3.5 litre capacity.
This slow cooker is dishwasher safe, has a toughened glass lid and has non-slip feet to make sure it won't move around. It also comes with a free 2 year warranty.
The ceramic pot and lid prevent any water from escaping while it's cooking which keeps all the nutrients locked in, making sure vegetables are extra healthy.
---

Crock-Pot Sauté Traditional Slow Cooker
What a beast this one looks like! This 4.7 litre capacity slow cooker can feed up to 5 people. It's made by Crock-Pot who are one of the USA's leading slow cooker (or crockpot) makers.
The stoneware pot is very versatile and can be used in the slow cooker, on the hob, in the over, in the microwave and even in the fridge and freezer! The pot and lit and both dishwasher safe.
You also get a recipe book with 15 slow cooker recipes by Phil Vickery.
---

James Martin ZX771 Slow Cooker
This James Martin Slow Cooker has a 5 litre capacity so will feed a family of 4 well with some leftovers or even if you are entertaining.
It has touch handles that can be taken straight to the table and the pot and lid are dishwasher safe.
As it's from the chef James Martin, you also get a recipe demonstration DVD in the box as well. It shows you show to use the slow cooker and you get three recipes to get you started.
---

Andrew James 6.5 Litre Premium Digital Slow Cooker
If you are looking to feed more mouths, this 6.5 litre slow cooker will win it for you. It will give you approximately 16 – 20 servings – not quite enough for an army – which is enough to feed your family and have enough put into portions in the freezer for another time.
Rather than being a standard model, this slow cooker has a digital display for extra options. You are able to put a 2 to 20 hour timer on and use a 12 hour delay function, meaning you can totally control what you cook and when.
There is also some recipe suggestions included as well as the usual 2 year warranty.
---

Morphy Richards Oval Slow Cooker
I may be slightly biased here but this is the slow cooker that we own. My sister bought me this as a gift in my skintest of days and we've had so much value out of it!
Now about 3 years old, it has a few knocks to the outside but cooks our dinner to perfection. We've also tried other things too, like a whole roast chicken, fudge and bread and butter pudding!
It's a totally fuss free way of cooking.I'll prep the ingredients in the morning, pop it all in, turn it on and we eat like kings for dinner 8 or 9 hours later. It has a capacity of 6.5 litres which is big for a family of four but we like to have left overs for lunch the next day.
---

Andrew James 8 Litre Premium Slow Cooker
For less than £40, you will struggle to find another cheap slow cooker which boasts an 8 litre capacity!
Whether you are feeding a small army, a football team, are throwing a party or just have a large family and like to freeze what's leftover, you will get good use out of this machine.
The pot is ceramic and they say it can hold enough for approximately 20 – 25 servings. The pot has cool-touch handles making it easy to lift out once it's cooked and can go straight on the dinner table, or be the centre piece in a buffet.
Are you a cheap slow cooker convert? Please feel free to share your best recipes in the comments below.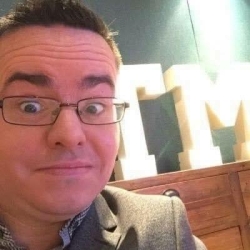 Latest posts by Ricky Willis
(see all)