We decided to try a slow cooker turkey chilli (instead of using beef) and it was delicious, full of flavour but isn't too hot to scare off the kids.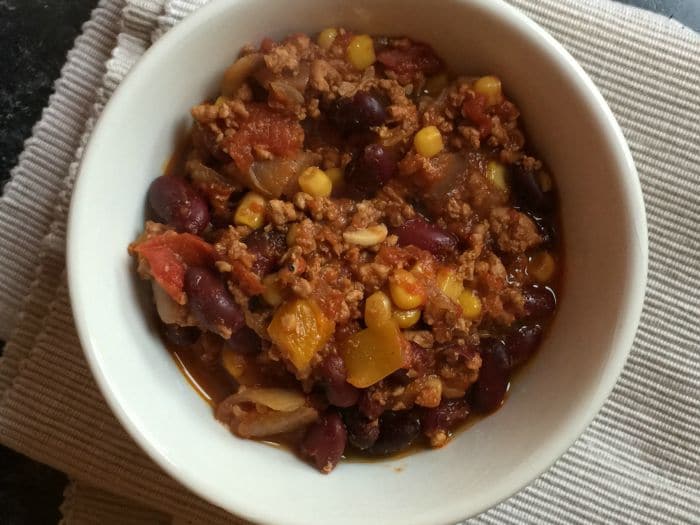 This site contains affiliate links. We may receive a commission for purchases made through these links.
[Learn more]
After being on a bit of a health kick for the last few months, we've been reassessing most of the food that comes home with us from the supermarket.
Beef in many forms would be on our meal plan at least two or three nights a week. From a beef stir fry to Bolognese and chilli – the main ingredient in all of them was read meat.
Not only was this probably damaging our health but it was also having a knock on effect on our food bill and budget. Without blowing my own trumpet (too much!) I know that I can shop smartly and cheaply and eat well on very little – I'm pretty well know for it! However, I was conscious that my love of meat, especially red meat, was having a negative impact on our budget.
I know that we could sign up to meat free Mondays or alike and we already have a number of veggie meals but my focus was cutting out the beef, without cutting out some of my favourite meals.
I started to look at turkey mince as an alternative. In only a few short minutes I knew I had to try it; turkey mince is lean and therefore healthier than beef mince and it was also cheaper! Added bonus.
Decision made, I bought a pack of turkey mince and now had to put it to the taste test. As I had a busy day and evening, it went into the slow cooker as a turkey chilli.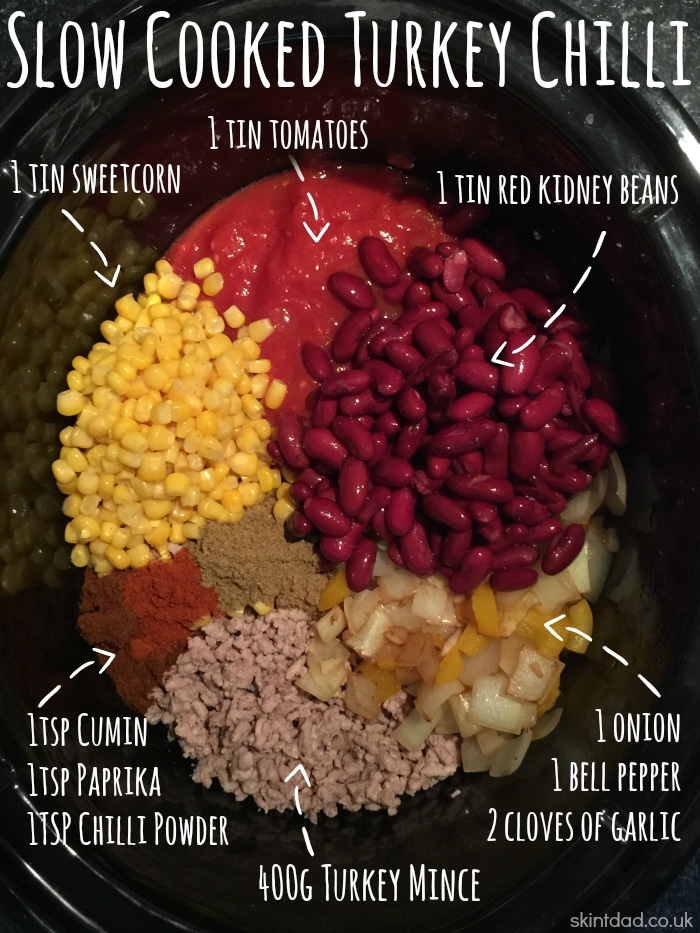 Slow Cook Turkey Chilli Recipe
Prep time:
Cook time:
Total time:
Ingredients
400g turkey mince
1 onion, chopped
1 bell pepper, chopped
1 tin of tomatoes
1 tin red kidney beans
1 small tin sweetcorn
2 cloves of garlic
1tsp paprika
1tsp chilli powder
1tsp cumin
Instructions
Fry the turkey in a pan until it's browned then add to the slow cooker.
In the pan, fry the onion, garlic and pepper to soften and pop them in to the slow cooker.
Add the rest of the ingredients and stir well.
Cook on low for 6 to 8 hours
Enjoy!
The chilli turned out lovely. The minced turkey didn't taste that much different to beef and the children didn't notice at all. It had all the heat of a good chilli but wasn't overly powerful so the kids could still gobble theirs down.
I think we may have now finished with mince beef in the Skint household.
Latest posts by Ricky Willis
(see all)