Here are 10 cheaper alternatives to Centre Parcs in the UK so you can spend less on your family-friendly holiday and have just as much fun!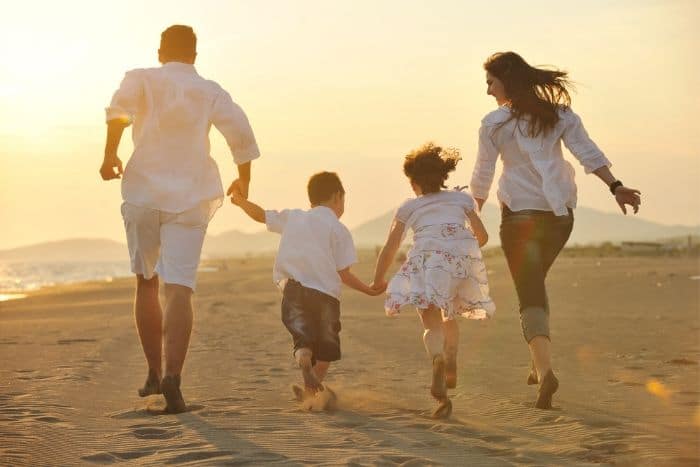 £10 BONUS OFFER: Earn easy cash by watching videos, playing games, and entering surveys.

Get a £10 sign up bonus when you join today.

Join Swagbucks here >>
If you're after an action-packed holiday, or just want to chill out while the kids get the action in, Center Parcs is a place that seems to have something for everyone.
But, the entertainment comes at a steep cost, especially during the holidays.
If you're looking for a holiday like Center Parcs, without the hefty price tag, here are the best alternatives.
How much does it cost to go to Center Parcs?
We've picked the cheapest date smack bang in the summer holidays, which is when holidays cost more, based on 2 adults and 2 kids staying for one week.
For comparison, it would cost you from £2,398 for a week at Longleat Forest Center Parcs UK. This is without any extras, and you need to pay for most of the activities.
The pricing was checked in January 2022, and will likely change from week to week, depending on availability and how close you get to the booking date.
Cheaper places like Centre Parcs UK
If the price of Centre Parcs leaves your eyes – and bank balance – watering, don't worry!
Here are places like Centre Parcs, just much cheaper.
It looks like Centre Parcs sells out very quickly for the entire summer holidays, so these cheaper places are an even better option!
Forest Holidays – a great alternative to Center Parcs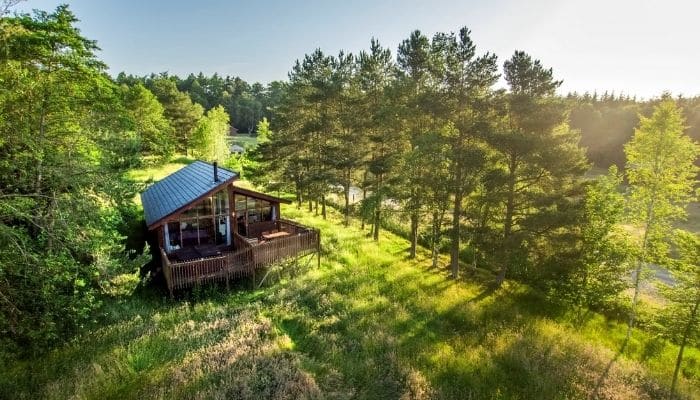 Stay in a cabin in the woods and get away from it all!
In partnership with the forestry commission, Forest Holidays offers 12 different resorts around the UK. You can either stay in a lodge, a log cabin, or a treehouse!
This is a far more chilled out place than Center Parcs but is more luxurious in comparison.
There are lots to do on-site, including Forest Ranger activities in the summer month.
Forest Holidays are all about getting outdoors, so there are kids' activities to keep them entertained and reconnect with nature.
There are no swimming pools on-site, though.
If you really want a break, consider splashing out for a treat and get an In-Cabin Chef for an evening who'll make you a special family meal.
They even wash up afterwards, so you can relax and take a dip in your hot tub!
Price: for a week, prices start from £1,895 for a family of four. Now, this may seem quite high, but the lodges and cabins come with a hot tub as standard, and you'd need to pay extra for this at Center Parcs.
Also, take a look at the best Haven Parks as you'll be surprised how much there is to do and how much you get for your money!
Tattershall Lakes, Lincolnshire – best overall value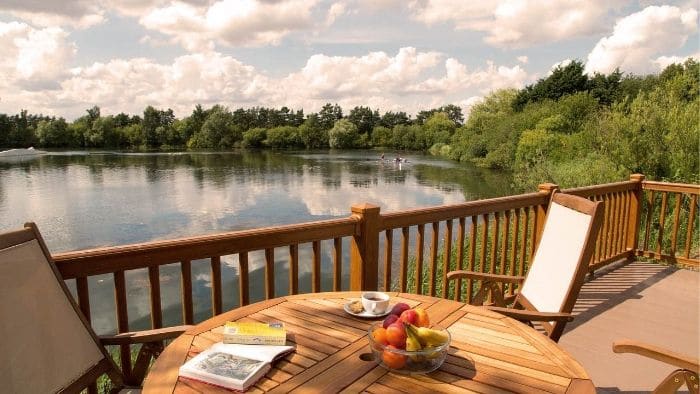 Everything centres around the lake at Tattershall, so you'll be sure to get lots of water sports-based activities like waterskiing, wakeboarding and fishing under your belt.
This is a setting for a great family holiday and one of the best Centre Parcs alternatives.
Set in 365 acres, it's similar in size to Centre Parcs, but fewer people can stay, meaning you'll have more space.
There is free entertainment at the stage area, a bar, and a new covered outdoor play area with a climbable Spitfire.
The kids have a beach where they can build sandcastles, while parents may want to paddle in the water or sunbathe.
You get indoor and outdoor pools. There is a family-friendly Aqua PLAY Splashzone and a new entertainment lido with poolside snacks and heated changing facilities.
In the warmer months, you can watch a film at the outdoor cinema which overlooks the lake.
On top of all that, you can pay for extra activities like high ropes, spa treatments, gym, sports court, adventure golf and bike hire.
There's a mix of accommodation at Tattershall Lakes including glamping, caravans and lodges and reviews on Tripadvisor and Trustpilot are great with 4 out of 5 as an average.
Price: it costs £989 for a week in August. You can save move by booking a glamping trip and staying in a Safari Tent or Camping Pod instead.
If you want to spend a little more and go luxury, you'll pay £1,972 for a stay in their themed TriBeCa with a hot tub and decking. This is where you get "the Manhattan loft look", and you get themed luxury accommodation with a 55" TV, and a standalone bathtub. This sleeps 5 (+2), so you could take the extended family for the same price as 4 people. You also get early check-in and welcome goodies as part of the price.
Sandy Balls Holiday Village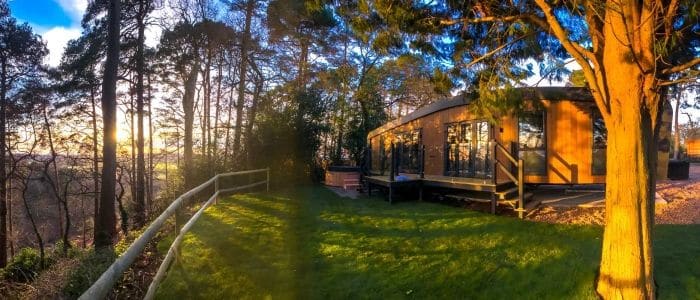 If you're after a holiday like Center Parcs without paying as much, Sandyballs, in the New Forest National Park will tick all your boxes.
There is a mix of 200 luxury themed Caravans and Woodland Lodges, many with hot tubs, all set in 120 acres of woods and parkland.
The park has resident alpacas, a bushcraft school, Nerf challenge and forest laser tag! You can also enjoy both outdoor and indoor pools, play areas, a gym and a spa. Plus, there are activities like arcades, archery, fishing and horse riding.
In the warmer months, Sandy Balls also offers free outdoor film nights, so you can snuggle under a blanket (and the stars) watching a family favourite film.
Your stay is very flexible, and you can start your holiday any day of the week, for as many or as few days as you want.
It's got a very good rating of 4/5 on Tripadvisor, and many reviewers have visited more than once.
Price: start from £1,554 when you book directly (it's usually far cheaper too).
Real Family Holidays
You can get to know the outdoors on a holiday like no other – and for an excellent price!
Real Family Holidays have locations in the Scottish Islands, Lake District, Yorkshire Dales, Pembrokeshire, South Wales, Surrey, Somerset and Devon. Depending on where you'll go, you'll be staying in a Georgian mansion or a country house. All locations have stunning views, and you won't be far from beaches, woodland or caves to explore. Holidays only take place during the summer months.
Holiday breaks have been set up through a charity called the Field Studies Council. They offer very cheap, all-inclusive holidays for the whole family.
You're going to get a lot for your money! Included in the price is accommodation, ALL meals, as well as unlimited hot and cold drinks, Wi-Fi, one free activity for the family each night and expert advice on how to explore the area independently.
As well as getting stuck into outdoor activities, indoor facilities include games and TV rooms, with games consoles and pool tables. There is a bar and shop on site. You can also pay extra for additional activities like rock climbing, snorkelling, rafting and more.
Top tip: You're able to choose a holiday start day as either a Monday, Wednesday or Friday to make things flexible, and children under the age of 3 are free to stay.
Price: It costs £287 per person
Bluestone Wales
As a cheaper alternative to Center Parcs, Bluestone National Park Resort is based in Pembrokeshire, Wales and will give you a little bit of luxury.
It has around 300 luxury lodges, cottages and studio apartments, in the middle of 500 acres of the countryside (bigger than Center Parcs) and it's open all year round.
There are loads of free activities to get involved with from the Blue Lagoon Waterpark indoor swimming pool with rapids and flumes, the Adventure Centre and outdoor play areas, and entertainment including live music and quiz nights.
Plus, there are guided walks and seasonal activities. Oh, and free Wi-Fi for those who can't entirely switch off.
Bluestone runs over different 100 activities spread out over the park, so having a bike is a good idea, although they do run a Land Train between the Blue Lagoon and the Village. You can hire bikes and buggies (like a golf cart) if you need them.
Price: A 7-night self-catering break in the middle of summer can start from £1,948 (it's always cheaper to book directly with them).
Is Bluestone better than Centre Parcs?
Overall, you are going to get more for your money and have better value as the lodges and activities are all cheaper than Center Parcs.
You may also find you have more variety and it's better geared for younger families.
YHA London Lee Valley, Hertfordshire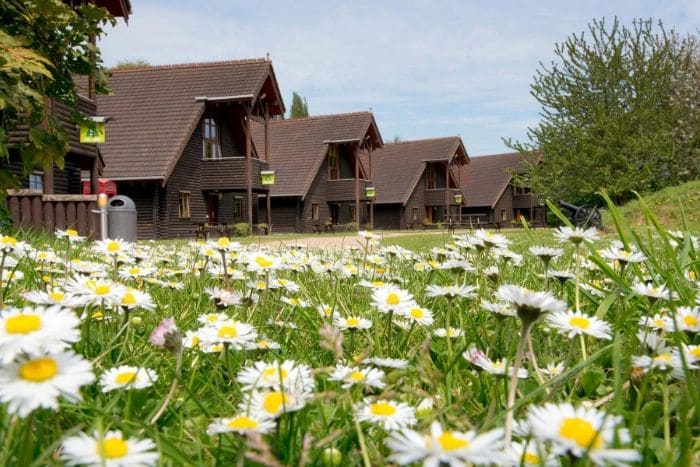 You're not going to be thrown into luxury here, but this is undoubtedly a cheaper place like Centre Parcs. You've got the best of both worlds by staying in a youth hotel 20 minutes outside of London, but it means you're in the middle of open greenspaces.
The accommodation at this hostel is split up into five wooden lodges with 30 rooms in total – many are private with ensuites. There's also a games room, library, TV lounge and a laundry room with two washing machines and a tumble dryer. There is also a cycle store which can be accessed from inside the hostel.
Outside you are in Lee Valley Regional Park so can explore the 10,000-acre green open spaces, hire a bike, or head to the canal to the White Water Rafting Centre where the Olympic water sports took place. There is also a farm on site.
But, if you feel like you might get bored, the Olympic Park and Shopping Centre are only 20 minutes away or head into central London for sightseeing.
Price: for a private 4 person room, with ensuite, you'll pay £338.20 in August, which includes a 5% discount if you're staying with someone under the age of 25.
Top tip:
It's cheaper to book directly, but they have a price promise and will refund the difference if you pay more on another site. Why bother with the faff? Just book direct.
Top tip 2:
You can get 10% off when you sign up for a YHA membership. It costs £20, but you'll save more overall.
Whitecliff Bay, Isle of Wight
Set right next to a beautiful secluded beach on the Isle of Wight, Whitecliff Bay holiday park will give you the space to relax and unwind. Getting over to the island on a ferry can be an adventure in itself
If you've had enough of buckets and spades on the beach, you've got the choice of indoor and outdoor heated pools (the indoor swimming pool has a flume), as well as free daytime activities for the kids as well as a huge adventure playground.
In the evening, there is entertainment from resident performers, as well as bingo and quizzes. If you want a more relaxed evening, there is an open-air outdoor cinema in the school holidays.
Regular events take place too like vintage weekends, colour festivals, cream pie fights and music weekenders.
There are also other activities at a small charge like body zorbing, VR, snorkelling, archery, laser tag, fencing, crazy carts and much more.
Price: for a week in August, you'll pay from £1,302 for a family to stay in a chalet.
Or why not stay in a luxury bell tent for £1,279, with modern shower and loo facilities nearby.
Darwin Escapes – Talacre Beach, North Wales
Several resorts fall under Darwin Escapes, with some being more family-friendly than others. Facilities do vary from site to site.
At the Talacre Beach 5* family holiday park in North Wales, you'll get a very relaxed stay, with beds made up for arrival, and you're able to use the steam room, sauna, and Jacuzzi at no additional charge.
Kids will enjoy the tropical heated indoor swimming pool, and there are even adult-only swim times. Their gym facilities can be used for free. Evening entertainment from vocalists, comedians, themed evenings and kids clubs are also included.
There is a Go Active programme for kids and adults which includes activities like Sea Scooters, snorkelling and Water Walkerz. Other activities include archery, crossbows, body zorbing, fencing and much more.
Price: £625 for a caravan for 4 people for 7 nights.
Landal Darwin Forest, Peak District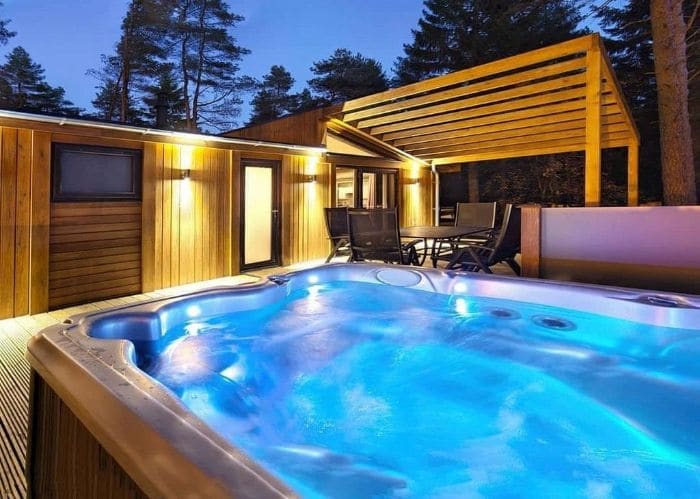 Darwin Forest GreenParks are much smaller than Centre Parcs with around 120 lodges over 47 acres, but there is still plenty of space, things to do and activities for the whole family.
Landal, in the Peak District, is their main site and they have 6 others in the UK.
You can do free activities like taking a splash in their heated indoor swimming pool, using the Trim Track obstacle course, heading to the playground, taking some relaxing woodland walks or setting off on the cycling trails.
Reviews show how great the place is as it's rated 9.4 out of 10 on reevoo.
Other activities like their spa and gym, Bodyzorbing, archery, Waterwalkerz and snorkelling have a charge.
However, being in the Peak District, you'll want to get out of the park and explore the area, with Alton Towers Theme Park being close by.
Looking for cheap Alton Towers (or other attraction tickets)? Check out these theme park deals.
Price: a week's stay in August will cost £1,649 for a family in a Haddon Classic Vogue 2 lodge.
Ribby Hall Village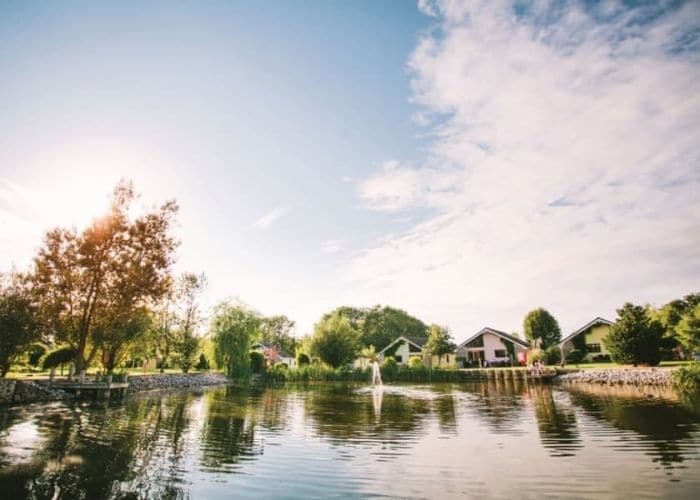 Ribby Hall Village, near Blackpool, is the only 5-star holiday village in the North West, according to VisitEngland.
It's luxurious for adults, but the kids will love the indoor and outdoor activities like the indoor heated pool with a themed splash area, racer slides and 48-meter interactive fun slide!
Don't worry though as there is also a 25-meter adult pool with a steam room and hot tub.
Kids can also play in the outdoor adventure playgrounds, pirate playship, woodland trails and village garden.
If the weather isn't great, there are two indoor soft play areas. Evening activities are also included.
There are other activities for an additional charge, including the Wild Discovery which gives you a chance to meet animals like tortoises, armadillos, and lemurs.
Price: holidays start from £1,402 for the Iris or Rose Cottage for a week in August.
Don't want to pay for a holiday at all? Here's how you can go on holiday for free.
Price comparison of cheaper alternatives to Centre Parcs UK
The cheapest break we found at Center Parcs was £2,398 for a family of four in the August school holidays.
How do other holiday parks that are similar to Center Parcs compare?
Well, cheaper…
The cheapest to most expensive places like Centre Parcs are:
Prices are based on a search in January 2022.
Might help:
5 Family Holidays in Europe for Less Than £500!
15+ Kids Eat Free Restaurant Deals for Summer Holidays, Half Terms and Weekends
More tips to save on UK breaks like Center Parcs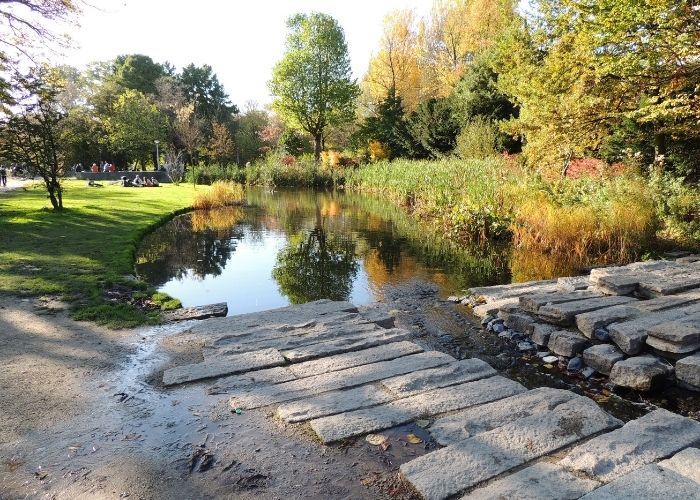 When taking a holiday in the UK, accommodation is one place you can save money, but there are other ways to make sure you keep the costs down.
Great alternatives to Center Parcs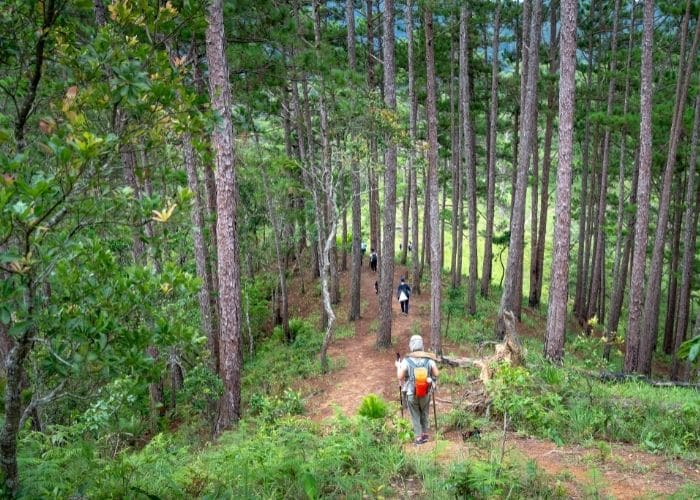 Centre Parcs has lots of bells and whistles, but you need to pay for a lot of the activities.
Picking different places to stay not only saves on the cost of the accommodation, but many of them also have activities built into the cost.
You can still get the luxury of lodges on a resort, forest and woodland, and great facilities like an adventure playground, swimming pools and hot tubs at other Center Parcs alternatives.
So, if you are swayed to staying at the Center Parcs holiday park, make sure to take the cost of any activities or bike hire into account.
You have other options with specific family activity holidays where activities (and sometimes food) are already included in the overall cost, which can be much better for breaks on a budget.
Travel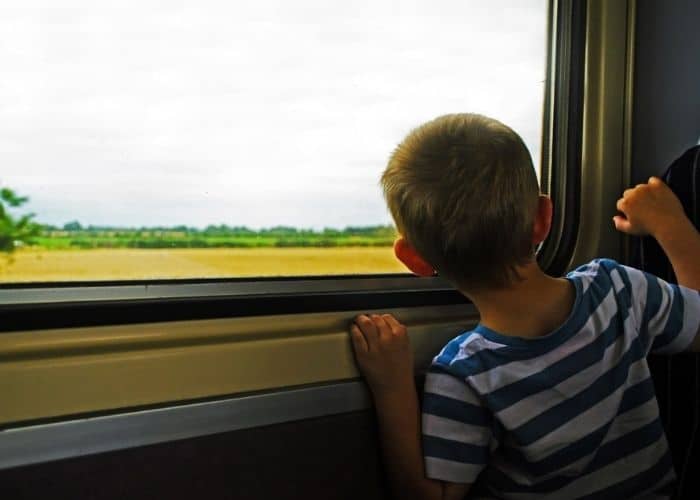 Travelling by car is not the only option for a UK staycation.
Train travel might work out cheaper than filling your car with fuel.
Save up your Tesco Clubcard points through the year and swap them for a free National Rail Travel Card. With a Family and Friends Rail Card, you can get big discounts when travelling by train.
You need to weigh up how much stuff you can get into your boot and whether you're planning any day trips that may require a car.
Food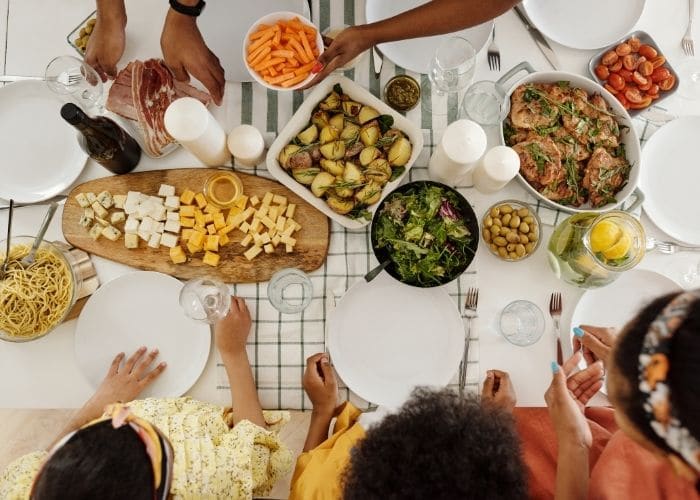 On one hand, you want to relax on holiday and not have to be stuck in the kitchen, on the other you want convenience.
Why not take your slow cooker with you and have meals prepped each morning, ready for a delicious and filling dinner that evening.
For extra preparedness, you could make dump bags in advance and take them with you in a cool bag.
You can also save time by getting your groceries delivered by a supermarket to where you're staying.
Many deliver directly to your cabin or lodge and it will mean you get the best prices vs buying something from the store on-site or a convenience store locally.
FAQs
Is there anything like Centre Parcs in Scotland?
Take a look at Crieff Hydro in Scotland. While there is a castle hotel, they also offer self-catering accommodation. In terms of entertainment, they have over 60 indoor and outdoor activities for kids and adults.
What is the cheapest Centre Parcs?
If we've still not been able to tempt you with these great holiday parks as Centre Parcs alternatives, and you're still tempted to book directly, Sherwood Forest usually works out as the cheapest Centre Parcs resort.
What is the cheapest time of year to go to Centre Parcs?
January is usually the cheapest time of the year to book a holiday for all the family with UK Centre Parcs.
Can you use Tesco vouchers for Centre Parcs?
Tesco Clubcard vouchers cannot be used to book a holiday with Centre Parcs.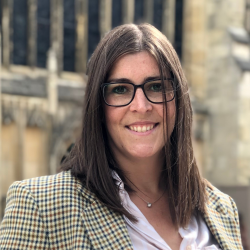 Latest posts by Naomi Willis
(see all)