This is one of the Skint family's favourite Indian dishes which is a little odd as Chicken Tikka Masala wasn't actually created in India. But, it's still my all time favourite so, it's about time I gave it the skint treatment.
A lot of this needs to be done at the same time, so make sure you have all the ingredients prepared and on hand.
______________________________________________________
Fakeaway 9 November 2013
"Chicken Tikka Masala, Sag Aloo, Rice and Poppadoms"
Total cost: £4.99 for a family of 4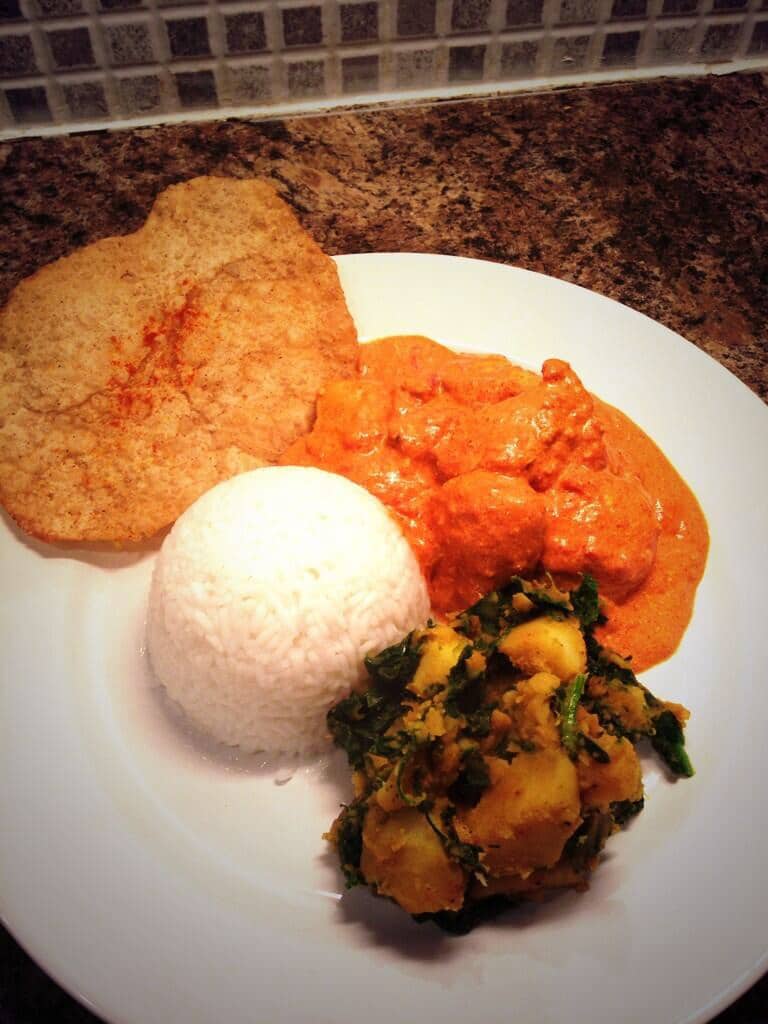 £10 BONUS OFFER: Earn easy cash by watching videos, playing games, and entering surveys.

Get a £10 sign up bonus when you join today.

Join Swagbucks here >>
Ingredients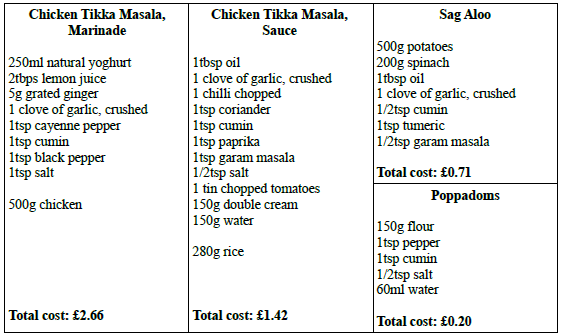 All ingredients used were either supermarket own brands or the lowest price.
We calculated the cost of each of the ingredients separately by looking at the item's total value, then working out what the amount we would need. For example, mixed herbs are £1.39 for 100g, for a 5g teaspoon full it would be 7p (£1.39/100 x 5 = 0.0695).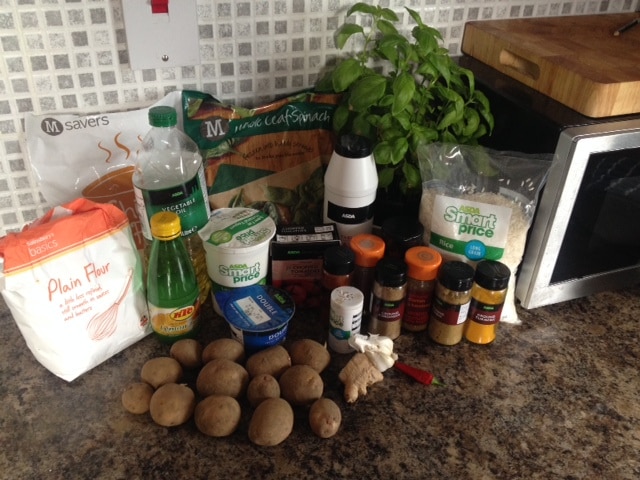 Chicken Tikka Masala
Place all the ingredients for the marinade in a bowl and mix together.
Cut chicken into cubes and add to marinade.
Cover with cling film and place in the fridge for a minimum of 2 hours, preferably overnight.
When the chicken has marinated, place the pieces on a tray and cook under a medium grill for 25 minutes, turning halfway through cooking.
Start making the Sag Aloo and boil the rice. You can also start to make the poppadoms now but I would suggest that you start this before, if you don't want to be so rushed.
Start to prepare the sauce by putting oil in the pan and add the garlic and chilli and cook for roughly one minute.
Add all the spices for the sauce to the pan and stir into the oil

Stir in the tomatoes and water and simmer for 15 minutes.

Remove the chicken from the grill and add to the sauce along with the cream. Cook gently for about 5 minutes.
Sag Aloo
Peel and dice the potatoes then par boil for 10 minutes to soften.
Put the oil into a pan, when hot add the cumin and fry briefly to flavour the oil.
Pop in the par boiled potatoes, garlic, turmeric and garam masala. Mix until fully coated.

Add a little water, as needed, to stop the potatoes sticking and cook for 10 minutes.
Add the spinach and cook until it mixes in.
Popaddoms
Mix flour, pepper, cumin and salt in a bowl.
Add the water, a little at a time, and mix together by hand. You may not need to use all the water.
When a dough is formed, knead on a lightly floured surface for 5 minutes.
Roll into a fat sausage and cut into 12 equal slices.

Roll each slice as thinly as possible.
Heat oil in a pan and deep fry the flattened dough until they puff and become golden brown – watch our Vine video of the poppadoms cooking.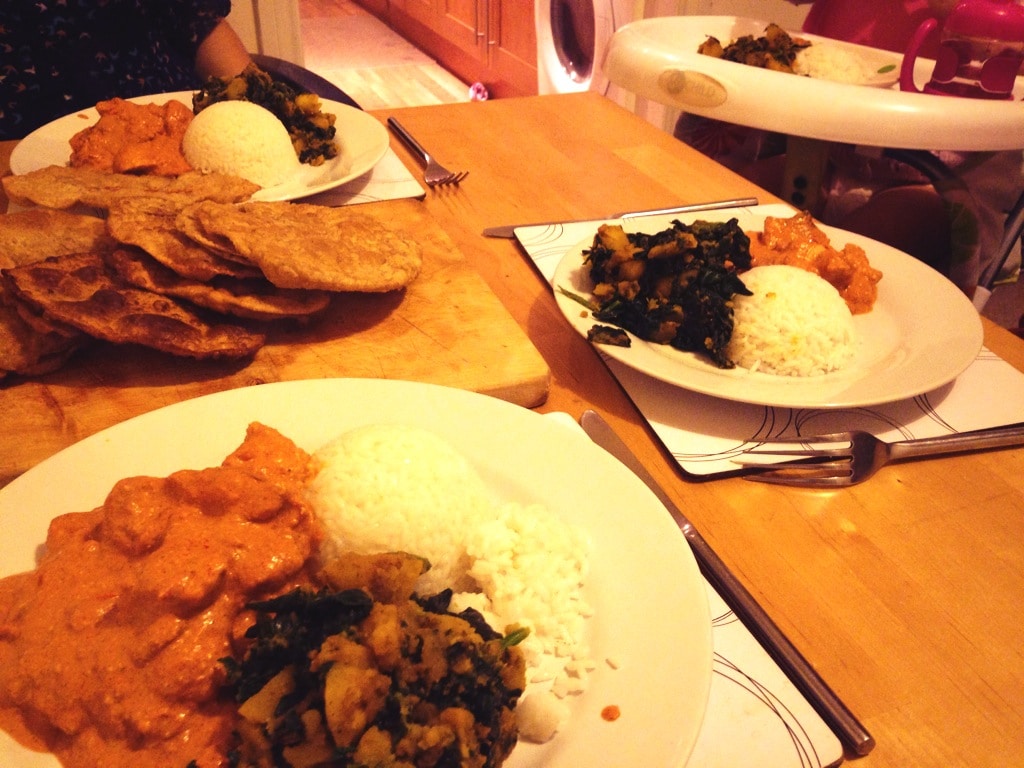 As they would say in France, bon appétit. As they say at my house, grubs up!
______________________________________________________
I don't want to blow my own trumpet (too much) but this was the tastiest Chicken Tikka Masala I have ever eaten, fact!
I had been slightly worried as I expected the marinade to be more of a reddish colour, so when it just looked peppered I didn't think it was correct and it wouldn't make the chicken taste as it needed.
But, I shouldn't of been worried because as I remove the chicken from the grill I sneaked a taste and the flavour was amazing. Luckily Skint Mum walked in the kitchen otherwise I may have wolfed the lot down before adding it to the sauce.
The sauce tasted stunning too. Both flavours were very distinct – absolutely perfect.
I don't think I will ever buy food from an Indian takeaway again.
If you enjoyed this recipe you may like our other fakeaways which you can find here.
Cooking on the cheap really isn't difficult. Check out these following posts to slash your food bill.
How I Plan My Supermarket Shop
How To Grab Yourself a Supermarket Bargain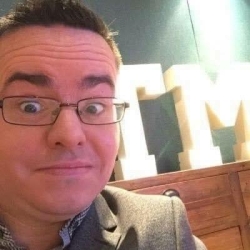 Latest posts by Ricky Willis
(see all)