Had a major win when we popped to grab a few things at the Co-op earlier.
We went in with a list, didn't pick up a basket as we knew that we only needed 3 things which we could carry by hand (if you pick up a basket, or get a trolley, you are more likely to fill it up with unwanted items) so we were very prepared to get in and out and spend very little money.
But…
We then went and wandered past the reductions section. Usually this supermarket doesn't have much reduced food and what they do have isn't really reduced at all. There are a few shops locally that do a good deal but you need to go in at around 8pm to get the best value for your money – not just before lunchtime.
So, imagine our surprise when we walked past and the shelves were stacked with food that was near the end date and had upon them lots of red reduced stickers! An Aladdin's treasure!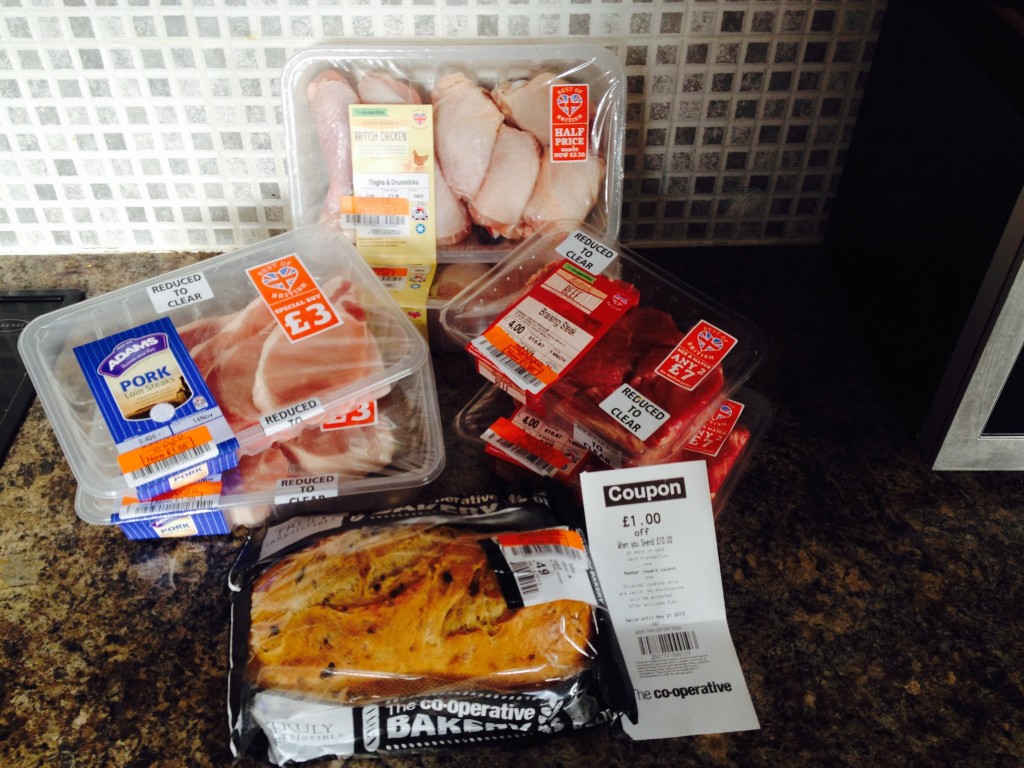 £10 BONUS OFFER: Earn easy cash by watching videos, playing games, and entering surveys.

Get a £10 sign up bonus when you join today.

Join Swagbucks here >>
After I got over the excitement (yes I know I need to get out more!), I realised that getting all of it would be silly. We hadn't long done a large food shop and the freezer was half full so, we had to be reasonable about what we picked up.
We decided on a few packs of each of the cheapest meats that would go well in the slow cooker and as I sit here now, I can smell the spices of my Moroccan Beef and Butternut Squash all over the house – yum! We also picked up a reduced mature cheddar and jalapeno loaf – £1.49 reduced down to 50p!
With the rest of the meat I took it out of the packs, put them into freezer bags (as the packaging takes up more room in the freezer) and popped them into the freezer.
As an added bonus, I had a voucher to get £1 off a £10 spend so another bit of a discount too. They gave me another voucher for the next spend. And another and, I even used the loyalty card which pays out in cash to our bank every now and then!
For a bloke that's only been a stay at home dad a few months, I sure am getting domesticated!
If you are going to shop for some supermarket bargain reduced food, consider these 5 tips that I've picked up along the way:
Do you have room for it?
It's all well and good buying loads of food but can you put it anywhere? There is usually a very short end date on the food so you will either need to use it straight away or freeze it to use later.
If you don't have the room don't buy it – it turns into a false economy.
Will you use it?
It's all very well and good buying cheap food but if you aren't actually going to eat it, it's a waste of money. Only buy it if you will cook with it.
Can you afford it?
It's sometimes best to head to the reduced area of the supermarket first but don't shop based on what's reduced. Stick to your list otherwise it could throw you off and you may end up buying other things you just don't need. It really depends how much spare money you have in your weekly food budget.
One of my favourite rules is – if you can afford to buy two, then you can buy one.
Do you need it?
Getting things cheap is great, and I know I look at the red label and think it's an utter bargain, but it's just impulse buying?
Although it's a great bargain if you have enough food why not leave it to someone who may need it that little bit more?
When are you going?
You need to get your timings right. Most supermarkets usually start to reduce foods towards the end of the day and reduce even more as they get nearer to closing.
Why not just ask when they put their reduced foods out to stop you guessing?
Do you buy a lot of reduced food? Is this something you specifically look out for when shopping or do you have the attitude that if it's there it's there?
I would love to know :D
Read next: Co-op Stops Reductions! Is This the End of Yellow Stickers?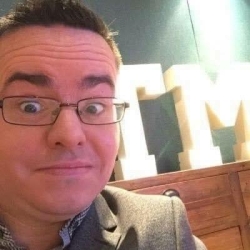 Latest posts by Ricky Willis
(see all)