Brand new deal: Co-op has launched a new £5 Super Saver meal deal – which saves you over 50% on the price of pizza and beer!
This site contains affiliate links. We may receive a commission for purchases made through these links.
[Learn more]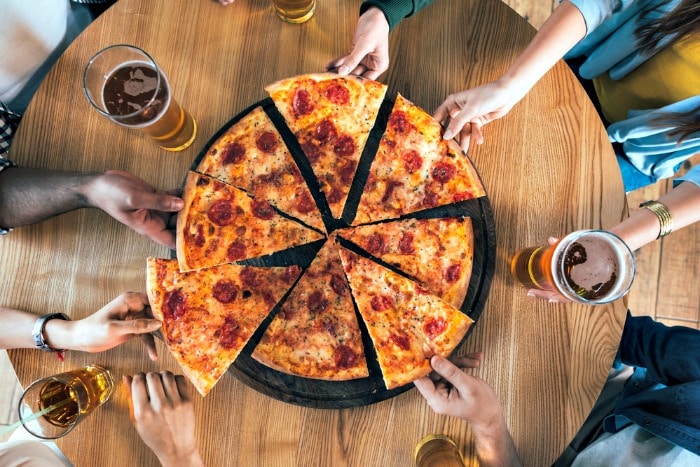 I know there are a load of fans of the Co-op £5 frozen meal deal. Each month they update it with five different foods items to treat your family – all for just a fiver!
However, the Co-op has launched a new super saver meal deal!
Co-op super saver £5 deal
Whether you're after a few beers and a pizza for the weekend, or you just fancy a treat, the Co-op has launched a new meal deal for a fantastic price!
The new Super Saver £5 deal launched on 10 July 2019.
For £5 you can walk away with two Co-op pizzas and a four-pack of Budweiser – saving you £5.60 on the price!
The pizzas usually cost £3.30 each, and the Budweiser sells for £4 for four bottles, so you're getting a bargain.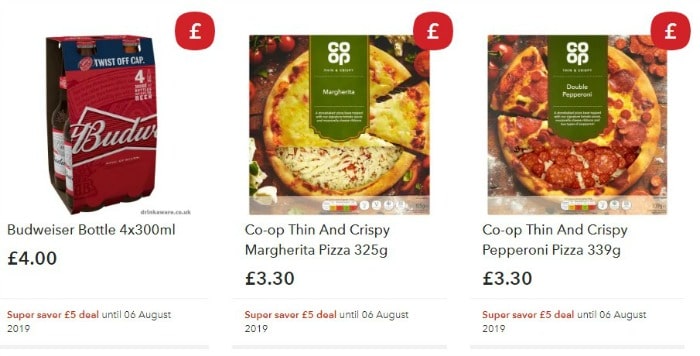 You've got a choice of the pizzas you can have. You can pick from either thin and crispy Margharita Pizza or a Pepperoni Pizza. You can choose two of the same, or you can mix and match if you fancy something a bit different.
If you're not a beer fan, you can take four glass bottles of Coca Cola Classic, Diet or Zero instead (£2.70-£3).
Don't forget to take your Co-op membership card with you when you shop as you can get 5% back on the pizzas.
Also, if you have an NUS student discount card, you can get 10% off the price, bringing your deal down to just £4.50!!
This deal is running until 6 August 2019. The offer is also only available while stocks last and they say it's in participating stores, but that does look like it includes Co-op stores, as well as Nisas and Costcutters who stock Co-op food.
My local Co-op doesn't usually stock the £5 frozen meal deal, so I'm not holding my breath they'll have this one in (but I may have to pop in to check :) )
I'm not sure if it will continue after this time, or if they'll share a new super saver.
Cheap pizza
Looking for cheap pizzas elsewhere?
Iceland is running a 7 day deal to get Dr Oetker pizzas for just £1! Priced at £2.50 in Tesco and Morrisons you're getting a lot for your money!

Take a look at Iceland discount codes if you're planning to shop online.
While popping a pizza in the oven isn't that much of a chore, if you want a take away instead then look at this deal to get a free Dominos pizza after cashback.
If your budget can stretch, Marks and Spencer is also running a pizza meal deal. For £10 you can get 2 pizzas, 1 side and a dessert, with loads of different choices.
Latest posts by Naomi Willis
(see all)