Domino's NHS discount gets you 50% off all orders of pizza – enjoy!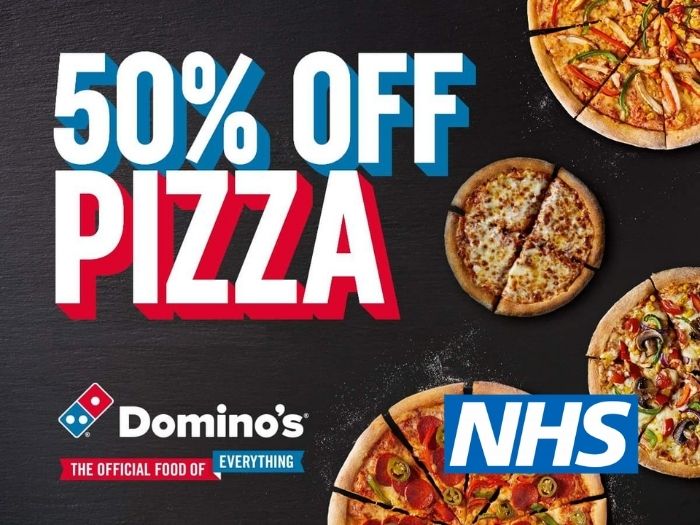 £10 BONUS OFFER: Earn easy cash by watching videos, playing games, and entering surveys.

Get a £10 sign up bonus when you join today.

Join Swagbucks here >>
Rather than hunting the internet for a Domino's discount code that doesn't actually work, you can get a guaranteed 50% discount if you work for the NHS.
When you can't be bothered to cook or need a tasty treat, a half-price pizza from Domino's is a winner.
Plus, it will taste so much better when you know you've eaten it for half the price.
Enjoy that pizza, and thank you.
How to get a Domino's NHS discount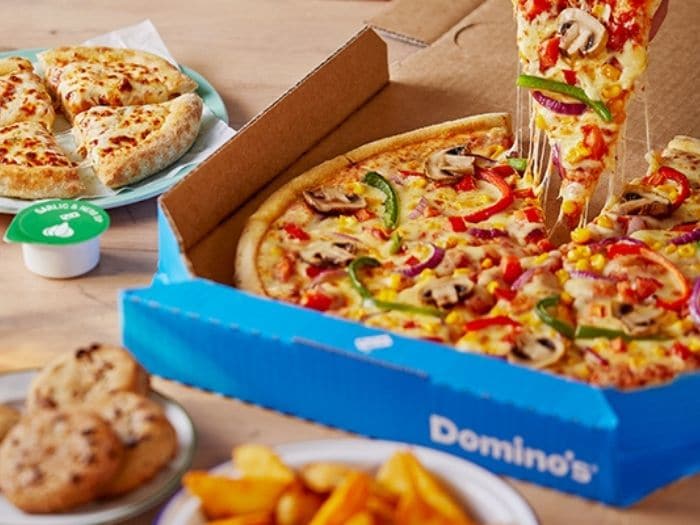 Whether you have a clinical or non-clinical role, all NHS staff can save money and get a 50% discount from Domino's Pizza.
To get the NHS discount, you need to present a valid ID card when you're paying for your order.
This means you have to order your collection, rather than delivery, as you need to pay for your order in the restaurant.
To be clear – you're not able to pay over the internet or on the phone. You must pay for the order in your local store itself to get your order half price.
Do all stores offer the discount?
All stores should offer the NHS discount on pizza orders.
Domino's restaurants are franchises, and they are all run individually, which is why you might have seen different promotions and offers in some restaurants.
However, the 50% discount is something all restaurants are offering on collected orders for NHS staff.
To make sure, you can always check with your local store when you call up to place an order to check directly with them.
Does the NHS discount apply to sides?
The offer from Domino's is for pizza.
You're not able to use the discount for sides, dips, drinks or desserts.
Do I need to use Dominos voucher codes?
You don't need to give any discount code or promo codes for the NHS discount.
The store will accept the sight of your valid NHS ID to apply the discount on your pizza order.
Can I get a Dominos NHS discount on deliveries?
I get it!
It can be a pain having to trek out to get a pizza.
You might be wondering on how to order Domino's online with nhs discount, but the short answer is you can't.
Unfortunately, while you cannot get delivery using your NHS ID card, you have another option.
If you have a Blue Light Card, you can get a Dominos discount using their promotions.
Find the Blue Light Card discounts list to see if membership is worth it.
Free pizzas from Dominos for NHS staff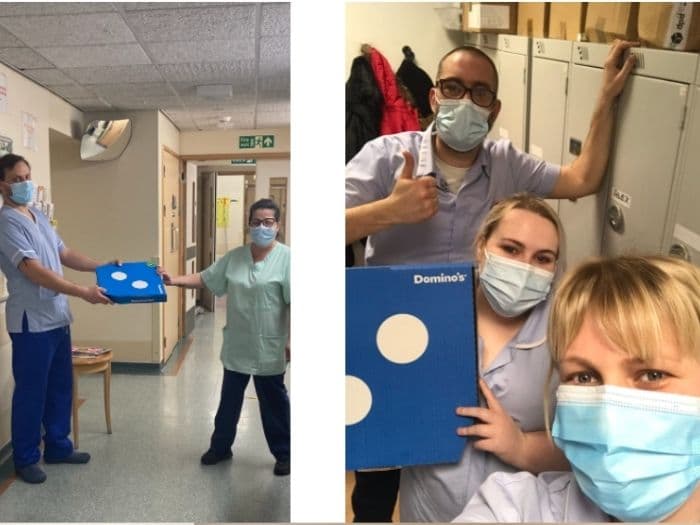 Domino's have given away 1,600,000 free pizza slices to NHS and frontline workers since the pandemic started.
They have given away £4 million worth of food since 2020 as thanks and sincere appreciation for NHS staff and front line workers' continued hard work.
Other Dominos voucher codes and offers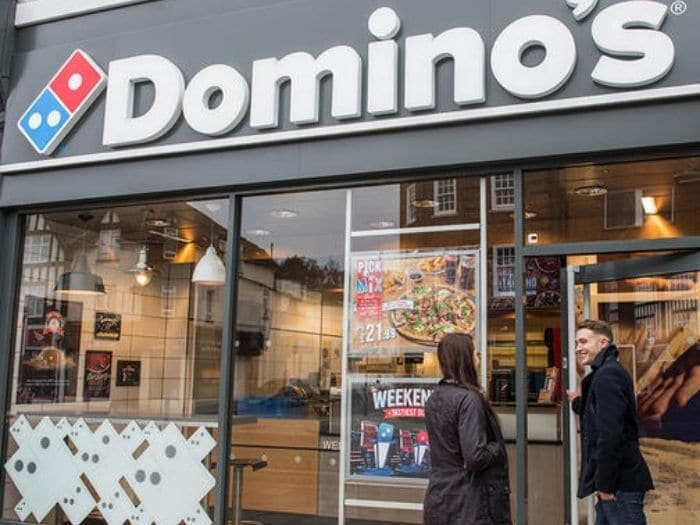 You may want to try other Domino's discount codes if you're planning to get lots of sides or want to get delivery.
Here are some of your best options to save money on your pizza delivery.
Blue Light Card
The Blue Light Card gives all emergency service workers, plus social care and armed forces, access to decent offers at Domino's. Plus, there are thousands of other exclusive deals and discounts at retailers, service providers and restaurants.
There is a current Dominos voucher code for 30% off deliveries (minimum spend of £20).
At least you know you'll guarantee money off without having to spend ages looking for another code.
Plus, the discount code applies to sides, such as chicken strips, puddings and any other extras, as well as their delicious pizza.
Take a look here for more details on the Blue Light Card.
Dominos discount code – get one directly
Each month, you can find Domino's discount codes released on their blog.
Check out the current promo codes and latest deals here.
Bank with Revolut?
If you bank with Revolut, you can unlock discounts when you pay with your card.
Check their app for details.
Get a free pizza
Sign up to the Skint List newsletter, and you'll get access to a £16 cashback offer for new customers of Quidco.
So, you make a purchase for at least £16, and you'll get a cashback bonus in your account within two weeks.
You will also earn the standard cashback rate too.
Remember, though, cashback doesn't work at the same time as using another Domino's voucher code.
London or Yourshire based? 50% off with Tastecard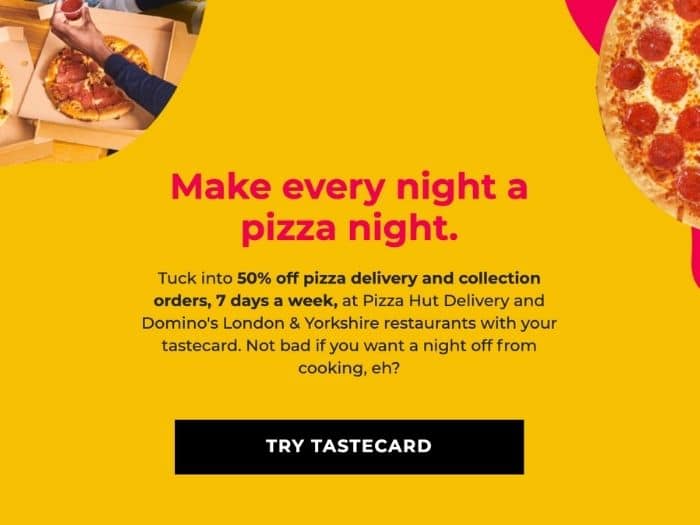 Get a free 60-day trial to Tastecard here, then unlock thousands of deals when you eat out (or in)!
Tastecard is offering 50% off deliveries with Domino's as well as Pizza Hut.
Unfortunately, this is only if you live in either London or Yorkshire.
There is a minimum spend of £30, and it's only valid for an order online.
Join Kids Pass
Kids Pass members can access discounts on pizza delivery from Dominos.
You can start a trial with Kids Pass for £1 (but you'll certainly make a lot more in savings).
With Kids Pass, you get access to family-focussed deals, offers and days out.
Dominos FAQs
Do voucher codes work with other promotions?
A Dominos discount code will not work with other offers such as Two for Tuesday or the Deals Wizard.

You can take a look online before ordering to see if you'll save more money using a discount code or their set offers.
How do you add Dominos voucher codes?
Place your order and head to the checkout. At the bottom of your order, there will be a box where you can enter your voucher code. Hit apply, and it will show how much you've been able to reduce the cost.
Does Domino's do a student discount?
Yes, there is a special discount for students at Dominos, which is accessed through Student Beans or UniDays when ordering online.
Can I get free delivery from Domino's?
Domino's offers free delivery on all orders. You can choose for it to be delivered ASAP (they'll give you a time estimate), or you can specify a time.
What's my favourite pizza?
Just in case you were wondering, I like something spicy like the Vegi Volcano, or I'll be tempted by the Americano (but I like to add olives).
Does Dominos do Black Friday deals?
We are hoping Domino's Black Friday 2021 deals will be as good as they've been before.

In the last two years, they've offered 50% off pizza orders. The deal ran until Cyber Monday.
Can you get Domino's on Deliveroo or Uber Eats?
Domino's manage their delivery, and you can order via the Dominos website, over the phone or by using the Dominos app.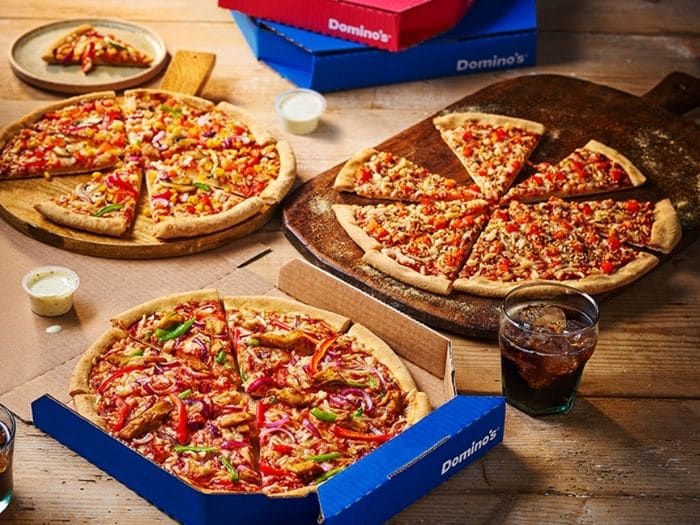 More tips to save money at Domino's
A Dominos discount code is great to find some of the best deals, but there are still a few more ways to save extra.
Go for large pizzas
Getting the biggest size pizza gives you the best overall value. You end up paying less per inch of pizza than if you order a small.
Plus, it's delicious warmed up the next day as leftovers – promise!
Go half and half
If you can't decide what to go for, try a half and half instead of ordering two pizzas.
You get two flavours for less money than ordering two.
Check for local offers
Get a menu delivered still?
You may find dominos discount codes or a deal on the leaflet or call the restaurant to find any secret codes for your area.
Sign up to their newsletter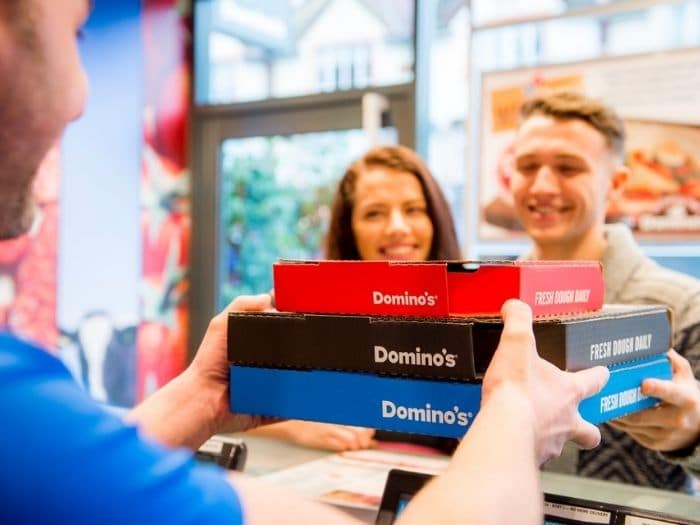 They don't bombard you with marketing (that much!) but send out offers and updates.
If there are offering a great promotion, it's a great place to find it easily.
Follow on social
Get on Facebook, Twitter and Instagram and follow Dominos so you can keep up o date with other discounts they might be offering, as well as giveaways.
Cheaper alternatives
You could ditch Domino's all together and get a cheaper meal deal from a supermarket:
Co-op pizza deal – £5 for two pizzas and four beers
Tesco pizza meal deal – £10 for two pizzas, two sides and a dip stacker
Asda pizza deal – £5 for two pizzas, a bottle of drink and a movie voucher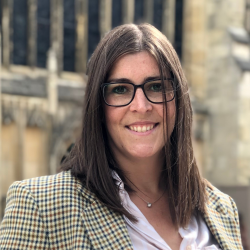 Latest posts by Naomi Willis
(see all)