Here's how to easily make DIY face masks using materials like bandannas and t-shirts. No sewing needed and they're simple to make.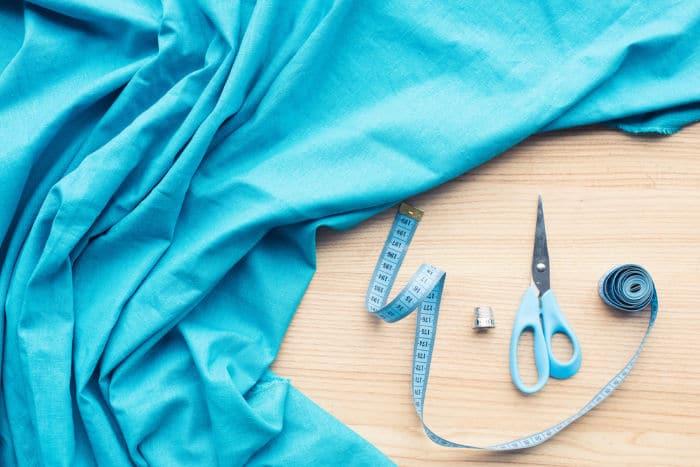 £10 BONUS OFFER: Earn easy cash by watching videos, playing games, and entering surveys.

Get a £10 sign up bonus when you join today.

Join Swagbucks here >>
With more people returning to work, the English Government has recommended that people wear face-coverings.
Face coverings can help reduce the risk of transmission, according to the Government, and can "protect against inadvertent transmission of the disease to others if you have it asymptomatically".
They are now suggesting that face coverings should be worn in social places, like in some shops or on public transport.
But, you do not need facemask like the surgical masks or respirators (like they have in healthcare settings) as they need to be reserved for people who need them.
Instead, you can make a cheap homemade face mask with things you've probably already got at home.
No sew bandanna face mask
You don't need to do any sewing to make this easy bandanna face covering.
You need:
Bandanna (or square cotton cloth approximately 20″ x 20″)
Rubber bands (or hair ties)
(Scissors (if you are cutting your own cloth))
This is probably one of the simplest methods to make a homemade face covering, and you can personalise it using different patterned materials.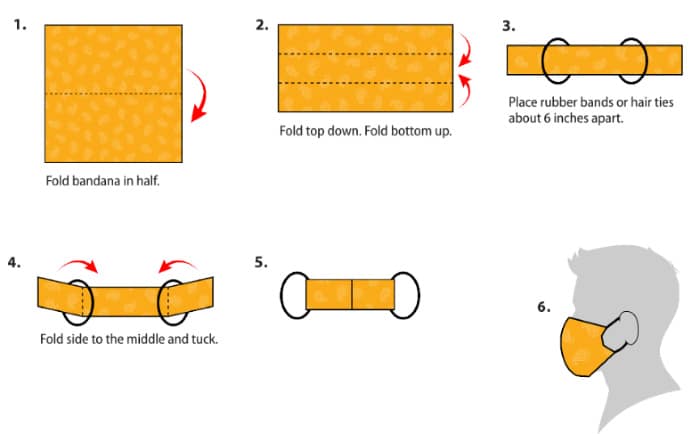 Fold the bandanna or cotton cloth in half. Then, fold the top down and the bottom up, so you make a longer rectangle.
Get two rubber bands or hair ties and place them onto each end of the fabric.
Fold the sides of the fabric over the elastic and tuck them in the middle.
You can then tuck the elastic over your ears, and the face mask will cover your mouth and nose.
Where to buy cheap fabric:
Cheap fabric on eBay
Making a face mask with a T-shirt
This DIY face mask lets you upcycle an old t-shirt.
You need:
an old T-shirt that you don't need anymore (size small or extra small)
scissors

Measure 20 cm from the bottom of the t-shirt and cut across in a straight line.
On one edge, leave about 2 cm from the top and cut 15 cm into the side, repeat at the bottom, then join the cut in the middle. This rectangular piece of fabric can be discarded or be used for a different project.
To make ties, cut open the two 2 cm pieces at the edge of the fabric.
Unfold and place over your mouth and nose, and tie the four strips behind your head and neck.
Wearing face masks
The Government has recommended that children under the age of two should not use face-coverings.
They've also said that anyone who may find it difficult to manage them correctly, like primary age children unassisted, or those with respiratory conditions, should not use them.
Anyone who wears a face mask needs to be able to wash their hands before putting them on and taking them off.
You should also avoid touching your eyes, nose, or mouth at all times.
Once you've finished wearing the mask, store it in a plastic bag until you can wash it and you should clean any surfaces the face-covering has touched.
If you've made your a DIY homemade face mask, you should wash it regularly. It's fine to get washed with other laundry using normal detergent.

:: Come and join thousands of other savvy shoppers in the Skint Dad Facebook community to find out tips and tricks to save money on everything.
Enjoy this post? Why not also sign up to receive our newsletter.
We send out all the best money saving news and tips from the site, and as an added
bonus you'll get an exclusive £16 cashback from Quidco (new members only)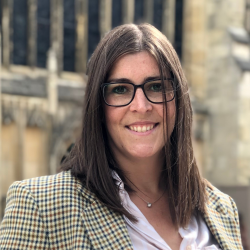 Latest posts by Naomi Willis
(see all)