Easily save money when eating out and take advantage of kids eat free offers, deals and vouchers. Here are the best restaurants and cafes.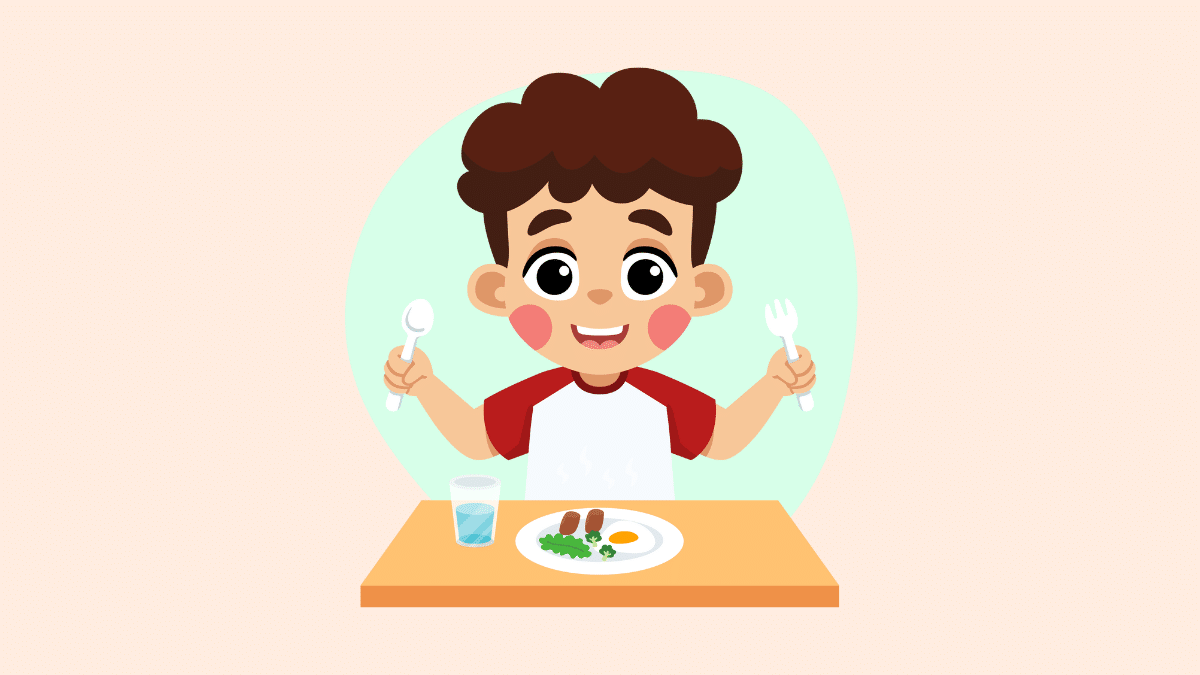 £10 BONUS OFFER: Earn easy cash by watching videos, playing games, and entering surveys.

Get a £10 sign up bonus when you join today.

Join Swagbucks here >>
Eating out isn't the cheapest of activities, but it's a great treat and a lovely way to spend some family time (plus there's no washing up)!
You can easily save money when eating out if you take advantage of kids eat free restaurant deals and vouchers.
Even though the kid's menu is cheaper than the adults, getting them fed on the house will make your pudding taste that much sweeter!
Kids eat free restaurants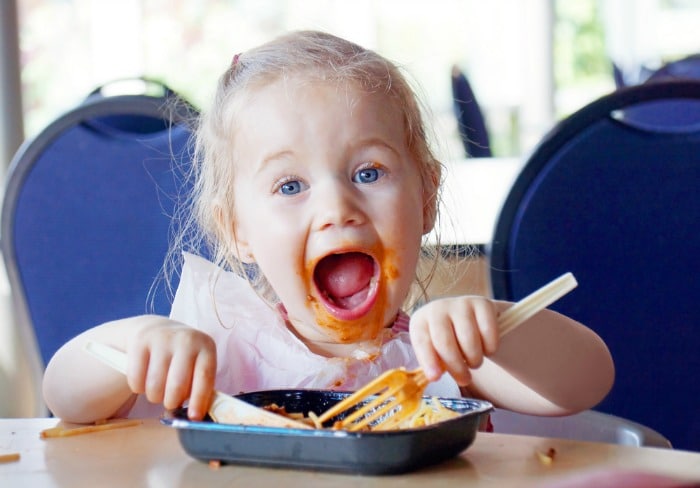 There are loads of places to get free deals on food for kids and money saving offers at restaurants across the UK, whether you're after breakfast, lunch or dinner.
Maybe you want to use the deals over the long summer holidays to help organise days out, or you just fancy a treat; getting something for free is always better!
Here are the best kids' free meals deals:
One tip: Check the fine print to ensure the offer runs the day you want to eat. (Some places don't allow the freebies on bank holidays, mother's/father's day etc and some locations are excluded).
Also, remember that the offers will usually not run alongside other offers or things like Tastecard or Tesco Clubcard vouchers.
Morrisons
You have a deal on dine-in food if you're a Morrisons shopper.
As long as you spend over £4.50 on an adult's meal, kids eat free every day from 3 PM.
There are tonnes of other Morrisons cafe offers to save money on too.
Pausa Café in Dunelm shops
Kids can eat for free in the Puasa Cafés you find in Dunelm stores.
Their offer runs from Monday to Friday after 3 PM and applies with each £4 spent.
Yo! Sushi
Kids under 12 get to eat for free at Yo Sushi when an adult spends at least £10 on dine-in food and drink.
Your child gets a meal deal bento box that includes edamame, maki sushi, mixed veggie rice and a choice of protein and sauce, plus a drink.
The offer runs from Monday to Friday from 16 October – 3 November 2023.
It won't apply if you use your Blue Light Card discount at the same time.
Pizza Hut
Kids get a free meal over half term at Pizza Hut. They get a free Mini Monster Meal per week (RRP £7.99).
There is NO adult spend required. However, you need to be an o2 customer and have the Priority Moments app to use the redemption code.
The child needs to be under 12, there are bottomless drinks soft drinks, unlimited salad and a dessert included.
The offer runs from 11 October until 5 November 2023, however, there are only 20,000 codes across the country and it's first come, first served.
Beefeater – kids eat free breakfast
Start the day the right way at Beefeater!
Grab continental breakfast, fresh fruit, and a full cooked English breakfast (plus drinks) absolutely free for kids at Beefeater.
Up to two under 16s can eat for free when one adult orders an unlimited breakfast.
They also have a loyalty card if you want to collect points each time you visit.
Bill's
Up to two children can eat at any time of the day from Monday, 23 October to Friday, 3 November 2023 (apart from the weekend) at Bill's.
An adult must order a main dish from the breakfast, lunch or dinner menu for the offer to kick in.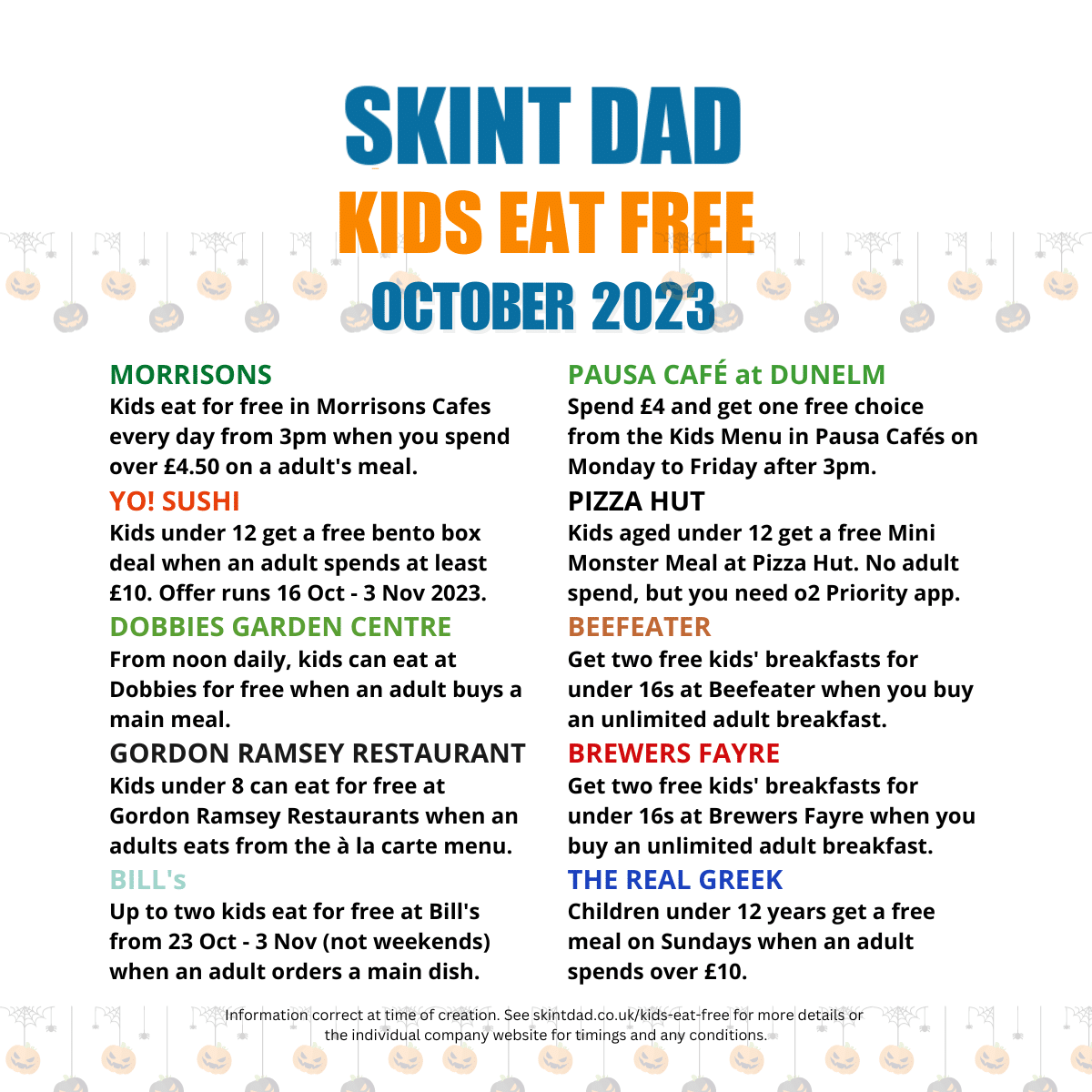 Brewers Fayre – free breakfast
Kids can eat breakfast for free at Brewers Fayre.
Two children under 16 years old can get a free cooked breakfast, pastries, and fresh fruits when an adult orders an unlimited breakfast.
Dobbies Garden Centre
Kids eat for free at Dobbies when you purchase a main adult meal.
Kids can choose from the kid's lunch menu or the pick 'n' mix meal. They also get a drink.
The freebies are available from noon every day.
Gordon Ramsey Restaurants
Kids under eight can eat for free at Gordon Ramsey Restaurants.
They can pick from a main kids menu all day, every day, provided one adult eats from the à la carte menu.
If they want a dessert, it's an extra £3.50.
Heathrow Airport
Off on your jollies? Let the holiday start early, as you can save money on your kid's food when you're at Heathrow Airport!
Your kids eat free at Gordon Ramsay Plane Food (Terminal 5) all year round.
However, during the half term holidays, other restaurants across T2, T3, T4 and T5 take part too.
Participating restaurants include Leon, Big Smoke, Caviar House and Giraffe.
Preto
Preto Brazillian Rodizio (not Prezzo Italian) offer kids eat free option all day from 4 PM every week day, and at all times over the weekend.
Kids need to be under ten years old.
You must download a voucher and present it to staff to get the price reduced.
The Real Greek – kids eat free on Sundays
Forget a Sunday roast at home!
Dine in at the Real Greek, and your child can have a free meal each Sunday.
Your kid (who needs to be under 12) will get a meal from the kid's menu, a drink, plus ice cream or sorbet.
Each kid can eat for free for adults who spend over £10.
Tesco
Tesco is running their Kids Eat Free scheme over the half term from 16 October – 20 October in Scotland, 30 October – 3 November in Northern Ireland and Wales, and 23 October – 3 November in England.
You'd need to spend a minimum of 60p in the cafe to get a free kid's meal from the breakfast, hot meal deal or cold pick and mix deal.
You also need to present your Clubcard for the offer to work.
Brewdog
As long as an adult buys a main meal over half term, and prebooks the table with the code Kids Eat Free' you can get one free kids meal.
Your child must be under 13, and there are selected dates, depending on which site you visit.
Kids Pass
Kids can eat free at restaurants nationwide with one simple app.
Join Kids Pass today for a £1 trial. Your kids can eat free at restaurants including Papa Johns, Bella Italia, Prezzo, Giraffe, Hard Rock Cafe, Grafunkels, NYC Bar and Grill, Homemade Hamburger and more!
Just to add, the Kids Pass is pretty awesome! On top of the restaurant offers, check out the other Kids Pass offers, which give you massive discounts on days out, cheap cinema tickets and cheap holidays.
Not free, but mega cheap
Now while these kids' meal deals aren't free, they are still worth a mention, as you can get your kids' tummies satisfied for around a quid!
I'd still prefer to spend £1 than full price ;)
Asda – kids eat for £1
Are you heading in to do your food shop? Then why not get a free meal at Asda for your kids while you're there?
Your kids can eat for £1 in the cafe. Children are classed as under 16. This offer has been running for a while and has been extended over the Easter holidays.
If you've got little bubbas, Asda gives away free Ella's baby food pouches for children under 18 months old with any purchase.
Have you made your own food? There is also free baby food-making facilities, including a microwave to heat the food and baby bibs.
IKEA
Children can get a meal in IKEA for 95p or £1.50 each day from 11 AM.
They can pick from a kids' pasta and tomato sauce with a drink for 95p or get anything else from the menu for £1.50.
Remember, they also run a free 45 minute supervised play area, Smaland creche, so you can have a bit of time for a peaceful tea alone or you can get some shopping done.
Sainsbury's
Kids can choose from a hot main meal or a lunch bag and eat for £1 at Sainsbury's Cafe.
However, the offer only kicks in when an adult hot main meal costing at least £5.20 is purchased at the same time.
Bella Italia
For £1, your kid can eat a three-course meal at Bella Italia.
The offer runs from Monday to Thursday from 4 PM to 6 PM.
The menu is suitable for kids aged between 2 and 11 years.
Sizzling Pub and Grill
Each weekday from 3 PM until 7 PM, your child can eat for £1 at Sizzling Pub and Grill.
You'll also need to order a main adult meal for the offer to kick in.
Butlins
Does Butlins count? Well, if it's on this list, it must be, right? ;)
On selected school holiday breaks, your first child can eat for free.
The offer applies to kids aged between 2 and 14.
There's only limited availability, so you need to book sooner.
Other deals and offers
TasteCard
You can get up to 50% off using a Tastecard at over 6,000 restaurants, including Pizza Hut, Frankie & Benny's, Pizza Express and plenty more.
Find out more about the TasteCard offers.
Gourmet Society Card
You can get 2-4-1, 50% off food, or 25% off your WHOLE bill at restaurants across the UK.
It's just £1 to get the card for a 60 day trial.
Meerkat Meals
Get two for one meals (for the grown-ups!) at restaurants up and down the country. You also get 241 on cinema tickets too.
We managed to get Meerkat meals and movies for the entire year for just £1!
And always remember that usually, during half terms, you can get half price pick and mix at Wilko, which will keep the kids entertained for ages picking them and minutes eating them!
Come and join thousands of other savvy shoppers in the Reduce Your Supermarket Spend Facebook community to learn tips and tricks to save money on your food shop.
Enjoy this post? Why not also sign up to receive our newsletter.
We send out all the best money saving news and tips from the site and as an added
bonus you'll get an exclusive £16 cashback from Quidco (new members only)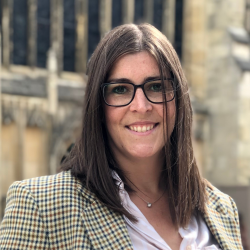 Latest posts by Naomi Willis
(see all)