World Book Day is not just about dressing up at school. Your child also gets a free book token, so be sure to cash it in for one of 12 awesome books.
World Book Day 2023
World Book Day is on 2 March 2023!
It can be that awful time of scurrying around the house looking for something half meaningful to make look like a costume or putting your hand in your pocket and buying an outfit from the shop.
Schools do things differently.
Most allow your kids to dress up as they want, which gives you that awkward discussion with your kid over what you can get them vs what they really want to dress up as!
Then, there are the other schools, like ours, who say the kids need to dress up as a character from a book they've been studying.
Sometimes this makes it easier as there are only a few dress-up ideas you need to think about, but on the other hand, it can make it harder as some characters can be challenging to make up!
Here's our little White Bear King, from The Princess and the White Bear King (great read by the way, if you haven't yet) from a previous year.
Free books with a World Book Day book token
After coming up with cheap last minute World Book Day costumes and (usually) making something out of nothing, at the end of the school day, it's not actually over.
You're able to get free books.
Your child ** should ** come home from school with a £1 book token to get a free book.
(** While you may not see it in your child's school bag straight away, have a rummage at the very bottom for a small screwed up bit of paper…anyone else's kid?!)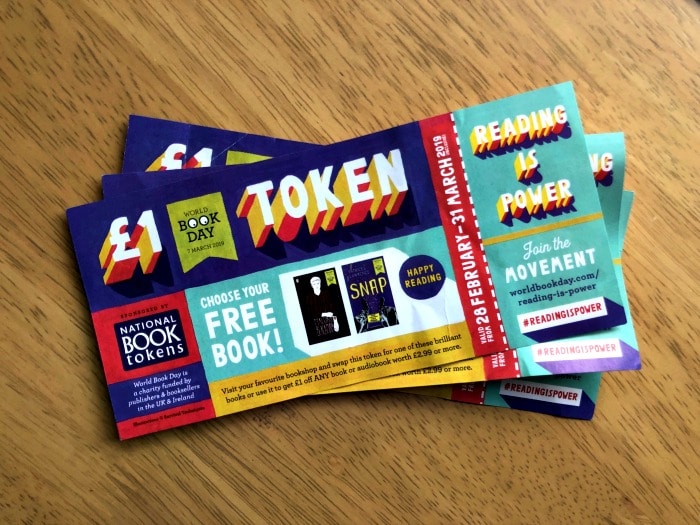 £10 BONUS OFFER: Earn easy cash by watching videos, playing games, and entering surveys.

Get a £10 sign up bonus when you join today.

Join Swagbucks here >>
Once you've located the free book voucher, just take it to your local book shop (there is a list of local participating sellers here).
Shops taking part include Asda, Blackwell's, Morrisons, Sainsbury's, Tesco, Waterstones, WHSmith, The Works and hundreds of independent booksellers.
There are 12 different books up for grabs in 2023, plus additional books in Ireland and Wales: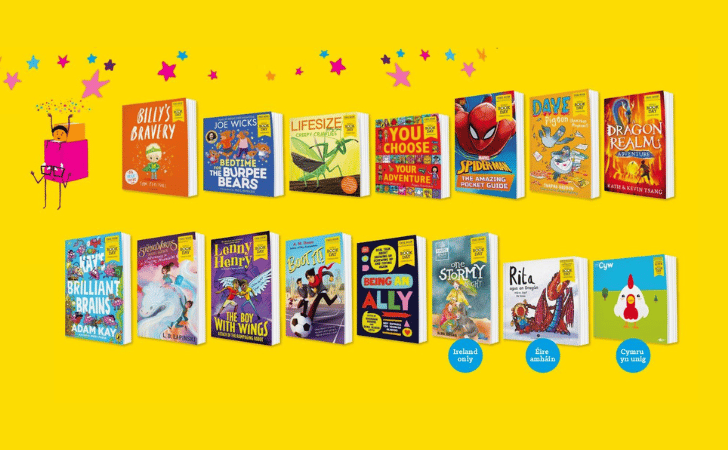 ---
Beginners:
Billy's Bravery
Bedtime for the Burpee Bears
Lifesize Creepy Crawlies
Early:
You Choose Your Adventure
Dave Pigeon: Bookshop Mayhem
Marvel Spider-Man the Amzong Pocket Guide
Fluent:
The Boy with Wings: Attack of the Rampaging Robot
A Dragon Realm Adventure
The Strangeworlds travel Agency: Adventure in the Floating Mountains
Kay's Brilliant Brains
Independent:
Boot It!
Being an Ally: Real Talk About Showing Up, Screwing Up, and Trying Again
In Ireland only:
Hazel Tree Garm: One Stormy Night
Rita agus an Dragún
Wales only:
Gwisg Ffansu Cyw
---
If you don't want to get one of the free books, you can use the token to get £1 off any other full-priced book (you get €1.50 off if you're in Ireland).
Prefer a free audiobook? That's ok too. The audiobook just needs to cost at least £2.99 (or €3.99 in Ireland).
You're also able to use your free book token for braille, large print and audio.
For braille and audio call 0303 123 9999
For large print via Guide Dogs call 045 143 10005
For audio versions via the RNIB and Calibre Audio, call 01296 432 339.
NCBI – Braille, audio, large print (Ireland) 01 8642266 (or email library@ncbi.ie)
Just be aware that the World Book Day tokens do expire and need to be used before Sunday 26 March 2023. However, some participating booksellers might honour the vouchers after 28 March while stocks last.
If you/your child want to listen to a range of free full-length audiobooks or audio excerpts, there are loads here.

Come and join thousands of other savvy shoppers in the Skint Dad Facebook community to find out tips and tricks to save money on your food shop.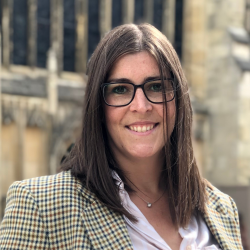 Latest posts by Naomi Willis
(see all)