A tumbler dryer might be a quick way to dry your clothes, but they are expensive to buy, run, and take up a lot of room!
Cold winter weather is hardly the best time to dry your clothes outside. If it's not raining, it's too cold to dry them quickly, if at all. It's during these chilly months that we often need to make other plans, and well, if your clothes aren't going to dry outside, there's only one other alternative, isn't there?
Drying clothes indoors isn't everybody's cup of tea, but there are times when there isn't any other option, so we've got to make it work as quickly as possible!
Let's look at some of the best ways of drying clothes indoors quickly.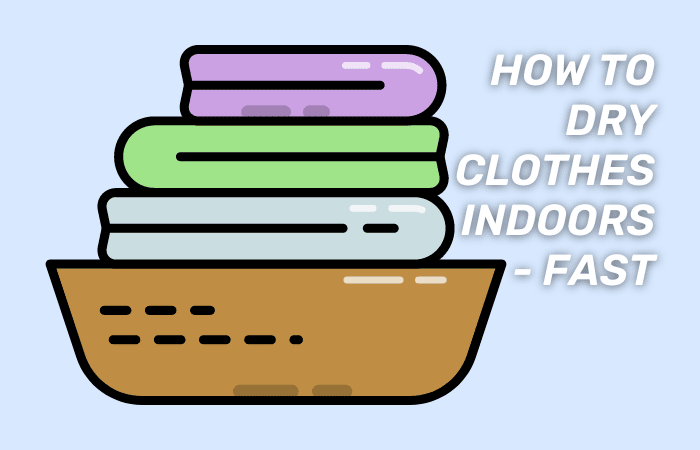 £10 BONUS OFFER: Earn easy cash by watching videos, playing games, and entering surveys.

Get a £10 sign up bonus when you join today.

Join Swagbucks here >>
Preparation for drying clothes indoors
Before you even start thinking of drying your clothes inside, make sure you're doing the preparation work right. For starters, reduce the washing load in your machine. The temptation is to squash as much into your washing machine as possible, especially when you've got an enormous pile of washing. But think about this:
Packing too many clothes into a washing machine will make them damper, and the washing will take longer to dry. You're drying them inside, remember?
Secondly, pop your washing machine onto a higher spin cycle. You'll find that there'll be less retained moisture that way, and drying will take so much quicker. Trust me; when you take your load out of the washer, you'll be thankful you've listened to this advice.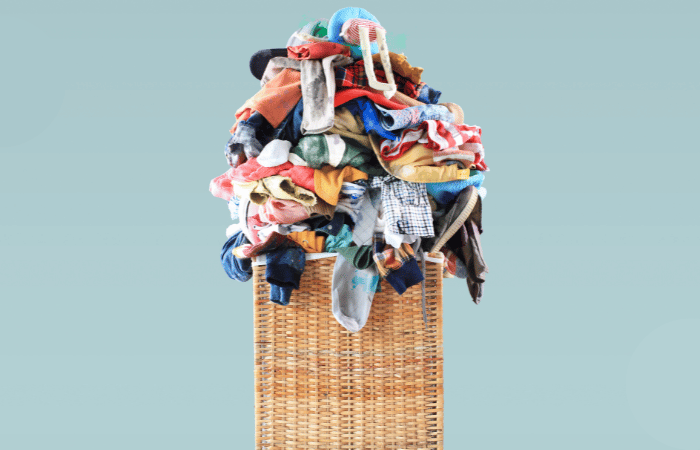 Where and how to dry clothes inside
There are numerous options for drying wet laundry indoors, but there are also a few "dos and don'ts" to ensure it's done quickly without any lasting adverse effects on your clothes or yourself. Let's consider some of these options for your new frugal living lifestyle.
Heated drying rack
Best picks
1. Concise Home Portable electric clothes dryer 1000W
This electric clothes dryer doesn't use much energy, and has a compact design so doesn't take up loads of room. Because of the way the clothes hang, it also takes out most of the creases, so you don't need to iron as much (if at all). Clothes can be dry in as little as two hours, and it can help warm up the room you're using them in, so you don't need to have radiators on.
2. 18 Bars Winged Electric Heated Clothes Airer Dryer
This dryer is foldable and can be extended for larger loads. You can fit around 10kg of washing on the dryer. It has low energy consumption.
A heated drying racks speed up the process of getting your clothes dried so much quicker. They are more energy efficient than tumble dryers.
To boost the dry time and cut it down to hours, add a heated drying cover. This one works perfectly with the winged dryer above.
Dehumidifier
Best picks:
1. Dehumidifier Condensation Remover Moisture Absorber
You get 5 specially made tubs that are designed to remove dampness and humidity from the air in your home. They are cheap, and each one lasts between 4 to 6 weeks.
2. UniBond AERO 360º Moisture Absorber
We have one of these in our bathroom as we don't have any windows in the room. It's worked wonders in removing excess moisture, but also helps to neutralise bad smells in your home. It's designed for rooms up to 20m². You do need to buy replacement refills every few months.
3. Pro Breeze Dehumidifier 500ml Compact and Portable Mini Air Dehumidifier
This is a budget electric model that costs around 1p per hour (with October 2022 energy prices). It can remove up to 250ml of moisture per day. It's lightweight, compact and ultra-quiet.
The risk of dampness when you dry clothes indoors are concerning, and musty-smelling clothes are genuinely unpleasant to wear. Investing in a dehumidifier means you can dry your clothes indoors with no real concerns about where to dry them, as long as it's in the same room as the dehumidifier, of course!
A dehumidifier would be especially helpful in older houses where rising dampness or mould spots are a problem, as it would keep the air dry by removing as much moisture as possible. Dehumidifiers are pretty expensive, so shop around for the best deal you can find.
Drying rack
Your old faithful drying rack was always going to be a valuable household acquisition, and every winter, you're reminded why. It might seem like a simple and affordable solution, and, make no mistake, it is, but where you position your drying rack in your house is very important.
Wet clothes have a horrible habit of causing mould if they're damp for too long, so drying clothes efficiently inside means you should identify the best rooms in your house to stand your drying rack or a heated clothes airer if you have one.
In damp weather, find the least humid room in your house to carry out the drying process, as wet clothes release damp into the air. Ensure you have enough floor space to stand your drying rack. Whichever room you choose to stand your drying rack should have enough floor space, and the more available open space, the better.
It might be a dedicated laundry room, kitchen, a garage, a spare room or even your dining room, but it should ideally have sunlight and encourage airflow, so open the doors and windows to dry your clothes indoors. The important thing is to make sure your drying rack isn't surrounded by too many other oversized items, as this will slow down the drying process.
Coat hangers
Use coat hangers to hang your more fragile and delicate items like shirts or blouses when space is limited. Even if there's space on your drying rack, it's an idea to use hangers as they'll prevent any snagging of items and encourage faster drying times and less ironing.
Often you'll be able to move clothes on hangers directly from the doorway or window ledge where they're hanging straight to the wardrobe too! An open doorway is perfect for hanging clothes hangers when you dry clothes inside because the position encourages airflow.
Spread out clothes
Perhaps you don't have enough drying rack space to dry clothes? There are other ways to get clothes dry inside, and sometimes this means just spreading your clothes out in your laundry room or spare room.
Spreading wet laundry flat on any hard, dry surface, like an even dining room table, for example, can be a solution if your rack is full but don't put wet laundry on material surfaces like couches for apparent reasons. Keeping them flat will dry your clothes faster, and ironing them will be easier. As the clothes dry, turn them over to speed up the process more.
Further points to consider when you dry your clothes indoors
There are some further tips to consider when you dry clothes indoors, some of which are very important.
Don't air dry garments for too long
If you've been drying your clothes inside for a full day and they're still damp, you'll have to rinse them again as they will have started to smell musty and make you unpleasant to be around when you wear them. If they aren't dry in 24 hours at most, consider rinsing them in the washer again and visiting a laundromat to get your clothes dry.
Keep wet clothing out of your bedroom and living room
Wet laundry in a living room or bedroom where you spend lots of time could be detrimental to your health. Drying clothes give off moisture which creates extra humidity, which, for many people, can lead to chest problems.
It is better to place clothes in unused, well-ventilated rooms where they can dry more quickly and without adversely impacting their surroundings and the people living there.
Avoid the bathroom when you clothes-dry indoors
In most homes, the bathroom is the dampest room in the house. Think about it, constant bathing and showering releases hot air into the room, condensing on tiles, walls and ceilings. Spending time in the bathroom is obviously necessary, but from a health perspective, you want to spend as little time as possible there.
Compounding health risks by leaving drying clothes in this space doesn't make much sense.
What about a tumble dryer?
If you've got a tumble dryer, your problem's solved. There's no easier way of drying clothes than with one of those little power guzzlers, is there? Seriously though, although they aren't the most economical and are one of the appliances that use the most electricity, tumble dryers are the most obvious choice to dry clothes inside quickly, and they do make life so much easier once the winter clouds arrive.
If you are going to use a tumble dryer, don't pack it full, though, as the excess moisture means your clothes will take forever to dry, and you'll cry when you get your utility bill.
But, with all these tips, there are plenty of other ways to get your laundry dry that won't take days, and you can save on your utility bill too.
FAQs
How do you dry clothes fast inside?
Keep garments apart for better circulation of air and faster drying. Leave clothes near a fan or a heat vent to air-dry faster.
How long do clothes take to dry indoors?
If you use an airer, and it's very cold weather, it can feel like a good day to dry clothes. However, if you use a heated airer, you can get clothes dry in around two hours.
What is the iron and towel trick?
Place your wet garment on your ironing board and place a clean, dry towel on top of the garment. Heat your iron to maximum heat and iron the towel, which transfers the iron's heat into the towel, which will then absorb moisture from your clothing.
Can I dry my clothes in the microwave?
Drying your clothing, especially large items like bed sheets, jeans and shirts, in the microwave could cause electrical fires and is certainly not advisable!
Conclusion
When you dry clothes outdoors, there's no fuss, apart from hanging them in the morning and taking them off in the afternoon. It's simple and convenient. There will always be times when it's necessary to dry clothes inside your home, with the trick being to keep this process simple and convenient as well. Hopefully, some of the tips we've given will help to do this.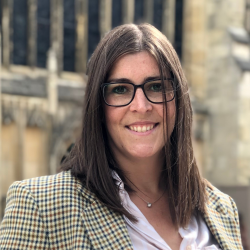 Latest posts by Naomi Willis
(see all)