A food parcel provider has shared a list of what nutritious food items are included in a ten-day hamper. Here's how to compares to Tesco.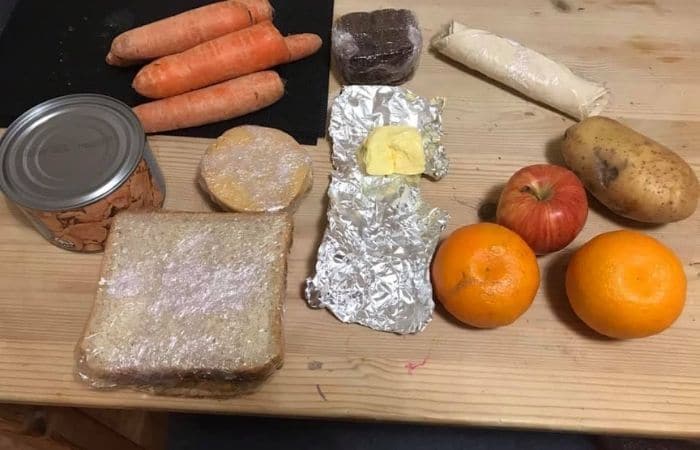 £10 BONUS OFFER: Earn easy cash by watching videos, playing games, and entering surveys.

Get a £10 sign up bonus when you join today.

Join Swagbucks here >>
So there has been some backlash about children's food parcels that, during the last lockdown, were vouchers that parents could spend on food in the supermarket.
Some of the pictures were shocking, and I've had conversations with too many people today about how they will manage. I have to say, pretty much everyone is grateful for receiving something – it's just what they received is the issue.
Food decanted into smaller pots, mouldy veg and portions to last a few days, not a whole week.
One of the food pics that went viral on Twitter was provided by Chartwells, part of the Compass Group, who cater for schools.
Chartwells have since shared the list they work to, which show the quantities they expect to be in a lunch food "hamper" for two weeks for one child.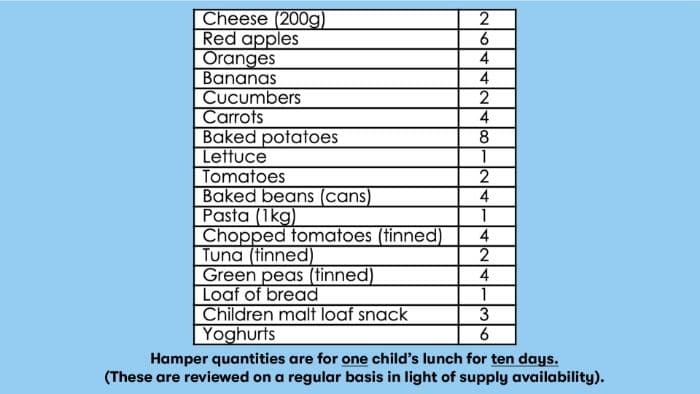 According to their tweet, a one week hamper would cost £10.50, including the food, packing and distribution.
So, would two week's food, packing and distribution cost £21?
If parents were to get vouchers instead, how much would this list cost at Tesco?
Chartwells vs Tesco food price comparison
I added the food list to my Tesco online basket to see how much it would add up to.
Here's the list above with current prices (I've used Tesco Clubcard prices where there is a deal as I'm sure most parents are signed up to get the loyalty points):
Cheese 200g x2 – £1.79 for a 400g block

Red apples x6 – 64p for an 800g bag of imperfects (looks like around 9 apples per bag)

Oranges x4 – 69p for about 8 in a bag

Bananas x4 – 53p loose

Cucumbers x2 – 86p

Carrots x4 – 16p loose

Baked potatoes x8 – 58p for two bags of 4 with Clubcard Prices

Lettuce x1 – 43p

Tomatoes x2 – 75p for 6

Baked beans (cans) x4 – 92p

Pasta 1kg – 58p for 2 500g bags

Chopped toma (tins) x4 – £1.12

Tuna (tinned) x2 – £1.18

Green peas (tins) x4 – £1.20

Loaf of bread x1 – 36p

Children malt loaf snack x3 – £1 for 5 snack size bars (Clubcard Prices)

Yoghurts x6 – 79p for 6
The total shop works out at £13.58.
Now I appreciate they have staff to pay, vans to drive, and profits to be made, but surely if they are bulk buying food to feed thousands of children, they should be able to do it nearer the price of Tesco? Tesco certainly price matches Aldi.
Plus, remember they will be getting an extra £3.50 per child week as an additional allowance.
I'm not saying that the government should provide less to families as this meal plan won't suit all tastes (I know many kids who refuse tuna).
I am suggesting that vouchers need to go back into the hands of parents to shop and choose what's best for their kids.
Parents will then feed them, rather than have a half-full box of foods that won't last more than a few days.
Rather than needing to use food parcels, the government has now reintroduced the national voucher scheme from 18 January.
Their statement
In a statement from Chartwells, they said:
"We have had time to investigate the picture circulated on Twitter. For clarity this shows five days of free school lunches (not ten days) and the charge for food, packing and distribution was actually £10.50 and not £30 as suggested. However, in our efforts to provide thousands of food parcels a week at extremely short notice we are very sorry the quantity has fallen short in this instance.
"Our ten-day hampers you typically include a wide variety of nutritious food items to support the provision of lunches for children, which is reflective in the table.
"We are further enhancing our food parcels following the Department for Education's additional allowance of £3.50 per week per child in line with nutritional guidelines, in addition, we welcome the DofE procurement notice for schools issued today.
We would like to thank Marcus Rashford and Permanent Under Secretary of State for Children and Families, Vicky Ford, for their contribution as we navigate these difficult times."
Please see below our full statement on the provision of free school lunch food parcels. pic.twitter.com/asHzTJCe3l

— Chartwells (@Chartwells_UK) January 12, 2021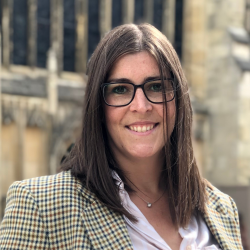 Latest posts by Naomi Willis
(see all)