With the current National HGV driver shortage in this country, companies are trying to come up with ways to encourage new applicants, including apprenticeships, driving schools and boot camps.
Here we take a look at how to get a HGV licence for free.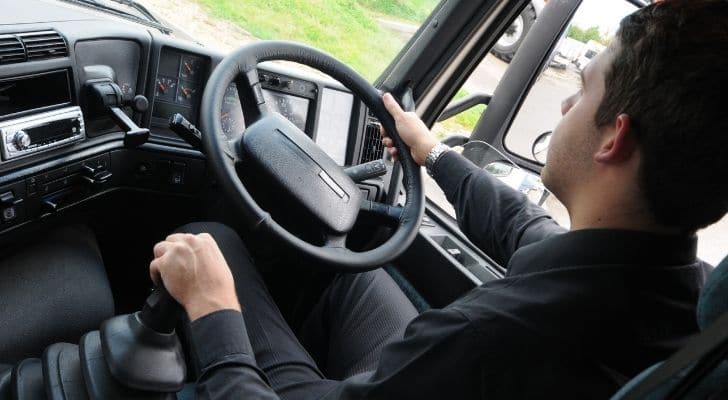 £10 BONUS OFFER: Earn easy cash by watching videos, playing games, and entering surveys.

Get a £10 sign up bonus when you join today.

Join Swagbucks here >>
Government funded skills bootcamps
If you are new to HGV driving or are returning to the job, the free Government-funded Skills Bootcamp course will help you gain your license.
It is a 16-week course that is designed to help you on your way to becoming a HGV driver. You will learn skills needed in this sector as well as be fast-tracked to an employer for an interview.
The course includes the costs for the medical and getting a provisional license.
When you train to become an HGV driver you have to take 4 CPC tests. This stands for Certificate of Professional Competence.
The Bootcamp course will cover the cost of these tests and include one free resit per test. Some courses are face to face; others are online.
For more information on the Bootcamp courses, click here.
What are the requirements?
You must be 19 years or over, and you must already hold a full UK driving licence.
Some providers have extra criteria, so it is best to check before you apply. You must be working or have recently become unemployed in the last 12 weeks.
How to apply?
You can apply directly through the training providers. A list of providers and dedicated training centres can be found here.
Other government-supported HGV training options
Government's Adult Education Budget (AEB)
This Government-funded program is there to help kickstart careers for those looking to change jobs or start in something new.
It can be easily accessed by employers to upskill their workers or individuals to finance a career. It applies to several sectors, and HGV training is one of them.
Due to the rise in the number of lorry drivers needed, the Government has developed flexibilities around the training for HGV licences.
The current offer is in place for the academic year 2021 to 2022 and includes a Level 2 qualification. This allows students to acquire an HGV licence up to category C and E (articulated vehicles).
It also enables students to take part in additional qualifications that are sector-approved.
The cost of the HGV licence and medical will be reimbursed for all eligible students.
Students must be eligible according to certain criteria and be enrolled on an approved course.
Details of criteria and courses available can be found here.
Private logistics companies
There are lots of private companies in this sector that will offer to train drivers and help them become professional HGV drivers.
There are usually conditions that come with this offer; for example, you may be required to work for them for some time after you get your HGV license.
Whilst being guaranteed a job as a lorry driver with the company is a real bonus, there are some questions you should ask before you sign anything.
Take a look at the most in-demand jobs in the UK right now
Factors to consider when accepting free HGV training from a future employer
Length of the contract
The company that you train with will normally ask that you sign a contract stating that you will work for them for a set period after you pass your test.
This is usually two years, but it may be longer; each company will set out their own criteria.
Completing your training in this way is a great option in the sense that you are getting a guaranteed job at the end, but you must also bear in mind where you want to be at this time and if you can see yourself happily working with that company for that long.
Are there any penalties if you decide to leave?
Check the small print. If you sign a contract agreeing to stay with the company for a set number of years but find yourself in unforeseen circumstances meaning you have to leave, you need to be aware of an early release penalty.
For example, it may be written into the contract that if you leave before the end of the agreement, you have to pay back a portion of the cost of the HGV licence training.
What happens if you're fired from your job?
If you are unfortunate enough to lose your job, you may find yourself being faced with penalties.
Again, check the small print before you sign and be aware that if you are dismissed, you may be asked to pay the whole cost of your HGV licence training.
It is important to note that whilst we all want to be the best worker we can be, many mistakes can happen in HGV driving, so don't rule this one out.
Is there a 'cooling-off period?'
Companies may write a cooling-off period into the contract. This means that when you leave, for whatever reason, you are not allowed to approach any other company or competitor to seek employment.
Check out the highest paying UK jobs you can do without needing a postgrad qualification.
Companies who provide free HGV driver training at the moment
DHL – 'Driving Ambition'
How does the DHL – 'Driving Ambition' scheme work?
DHL are a global giant in logistics. They have recently set up a scheme to boost the number of new drivers in the sector by offering fully funded driver training.
They provide free training courses up to £3000 so candidates can qualify as a lorry driver of category C and category C and E and get their HGV licence.
Health & Safety Training Limited
Health and Safety Training limited offers HGV training in Newcastle, Darlington and Billingham to those who are unemployed or on low incomes.
It is run over five days on-site and will support you through your theory training, mock tests, practical training and finally, your practical test so you can drive professionally.
What are the requirements?
You must have a full driving licence, be over 18 and pass a medical.
The Job Gym
The National Logistics Academy's sister company, The Job Gym, runs a HGV licence boot camp programme which not only supports you in getting your licence but also guarantees you an interview with one of 50 employers with more than 3000 vacancies.
The programme is a series of online, virtual and face to face sessions and includes theory tests and the driving test.
Pertemps HGV free training program
Still wondering how to get an HGV licence for free? Pertemps Driving Academy is providing a free licence acquisition programme to try and increase the number of HGV drivers on the roads.
They cover fees for training and tests up to £5000. You must hold a UK driving licence and be over 18. Lessons include on the road coaching and classroom workshops.
Local councils – free HGV driver training schemes
'Let's Talk Logistics' – Blaby District Council, Leicestershire
Translink Express Logistics is a Leicestershire business that has pledged to help get more HGV drivers on the road. They are offering free HGV training covering costs up to £2500.
They will pay the trainees a wage and also include the offer of upgrading from Class 2 to Class 1, within six months of passing, for free.
Walsall Council
System Group in Walsall is working with employers such as Eddie Stobart and XPO Logistics to run programmes to help people achieve their HGV licence. Learning is a mixture of online lessons and practical sessions.
Job Centres – free HGV driver training courses
Advice about taking a free HGV course can be found at your local Jobcentre. The programmes are available for those who have recently become unemployed as well as those on a low income.
They are a great way to get back into work and kickstart a new career in an industry with a current shortage.
You may be able to get a guaranteed interview once qualified or even be taken on permanently by a company if you do the course via a private company.
FAQs
What are the different classes of the HGV licence?
Category C1 licences allow you to drive vehicles that weigh between 3.5 and 7.5 tonnes; a Class 2 or Category C licence enables you to drive vehicles that weigh 7.5 tonnes or more but must have a rigid base.

Finally, Class 1 or Category C and E allows you to drive vehicles of more than 7.5 tonnes with a detachable trailer.
Can I get a free HGV driving licence by joining the military or defence forces?
There are several driving exemptions for full-time military personnel to make sure they can carry out any necessary duties.

This means they are allowed to drive larger vehicles without the usual entitlement on their licence.
How long are the Government-funded Skills Bootcamps?
These courses are usually run over 16 weeks.
Final thoughts
With the immense importance of the logistics sector in keeping our economy going, it is the perfect time to get your HGV licence and become a driver.
It is a well-paid job and is now open to everyone thanks to the schemes and programmes that offer the training to get your HGV licence for free.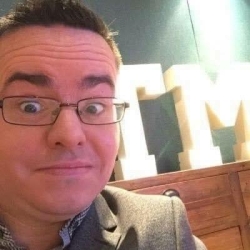 Latest posts by Ricky Willis
(see all)