Picture this
It's the 23rd October, a normal Wednesday morning.
Naomi had gone to work and Daniella was at school. Chloe and I were not doing anything out of the ordinary, just playing, having fun and doing some silly dances, as you do!
What I didn't know was that something was about to happen that would change my life.
Now I have got to be honest, I am a social media junkie. There isn't 10 minutes that go past when I don't check Facebook, Twitter, Google+, Instagram, Pinterest….you get the idea.
So on that normal Wednesday morning, whilst sitting on the sofa watching the 50th episode of Peppa Pig with C, I grabbed my phone and logged on to Twitter.
I love Twitter. I love that you can interact with people from all walks of life and you forge friendships with people you would never meet in a lifetime.
Anyway, as I was scrolling through the time line I noticed that someone I was following (@mse_forum) announced that a member of their forum had entered a competition and won £20k!
I quickly replied, astounded that someone had won that amount, and said "OMG! I need to start entering some competitions."
A few minutes later a notification came through on my phone. It was another user, @SavvyAnnieUK who sent me a tweet with a link, telling me to give this competition a try. I said thanks and clicked the link.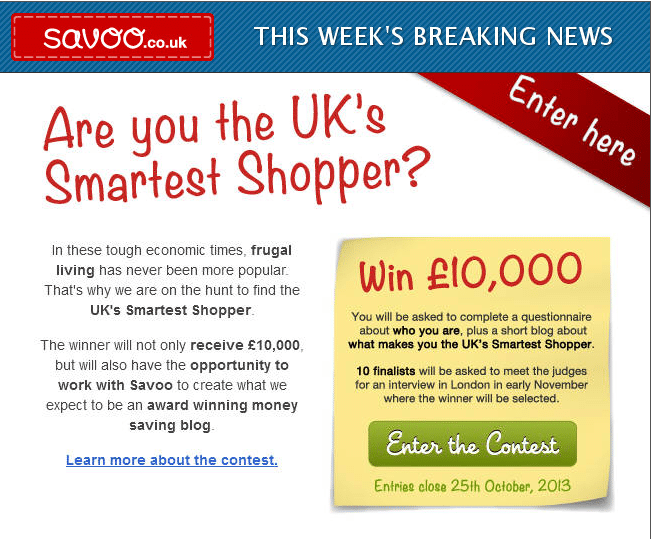 £10 BONUS OFFER: Earn easy cash by watching videos, playing games, and entering surveys.

Get a £10 sign up bonus when you join today.

Join Swagbucks here >>
I glanced at it for a moment, and clicked the enter here button.
Now since having my light bulb moment where I realised that things needed to change, I have been consistently looking at ways of saving money, cutting back, living frugally whilst without living without.
In my eyes I have always been a smart shopper, getting the best I can for my money and pushing for a discount always, but sometimes things happen in life out of your control and no matter how smart you are, you can still end up in a pickle of a situation. That is where I was in my life at that moment.
Anyway back to the competition. The closing date was the 25th (two days away) so I knew it was now or never.
The chance to win a cash prize of £10,000 and the opportunity to work with Savoo for 12 months and beyond, creating a money saving site that can help others and hopefully secure a future for me and my family. Well, you can imagine how I felt.
This was it. This is what I was waiting for. The next stage in my life.
I wasn't being cocky, big headed or boastful but I knew if I put my heart and soul into winning this competition I would have a chance. I knew that this was an opportunity to take that next step towards our ultimate goal.
I digested the questions, five in total.
Answering them with a determination in my heart, I started picturing myself getting through to the next stage, being in front of the judges and telling them why I think I am the UK's Smartest Shopper.
In my eyes being a smart shopper hadn't changed my life. It saved my life.
Finishing the questions my mind turned to my family and the struggle we had been through over the last few months and how they deserved better.
I re-read and re-read again my answers before submitting my entry.
Over the next few days my mind wandered back to the competition, wondering when they would notify the 10 finalists who would travel up to London on the 9th November for the final.
I didn't have to wait long.
I woke up on the following Friday morning, checked my emails and my heart started to race. An email from Savoo with the following opening line:
"Congratulations! Savoo loved your entry into the UK's Smartest Shopper competition and we would like to invite you to finals day in London on November 9."
I had made it to the next stage.
A single tear starting running down my face, I knew there was still a long way to go but in my eyes I felt like I had achieved something. Me, Skint Dad, Ricky, from my determination and words I had created an opportunity to go for something that could ultimately change our lives.
All that week leading up to the Saturday of the final I was playing over in my mind how it would go. I do this a lot actually. Picturing situations and how I want them to turn out. I always concentrate on the positives and never take anything for granted.
For all of my optimism I still had a huge knot in my stomach. In my mind I had really felt I had achieved something by reaching the final 10 and I knew whatever happened I could build on that going forward.
But you know what? I wanted more.
I wanted to win. I wanted to achieve. I wanted to move forward and succeed.
All my life I have been pushing forward, fighting for the best, getting knocked back, picking myself again and fighting some more for a better life for my family.
In my heart this was it. I knew if I won it could give me the stepping stone onto even greater achievements. A even greater life. A life without worries. An abundant life.
Saturday came and I kissed goodbye to Naomi and the children. Naomi took my hand, looked me in the eyes and told me whatever happened, I was always a winner in her eyes and that she was so so proud of me.
The children next, cuddling me and wishing me good luck.
I started to well up. I love my family with all my heart and I knew whatever happened then or the next day, they would always be there for me as I will for them.
As I live in Kent it only takes 45 minutes to travel to London so before I knew it I was standing outside the venue of the final.
I felt nervous, excited, apprehensive and a number of other emotions that I cannot describe.
Entering the lobby I asked a member of staff where the bathroom was. I didn't need the toilet but I wanted somewhere quiet for something else.
As I entered I could see I was alone. Fantastic.
Now I have been in a couple of situations like this before, mainly job interviews, knowing that I would only get one shot at something.
Because of this, I have this process that I use to help me through. It's quite simple actually. I find a quiet place with a mirror and give myself a good talking to.
As I stared at myself in the mirror I once again started imagining things in my mind but, instead of imagining winning, I imagined losing.
I pictured myself losing everything in my life. My family, my children, my positivity and my fight. I started to shake and that knot in my stomach returned.
Then something magical happened. Instead of picturing losing everything I started picturing everything I had and everything I wanted and wanted to achieve.
I used the feeling of loss and turned it around. The knot in my belly turned to fire and passion and a belief and confidence blanketed over me.
At that moment I knew I could face anything without worry and with confidence.
All it takes it a thought and a process to get you in the right frame of mind to tackle any situation. Mine is thinking of the negative and using the strength of those feelings and turn them into positives. It works for me.
So, with a fire in my belly the time had come for my chance to meet the judges and tell them why I am the UK's Smartest Shopper.
As I sat down I felt completely at ease. They asked questions and I answered them. I spoke passionately about money saving and what I do to cut back, save, live frugally and get the best deals. I only had 20 minutes with them but I could of talked for hours.
Before I knew what was happening the time was up and it was time to leave. I was absolutely buzzing. At that moment I felt, win or lose, I'd just had an experience that would stay with me always.
You may not believe it but I am actually quite the shy type. So for me to face five people who I didn't know and to talk and present myself like I did was a great achievement whatever the outcome.
Travelling back on the train my mind was blank. I was feeling quite emotional. Not in a bad way but in a contented way. I knew I had given it 200% and I could be proud of myself.
Getting back home, my family were excited to hear what had happened and I told them everything. Naomi asked if I thought I had done enough to win and I didn't know the answer.
The next few days were agonising. I know the right thing to say would be I was patient and calm but that would be lying.
I wanted to know the outcome either way.
On the following Tuesday we heard they would be contacting the winner the following morning. This was it. I was going to find out one way or the other.
Wednesday morning came and I was calm.
As I sat there waiting for the news my thoughts once again turned to 8 weeks before when we were really struggling and couldn't see the light at the end of the tunnel.
I thought about how much we had achieved in such a short space of time. How we should be proud of the life we lead and the way we are bringing up our children. Be proud of how we are turning negatives into positives and allowing ourselves to dream of a better life.
It was at that exact point I kid you not, the phone rang.
A number flashed up that I didn't recognise. As I answered I said hello and voice at the end of the phone was a member of staff from Savoo.
"Hello Ricky, how are you?"
"Fine thanks, you?"
"Yes, very good."
"Ricky, I have good news for you!"
"Yes" I replied.
"Ricky, you have won and you are the UK's Smartest Shopper!!"
And in that moment, in a blink of an eye, our life changed….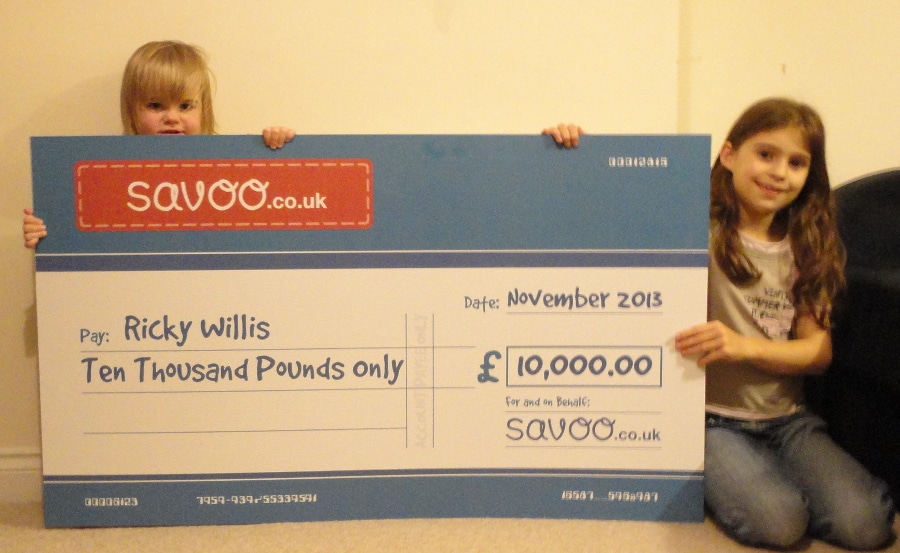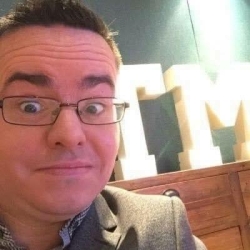 Latest posts by Ricky Willis
(see all)