The M&S Dine In deal gets you a restaurant-quality meal for two for just £12. Here's what you can get this week.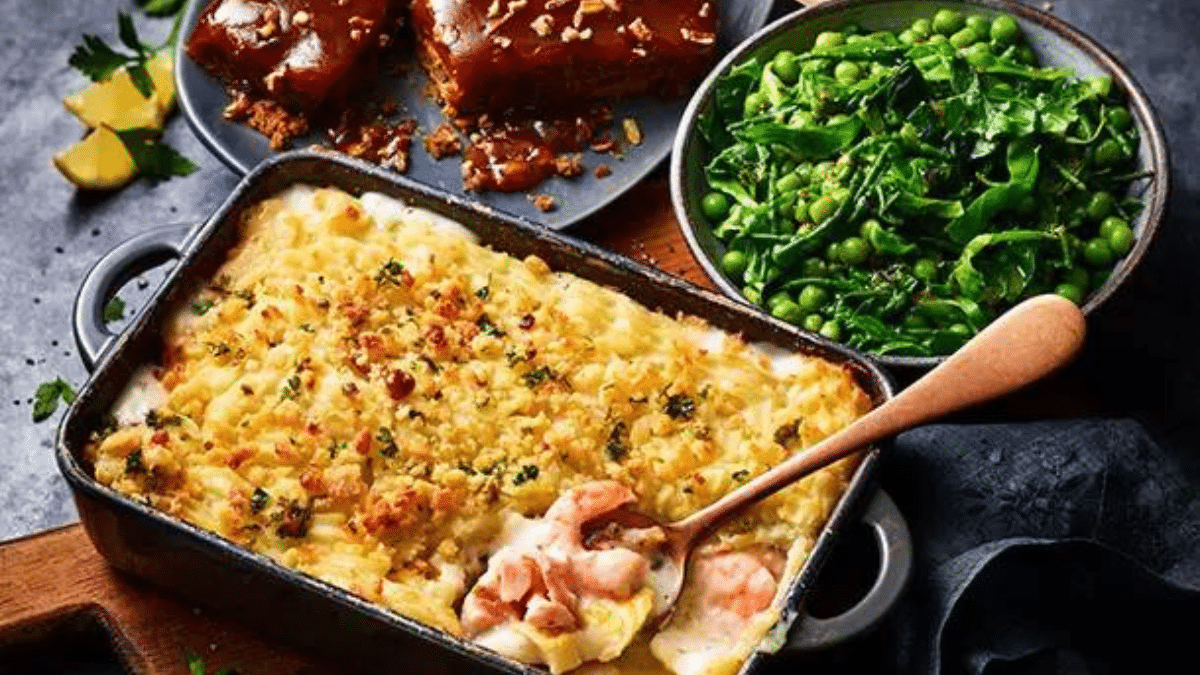 £10 BONUS OFFER: Earn easy cash by watching videos, playing games, and entering surveys.

Get a £10 sign up bonus when you join today.

Join Swagbucks here >>
Dine In for £12 – Gastropub deal
M&S brought back one of the most popular deals over the last year – the Gastropub Dine In.
It's in stores for a limited time only!
You can pick up a main, side and either starter or dessert for just £6 per person!
That's a fraction of the price if you'd eat out!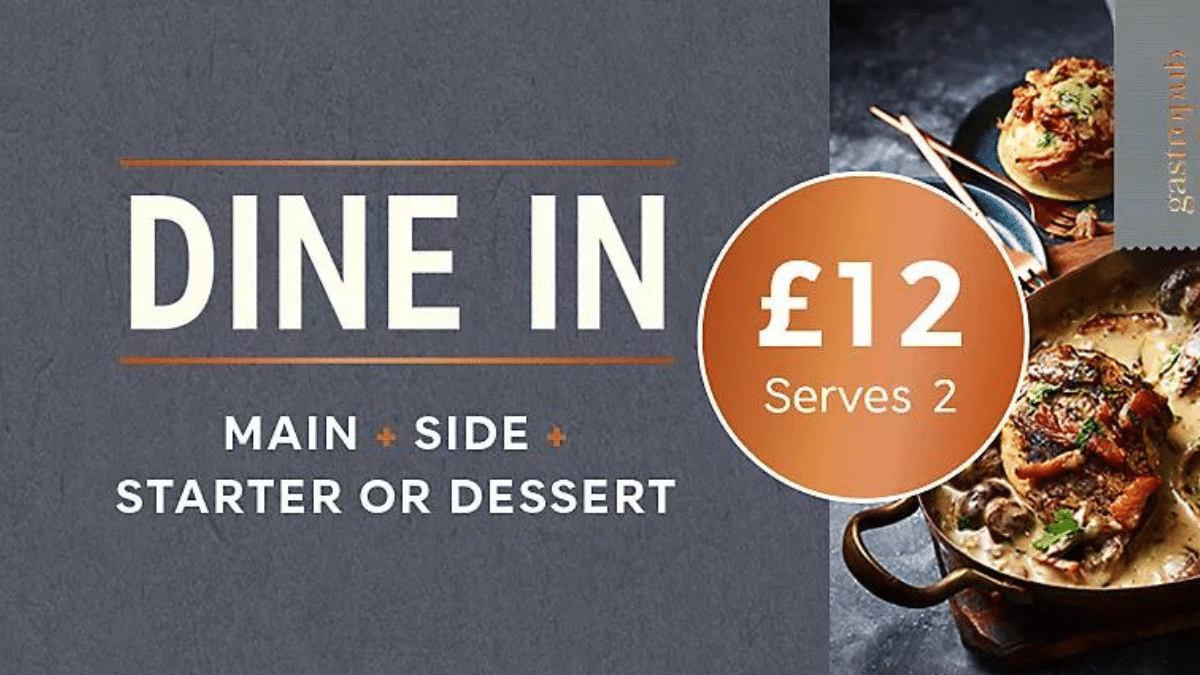 With a maximum saving of £7.50, this is a great deal.
For the biggest saving, pick prawn cocktails to start, followed by chicken forestière, lamb casserole, fish and chips or paella as a main, and pair with potato dauphinoise on the side.
There's something for everyone, with a selection of starters, mains, sides and desserts to choose from.
The deal is running in selected stores only, and is subject to availability.
M&S has sold over 200 million meals since 2018 as part of their Dine In meal deals.
The idea is that you can have restaurant-quality food at home for less.
If there are more of you in the house, why not consider the very popular M&S Family Dine In deal, where you get two mains and four sides for just £15?!
What's included in the Dine In deal?
The Gastropub Dine In offer feeds two people for 312.
You get to pick a main, side and starter or dessert from the selection.
It's available at selected M&S stores with Foodhalls.
STARTERS
Gastropub runny scotch egg
Runny free-range poached eggs wrapped in seasoned sausage meat in golden crispy breadcrumbs
Our Best Ever prawn cocktail
Meaty Honduran king prawns and sweet Atlantic prawns coated in a luxurious cocktail sauce
Gastropub cheese rarebit and ham crumpets
Two crumpets topped with beer-glazed British pulled ham, a mature cheddar and mustard sauce, mature cheddar and parsley
Gastropub mac 'n' cheese balls (V)
Pasta tumbled in a cheese sauce and coated in parsley breadcrumbs, served with a smoky chilli dip
Gastropub Barber's vintage cheddar cheese fondants (V)
Fluffy-textured, extra-mature cheddar cheese fondants with an oozing cheese centre
Mains
Gastropub cordon bleu
Succulent bread-crumbed chicken breasts, with Wiltshire cured ham and mature cheddar cheese
Gastropub beef and stilton en croûte
Flaky butter enriched pastry filled with slow cooked shredded British beef, blue stilton cheese sauce and a red wine jus with beef dripping
Gastropub beef bourguignon
Slow‑cooked British beef, roasted onions, mushrooms and smoked bacon lardons in a red wine sauce
Gastropub roasted aubergine (V)
Roasted marinated aubergines with a tomato sauce enriched with olive oil, marinated semi-dried tomatoes, mozzarella cheese and a garlic and herb crumb topping
Gastropub chicken parmigiana
Fried breaded chicken breasts with a tomato sauce and topped with mozzarella and provolone cheeses
Gastropub fish pie
Smoked haddock, king prawns, cod and Scottish salmon in a cheesy sauce topped with mashed potato and a parsley crumb
Gastropub cottage pie
Tender minced beef in a rich red wine gravy topped with fluffy mash and a cheese and parsley crumb
Gastropub shepherd's pie
Minced lamb and carrots braised in red wine and topped with mashed potato and a parsley crumb
Gastropub paella
Sliced chargrilled marinated chicken thigh, king prawns and chorizo pork sausage on a bed of risotto rice, with a shellfish stock sauce with peas and piquillo peppers
Gastropub chicken forestière
Chicken breasts in a creamy mushroom, white wine and shallot sauce topped with chestnut mushrooms, onions, roasted bacon lardons and parsley
Gastropub lamb casserole
Succulent lamb leg chunks in a lamb stock with a port and wine sauce and pearl barley
Gastropub fish and chips
Haddock fillet in beer batter with chips and minted pea purée
Our Best Ever steak pie
British beef and smoked bacon lardons in a beef dripping gravy, encased in all-butter pastry
Gastropub chicken, leek and bacon pie
Pulled oven-roast chicken in a leek and cream sauce with smoked bacon lardons, encased in handcrafted all-butter pastry and topped with poppy seeds
Gastropub chicken kyiv
Two whole chicken breasts with the sprig bone, filled with garlic butter and coated in sourdough breadcrumbs
Our Best Ever lasagne
Egg pasta layered with a minced beef, chianti red wine and pancetta ragu, grana padano and béchamel sauce, then topped with cheddar
Our Best Ever mac and cheese
Pasta in a creamy cheese sauce topped with mozzarella and an onion and garlic ciabatta crumb
Sides
Gastropub greens (Ve)
Peas, spinach, greens and samphire served with a zesty lemon, garlic and mint dressing
Gastropub potato dauphinoise (V)
British potatoes layered within a creamy garlic sauce, finished with emmental and mature cheddar
Gastropub root vegetable boulangère (V)
Root vegetables in a rich and buttery vegetable stock with caramelised onions
Gastropub maris piper mashed potato (V)
British potatoes mashed with salted butter and double cream for a rich, smooth finish
Gastropub triple-cooked chips
Made from British potatoes and basted in beef dripping for a golden crispy finish
Desserts
Gastropub sticky toffee pudding
All-butter sponge with dates and salted caramel sauce, topped with toffee and pecan pieces
Gastropub chocolate melt-in-the-middle puddings
Two chocolate puddings with a Belgian chocolate sauce centre
Gastropub tarte au citron
Two all-butter sweet pastry cases filled with tangy lemon filling and finished with a sweet dusting
Gastropub mango and passion fruit panna cotta (V)
Two vanilla panna cotta topped with mango and passion fruit compote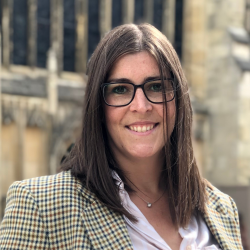 Latest posts by Naomi Willis
(see all)