The registration for the Marriage Allowance has opened which allows married couples and civil partners to cut their tax bills, saving up to £230 per year!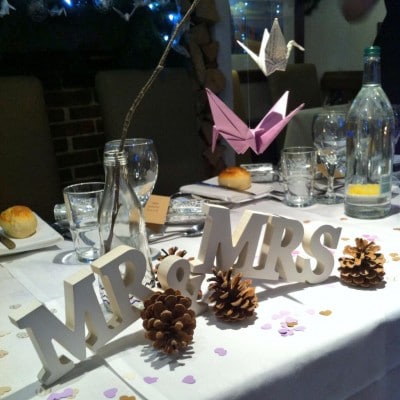 This site contains affiliate links. We may receive a commission for purchases made through these links.
[Learn more]
Having recently got married (I still can't get over that Skint Mum handmade 1,000 origami cranes!), I didn't think there was anything else that could make me happy – until I heard about the tax relief!
Now, I didn't just get married because of the Marriage Allowance, in fact, I didn't get married because of the tax allowance at all but it sure is a useful thing!!
It's simple (which I didn't think I'd hear myself say about tax!).
If you earn less than £11,500 in the next tax year you are able to transfer £1,150 of your personal tax allowance (the amount of income you get before you pay tax) to your other half. Their tax bill will then be reduced by up to £230 per year!
You will be able to transfer £1,150 of your allowance if:
you've got to be married or in a civil partnership
you have to have an annual income of less than £11,500 – including pensions, savings and investments
your spouse or civil partner has to have an annual income of between £11,501 and £45,000 (or £43,000 if you're in Scotland)
and you both had to have been born on or after 6 April 1935
The Marriage Allowance started running from 6 April 2015 and you can apply for it now. All you need to do to register is enter your name and email.
What's even better is you only need to apply once and your spouse or civil partner won't need to register or apply.
Forgot to apply before?
Don't worry :)
If you forgot or didn't know about Marriage Allowance until today, you can backdate your claim to include any tax year since 5 April 2015.
This could mean a few years of back payments, which I'm sure would help!
It may not be the full £230 that's saved and it's all dependant on individual circumstances, but every little helps, hey?
Penny for your thoughts: Are you going to take advantage? Perhaps now is a good time to pop that question and get in those good (accountant's) books?
Latest posts by Ricky Willis
(see all)