For one day only, you're able to get a Big Mac burger for just 99p at hundreds McDonald's restaurants in the UK.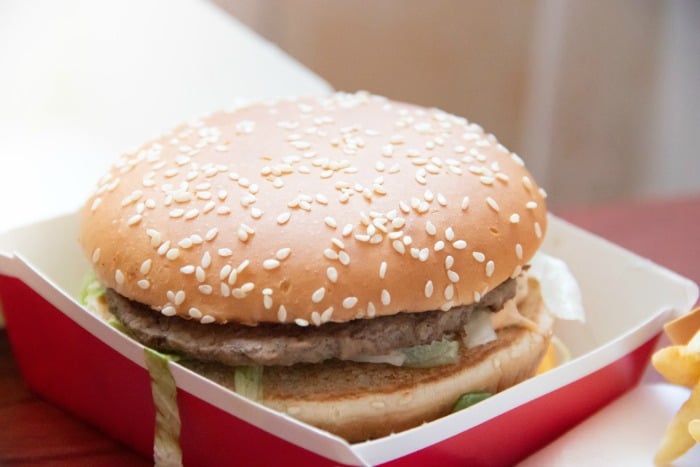 £10 BONUS OFFER: Earn easy cash by watching videos, playing games, and entering surveys.

Get a £10 sign up bonus when you join today.

Join Swagbucks here >>
This deal has now ended.
Don't worry though!
There's a new offer to get free McDonald's fries.
—–
Whether it's healthy for you or not, getting a warm, filling burger for 99p is a bargain!
The McDonald's Big Mac usually costs £3.19, so getting the burger at a deal price of 99p will see you save £2.20.
You've only got one day to take advantage of the offer.
99p Big Mac
On 5th November 2019, McDonald's is selling Big Macs for just 99p.
To take advantage of the offer, you need to use the My McDonald's app and register for an account, which takes all of a minute.
You can download the app for free on either the Apple iStore and Google Play Store.
The offer won't show in the app until 5 November, but it doesn't hurt to download the app in advance so you can be ready.
To get your burger, order it from the "Deals" section and pick your closest restaurant which is taking part in the promo.
When you place your order, you should choose to collect it on the same day.
As it's from the main menu, you won't be able to collect the cheap burger until after 10.30 am.
However, some of the McDonald's restaurants still serve breakfast until 11 am, so you may need to wait till after then if you live in the south.
You're only able to use the offer once per customer, and you can't use it alongside any other offer or promo.
The offer is just for a burger, so if you're after fries and a drink to make a meal, you'll need to pay on top.
Which restaurants are taking part?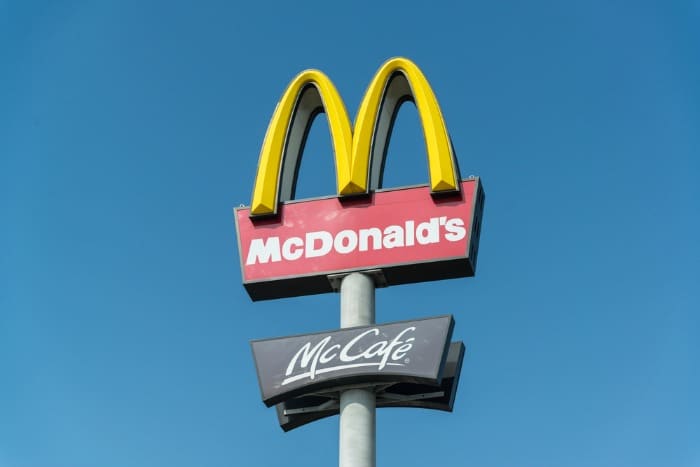 The 99p Big Mac offer is running in most McDonald's restaurants, but not all of them.
Also, remember that their offer is subject to availability. So, don't be disappointed if they somehow manage to sell out.
While there are over 1,270 McDonald's, there are 127 stores not taking part.
Here is a list of stores NOT taking part:
291 Oxford St
Asda Beckton
Asda Bournemouth
Asda Eastleigh
Asda Gravesend
Asda Hatfield
Asda Kendal
Asda Kirkcaldy
Asda Leigh
Asda Newport
Asda Nuneaton
Asda Portlethen
Asda Roehampton
Asda Slough
Asda Swanley
Asda Swindon
Asda Wallington
Asda Wembley
Ashton-Under-Lyne
Athlone – Msa
Beccles
Belfast – Knocknagoney Road (Tesco)
Bham Dale End
Biggleswade
Birkenhead
Bluewater
Bracknell – The Keep
Bridgwater – Dunball
Bristol – Bradley Stoke
Bristol – Fishponds Road
Bromsgrove
Brynmawr
Buckingham
Castletroy
Catterick – Garrison
Charlton
Chelmsford 2 Riverside
Clonmel
Colonnades Retail Park
Cork 4 – Mallow Road
County Hall
Crescent Shopping Centre
Cribbs Causeway
Croydon
Croydon 3 (Centrale)
Croydon Valley Park
Dartford – Spital Street
Diss
Downpatrick – County Down
Drogheda
Dublin – Mary Street
Dungarvan D/T
Durham – Dragon Lane
Earlswood
Eastbourne II
Ennis Drive Thru
Falkirk
Formby
Foyleside Shopping Centre
Galway Retail Park
Glasgow Fort – Morrisons
Glenrothes
Gorey – Msa
Grafton Street
Greenhithe-The Railway Tavern
Guildford Friary
Hartlepool 2
Hemel Hempstead
Highway Shadwell
Hinckley – Dodwells Road
Hunslet
Ilac Shopping Centre
Jetland Centre
Kilcullen – Msa
Kings Cross – Ex Wendys
Limerick 2
Lincoln
Lincoln (Relo)
Livingston 2
Llandudno
London Bridge
Long Eaton (Tesco)
Lowestoft
Mallow
Manchester – Arndale Food Chain
Marble Arch
Maynooth Drive Thru
Nairn – Forres Road
Northampton – Morrisons
Norwich – Chapelfields
Nutgrove F/S-D/T
Paddington Station
Peterborough – Morrisons
Praed Street
Romford Brewery
Rugby
Salisbury – Southampton Road
Saltash
Shaftesbury Avenue – 2
Sligo Drive Thru
Southampton – Millbrook
Stafford – Kingsmead
Stanley
Stevenage
Stowmarket
Sutterton
Swansea – Morfa Shopping Park
Swindon Green Bridge
Swords – The Plaza
The Colonnades Leisure Park
Tonbridge
Torquay – Hele Road
Tunbridge Wells II
Victoria Station
Walsall – Littleton Centre
Walworth Rd
Wandsworth
Waterloo Station
Watford Gap Northbound Msa
Watford II
Wellgate
West One Shopping Centre
Westfield Stratford City
Whitefield
Whitehall
Wimbledon Centre Court
Woking – Morrisons
:: It may well be worth checking the promo terms and conditions here, just in case the store list changes.
Even if you don't think you'll eat it yourself, why not consider getting the budger and passing it onto some who could do with a hot meal.
Other McDonald's offers
McDonald's regularly runs offers through their app.
When you first join, they usually run an offer for you to claim a free cheeseburger.
Money off at McDonald's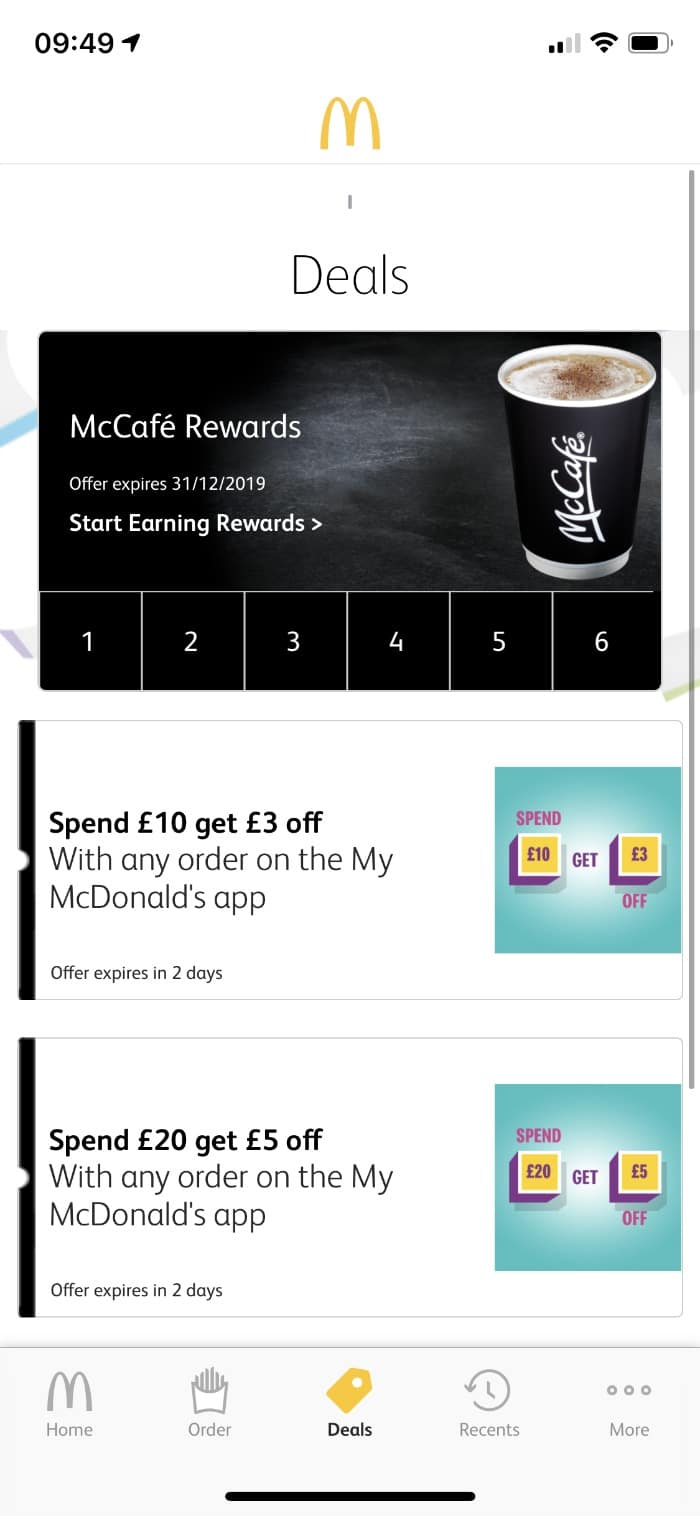 Until 1st November, are offering cash discounts when you order through the app.
If you spend £10 you're able to get an immediate £3 off, or if you spend £20 you can get £5 off your order.
In the same way, you need to go to the "Deals" section of the My McDonald's app and choose which discount you want, then tap "add to mobile order".
The discount gets applied at checkout.
McCafe Rewards
The app also allows you to track your coffee purchases.
You used to collect the sticker from a cup (and likely lose the small card to get your freebie).
Using the app, you can keep the purchases together, so you're able to get a free coffee after you've bought six hot drinks.
It looks like you're able to collect the stickers still too.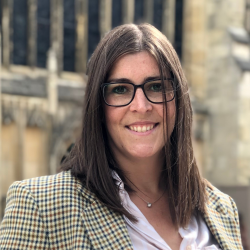 Latest posts by Naomi Willis
(see all)