Back to Italian food this week. We've already made fakeaway pizza in a previous week which was a complete success, especially the accompanying chicken wings. I love pizza but you know what I love more than pizza?
Calzone, deep filled and bursting with flavour. I always feel like I could pick the whole thing up and eat it like a big Italian Cornish Pasty but, to teach my children manners, I used a knife and fork – very civilised.
______________________________________________________
Fakeaway 20 November 2013
"x2 Deep Filled Meatball Calzone and Breaded Mushrooms"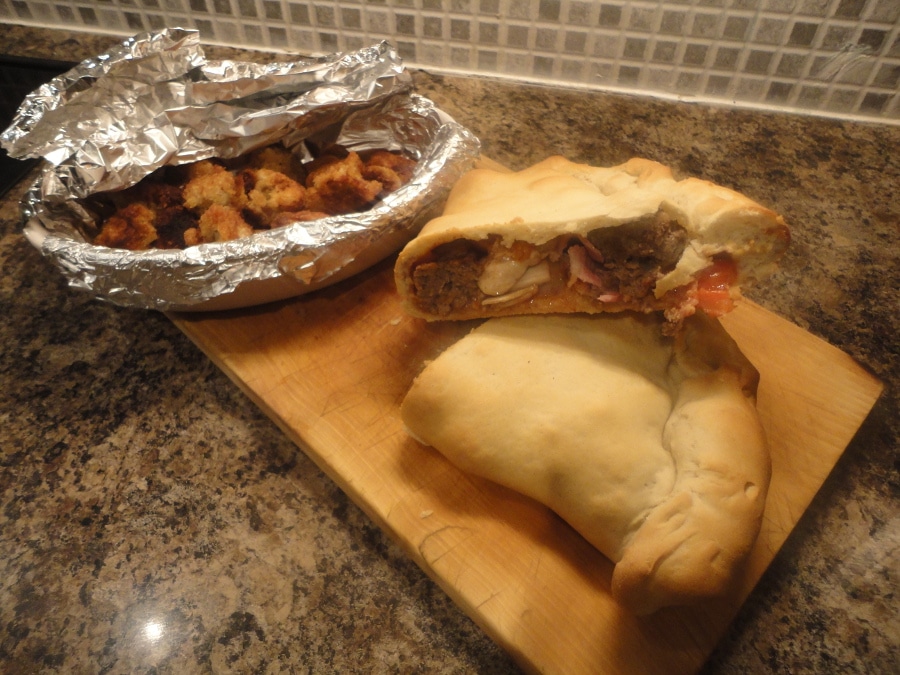 £10 BONUS OFFER: Earn easy cash by watching videos, playing games, and entering surveys.

Get a £10 sign up bonus when you join today.

Join Swagbucks here >>
Total cost £4.89 for a family of 4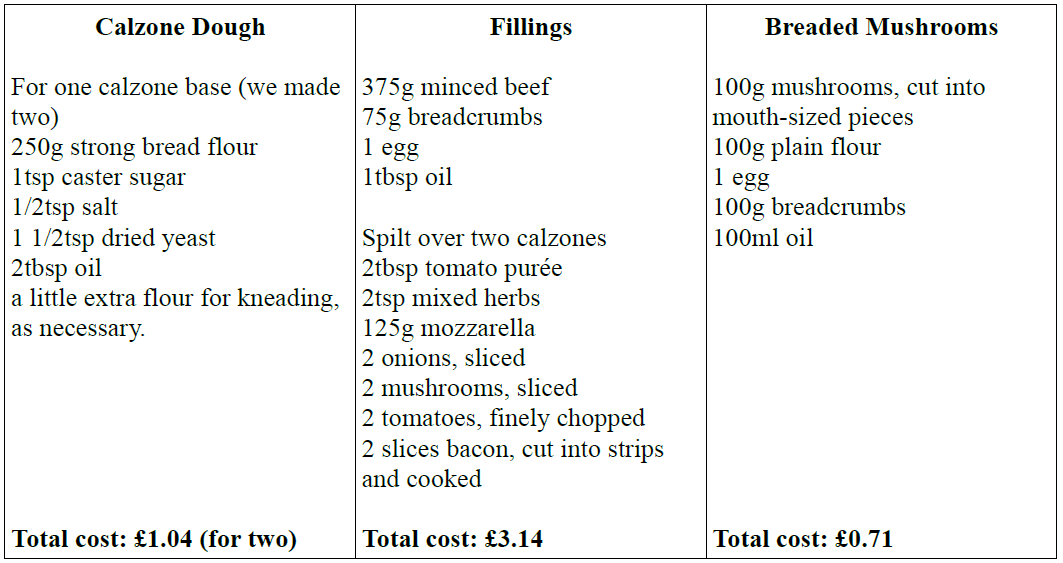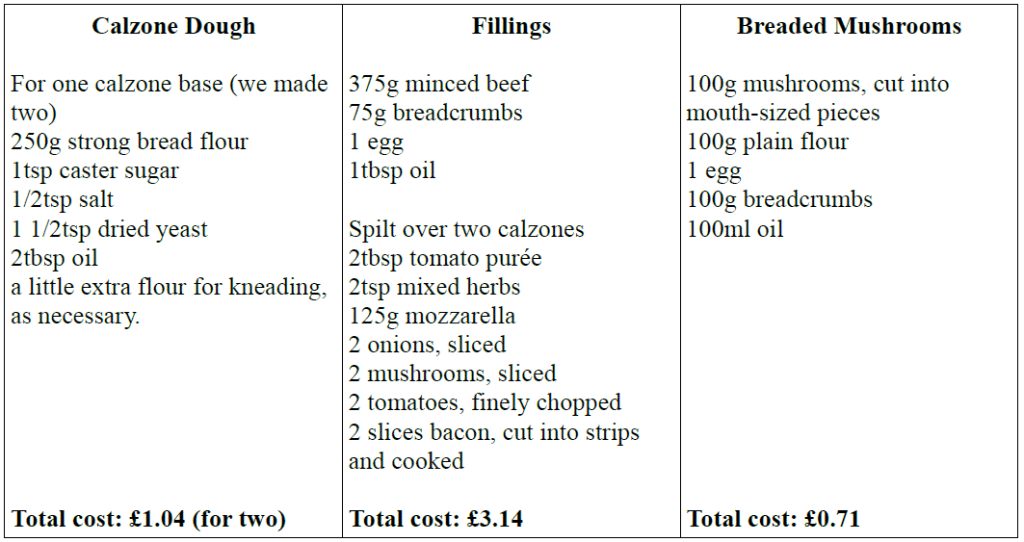 All ingredients used were either supermarket own brands or the lowest price.
We calculated the cost of each of the ingredients separately by looking at the item's total value, then working out what the amount we would need. For example, mixed herbs are £1.39 for 100g, for a 5g teaspoon full it would be 7p (£1.39/100 x 5 = 0.0695).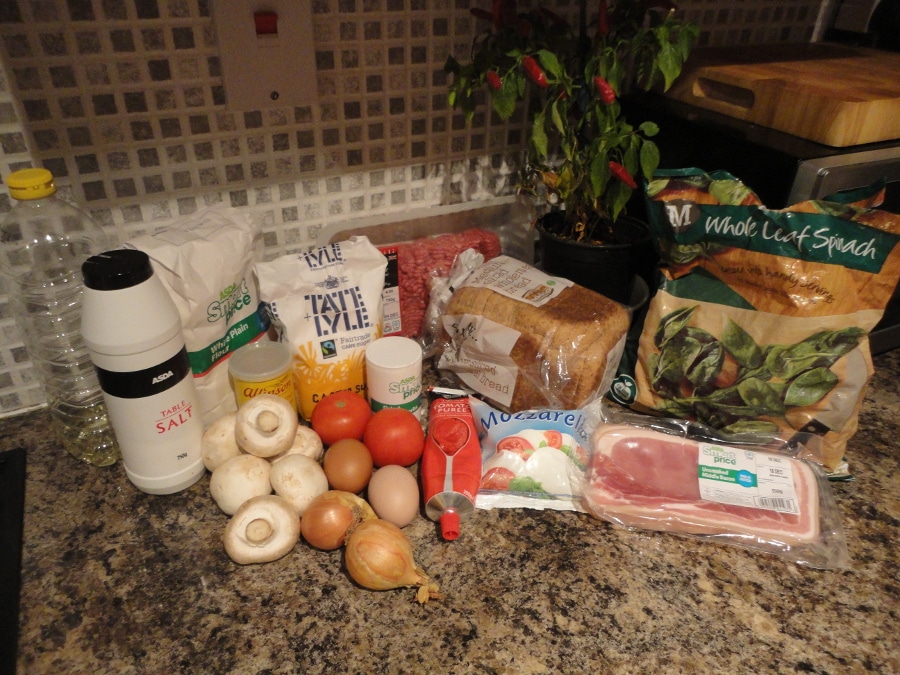 Deep Filled Meatball Calzone
Dough
Prepare one base at a time. Take 175ml hand warm water and add sugar, salt and yeast.

Whisk with a fork for 5 minutes until everything has dissolved then put to one side for 5 minutes with cling film over the top. You are aiming for a nice froth to appear on top of the yeast.

Meanwhile, sift the flour into the bowl and make a well in the middle.

Add the yeast and oil to the to the flour and mix well.
Turn out onto a floured surface and knead for 10 minutes. It can get sticky so keep the flour to hand and use a little more as required.

After 10 minutes, put in an oiled bowl and cover with a tea towel.
We did this twice, as we wanted two Calzones.
Leave to one side for at least 30 minutes to allow the dough to rise (roughly double in size).

When ready, put onto a floured surface and roll out to desired shape and size, a few cm in thickness.
Meatballs
Mix together the beef, breadcrumbs and egg and form into up to 24 balls.

Heat a tablespoon of oil in a pan and brown the meatballs.
Prepare the Calzone
Spread out the tomato purée and mixed herbs on one half on the dough base.

Add the prepared toppings in any order.
Fold over the dough and pinch the edges together.

Place in a preheated oven at 180C for 12 minutes until lightly browned.
When the Calzone go into the oven, start to prepare and cook the mushrooms.
Breaded Mushrooms
Arrange the flour, beaten egg and breadcrumbs in bowls or plates.

Coat the mushroom generously in the flour, then the egg, then the breadcrumbs.
Heat the oil in a pan and cook the breaded mushrooms, turning during cooking.

Remove from the oil with a slotted spoon and place on kitchen roll to remove excess oil before serving.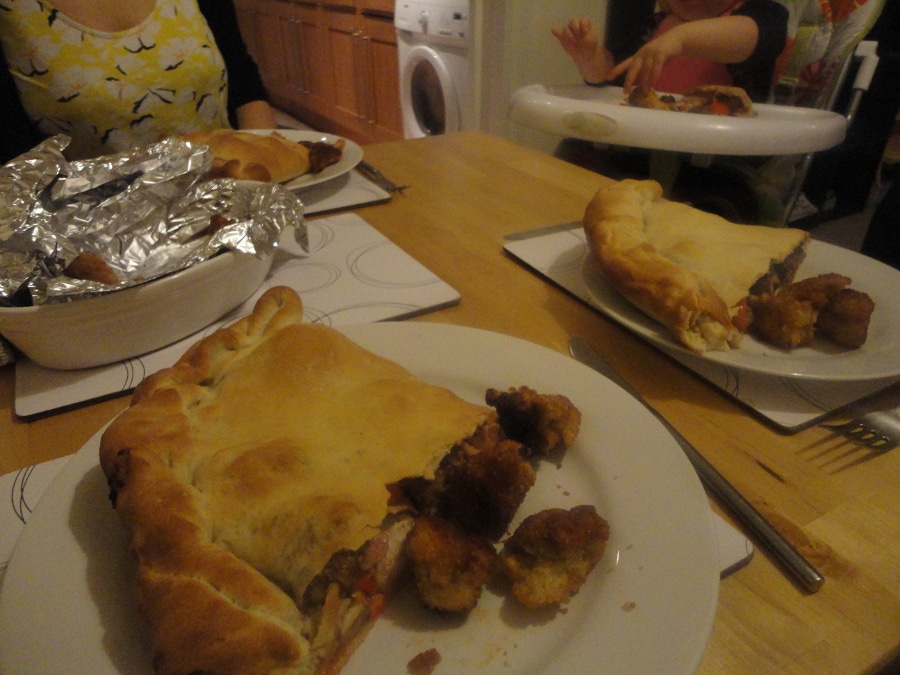 Grab a seat at the table and eat up!
______________________________________________________
Mmmmmmmm. Calzone (said in Homer Simpson's dribbling voice).
This food was well received by everyone. It all got gobbled up very quickly and half way through I didn't think there would be enough to fill me up, but my eyes were bigger than my belly and Skint Mum had to finish my crusts.
It astonishes me how quick and easy it was to pull this together. Not many takeaway places do Calzone near to where I live so I used to eat this when visiting a city.
It took under an hour to prepare and cook, and cost less than £5. If I did ordered this as a take out, it would likely cost £25 and take the same amount of time to cook and be delivered to me.
I'm considering making up a few dough bases and popping them in the freezer. It's such an easy dinner and the children love being involved in arranging the toppings.
What's your favourite pizza or calzone filling?
If you enjoyed this recipe, make sure to follow us below so you can keep up to date with our future Saturday Night Fakeaways.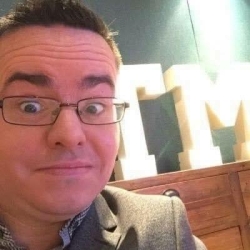 Latest posts by Ricky Willis
(see all)