This quick Moroccan style lamb filo pie recipe makes an easy midweek meal. Using minced lamb, it's tasty as well as easy on your food budget.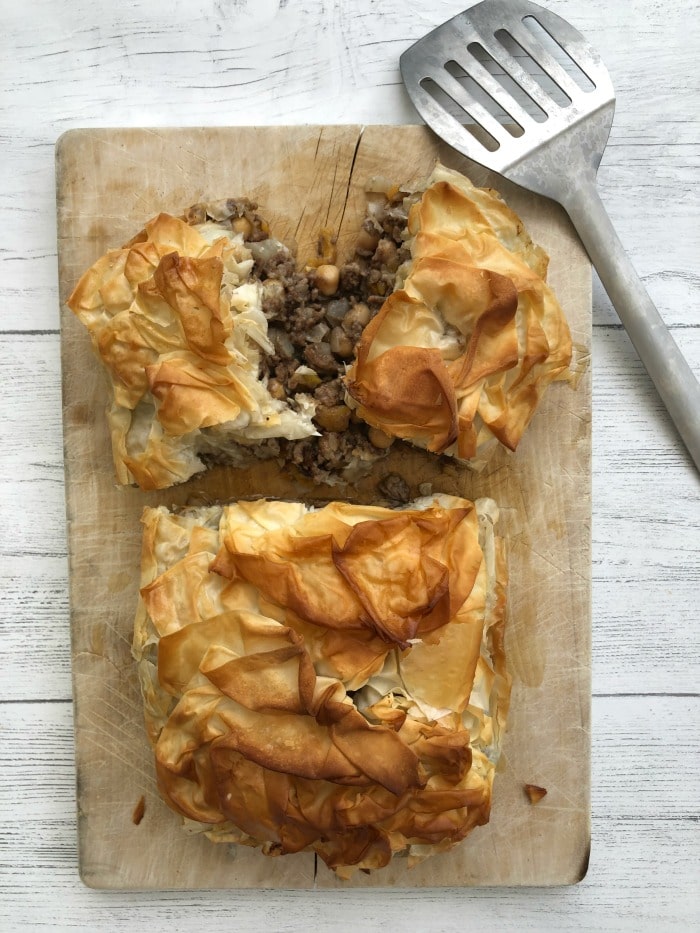 £10 BONUS OFFER: Earn easy cash by watching videos, playing games, and entering surveys.

Get a £10 sign up bonus when you join today.

Join Swagbucks here >>
Written in collaboration with Lamb. Try It Love It
It's British Pie Week!
To celebrate, we've been thinking about one of our favourite pies.
A savoury pie is tasty and filling, especially when it's cold outside, and a sweet pie is a perfect way to have a treat after a meal as a great pick me up.
But what about something in the middle?
Well, that's where a Moroccan style pie comes in.
Moroccan Spiced Lamb Filo Pie
A Moroccan spiced lamb filo pie has everything – it's warming, tangy, crunchy… Mmmm, I'm dribbling.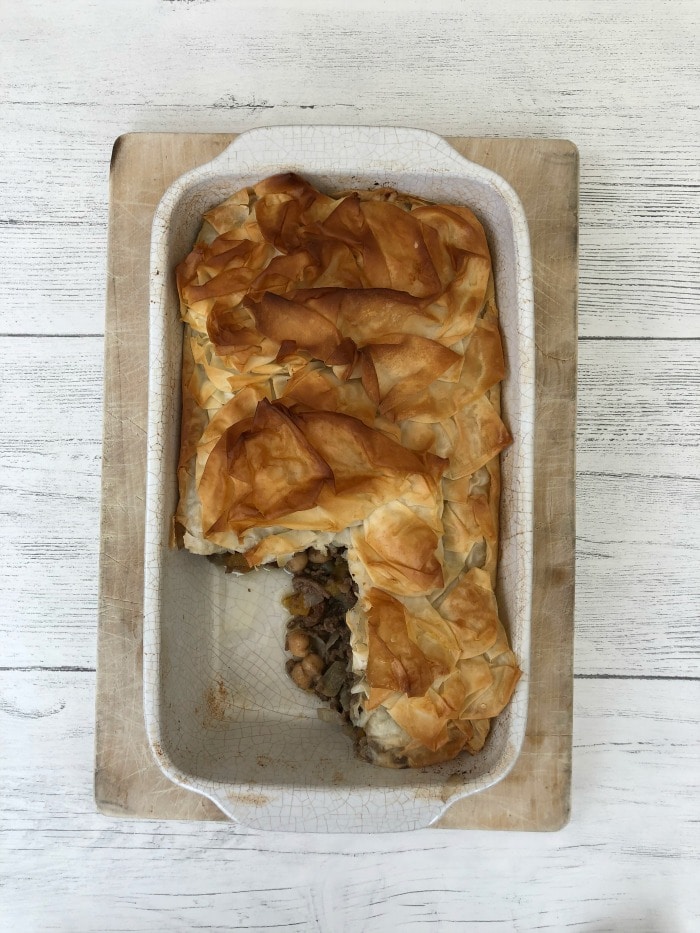 It's got a great balance.
The Moroccan spices and lamb have a fantastic aroma. The spices give a flavour, not heat, so this dish is great for members of your family who aren't a fan of spicier foods.
The dried apricots and sultanas aren't sweet as such but give a lovely tangy flavour. Plus, the layers of filo pastry hold the pie filling together with a wonderful crunch.
I used to worry about cooking with filo pastry, but it's easy to work with. Plus, there are fewer calories in it than there are in a puff or shortcrust pastry, making it a better option if you're watching your waistline.
The ingredients won't break the bank either. We like using minced lamb, which is really economical.
Lamb is also good for you and is rich in protein which is needed for normal growth and development of children's bones – making it perfect for a cheap and quick family meal.
Moroccan Spiced Lamb Filo Pie Recipe
This is a recipe that you don't need to do a lot of preparation for. Instead of doing everything ahead of time, you can use the time while the lamb is browning to get your filo pastry ready, which can save you some time.
First off, you need to chop your onion, then pop it onto a pan. We cook ours for around 5 minutes until it starts to go transparent.
We then add the crushed garlic straight into the pan, stir in and add the spices.
It's worth mixing it in and letting it cook for around 30 seconds so all the flavours can mix in.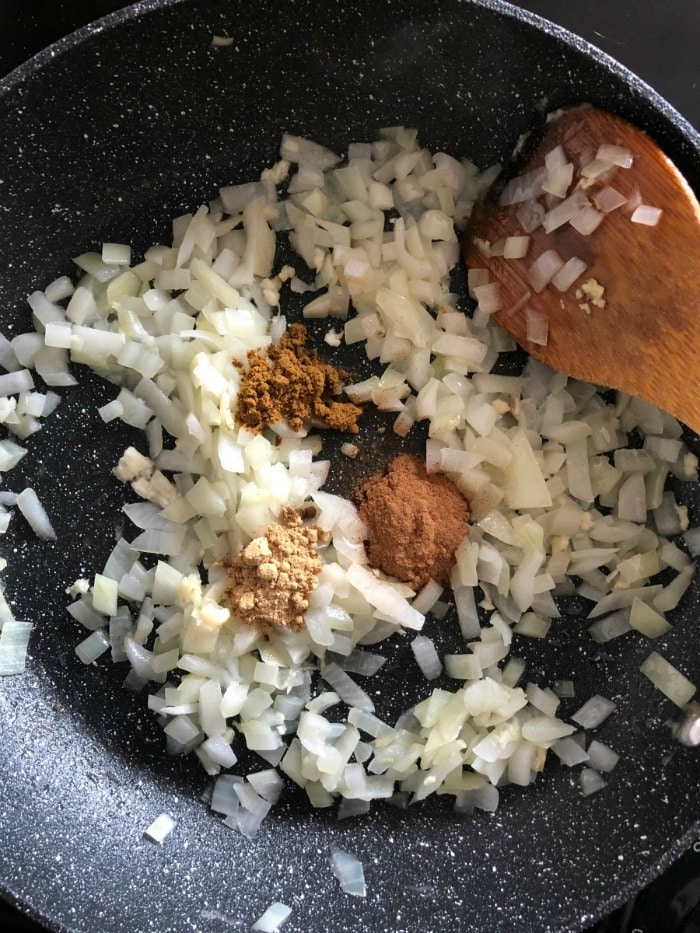 Now, add in the lamb and allow it to brown. Then, stir in some flour. This will ensure your sauce is able to thicken up.
Add in the dried apricots, sultanas and chickpeas, and as you mix in the water, you will see it start to thicken straight away.
Once cooked, you're aiming for a sauce that's thick, but dry.
Cook the lamb until the water has absorbed, and season with salt and pepper to taste.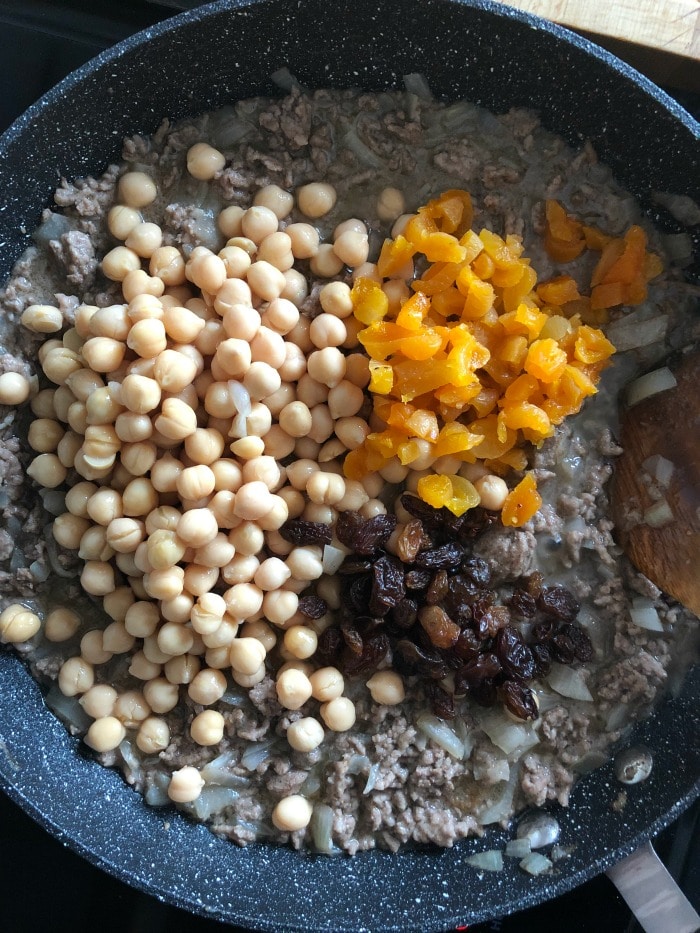 Next comes putting the pie together.
Filo can be a tricky pastry as it can dry out fast. Some say to put a damp tea towel on top of the pastry while you're not using it, but I don't like to mess around like that.
Instead, we lay a sheet of cling film on a surface, put the filo on, and add another sheet of cling film over the top. This keeps it away from the air and will stop it from drying out.
Just take one sheet at a time to work with.
Grab your butter and brush the inside of the ovenproof dish to stop the pastry from sticking. Add one sheet to one middle of the dish and brush with butter. You want some pastry to hang over the sides.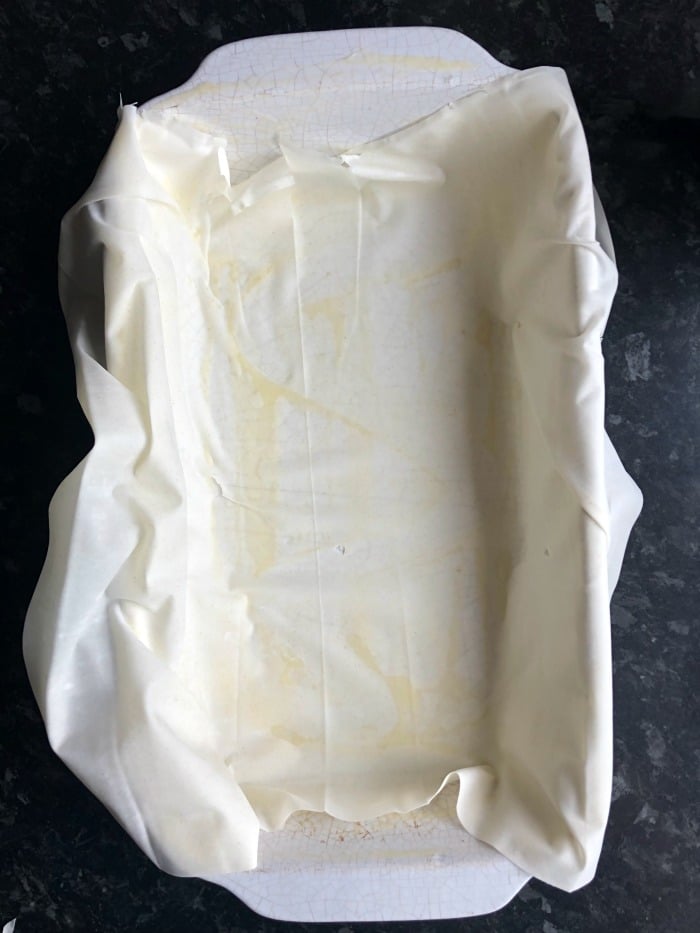 Then, add another filo pastry sheet to one side of the dish then butter it.
Finally, add another sheet to the other side of the dish and butter it all again. Again, make sure that there is some overhang of spare pastry.
This will give you the base.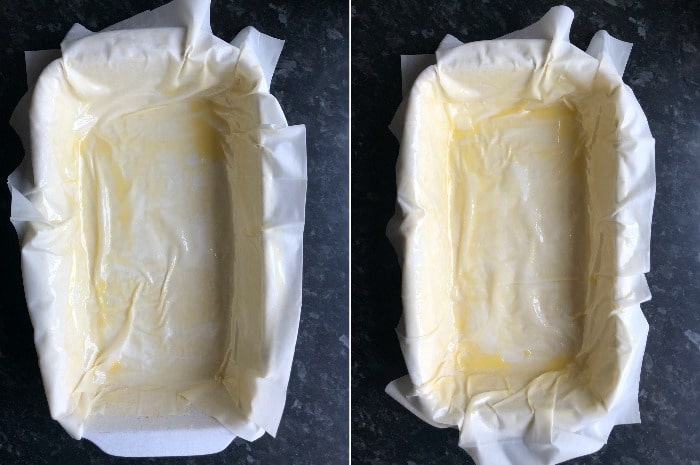 You can then go ahead and add in your lamb pie filling (be careful not to taste test too much of your lamb sauce – it will be tempting (!) – as you won't have enough to fill your pie 😉)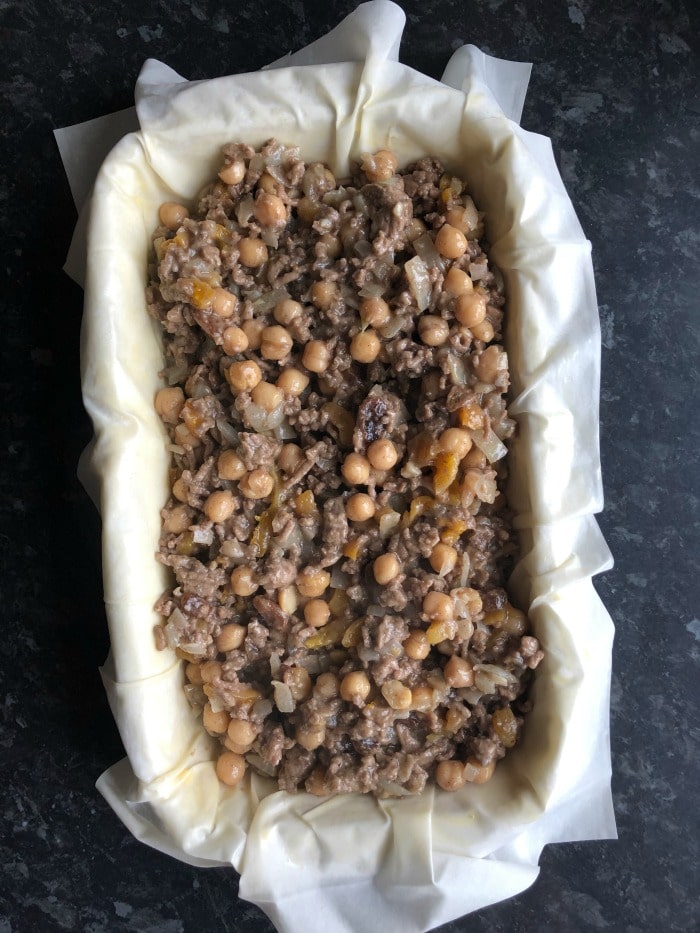 Take the spare edges of the filo pastry and fold them over the top of the pie. Butter this all again.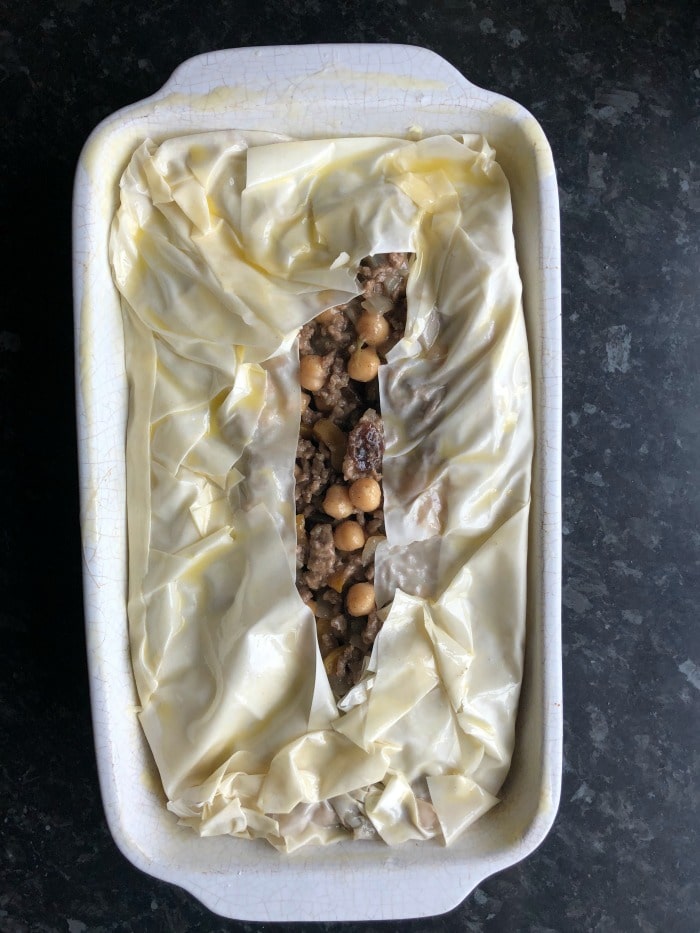 Now, my favourite bit – adding the top.
It's best to use 3 sheets of filo pastry on top. You can either layer them neatly, but I prefer to scrunch the pastry up and pop them roughly on top.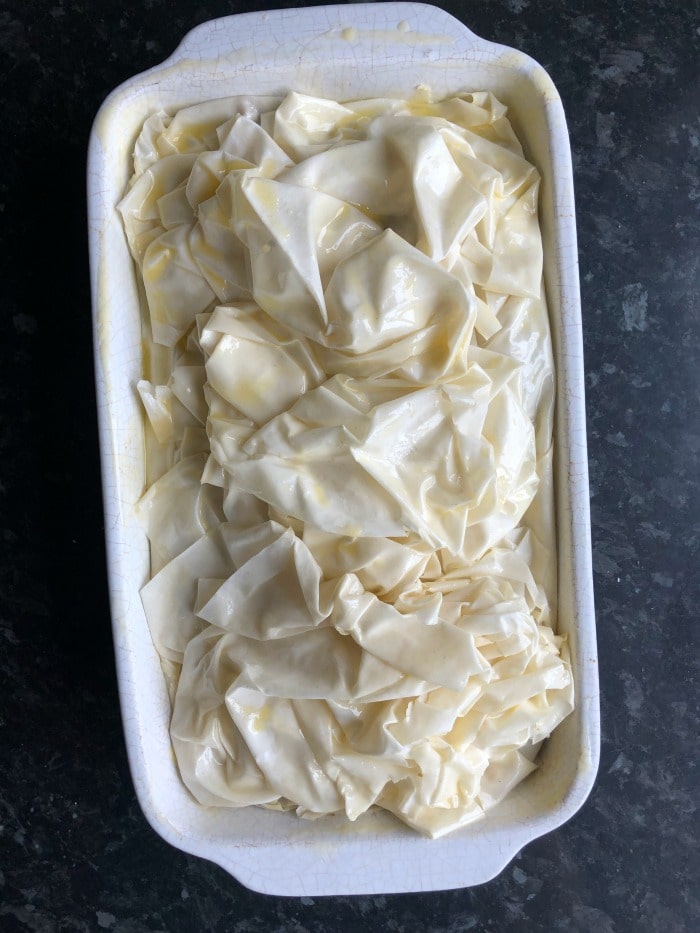 If you have any leftover filo pastry, it stores well in the freezer. If you used our method with the cling film to stop it drying, you can now fold the sheets up in the cling film and can store it in the freezer in that.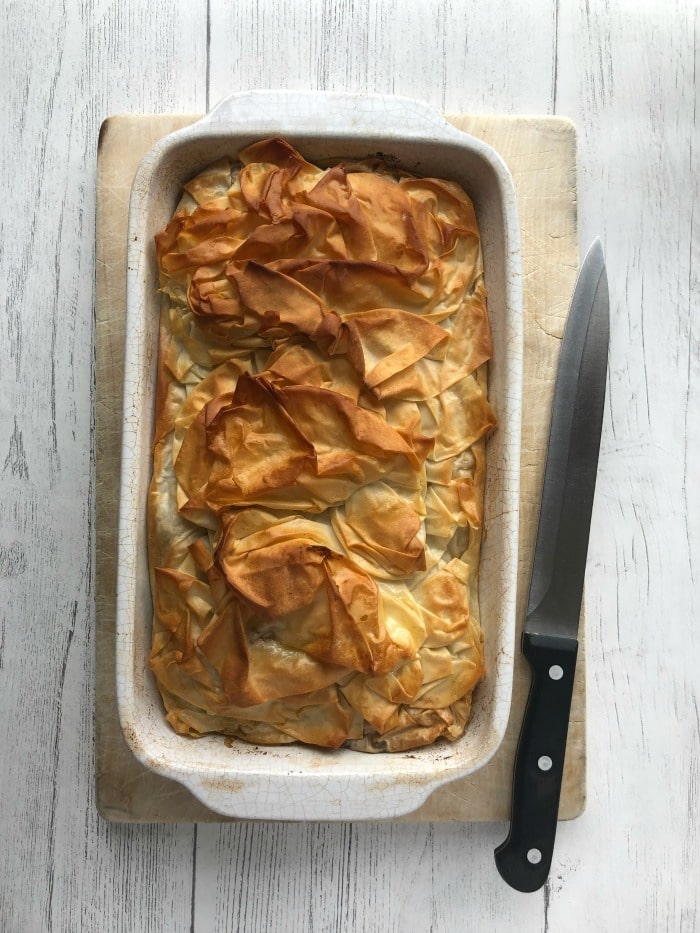 When your Moroccan style lamb filo pie is cooked, try to leave it for around 5 minutes before you serve it up to make it easier to cut into it.
We love serving ours with a green salad and couscous.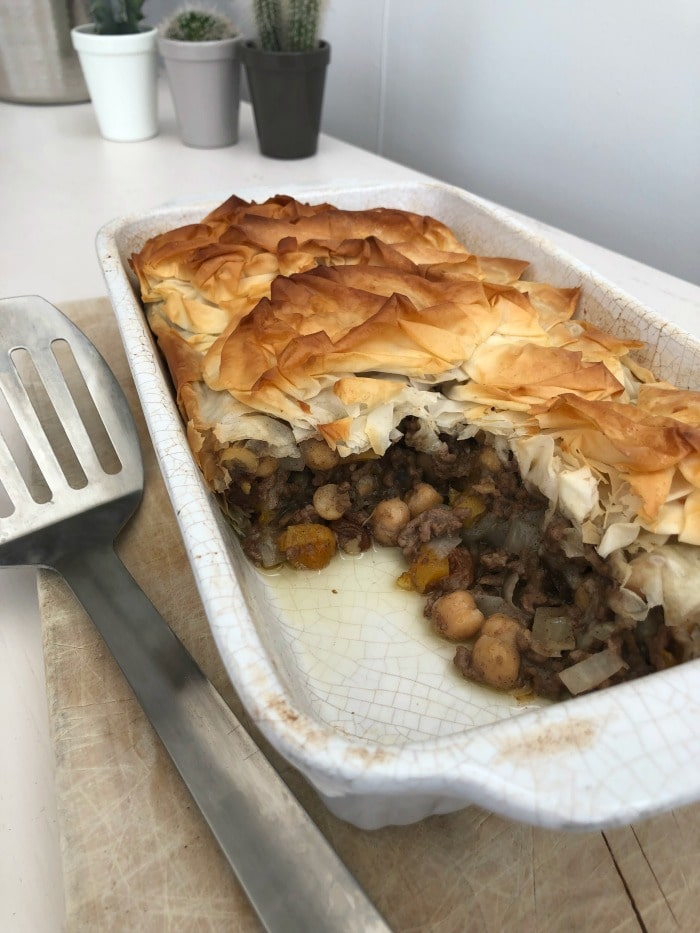 Looking for more delicious and economical lamb recipes? Check out Try Lamb for loads more ideas.
Yield: 6
Moroccan Spiced Lamb Filo Pie Recipe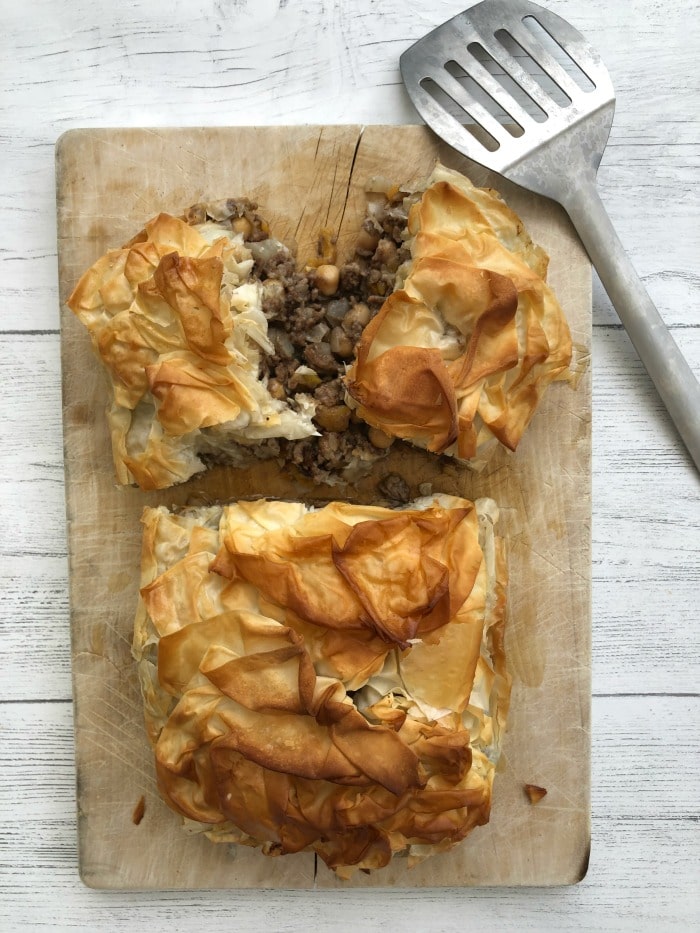 This quick Moroccan style lamb filo pie recipe makes an easy midweek meal. Using minced lamb, it's tasty as well as easy on your food budget.
Ingredients
1 onion, chopped
1 tbsp oil
2 cloves of garlic, crushed
1 tsp ground cinnamon
1 tsp ground ginger
½ tsp ground cumin
500 g minced lamb
1 tbsp plain flour
1 tin chickpeas, drained
70 g dried apricots, chopped
30 g sultanas
150 ml water
6 sheets of filo pastry
Instructions
Heat the oil in a pan and cook the onion for 5 minutes until softened. Stir in the garlic and spices and cook for a further 30 seconds.
Add the lamb and cook until browned. Then, stir in the flour.
Stir in the chickpeas, apricots, sultanas and salt and pepper. Add the water and cook for around 15 minutes until the liquid absorbs.
Layer 3 sheets filo pastry as a base in an ovenproof dish, buttering each layer. Spoon in the lamb pie filling and layer 3 sheets of filo pastry on top, buttering them.
Cook the lamb pie in a preheated oven at 180°C for around 10 minutes, until the pie is golden brown on top.
Lamb. Try It Love It campaign is EU-funded
Other lamb recipes:
Leftover Lamb and Spinach Frittata Recipe
Lamb Slider Burgers with Beetroot Mayo Recipe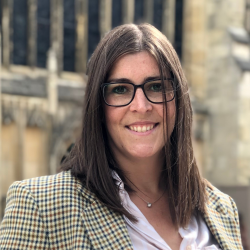 Latest posts by Naomi Willis
(see all)