The new one pound coin is launching on 28 March 2017. Here's everything you need to know about the new 12-sided coin including what to do with your old £1s.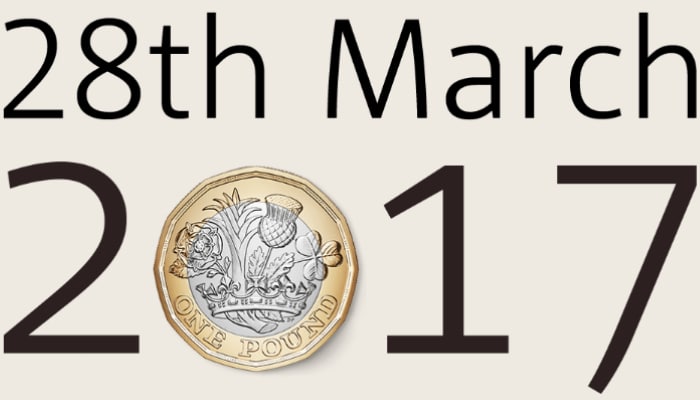 £10 BONUS OFFER: Earn easy cash by watching videos, playing games, and entering surveys.

Get a £10 sign up bonus when you join today.

Join Swagbucks here >>
While a new coin being released can seem like a bit of a novelty, there are many questions and panic that's spreading across the internet.
The government has estimated that there is £1.3 billion worth of coins stored away in savings jars and piggy banks up and down the country. They also believe that one-third of the money stashed away at home are £1 coins – that's over £430 million just in £1 coins!!
It's been years since a coin was taken out of legal tender, so here are 12 things you need to know about the new 12-sided one pound coin.
1. The one pound coin won't be round for much longer
Literally – the one pound coin as we know it won't be round, or around, much longer!
The old one pound coin, we know and love so well, is a circle shape, whereas the new £1 coin is going to have 12 sides!
It's based on the design of the old 12-sided three-penny bit, which went out of circulation in 1971 (anyone remember them?). The new £1 coin will be recognisable to the touch, so much easier to find in the bottom of your pocket.
2. When can I get the new £1 coin?
The new one pound coin will enter UK circulation from 28th March 2017.
3. When do I need to stop using my old £1 coins?
Although the launch of the new coin is at the end of March 2017 we still have plenty of time to use the old ones.
All shops, retailers, restaurants and coins machines can accept them right up until 15 October 2017. That's six months from the date the new ones first appear.
From 16 October 2017, the old one pound coin will be demonetised which means that shops no longer have to accept them.
4. What happens if I've still got old £1 coins?
There's no need to worry!
If you've been saving into a sealed jar for Christmas, using something like the 1p savings challenge, your pound coins will not be worthless as some places are suggesting!
While you are not able to spend them you are still able to exchange them.
So, if you've been saving away, you can still deposit the money into your bank account.
Provided you have an account (either personal or business), most High Street Banks including RBS, NatWest, Ulster, HSBC, Barclays, Lloyds, Santander, Nationwide, Clydesdale, Yorkshire Bank, Halifax, Bank of Scotland and The Post Office will take the money.
Each bank will have its own policy on how they manage this as well as limits on how much you can deposit, so you need to check with your bank directly.
5. How much are the new £1 coins worth?
Well, they are worth a pound…..
However, I'm sure many people are going to be selling off the first ones they get, trying to get a tidy sum – just like people did with the five-pound notes! Yes, they are also worth £5!
Perhaps some of the older coins may be worth more? Maybe a whole collection of old one pound coins?
The Royal Mint is producing 1.5 billion of the new coins – so they are certainly not a rare one!
There are rare British coins to look out for and you never know when a little error could cause the £1 to be more sought after to collectors.
6. Are the new one pound coins secure?
The new £1 coins have been designed to be the most secure coin in the world!
Here are some of the features:
12-sided – the shape makes it instantly recognisable, even by touch.
Bimetallic – the coin is made of two metals; the outside gold colour is nickel-brass and the inner silver coloured ring is nickel-plated alloy.
Latent image – the image is like a hologram. Look at it from different angles and you'll see either a '£' symbol or the number '1'.
Micro-lettering – on the lower inside rim (on both sides) there is small lettering. The head shows one pound and the tails side shows the year it was made.
Milled edges – there are grooves on alternate sides.
Hidden high-security feature – to protect it from being counterfeited in the future, a high-security feature is built into the coin.
7. Is the new coin a different size to the old one?
There are quite a few differences between the coins.
The new £1 is thinner (2.8mm) and it's lighter (8.75g). However, the diameter of the 12-sided coin s a bit bigger (point to point) than our current circular coin.
8. Why are they being replaced in the first place?
We've had the circular pound coin for over 30 years (and are the same age as my wife)! While we may be used to the coin so are the counterfeiters!
The Royal Mint believe that almost one-third of £1 coins making their way around the country are counterfeit and are therefore costing businesses (and ultimately) the taxpayer more money.
Not sure what to look out for in counterfeit £1s take a look here.
9. Who designed the new £1 coin?
The coin was designed by two different people.
David Pearce won a public design competition at the age of 15. His design for the tails side was an English rose, Welsh leek, Scottish thistle and Northern Irish shamrock.
The portrait of Her Majesty the Queen was designed by Jody Clark, who is a Royal Mint coin designer. It is the fifth portrait of the Queen to be put on to a coin.
10. What if coin-operated machines haven't changed?
The government is urging all retailers who use coin handling equipment to get them changed ahead of October 2017.
This would include changing vending machines, trolleys, parking machines, gaming machines, photo booths, lockers, self-service checkouts and any other machine that weighs, counts, checks, sorts, accepts or dispenses £1 coins.
Trolleys will be the most annoying for me as I've got a number of trolley coins. It'll be interesting whether they change trolleys to accept the new £1 coin or whether they will choose a different denomination.
11. Where is the new one pound coin being made?
The Royal Mint is based in Llantrisant, Wales.
They are making the coins at a rate of up to 2,000 each minute; that's the same as 30 coins per second and £3 million of new £1 coins every day!
12. What's going to happen to the old coins?
In a very thrifty way, the government are going to recycle the old coins. For a while there I was wondering if there were going to create a gold coin swimming pool like Scrooge McDuck used to have (whoever else wanted to swim through those coins?!)
Quite simply, some of the old style £1 coins will be melted down and turned into the new £1 coins.
::
Whether you like it or not, the new one pound coins are on their way and here to stay.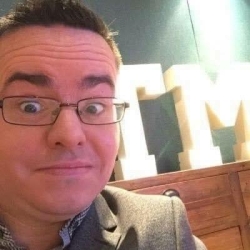 Latest posts by Ricky Willis
(see all)