It's time to get flipping and make some pancakes. With Pancake Day coming up, there are also some deals to be had. From Iceland Pancake pan deal to cashback and squirrels (yes, a squirrel!)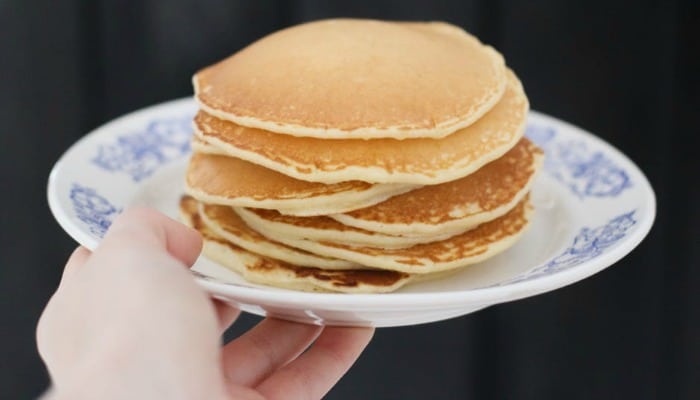 This site contains affiliate links. We may receive a commission for purchases made through these links.
[Learn more]
It's time to get flipping and make some pancakes.
Maybe you have them all the time, but there is one time of year when everyone gets their lemon juice, chocolate sauce or just a sprinkle of sugar to pep up the pancakes.
With Pancake Day coming up, there are also some deals to be had.
When is Pancake Day 2018?
Pancake Day is on Tuesday, 13 February this year.
It's also known as Shrove Tuesday.
It changes each year, depending on when Easter falls.
But why Pancake Day?
The basic idea is that you use up rich foods, like eggs, milk, and sugar, before Lent starts.
Some people choose to fast after Lent so using up the food means less food waste.
However, not everyone still fasts (although there are other things you can give up over Lent to save money) but the tradition of eating pancakes is still there.
Iceland's Pancake Day bundle

For £5 you're able to pick up a pretty decent pancake bundle:
pancake pan (which is worth £5 on its own!)
McDougalls Classic Pancake Mix
A choice of cooking oils
Syrup
Lemon
The total bundle price works out to £9 so you do make a fair saving.
While the whole idea of Pancake Day is to use up what you've got in your cupboards, with the cost of the pan being £5, if you need a new pan then grab this deal.
The offer is running right up until Shrove Tuesday, 13 February and appears to be both in store and online.
Tesco bundle
Tesco is selling an animal pancake pan bundle.
In this bundle, you get:
Tefal 25cm squirrel pancake pan
squeezy bottle
200g jar of Nutella hazelnut and cocoa spread
It's usually priced at £23 for the set but is on sale for £15 (plus 15 Clubcard points!)
The idea is that you make up your pancake mix, add it to the squeezy bottle and make a cute squirrel shaped pancake.
If your kids are anything like mine, they love watching "pancake art" on YouTubers where they make all sorts of different emojis or characters using different coloured batter mix. I know my kids would want to give this set a try.
Get appy
Each year, there is usually a good deal on cashback apps.
I've seen CheckoutSmart give away free pancake batters or topping in the past.
It's probably worth getting your free account set up now, so you can be posted when their deals go live.
Flippin' 'eck!
Don't mean to brag (well, I kinda do), but here is our attempt to flip a pancake.
How high can you flip yours?
Looking for more pancake deals?
When more deals get released, we'll be sure to add more offers straight to this page.
Enjoy your pancakes :)
Latest posts by Naomi Willis
(see all)