It's time to get flipping and make some pancakes. With Pancake Day coming up, there are some great deals to be had.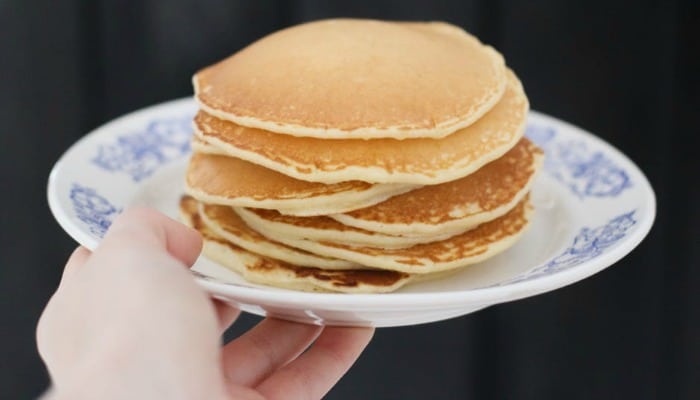 £10 BONUS OFFER: Earn easy cash by watching videos, playing games, and entering surveys.

Get a £10 sign up bonus when you join today.

Join Swagbucks here >>
It's time to get flipping and make some pancakes.
Maybe you have them all the time, but there is one time of year when everyone gets their lemon juice, chocolate sauce or just a sprinkle of sugar to pep up the pancakes.
With Pancake Day coming up, some deals are also to be had.
When is Pancake Day 2022?
Pancake Day is on Tuesday, 1 March 2022 this year.
It's also known as Shrove Tuesday.
It changes each year, depending on when Easter falls.
But why Pancake Day?
The basic idea is to use up rich foods, like eggs, milk, and sugar, before Lent starts.
Some people choose to fast after Lent, so using up the food means less food waste.
However, not everyone still fasts (although there are other things you can give up over Lent to save money), but the tradition of eating pancakes is still there.
Iceland's Pancake Day bundle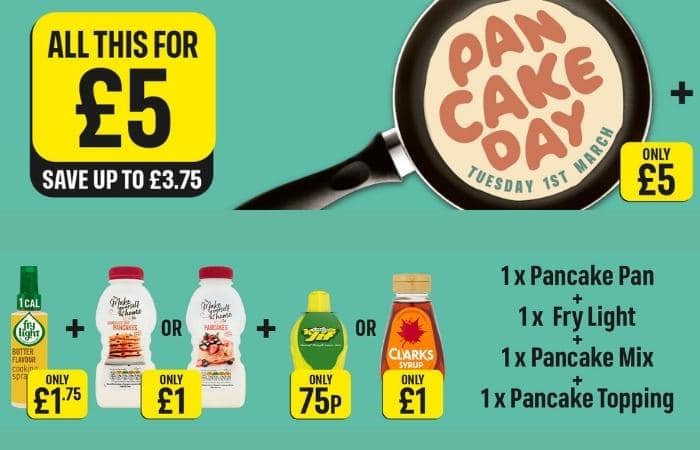 For £5 you're able to pick up a pretty decent pancake bundle:
Pancake pan (which is worth £5 on its own!)
Pancake mix
A choice of cooking oils
Syrup or lemon
The total bundle price works out to £8.75, so you make a fair saving.
While the whole idea of Pancake Day is to use up what you've got in your cupboards, with the cost of the pan being £5, if you need a new pan, then grab this deal.
The Iceland Pancake offer runs until just after Shrove Tuesday on 2 March and appears to be both in store and online.
Lidl pancake offers
Lidl sells a selection of toppings and Pancake essentials from Thursday, 24 February, as part of their When It's Gone, It's Gone range.
It is the cheapest place to buy Nutella, as they are undercutting the price of other supermarkets by 1p.
Ok, it's not that much of a saving, but at £1.99, it's cheap Nutella.
Premade pancake mixes are on sale for 99p, and they have a selection of spreads and syrups.
Aldi pancake offers
Other than bananas which are reduced to 59p for a 5 pack as part of their Super Six offers, it doesn't appear there are any specific sales on pancake ingredients.
They sell their own brand Nutella, known as Nutoka, spread for £1.09.
While stocks last, you may be able to pick up an electric Crepe Maker for £17.99 and a Pancake Pan for £7.99 as part of their Special Buys. They are available in store and online.
Is Aldi cheaper than Tesco?

Aldi has carried out a price comparison showing that you can save 35% if you swap shopping at Tesco and switch to Aldi instead.
The same types of foods at Aldi will cost you £5.88, but Tesco comes in at £9.52.
Their comparison was based on prices on 22 February.
My only issue with their comparison is that they compare branded groceries against Aldi's own brand.
They are also not taking into account Clubcard Prices which makes things cheaper too.
If you bought Tesco flour instead of branded and used Clubcard Prices, the cost at Tesco would be lower at £7.25.
So, yes, I know this is still more than shopping at Aldi, but it's not exactly clear to people who aren't going to buy branded in the first place.
The Food Warehouse pancake offers
Similarly to Iceland, The Food Warehouse is also offering a £5 pancake bundle which included a pan.
You can get a pancake mix, cooking spray, topping and a pan for just £5 in stores.
The Food Warehouse is the only supermarket with offers on giant tubs of Nutella.
You can pick up a massive 950g jar for £5.
Or pick a Lotus Biscoff Spead 720g jar for £3.50.
They'll certainly last a lot longer than Pancake Day!
Asda pancake day deals
Asda is selling a selection of food ingredients to make pancakes from scratch and ready-made pancakes and toppings.
There are no specific bundles to choose from, but there are RollBacks on some foods.
Asda has reduced Nutella Chocolate Spread (350g), which is always popular on a pancake for £2 from £2.90.
For a healthier choice, Asda Extra Special Blueberries, Raspberries and Strawberries are priced at £3 each or 2 for £5.
To help make your pancakes, they are selling a Disney Mickey Mouse Pancake Pan and Bottle for a RollBack price of £7 (was £10).
With this pan set, you put your pancake mix in the bottle and add it slowly to the pan, making a Mickey-shaped pancake.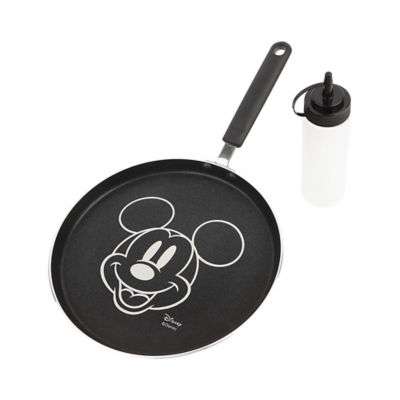 Morrison's pancake offer
Morrison's has introduced a deal to get the basic ingredients to make your pancakes as an online exclusive.
Although, there is nothing to stop you from getting milk, eggs and flour for a lower price for any reason.
In their deal, you get 6 large free-range eggs (£1.09), 2.27l of milk (£1.48) and 1kg of plain flour (£1) as a bundle price of £3.
The Morrison's Pancake deal will save you 57p.
The offer is online only, with a maximum of 20 promotional items per customer. It's running on orders until 1 March 2022.
Tesco pancake deals
Tesco doesn't have any specific bundles but has reduced prices of some items as part of Clubcard Prices.
Nutella Chocolate Spread (350g) has been reduced to £2 from £2.90.
The prices are lower until 8 March 2022.
They have also reduced toppings including:
Tesco 4 pack of Lemons to 75p
Tesco Lemon Juice to £1
Lyle's Golden Syrup to £1
Rowse Honey to £2
Bonne Maman Conserve to £2
Whole Earth Crunchy Peanut Butter to £2
Offers are valid to either 1st or 8th March.
They have also reduced a Salter 30cm Marble Frypan from £26 to £13.
To get these offers you will need to be a member of the Tesco Clubcard loyalty programme.
Sainsbury's pancake offers
Sainsbury's are not selling any specific bundles but have reduced the prices on some essential pancake toppings.
Like other supermarkets, you can get Biscoff spread (380g), Nutella (350g) and Whole Earth Peanut Butter for £2.
Get the apps
Each year, there is usually a good deal on cashback apps.
I've seen CheckoutSmart give away free pancake batters or topping in the past.
It's probably worth getting your free account set up now, so you can be posted when their deals go live.
Topcashback has sometimes had a free deal for in store cashback, but they've not had very many requests since the pandemic.
We will update you if these offers change.
Flippin' 'eck!
I don't mean to brag (well, I kinda do), but here is our attempt to flip a pancake.
How high can you flip yours?
Looking for more pancake deals?
When more deals get released, we'll be sure to add more offers straight to this page.
Enjoy your pancakes :)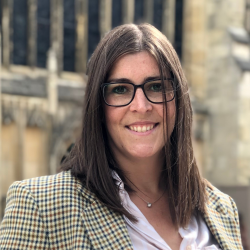 Latest posts by Naomi Willis
(see all)