Do you struggle to save money? You are not alone.
According to data from the Money Advice Service, some 11.5 million people have less than £100 saved, but it's easy to put a change to that, even if you are skint each month.
Using the Plum app, you can automate your savings without making any effort.
Even if you are a regular saver, the app helps with money management and can earn you a higher interest level than you get on the high street.

If you're not sold yet, read on to find out more about the savings app.
What is the Plum app?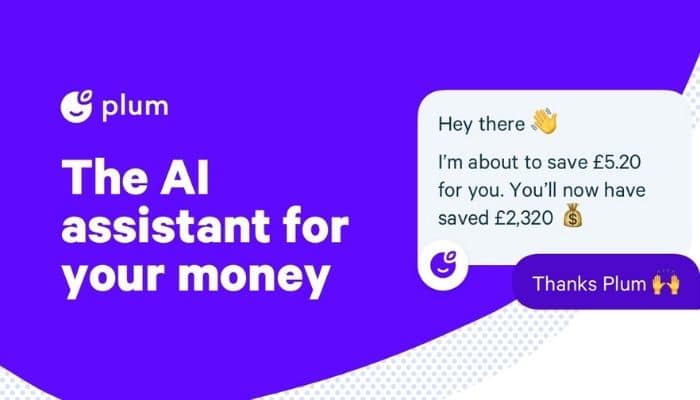 £10 BONUS OFFER: Earn easy cash by watching videos, playing games, and entering surveys.

Get a £10 sign up bonus when you join today.

Join Swagbucks here >>
Using the Plum app, you can automatically save money, invest for the future and cut the costs of your bills.
The app works out what you can afford to save and, using a direct debit, you choose to put money aside in an easy access savings account or into investments (remember: capital is at risk when you choose to invest your money).
A huge £350m+ has been set aside by 1 million+ people across the UK – so far!
How does Plum work?
Plum works in a unique way to save money. It looks at your spending habits, notices what money comes in, and analyses your spending, to save what you can afford.
Every few days, it works out small amounts to set aside in a pot, without you having to lift a finger. As the amounts are small, you won't even notice the automatic saves.
It adds up in no time, and you're saving money in easy access pots (what they call pockets).
You can earn up to 0.4% in interest pockets, or you can start easily investing, with Plum Pro or Plus.
Plum vs Plum Plus vs Plum Pro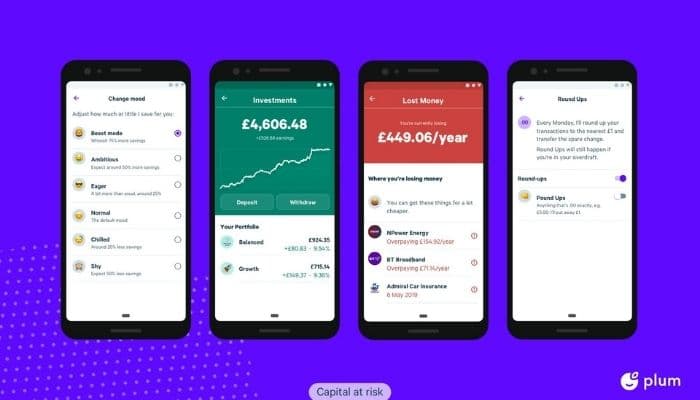 You can use Plum for free.
Plum keeps all your money in pockets. With a free basic account, you have an instant access Primary Pocket, but it doesn't pay any interest.
You can also choose to set up a Free Easy Access Interest Pocket and earn 0.2% AER on automatic saves into that pocket. Interest is calculated daily, and paid into your account monthly.
There are no hidden charges.
The Primary Pocket is held as e-money and is not protected by the Financial Services Compensation Scheme. However, the FSCS protects money you save in interest pockets up to £85,000.
You will also be alerted if you're overspending on any of your bills, and they give recommendations to switch to a cheaper provider.
If you want to grow your money and start investing, you can use Plum Plus or Plum Pro.
Plum Plus
As well as all the basic account benefits, with Plum Plus, you can earn a higher 0.4% AER in Easy Access Interest Pockets, and it's FSCS protected.
You're also able to invest your savings starting at just £1. You can choose from 10 different portfolios and split your automatic savings between the pockets and your investment funds.
You can choose to invest in Tech Giants, like Apple or Google, or Clean and Green companies if you are eco-conscious, or Medical companies like Pfizer and AstraZeneca
There is a £1 monthly fee (it's free for the first month so you can try it out). You also need to pay a 0.51% average annual fund management and provider fee.
Please note: as with all investments, your capital is at risk.
What you get with Plus:
Earn interest – 0.4% AER, Easy Access Interest Pocket provided by Investec Bank, FSCS protected (Opt-in)
Automated savings – the algorithm sets money aside little-but-often, and Round Ups save as you spend
Lost Money – get alerts if you're overpaying on bills, and switch to a cheaper supplier in seconds
Unlimited withdrawals – withdraw as often and as much you like, with no hidden charges
1 Pocket – separate your holiday spending cash from your dream house deposit stash
Invest from £1 – Automatically invest in your choice of easy, accessible and jargon free funds. Other fees apply, Capital at risk
Plum Pro
On top of the features of Plus, Plum Pro gives a whole lot more for £2.99 a month.
Instead of having one pocket to save, you can have multiple pots to help separate your savings. Maybe you want to split your savings to clear your overdraft, save for a car, house deposit, new double glazing – whatever. Having more pockets makes it easier to see how far along you are.
In a useful perk, you can see your True Balance (iOS only). It can tell you how much you have free in your bank account before payday to help limit your spending.
You can also earn up to 11% cashback when shopping.
If you like to save more, you can join in with the 52-week challenge, or even the Rainy Days savings where you make an extra saving each time it rains (surely that's every day where I am?!)
What you get with Pro:
Earn interest – 0.4% AER, Easy Access Interest Pocket provided by Investec Bank, FSCS protected (Opt-in)
Automated savings – the algorithm sets money aside little-but-often, and Round Ups save as you spend
Lost Money – get alerts if you're overpaying on bills, and switch to a cheaper supplier in seconds
Unlimited withdrawals – withdraw as often and as much you like, with no hidden charges
Multiple Pockets – separate your holiday spending cash from your dream house deposit stash
Invest from £1 – automatically invest in your choice of easy, accessible and jargon free funds. Other fees apply, Capital at risk
Gamify your saving by taking on the 52-Week Challenge, or tucking money away on Rainy Days
Goals – assign savings targets for each of your Pockets to help you stay on track
Cashback – earn rewards from your favourite retailers when you shop
Diagnostic Reports (iOS only) – analyse your spend, and anonymously benchmark against other Plumsters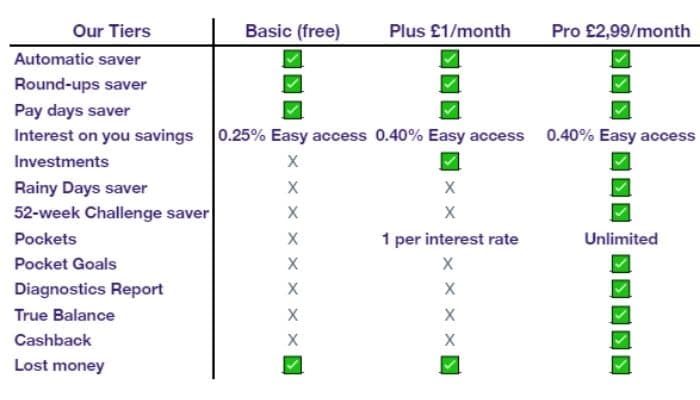 Start investing with £1 with Plum
You can begin investing for just £1 with Plum.
I know many people don't know where to start with investing, and Plum makes it easy.
Same as you save into pockets, you can split the savings into different funds that you choose.
The average return from the last five years across all Plum investment funds was 11.70% (as of December 2020).
Past performance is not a reliable indicator of future results.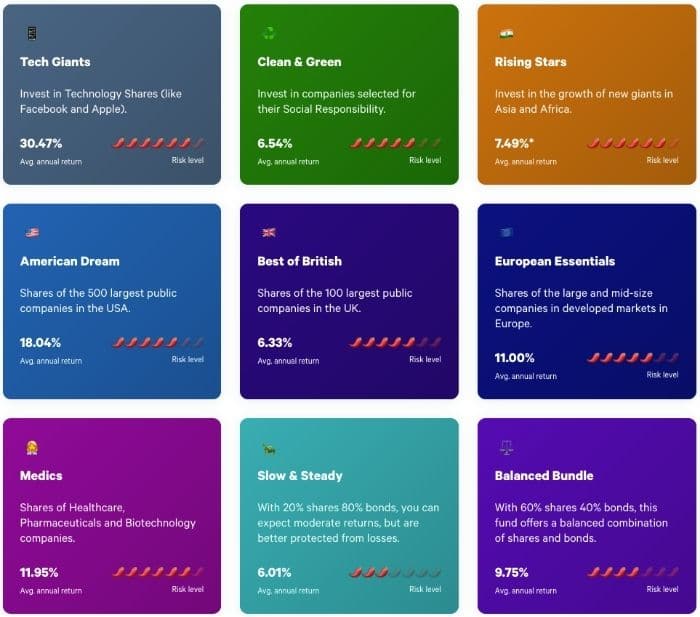 Your money is invested in a Plum Stocks and Shares ISA. You can hold as many stocks and shares ISAs as you like with different providers, but you can only put money in one during each tax year. (It's just a reminder if you're already saving into a S&S ISA.)
To get access, you need to upgrade your account to Plum Plus which costs £1 a month or Pro for £2.99/month.
While you need to pay to invest with Plum, it's been worth it to me, so far.
I've adjusted my savings splitter, so I'm adding a couple of quid a week into cash savings, as well as putting money into investments.
Instead of investing in individual companies (which can be riskier), their funds are a mix of shares and bonds to balance the risk, so you can hope to get a better return.
As with all investing, you need to remember your capital is at risk, and your money can go down, so keep that in mind for how you manage your savings.
Lower your bills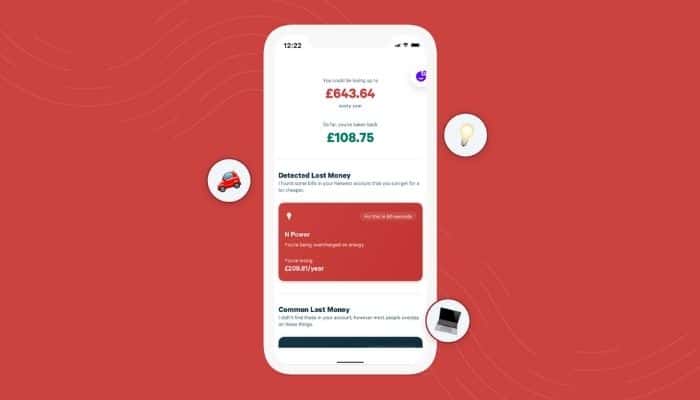 Sick of getting nagged that the price of your gas and electric bills are too high? Wonder if you're overpaying for your broadband? Is your credit card the best deal for you?
Plum can take care of it all for you and analyses where you've overpaying so you can keep more money to yourself.
The average customer saves £179 a year on regular bills, which is a decent amount!
They can even handle the switching for you; just click Lost Money and choose which bills you want to fix to a better price.
Is Plum a safe app?
Simply, yes, Plum is safe.
Plum is authorised and regulated by the Financial Conduct Authority, and you have the Financial Services Compensation Scheme (FSCS) protection on your interest savings.
Any money you have in instant access pockets is held as e-money which is protected by E-Money Safeguarding Rules.
Plum uses 256-bit TLS encryption (the same as your bank account app), meaning the security is robust.
You can use face ID, fingerprint ID, or pick a passcode to access the app, so if you ever misplace your phone, no one else can access your account.
Data is never shared without consent, and you have customer support available seven days a week if you have any queries.
Real life Plum reviews from our community members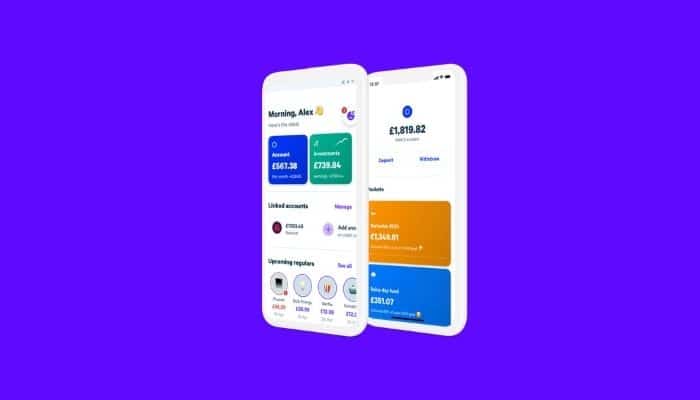 Plum app reviews from Apple App Store, Google Play Store, and Trust Pilot all have excellent reviews.
As a user myself, I know how smooth it was to set up, and the ease of saving money.
The app analyses my spending and sees that I can afford to save around £10 each time. It's not a lot, but that money adds up fast when you can't see it. Plus, I let the app round up my transactions from the last week and transfer a bit of spare change across too.
Early on, I decided to use Plum Plus to earn interest and build a portfolio with them. I feel that I don't need the extra benefits of Plum Pro at the moment. It all depends on the individual.
I've been able to cash out from my Plum account every time I need, earn monthly interest and watch my investments grow.
Loads of the Skint Dad Community are also Plum customers.
Here are some of their Plum investment reviews:
I've been using it about a year. I have saved a small fortune and it's helped me save for big ticket items without realising.

Hayley
I love it have used for about 2 years and find myself not missing the amounts they take out.

Susan
Plum has been a good thing for us. Don't really notice it taking the small amounts but have racked up £200 at one point without realising. Came in handy when we had to get new tyres on the car. Also, when I withdraw it during the day, it's usually In my bank the same afternoon.

Beth
Plum has been amazing for me. I have emergency money saved up, and everything else that's spare goes into my Plum investments. So far I've made almost £200 in returns, and I couldn't be happier. I recommend them, and your money (not including investments) is FSCS protected.

Michael
We started last October and have used it this year to pay for car insurance on 2 cars, TV license and a small holiday and there is still a bit left. I like it because I can't see the money so don't dip in to it.

Shaun
I have had it for a year, very safe and easy to use. I link it to my current account and use it for round ups and keep the money for car repairs, if I need an appliance fixed or repaired in the house. Adds up really quickly. I also have a savings account linked which gives a decent interest rate but that takes a day to get your money out.

Anne
These Plum reviews are just a small selection of comments over the last few months. There are a whole lot more.
FAQs
We find community members have similar queries when they first start using the app, so hopefully, this will help answer any quick questions you have.
How quickly can you withdraw money from Plum?
You can withdraw your savings for free in one working day for any money held in your Primary Pocket (usually around 30 minutes) or next day for any money saved in your easy access interest pocket.

If you want to withdraw your investments, it can take up to five working days.
Is it ok to enter your bank account information and password when you join?
They don't store your bank log in details or have any access to it. Through Open Banking, your data is secured by state-of-the-art security measures.

You need to link your bank account to your Plum account, so it can analyse your spending and put money aside every few days. They only have read-only access.
How do I stop my Plum from taking money?
If you've got an upcoming Plum deposit you don't want it to leave your bank account, you can cancel a pending transaction.

Contact the customer support team via the app chat (tap on Help) and cancel the payment. You need to cancel before 3 pm the day it's created. Otherwise, you can withdraw it when it reaches your Plum account.
How do I pause my Plum account?
Situations change, and maybe you want to stop saving for a while. Remember that Plum analyses your income and spending, so will save less if you have less coming in. You can also adjust your "Mood" and tell the app to save less each time.

You can either go to the Brain, click Automatic, and turn off or temporarily pause how often you set aside money.
What's the difference between a Primary Pocket and Easy Access Savings?
Your Primary Pocket is your starting point in the app for your automatic deposits. You don't earn any interest but can build up your pot. You're able to withdraw your money on the same day.

Easy Access Interest Pockets allow you to earn up to 0.4% AER interest. If you want to withdraw money, it takes 24 hours.

For a Plum basic account, neither account has any charges.

Interest accounts are provided by Investec Bank, who have the right to change the rate at any time.
Final thoughts
Plum is an excellent option if you find it difficult to set money aside.
As well as working it all out for you, your money is held in accounts away from your bank, which hopefully means it's out of sight and out of mind.
Hopefully, it will mean you can start saving, and you won't be tempted to raid it. But, if you need to, it doesn't take long at all to get your money back.
Are you tempted to sign up? If you've got any questions, ask them in the comments section below.
Not sure about this app, try the Chip app instead (or as well) and check out these other money saving apps.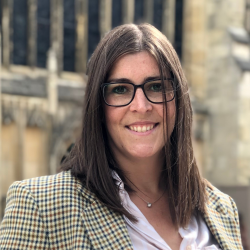 Latest posts by Naomi Willis
(see all)