Toilet rolls are a must have item shopping and the costs can soon add up over the course of a year. Skint Mum looks at how to save money on toilet rolls.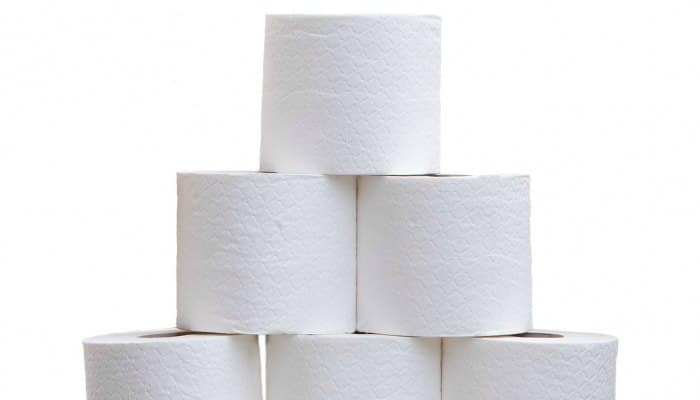 £10 BONUS OFFER: Earn easy cash by watching videos, playing games, and entering surveys.

Get a £10 sign up bonus when you join today.

Join Swagbucks here >>
Toilet rolls are a must have when doing the supermarket shop each week and when the average person uses 8 sheets per visit to the loo, the costs can soon add up over the course of a year.
As Skint Dad was otherwise engaged, Mollie Green from BBC Radio WM invited me onto the show to discuss how to save money on toilet roll – listen from 1 hour 49 minutes. (link not available after seven days).
It's an interesting discussion and one that people may not have discussed too openly as what happens in the bathroom is usually private. However, this conversation is how to bring down the cost of spending on toilet rolls and here are some of the tips from the Skint household.
Brand down
Recent research has been carried out to show the difference in value, luxury and overall performance of the toilet roll.
We use Lidl Everyday Essentials as standard in our household (which we don't find too bad) and it actually the top of the chart for the best overall value.
Sainsbury's Basics actually won the best performer, beating all big brands overall on value and performance.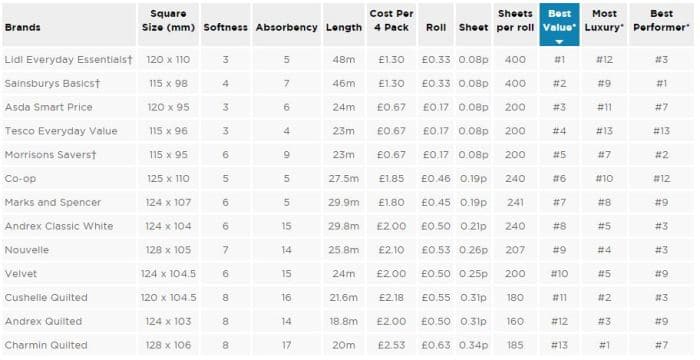 Research taken from Bathrooms.com.
Buy online
When buying online you are able to get some good deals on bulk buys.
Groupon usually have good deals on household items and toilet roll, Approved Food also have very good prices on loo roll (but you're not always able to bulk buy their products, depending on their stock levels).
You could even try shopping at an office supplier such as Viking Direct or Staples when bulk buying toilet roll. You don't have to be a business to purchase from these places and the savings you can make are substantial.
Price per sheet
Don't fall for cheapest is the cheapest, as it's not as black and white as that. If you look to buy online, you can usually organise the products by price, giving you the lowest priced rolls at the top of the list. However, cheapest may not actually be the best value.
When looking to see the prices, supermarkets will show the cost of each unit as the cost of each roll. However, this may also not be your cheapest option.
You need to work out the cost of each sheet to see what value you are getting.
Take this comparison I found on MySupermarket: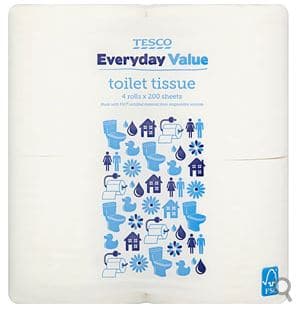 Tesco Everyday Value Toilet Tissue – 200 Sheets per Roll (4 in a pack)
67p for the pack, which works out at just 16.8p per roll
Price per sheet = 0.00084p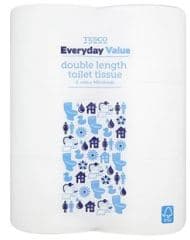 Tesco Everyday Value Double Length Toilet Tissue – 400 Sheets per Roll (6 in a pack)
£1.95 for the pack or, quite a bit more than the last at 32.5p/Roll
Even though the cost is more, the price per sheet isn't = 0.00081p
Now although the price per sheet doesn't look that much different, the cost of the 6 pack is actually lower and therefore better value. The rolls cost more but, because there are more sheets, it actually works out cheaper.
To work out the cost per sheet, do this calculation:
Sheets on each roll multiplied by the total number of rolls in the pack, gives you the total number of sheets per pack.
Then, take the price and divided it by the total number of sheets per pack.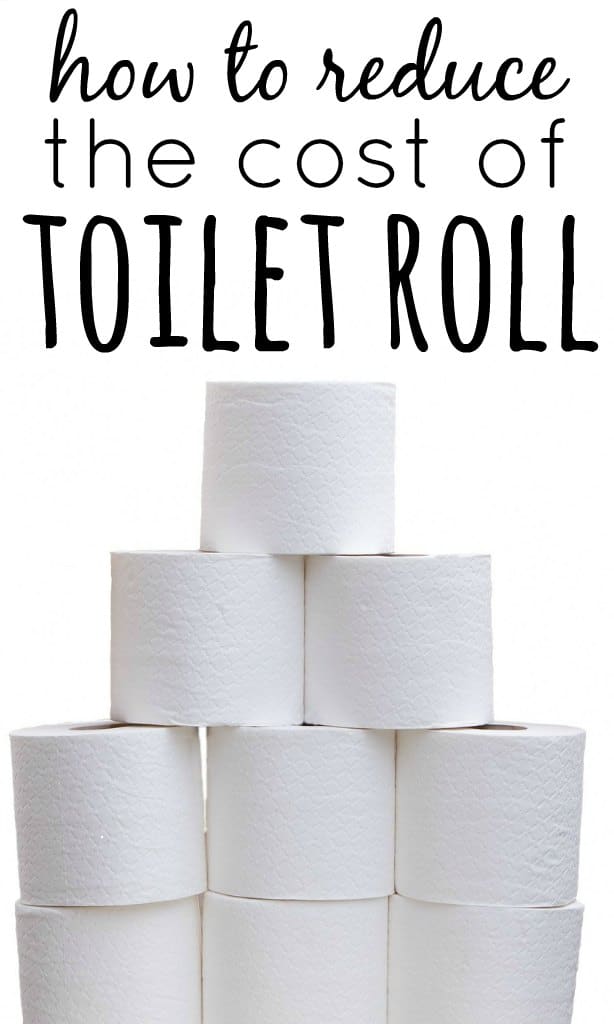 Squash the roll
A favourite in our household, this little tip has saved us lots of sheets. On average, research has shown that people use eight sheets per visit to the loo. Adding up quite quickly (especially when children pull without thinking), one of our favourite money saving tip is to squeeze the roll. When you then try to give it a tug, it doesn't roll and you'll have to be more conscious about how much you are using, rather than just being given as much as you can pull.
Use something else
Maybe not a preferred option in the UK, but millions of people across the world don't use toilet roll…. just saying! That's 70% – 75 % of the world's population!! I've found a few bloggers (here, here and here) who use reusable cloth and have read that many other people around the world just use a hose to wash afterwards (like bidets used to more popular a number of years back).
And finally…
Once you've finished with the toilet roll, what do you do with the middle? Do you just recycle it, or jut throw it in the bin? Instead, why not use to to make something else useful around the house and maybe save even more money? Have a look at Skint Dad's Pinterest board which is full of ideas on how to reuse the middle of a toilet roll.
Follow The Skint Dad Blog's board Reuse Toilet Rolls on Pinterest.
Although nothing to do with saving money, the final point is whether you're an under or an over. Apparently, if you roll it from under you're more intelligent than if you have it from over. I'm an over girl, Skint Dad (when he does hang one) hangs it under.
Whether you're an under or an over, it doesn't really matter, the only intelligent thing is to make sure that you don't over spend on those precious toilet rolls.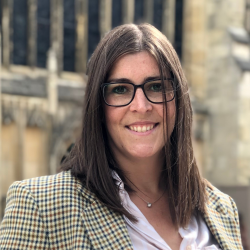 Latest posts by Naomi Willis
(see all)