With this meal plan and shopping list you can feed a family for just £40 per week, plus if you follow these tips you will have less food waste too.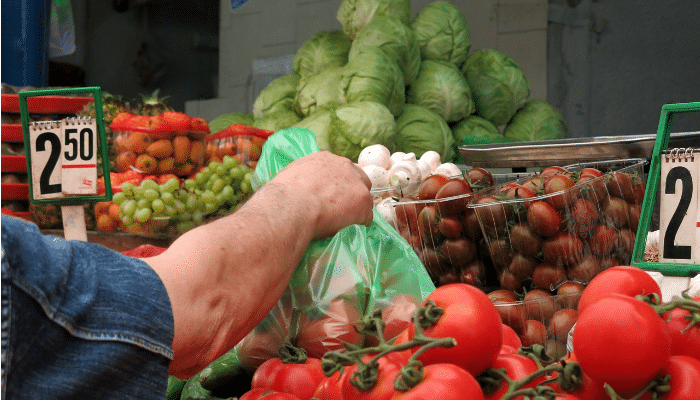 £10 BONUS OFFER: Earn easy cash by watching videos, playing games, and entering surveys.

Get a £10 sign up bonus when you join today.

Join Swagbucks here >>
It's all well and good cutting your supermarket spend but if you don't use the food wisely and some of it goes to waste, you're just throwing money in the trash.
Food waste in the UK is a major issue. Each year households up and down the country throw away seven million tonnes of food, with the majority of it which could have been eaten.
Not only is it costing us hard earned money, it's bad for the environment too.
AO.com are also concerned about this and recently got in contact to set me a challenge and raise awareness at the same time. The challenge was to do a £40 shop and waste as little food as possible.
Well, I'm certainly not one to shy away from a challenge so I gladly accepted.
What follows is a list of the items I bought, a printable shopping list, the meal plan and, lastly, my top tips for reducing food waste.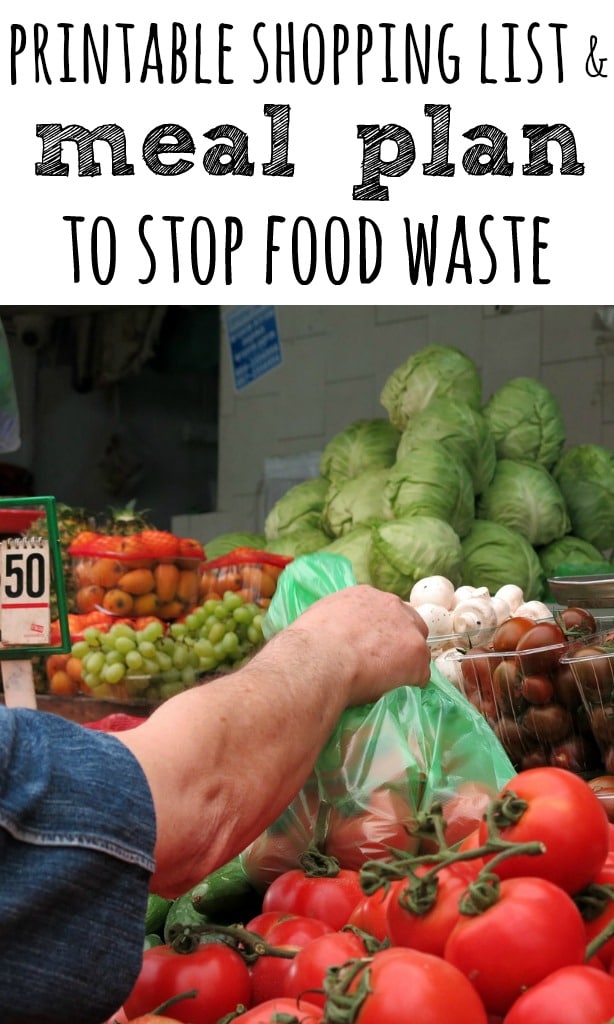 This is what I bought to see us through a week:
Apples – 89p
Bananas – 98p
x2 packs of carrots – £1.06
Garlic – 49p
Courgettes – £1
Onions – 63p
x2 packs baby potatoes – £2
Baking potatoes – £1.20
Lettuce – 49p
Tomatoes – £1.60
12 eggs – £1.40
4 pints of milk – £1
Cheese – £3.08
Mozzarella – 47p
8 yoghurts – 66p
x2 mince beef – £4
4 pork loin steaks – £3
Diced chicken breast – £3
Chicken legs – £2.24
Sausages – 66p
Cooked ham slices – £1.50
Bread – 40p
x2 packs of wraps – £1.78
x2 tins of beans – 48p
x2 tins of tomatoes – 68p
x2 boxes of cornflakes – 62p
Lasagne sheets – 40p
Spaghetti – 20p
Rice – 45p
Sultanas – 84p
x3 pizzas – £1.80
x2 bottles of squash – 84p
Total spend – £39.84 plus £1 for the delivery charge (please note, these prices are correct at the time of publishing and I don't know whether Tesco will put them up or down in the future)
Here is the printable shopping list if you wanted to use this in the supermarket yourself.
Here's what is on the meal plan:
Breakfast
Cereal or toast. At the weekend we'll have a treat of scrambled eggs, apart from Skint Mum who'll no doubt prefer a fried egg!
Lunches
A bit more pick and mix, we can have a variety of the following: sandwiches or wraps with either cheese, ham and salad, yoghurt, fruit, carrot sticks, sultanas, boiled egg.
Dinner
Day 1: Pork chops with new potatoes and roasted vegetables
Day 2: Chicken fajitas with wraps and flavoured rice
Day 3: Lasagne with tomato and mozzarella salad
Day 4: Sausages with baked potatoes and beans
Day 5: Pizza and any leftover ham and mozzarella as additional toppings
Day 6: Spaghetti Bolognese with a side salad
Day 7: Slow cooker garlic and butter chicken with roasted baby potatoes and vegetables
This menu wouldn't have been possible if we didn't have a store cupboard filled with essentials.
For instance, we have herbs and spice we use to make our own flavouring for fajitas and as a rub for the pork chops, as well as spices for the lasagne and Bolognese.
We also have butter, tomato purée, oil, stock cubes, jam, honey, tea bags and sugar left over from a previous week's shop. These are the kinds of things that don't necessarily need to be bought each week.
We also have sliced peppers in the freezer and some frozen veg too which will be used in some of the recipes.
We probably didn't need to buy the rice as we still have quite a bit left too but it doesn't hurt having extra of non-perishable items in the cupboard.
How we save on food waste
What can be used up
The idea behind any shop I do is to try and buy foods that can be used in different meals.
One big bag of carrots will never go to waste as we'll have carrots one day as a side veg and the next will chop some up to put in a Bolognese.
There was a bit of a squabble on Instagram a while back if you should use carrots in a Bolognese – I say yes, Skint Mum says no, Instagram followers were split pretty much 50/50!
The freezer is your friend
If you are not going to use the food straight away then freeze it to use at a later date. Also, a lot of the time when we have a food delivery, the store don't pay too much attention to the use by dates on the packs.
By freezing the food, we'll know that the food will not spoil when it hits the use by date.
Split portions before you freeze them
It's all very well and good freezing food but if when you next come to use it, if you have to defrost too much that you won't use you will just end up wasting it again.
Try to freeze food or leftovers in reusable containers or freezer bags so you can pull out portion sized foods.
Pass food onto others
If there is no way you're going to get through your food then pass it onto others to stop waste. Use a food sharing app like Olio to make sure you don't have to put anything in the bin.
You could earn a few quid back too, it's not just about giving food away for free.
Most wasted food
Some foods get wasted more than others.
Do you have culprit food in your household that you find yourself throwing away instead of using up?
Cut back on wasting bread
Bread is a biggy that gets wasted. Maybe it's that people want to have everything really fresh? Maybe people aren't sure what to do with bread that is a few days old.
What about making a bread and butter pudding? I do mine in the slow cooker (a very lazy option that I even get the kids to make!), or how about throwing the bread in a blender and making breadcrumbs?
We store them in a bag and use handfuls when making meatballs or burgers, or to batter fish or chicken.
You can freeze bread well. Try putting a few slices in the freezer (if you want to test it) and you can put them in the toaster straight from the freezer – it tastes no different and saves on wasting bread.
Cut back on fruit and vegetable waste
Is this one you find yourself doing? a load of limp seasonal vegetables may not look great and doesn't taste as fresh if you just want to boil the veg to sit as a side.
However, limp vegetables are the perfect ingredient for a soup. Take a look at my bottom of the fridge soup – perfect for leftovers!
Instead of binning fruit why not make up delicious banana bread, or applesauce, or fruit smoothies (the kids love smoothies for breakfast!).
Ways to stop wasting drinks
I find the idea of wasting drinks quite a strange one but I suppose milk is a drink that spoils and could get tipped down the sink.
Instead, how about freezing some milk into ice cube trays them using them in your tea or coffee when you next have a cup, or making custard and using up some of this squidgy bananas you may have left over.
For fruit juices near the end of its use by date, how about making ice lollies as a nice treat for a summer day, or maybe for when you have a sore throat and need something soothing?
There are lots of different ways and ideas that you can use to stop food waste and I've only just touched the surface with the ones above.
What else do you do to love food and hate waste?
If you're looking for other cost-effective meals that you can cook from scratch take a look at this.
Still struggling to come up with ideas? Why not use some of our budget meal plans: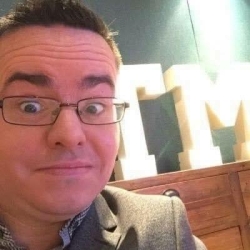 Latest posts by Ricky Willis
(see all)