To help save money on your supermarket food shop, Tesco is now price matching hundreds of own-brand products at Aldi. Some food may even be cheaper!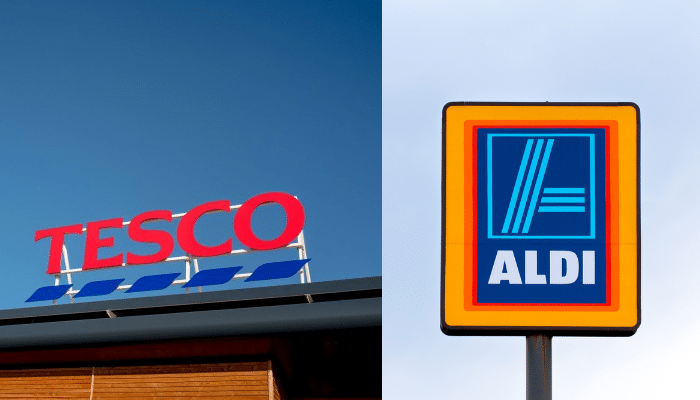 £10 BONUS OFFER: Earn easy cash by watching videos, playing games, and entering surveys.

Get a £10 sign up bonus when you join today.

Join Swagbucks here >>
We are used to seeing price wars at the supermarket, and it can be hard to work out which supermarket is cheaper than others.
Prices can change from day to day, and I know that means many of us look to either shop at a few different places or stick to a budget supermarket to keep costs down.
The supermarket Tesco has launched a new way for us to save money and is matching products to Aldi prices.
Hundreds of products are being reduced both in store and online.
This means you'll get Tesco products at Aldi prices.
You'll easily be able to see what items have been price matched as you'll see a red Aldi Price Match bubble with a large white tick in store, so you can clearly see where prices are the same.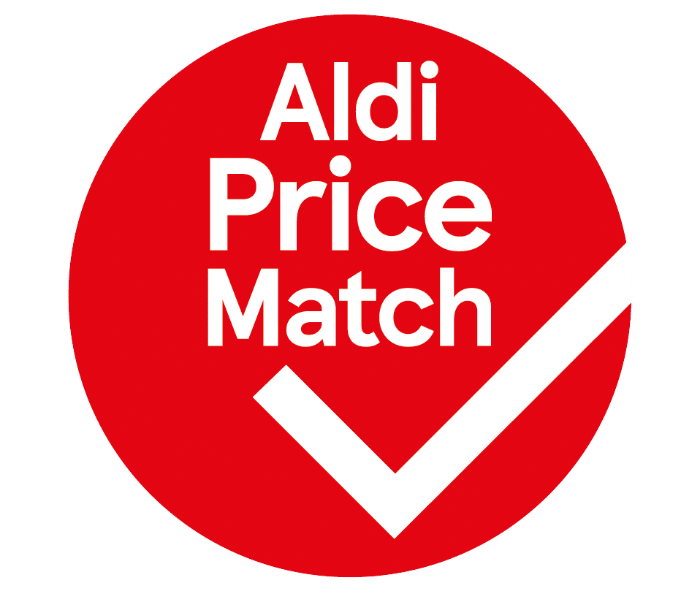 Price reductions at Tesco start from Thursday 5 March 2020 on hundreds of items like avocados, orange juice, baked beans, bread and beef mince.
What's being reduced at Tesco?
Tesco has found several products that people are more interested in saving money on (although I know we want to save money on everything!)
Price reductions aren't for "junk food" but will see us get food to make healthy, hearty family meals for less.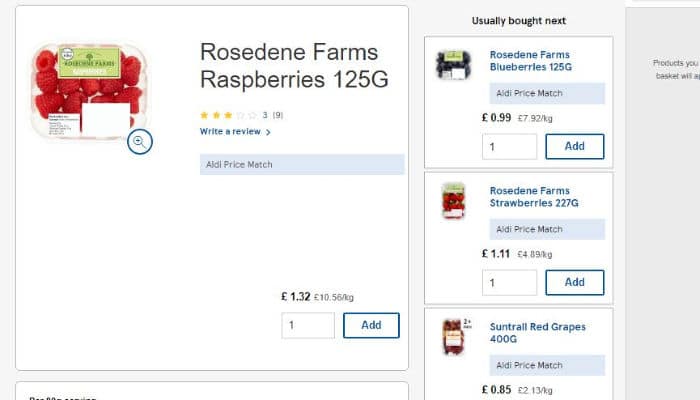 Price matched foods include cupboard staples, fruit and vegetables, and meats:
Tesco Lean Beef Steak Mince 5%, £1.99
Tesco Greek Style Yogurt, 69p
Tesco Ready to Eat Large Avocados, 95p
Stockwell & Co Baked Beans in Tomato Sauce, 22p
Tesco Pre Pack Broccoli, 57p
Suntrail Farms Soft Citrus Pack, 75p
> Click here to see the most recent and updated prices at Tesco
On top of the Aldi price matched products, you will continue to collect Clubcard points.
Plus, you can still use Clubcard Plus to save 10% off your food shop too!
Alessandra Bellini, Tesco Chief Customer Officer, said:
"Our customers tell us they want the most competitive prices on the things they buy regularly.
"This campaign will help time-poor and budget savvy customers get Tesco products at Aldi prices on products that matter to them."
Tesco price match Aldi examples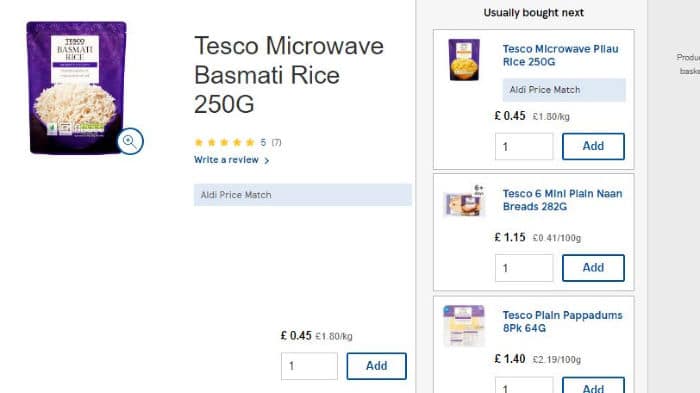 Here's a selection of Tesco products that are now price matched with Aldi.
Some of them are even cheaper!
Prices are being checked in Aldi stores twice a week.
They are checking stores in England, Wales and Scotland. (Aldi does not have stores in Northern Ireland.)
| | | | |
| --- | --- | --- | --- |
| Tesco Product Description | Tesco Price | Aldi Product Description | Aldi Price |
| Tesco Greek Style Yoghurt 500G | £0.69 | Brooklea Yoghurt Greek Style 500g | £0.69 |
| Tesco British Salted Block Butter 250G | £1.49 | Cowbelle Butter Salted 250g | £1.49 |
| Warburtons Toastie Sliced White Bread 800G | £1.05 | Warburtons Bread White Toastie 800g | £1.05 |
| Tesco Lean Beef Steak Mince 5% Fat 500G | £1.99 | Ashfield Farm Beef Mince 5% Fat 500g | £1.99 |
| Hearty Food Co. Garlic Baguette 170G | £0.32 | Everyday Essentials Garlic Baguette 170g | £0.32 |
| Suntrail Farms Soft Citrus Pack 600G | £0.75 | Oranges Easy Peelers Everyday Essentials 600g | £0.75 |
| Rosedene Farms Raspberries 125g | £1.32 | Raspberries Punnet Everyday Essentials Wonky 125g | £1.32 |
| Suntrail Red Grapes 400g | £0.85 | Grapes Everyday Essentials Wonky 500g | £1.06 |
| Nightingale Farms Baby Plum Tomatoes 250g | £0.72 | Tomatoes Plum Baby 275g | £0.79 |
| Nightingale Farms Peppers 375g | £0.95 | Peppers Mixed Any 3pk | £0.95 |
| Tesco Whole Cucumber (each) | £0.57 | Cucumber Single (each) | £0.57 |
| Redmere Farms Mushrooms 380g | £0.82 | Mushrooms Natures Pick Wonky 650g | £1.40 |
| Tesco Iceberg Lettuce (each) | £0.62 | Lettuce Iceberg (each) | £0.62 |
| Tesco Ready to Eat Large Avocados (Each) | £0.95 | Avocado Single (each) | £0.95 |
| Tesco Maris Piper Potatoes 2.5kg | £1.95 | Potatoes Maris Piper Any Brand 2.5kg | £1.95 |
| Tesco Pre Pack Broccoli 350g | £0.57 | Brassicas Broccoli Any Brand 360g | £0.59 |
| Silver Spoon Granulated Sugar 1kg | £0.65 | The Pantry Sugar Granulated 1kg | £0.65 |
| Stockwell & Co Baked Beans in Tomato Sauce 420g | £0.22 | Everyday Essentials Baked Beans 420g | £0.22 |
| Tesco Microwave Basmati Rice 250g | £0.45 | Worldwide Rice Microwavable Basmati 250g | £0.45 |
| Growers Harvest Orange Juice Smooth 1L | £0.69 | The Juice Company Juice Orange Smooth 1L | £0.69 |
Even things like Easter Eggs may be cheaper at Tesco this week as they are running a half price Easter eggs deal.
Considering mySupermarket shut down recently, making price comparisons at supermarkets is now going to work out harder.
While there are a few alternatives, knowing that prices will be the same in Tesco and Aldi will mean we can be sure to keep our food shop budget under control.

Come and join thousands of other savvy shoppers in the Reduce Your Supermarket Spend Facebook community to find out tips and tricks to save money on your food shop.
Enjoy this post? Why not also sign up to receive our newsletter.
We send out all the best money saving news and tips from the site and as an added
bonus you'll get an exclusive £16 cashback from Quidco (new members only)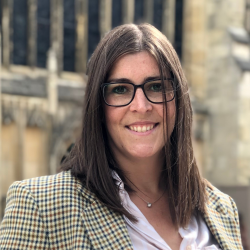 Latest posts by Naomi Willis
(see all)