A study by Waste and Resources Action Programme (Wrap) has shown that, despite a significant drive to reduce the problem, the waste costs the UK £12.5 billion a year.
Food items that are discarded every year include the equivalent to:
5.8 million potatoes

5.9 million glasses of milk

24 million slices of bread

86 million whole chickens
Even though households have cut avoidable food waste since 2007 by 21% (a consumer saving of £13 billion) in recent years this has slowed and 4.2 million tonnes of edible food has still been wasted.
Shockingly nearly half of this food doesn't even reach our dinner plates and instead goes straight from the store to our cupboards or fridge then into the bin.
Now Skint Dad is speechless at this.
In one hand Oxfam are reporting the following:
In 2012-13, the Trussell Trust food bank network, an Oxfam partner, provided over 350,000 people in the UK with food parcels – more than double the year before.

Oxfam and Church Action on Poverty estimate that over 500,000 people in the UK are now reliant on food parcels.

Over 2 million people in the UK are estimated to be malnourished, and 3 million are at risk of becoming so.

36% of the UK population are now just one large heating bill or a broken washing machine away from hardship.

1 in 6 parents have gone without food themselves to afford to feed their families.
And in the other Wrap are reporting the average family waste 6 meals a week at a cost of nearly £60 per month?
The maths just doesn't add up?
How can we let people go hungry when we waste so much? It make me so angry and sad.
So what can we do about it?
I certainly don't have all the answers but below are few suggestions that we use to reduce waste.
1. Batch cook food
Instead of only cooking for the night's dinner, cook up a load extra, freeze it and save for a later date. This is a brilliant idea on all fronts as you are saving energy by cooking once instead of multiple times, you are using food which may have been wasted later on in the week and you are saving yourself some time.
2. Only buy what you need
Instead of buying loads of fruit and vegetables only for half of it to go off and chucked away, just buy enough. Why do you need to buy 10 bananas when you only need 5 for the week?
3. Meal plan
Instead of writing a shopping list before you visit the supermarket, write a meal list. Work out what you want to eat for the next week, fortnight etc., write down each meal and then work out the ingredients you will need, taking into account what you already have in your cupboards. It sounds like a long and boring task but you'd rather do that that throw money in the bin wouldn't you?
4. Use your loaf
I bet there isn't a week that goes by when you throw out some bread. Well stop! That slightly gone off bread can be used for loads of stuff including, bread and butter pudding, French toast, bread dumplings, grilled sandwiches and meatloaf to name a few! Check out this article which lists these and a whole lot more.
5. Lunch next day
So you have cooked a family meal of Spaghetti Bolognese and the children have hardly touched it! Instead of throwing it away, scrape the leftovers into an airtight container, pop it in the fridge and that's you lunch for work the next day. No waste and saving money! Brilliant!
6. Invite people around
Now I don't know about you but I hardly talk to my neighbours. It is not because I don't like them, it is not because they are horrible. The reason I don't talk to them is because life is busy, so busy in fact that I don't talk to my partner as much as I would like. I want this to change. In the next week I am going to make a point of talking to a neighbour and invite them around for dinner. I will make a real effort to connect to more people in my road, in my neighbourhood, in my town.
I have been in a position where Skint Mum and I missed meals. If someone like a neighbour had invited me round for dinner, I would have been hesitant but most probably of accepted. You never know who is going without food, it could be your neighbour.
Tips from the Skint Dad community and reader

s
7. emstring says, "Veg that is almost past its best can still be made into soup, just throw whatever combinations you like into a pan with some stock, boil and then simmer until soft. You can also roast the veg first then add the stock later. Chop and freeze any leftover/unused fresh herbs in ice cube trays, same goes for garlic, chillies and (if you ever have any!) leftover wine for cooking with."
8. Marie Lynch says, "Left over potatoes. Cook, mash and freeze. Perfect for pie toppings for another meal. Hard bread- mix in processor to make breadcrumbs. Freeze in small amounts. Great for toppings on pasta recipes etc and saves time when making your meal."
9. Camilla from fabfood4all.co.uk says, "I would say, don't keep potatoes in a cupboard always in the fridge, they will last much longer that way as do most fruits & veg except bananas. With stale bread, whizz it up to make crumbs and then freeze to top savoury dishes etc."
10. @Pols80 says, "Leftovers for lunch and freezing extras"
11. _Jessification_ from thecornwallcampercompany.co.uk says, "Boil your bones! We use up roast chicken remains to make stock and soup and use whatever meat is left for chicken & leek pie! We also pretty much save anything that is left on the plate and snack on it the next day!"
12. Lemonade Budget says, "By putting leftover bread in the food processor, freezing the breadcrumbs and then using them to make breaded chicken. I also slice any leftover lemons or limes and keep them in a tub in the fridge – perfect to pop into a chilled drink instead of ice cubes. Leftover cheese can be grated and frozen then used to top pizzas or shepherd's pie. It was only recently I learned that you can freeze milk and butter too – might just be me but I seriously had no idea! X"
13. @DrColinChurch says, "Slice fresh lemons and freeze separately. They are then flavoured ice cubes for drinks!"
14. Andrea says, "I do use any leftover juice from my boys at the end of the day to make ice lollies rather than throw it away or pour it into an ice cube tray to make fruity ice cubes! Any bread that's going off we have a trip to feed the ducks with it another tip for bread to is freeze your loaf and just take out however many slices you need at a time, this saves it going off in the first place x"
15. Anonymous says, "for leftover veg or bendy veg that's been forgotten about, make it into a pasta bake with some tinned tomatoes or a cheese sauce. Chuck some of your breadcrumbs from your "seen better days bread" on top, voila!"
16. Angie says, "Freeze bread as soon as it's bought, even better, buy reduced price bread at the end of the day! and defrost whatever you need, slice by slices, so no throwing away mouldy uneaten bread."
17. Mortgage Free in Three says, "everything suitable gets stored in a freezer box and made into my infamous "bottom of the fridge soup" – so someone is wasting more than 6 meals worth a week – cos we don't waste that in months"
18. Diane says, "Containers of leftover casserole (noodles or rice, with vegetables and/or bits of meat) go into the freezer. A package will stretch to make a nice soup, added to broth or soup base. I've served to company, and they're none the wiser!"
19. Charlene says, "tips are different to mine, so it's always great to get more tips about food waste!"
20. Emily says, "I'm very anti-food waste, and carefully plan out my meals and shop accordingly, but I think the supermarkets have to take some responsibility here. So much of their fruit and veg comes in a large pack, far more than I would use in a meal for two of us. Has anyone ever seen a pack of beansprouts that would serve fewer than six people? And beansprouts become slimy muck within about 48 hours. Also pre-packaged packs (usually larger than I need) are often cheaper (eg 80p each for two loose peppers or £1.50 for a pack of three) so they're encouraging people to buy more than they need and throw it away. This is wrong.
I think supermarkets should be forced to sell all of their veg loose and by weight/number. If they must sell pre-packaged stuff then it should be more expensive (by weight/number) than the loose stuff. This way people more people would be encouraged to only buy what they need."
21. Philippa from http://soundinglikemymother.blogspot.co.uk/ says, "We freeze chillis, peppers, ginger and herbs. They keep really well and can go on pizza or in curries. We almost always have soups at this time of year on a Saturday and use any left over veg in them. We hardly ever waste food these days. There has been almost no difference in the cost of feeding seven of us as there was for five people, which is something I'm really pleased about!"
22. Lisa says, "Ready-made baby food is so expensive and not necessarily healthier or quicker to prepare. When you bulk cook your food to freeze it, put some into tiny containers (you can buy 6 for £1 at Poundland) or small freezer bags that fit around your other frozen items. Then you have a variety of meals ready to be warmed through once defrosted and it has cost you nothing extra. I buy macaroni instead of 'baby-sized' pasta and it does the job at a fraction of the cost – and you know what has gone into your baby's food."
23. Paul from www.fromadaddy.com says, "I find the biggest problem in my house is when my kid's eyes are bigger than their stomachs. That's a learning process for them…and for me!"
24. Rachel from www.zerowasteweek.co.uk says, "Fantastic thread with so many great ideas. For the people who find sprouted potatoes in the cupboard, get a pot of compost and throw it in. In a few months time your one potato will be feeding the family.
Serve meals in serving dishes rather than onto the plate. That way, we eat what we want and can go back for more, but anything left over is 'clean' and therefore good to store in the fridge for another day.
I learned this week that leftover mashed potato is a great ingredient for pancakes or pastry.
AND, my top tip is to banish the word leftovers from your vocabulary and replace with the word 'ingredients'…"
_____________________________________________________
So there you have some easy tips – find out how to reduce food waste with more ideas here.
But I don't want it to stop there. I want you to do something for me as well.
I bet if you thought about it you could come up with loads of other ideas to stop wasting food, couldn't you?
If you have taken the time to read this post then take another few minutes to add your tip below in the comment box. If you have a tip but don't want to leave it in the comments as you may think it's silly then send it to me by email at ricky@skintdad.co.uk
All the tips I receive I will add to my ones above. If you want to be credited to your tip just let me know and I can either put your name or a link back to you blog next to your tip.
Lets get our heads together and make a difference for once instead of talking about it. You never know, your tip could stop someone from going hungry this evening.
Look forward to receiving your comments.
SD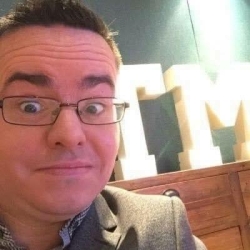 Latest posts by Ricky Willis
(see all)