Instead of throwing away stale leftover bread, put it to good use and use your leftovers to come up with new recipes to cut down on food waste.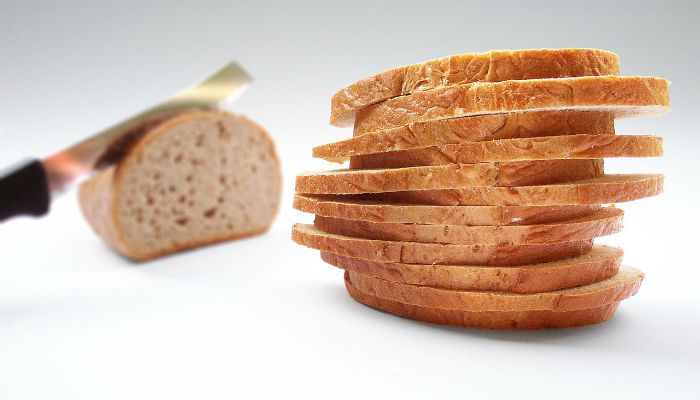 £10 BONUS OFFER: Earn easy cash by watching videos, playing games, and entering surveys.

Get a £10 sign up bonus when you join today.

Join Swagbucks here >>
Are you a waster? Now before you get offended I don't mean that in the literal sense, but in the food waste sense.
For a very long time, we would buy food and a good percentage of it would end up in the bin. This was mainly down to not being organised and planning ahead when it came to the food shop.
The amount of meat we would chuck out was embarrassing and I actually can't believe we were that wasteful! As well as the meat we would also chuck out our fair share of bread and that's what I want to discuss today.
Currently, WRAP (through their research) have found there are 24 million slices of bread wasted each day in the UK alone. 24 MILLION SLICES!!!!
They've found that a quarter of us (25%) have often ended up throwing bread away before reaching the end of the loaf and that 18% of people have even admitted to binning a forgotten loaf before opening it.
Now apart from feeding one very large group of ducks, instead of throwing this bread away – even if it's slightly stale – you can actually put it to good use in a huge number of recipes.
Use Your Loaf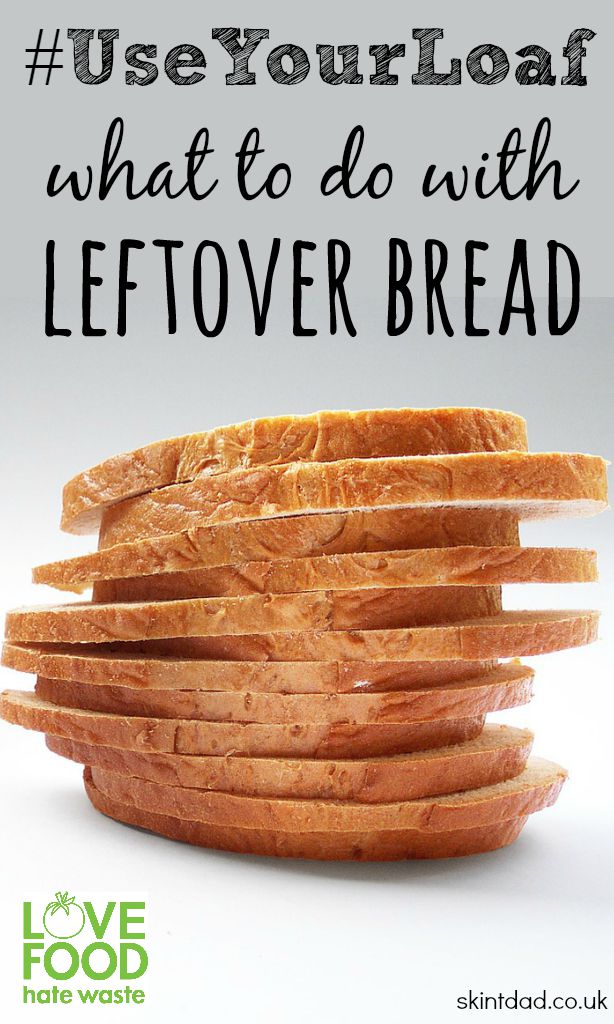 To highlight the current levels of bread being thrown away, Love Food Hate Waste has teamed up with the talented Great British Bake Off champion, Nancy Birtwhistle, to share their top tricks and tips to help you not only make the most of your leftover bread but to do so in a useful, easy, and delicious way. Plus there's a fab competition running – the full details are below.
As part of Use Your Loaf, and something you should definitely get involved with, there's a Twitter chat with Love Food Hate Waste and Nancy herself. The chat will take place on Wednesday 23 September between 6-7 pm (just before GBBO if you're planning to tune in).
To take part make sure you follow @LFHW on Twitter and use the hashtag #UseYourLoaf.
Skint Dad Mini British Bake Off
Now although I said there was a time when we did waste quite a lot of food, those days are well and truly behind us. Nowadays we meal plan and don't buy unnecessary items. We still do have waste but now we put it to good use, especially if it's leftover bread.
To support Use Your Loaf and show what is possible, over the weekend we set our two youngest daughters a challenge. We have bought a couple of loaves the week before and now there was about have a loaf that had seen better days and was slightly stale.
SDMBBO (Skint Dad Mini British Bake Off) doesn't quite have the same ring as GBBO but we gave it a go anyway!
Our challenge was to get them to find a recipe that could utilise the leftover stale bread, make the recipe and then let me judge who the winner was.
Because my youngest daughter is only three we allowed her to have some help from mummy but the 11 year old was going to go it alone.
With a bit of tag team action, the girls baked their way to one of my absolute favourite puddings – lemon cheesecake.
Breadcrumb Baked Lemon Cheesecake
Chloe was extremely good at using the blender to make our breadcrumbs while Daniella melted the butter. Back to Chloe and she mixed the breadcrumbs into the butter and squashed the base well and truly in place.
Daniella then finished making the cheese topping and measured and mixed all the ingredients. Skint Mum did ask to help with pouring the topping over the breadcrumb base as I was worried we'd end up with cheesecake over the kitchen tops and floor!
The worst thing – as ever – was the washing up as the girls ran off to play while the cake baked. The second worst thing was having to wait a good 12 hours before we could actually eat it!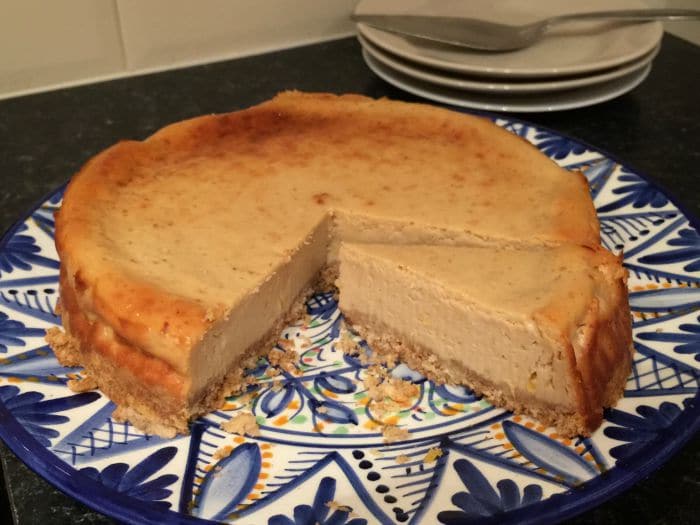 I was slightly dubious about what a breadcrumb base would be like versus the usually biscuit base and it wasn't too bad, to be honest. The breadcrumbs held together really well and didn't crumble away which was probably due to the baking and cooling for hours in the fridge.
It also didn't really just taste like I was eating a bread base as the cinnamon and sugar gave it a lovely flavour.
The cheesecake topping was pretty good too and together it was even better.
As for a winner of the Skint Bake Off I will have to wimp out and say that it was a tie! Both girls made a great effort helping to bake their dad's favourite pudding.
We don't often have proper biscuits in the house so making a cheesecake is something we have to think about doing and we end up having to buy ingredients on purpose – which means we usually didn't bother. However, now we know we can make this using our leftover bread we're on to a winner!
Ingredients
200g breadcrumbs – slightly stale
75g butter/marg
1tsp cinnamon
1tsp sugar
1 lemon (you won't use the whole thing)
30g cornflour
400g cream cheese
200g light brown sugar
1tsp vanilla essence
3 eggs
Instructions
Pre-heat your oven to 140C and grease a loose bottomed cake tin (I think ours is 20cm)
Gently melt the butter and add in the breadcrumbs, cinnamon and sugar
Press the breadcrumbs base tightly into the bottom of the cake tin.
Grate the outside of the lemon into a bowl and add two tablespoons of lemon juice.
Sift in the cornflour then mix together with the cheese, sugar and vanilla essence.
Crack in one egg at a time and beat together.
Pour over the breadcrumb base and bake in the oven for 50-60 minutes until the centre has set.
Cool on the side and chill in the fridge overnight before serving.
Use Your Loaf Competition – NOW CLOSED
The breadcrumb cheesecake went down rather well in the Skint household and is very different from when we use stale left over bread in a bread and butter pudding or when we use breadcrumbs to make meatballs.
But I want to know what you lot can do.
What creative ways do you have to use up any leftover bread that you've got hiding in the back of your cupboards?
Enter your favourite #UseYourLoaf recipe using leftover bread to the Love Food Hate Waste competition page and three randomly drawn winners will all win sandwich toasters.
You'll need to share the ingredients you use and some step by step instructions on how you make your dish with leftover bread, plus you can even upload a picture of your creation.
When the competition closes, the winning recipes will also be featured in Love Food Hate Waste's Guide to Bread online magazine – so you could also be a published chef!
The competition closes at midnight on Sunday 27th September 2015 so get your chef hat on and get baking and cooking with your leftovers!
How to get the most from your loaf
To avoid have any leftover stale bread at all and to avoid throwing it in the bin there are some other tips you can use to get the most from your loaf:
If you're worried about not getting through your bread quick enough before it goes stale, freeze the whole loaf and then just pull out as many slices as you need at a time. Frozen bread toasts well so would be perfect for breakfast.
You need to make sure you store the bread properly if you're not planning to freeze it. Don't store it in the fridge but keep the bread in a cupboard or bread bin, away from heat, light and moisture. That way you'll find it will last as long as possible.
If your bread has gone a bit hard don't bin it but bake it again. This quite often happens for me with a French stick. It's perfectly fresh one day and at just one day old, not matter how it was stored, it's gone hard. Instead of throwing it out for the birds, I pop it into the oven for 5-10 minutes and it softens the bread up, making for toasty warm baguette.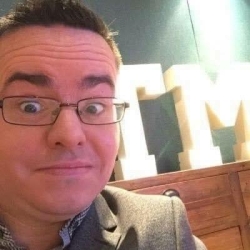 Latest posts by Ricky Willis
(see all)