Instead of wasting your bread and throwing it in the bin, use it to make your own breadcrumbs and save a bit of cash in the process.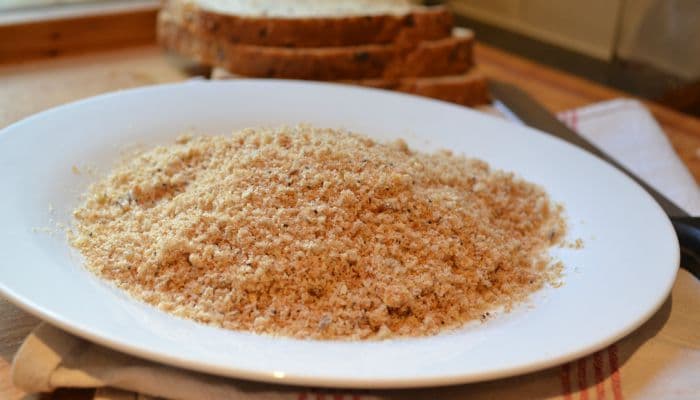 £10 BONUS OFFER: Earn easy cash by watching videos, playing games, and entering surveys.

Get a £10 sign up bonus when you join today.

Join Swagbucks here >>
Bread crumbs are just what they sound like – they are crumbs of bread.
I find them one of those essentials that we have stored for when we need them but I NEVER buy them in a pack from the shop. Why would you need to when they are so easy to make yourself?
We use breadcrumbs to make to covering for chicken strippers or nuggets or fish fingers and use them to bulk together meatballs. We even use them for crunchy toppings on things like a mac and cheese and as a base for tasty homemade cheescake.
Bread waste
UK households throw away too much food each year! A study by Waste and Resources Action Programme (Wrap) has found that £12.5 billion of food a year is thrown away in bins!
For bread alone, it works out that 24 million slices of bread don't get used and get sent off to the rubbish tip.
How to make breadcrumbs

To help cut down on food waste and to save money instead of buying pre-prepared food or packet breadcrumbs it's so easy to make your own.
By making your breadcrumbs at home, you'll also ensure that you'll get no (additional) added preservatives or flavourings that may get popped into a pack of store-bought breadcrumbs.
It's not just about having day old bread but you need to have bread that has dried out a bit – but also not stale! It also doesn't matter whether you use white, brown or wholemeal it will all work in the same way.
Either leave the bread out on the side for a few extra days to get it to dry or put slices on a baking sheet in the oven to dry it out quicker. You could even toast the bread on very low heat.
I have tried different ways to make breadcrumbs and depending on how much time you have and what equipment you have there should be an option for most:
Food processor/blender
The quickest and easiest option is to use a food processor or blender to do the hard work for you.
Simply, drop in bits of bread into the processor and it chops the bread into tiny pieces. Don't put in too much at a time or it won't be able to break the bread up very well.
Knife
Next up in terms of speed is using a bread knife to cut the bread up.
Start by cutting slices into fingers and then into smaller chunks. It's just a matter of continuing to cut the bits of bread into smaller and smaller pieces until you get tiny bits. Then it's just a matter of keeping on (like if you'd chop up fresh herbs).
Grater
Although normally used to grate cheese or vegetables, a grater is also a great way to make breadcrumbs. Make sure the bread is dried out enough and then use the smallest grate holes to make your crumbs.
Hand
It may not be my personal favourite option as it does take a bit of time but it's one that we ask the children to help out with. Even though we have a blender now, we still do make breadcrumbs by hand from time to time.
It's very easy to do and just involves breaking up the bread with your fingers until you get tiny bits. It's much easier to do this with lightly toasted bits of bread as it does crumble easier.
When it's a wet day or the children just need a bit of entertainment this is something I always ask them to do – and it keeps them busy for ages!
How to store breadcrumbs
As soon as you've got your breadcrumbs make up the best place for them is straight in the freezer. I pop mine into a plastic freezer bag and when I need to use any just scoop out as much as is needed.
The breadcrumbs don't freeze together in a ball of ice which makes it really easy to grab a handful or pop a spoon in the bag and get what's required for the recipe.
Flavoured breadcrumbs

But what about if you are looking for another flavour instead of just plain breadcrumbs?
Keep the breadcrumbs stored just as they are and add herbs and spices before you want to use them to vary the flavour, based on the dish you're making.
If you're after a southern-style then just add in some paprika, cayenne pepper and cumin. Want an Italian mix? Try adding some mixes of herbs to the breadcrumbs. There are so many different variations that you could make!
Photography by Beth Willis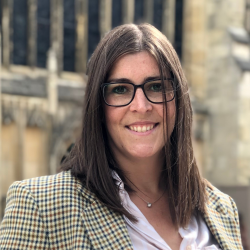 Latest posts by Naomi Willis
(see all)