We visited Warwick Castle and loved it! You can experience it too as you've got the chance to win a family ticket to Warwick Castle.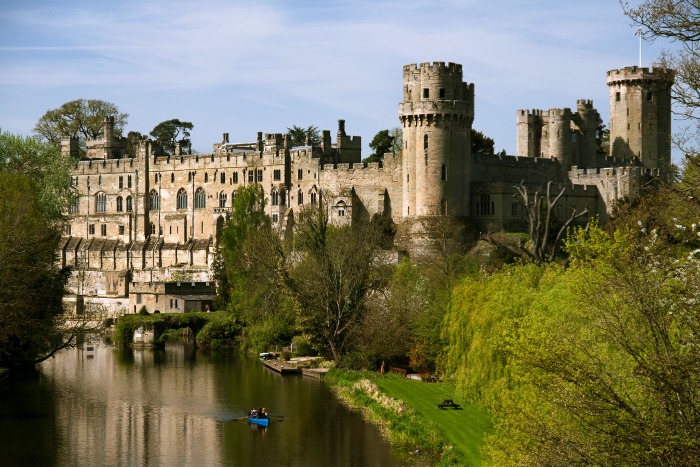 £10 BONUS OFFER: Earn easy cash by watching videos, playing games, and entering surveys.

Get a £10 sign up bonus when you join today.

Join Swagbucks here >>
We were recently invited to attend the War of the Roses at Warwick Castle.
With our youngest learning about the county and our eldest learning about Henry VII, we thought it would be a great opportunity to get the kids a bit of education (without them realising) and have a bit of fun too.
We weren't disappointed.
The one thing that took my breath away when we arrived was the sheer size of the place. I know we were going to a castle, but there is so much there.
I was worried we'd look around, see some of the castle, a bit of the ruins and that'd be it. How wrong was I?!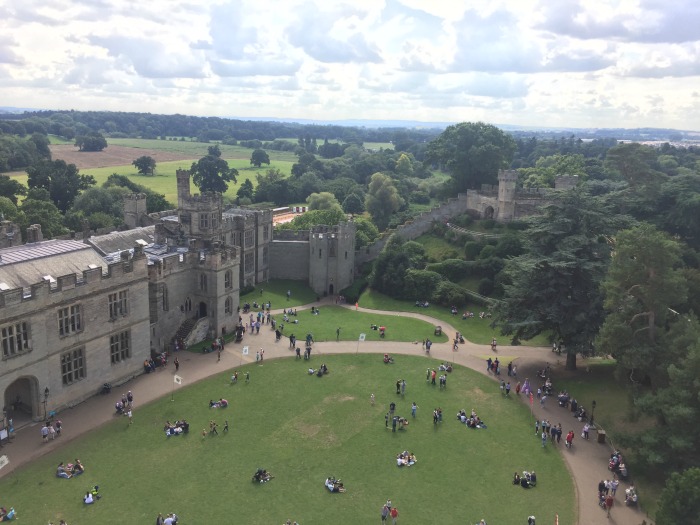 We were inundated with things to do and see as soon as we approached the castle.
While it was themed for the War of the Roses, there were chances for the kids to try out archery, while we watched a bird of prey show. (I did try to take a photo but the bird looked like a black dot in the sky, so certainly not worth sharing!)
We were also give them opportunity to stay at Warwick Castle for the night. Not in the castle itself, but in glamping tents on site, and just next to the river.
War of the Roses
The highlight of our visit was certainly the main event; the War of the Roses.
War of the Roses was a live show performed on horse back. We had to pick if we wanted to be with the House of Lancaster or the House of York, while we cheered, booed and willed on our side to win.
We let Chloe decide which side we wanted to be with and luckily, although not knowing what really happened in history, she picked the right side.
I was expecting for us to be so sucked into the experience. It's really live theatre, with horses and jousting thrown in.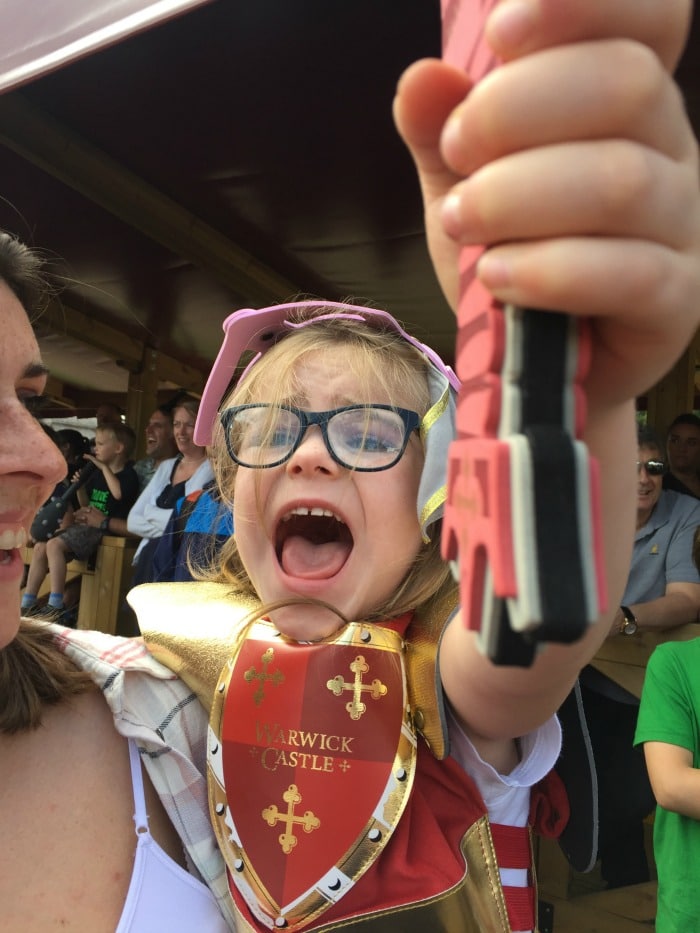 We were hooked as soon as it started and they got the whole audience involved and we felt like we were part of the action.
Glamping
We managed to see a lot of the castle attractions, but just ran out of time to see it all. Luckily, as we were staying at Warwick Castle, you get an extra day in the park. This way, there was no way we'd miss out of seeing everything (plus we could get to see War of the Roses another time!)
Thoroughly tired, we were relieved to check into our glamping tent in the late afternoon.
Again, I was surprised but the side of it. The tent was really big, with a large double bed and two singles. There was also plenty of room for us to walk around inside and lots of blankets to cuddle up with.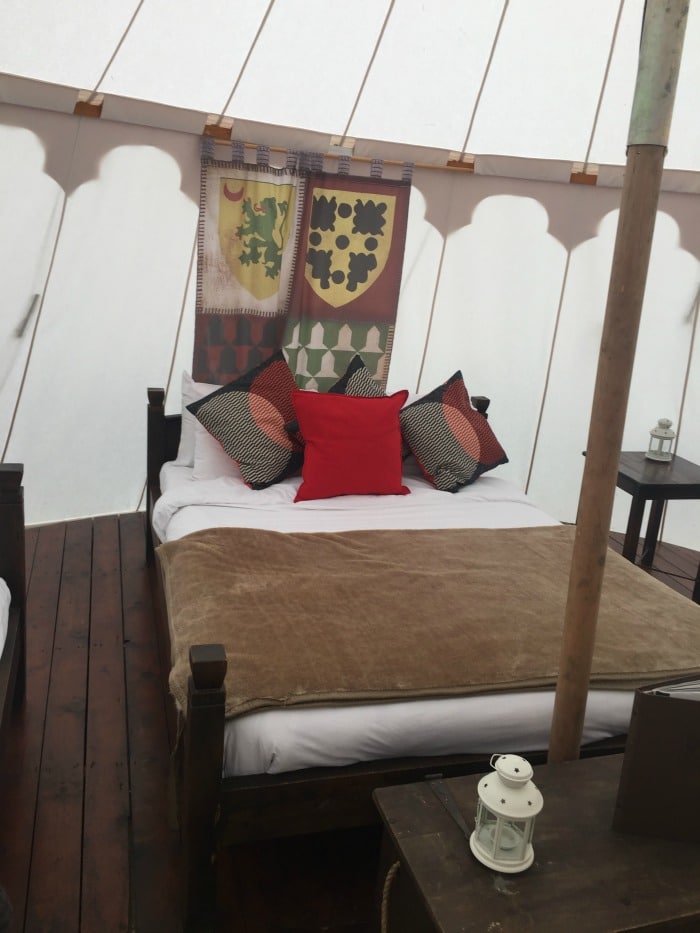 We had a massive dinner in the dining hall then headed out next to the River Avon where we got to take part in free evening activities. These are only available if you're staying for a night.
From archery, sword fighting and jester skills, the kids (and us) got to play while the sun was going down in the distance.
We headed back to the tent, but the kids still had too much energy (how!?) They played in the open with children from the other tents until it really got too late.
Finally, tucked up in bed, we told spooky stories to each other until the kids fell asleep.
It was such a peaceful place to stay in. The trees and environment made it feel like we were totally in the middle of nowhere.
While it got very cold when we woke up in the morning, there were plenty of blankets stored in the glamping tent so we could get warm before getting up, dressed and heading out for the day.
I am a converted fan of glamping at Warwick and I really want to try it again!
And now for the giveaway!
Win a family day ticket to Warwick Castle
Competition time!
While my family loved going to Warwick Castle, we're not the only ones who can experience it.
If you love the sound of our trip and want to experience a day out at Warwick Castle then this is your chance.
We've teamed up with Warwick Castle and are giving one lucky reader the chance to win a family day ticket to Warwick Castle.
You will be able to choose when you want to go, so aren't tied to any particular events, making it easier to plan your diary around a FREE day out. So, if you want to experience the spooky side of the castle and head there over Halloween, or hold back and wait for a day out next year then it's up to you.
For your chance to win, simply enter using the form below.
Good luck!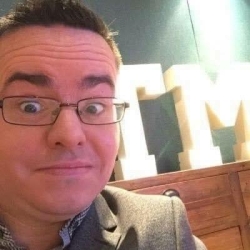 Latest posts by Ricky Willis
(see all)