Many people started the 1p saving challenge at the beginning of the year but a few of you have started to struggle. Don't get put off – here are some tips to keep you on track so you can still save £667.95 by the end of the year.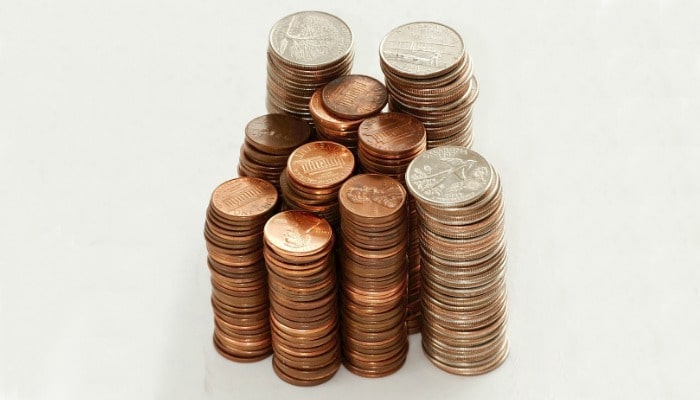 £10 BONUS OFFER: Earn easy cash by watching videos, playing games, and entering surveys.

Get a £10 sign up bonus when you join today.

Join Swagbucks here >>
Many people started the 1p saving challenge at the start of the year. They will be well on their way to saving over £650 by the end of December which is a nice sum of money!
As a quick recap, if you're not sure what the 1p savings challenge here is a quick summary for you:
1p saving challenge
On day 1 save 1p
On day 2 save 2p
On day 3 save 3p
And so on until you get to the end of the year and you would have saved £667.95 in a normal year (£671.61 in a leap year!)
Saving in this way is a very easy way to save over £650 in a year. You don't have to start it at the beginning of the year, in fact, many people are planning to start it later in the year so they don't have the highest saving days coming up to Christmas.
We always start the 1p Saving Challenge in November, which means we save less in December (when we usually spend more), and have finished our savings to spend at the end of the year.
If you have started and are struggling to keep remember to save, or you worry that you'll start the saving challenge but will drift in and out, check out these tips. They should help you save successfully for the whole year – case who wouldn't want an extra 650 quid?!
1. Download the 1p savings chart
First up, you need to make sure you get the 1p saving chart downloaded.
You can either choose a PDF or Excel chart, depending on whether you want to print it out and have it to hand, or you prefer keeping a copy of your computer and marking it off then saving it.
Starting the challenge is easy enough as you remember that day 27 means you need to save 27p but after a few months, it's so easy to forget how much to save next.
With the free printable chart, you can just tick off the amounts day to day to keep you on track.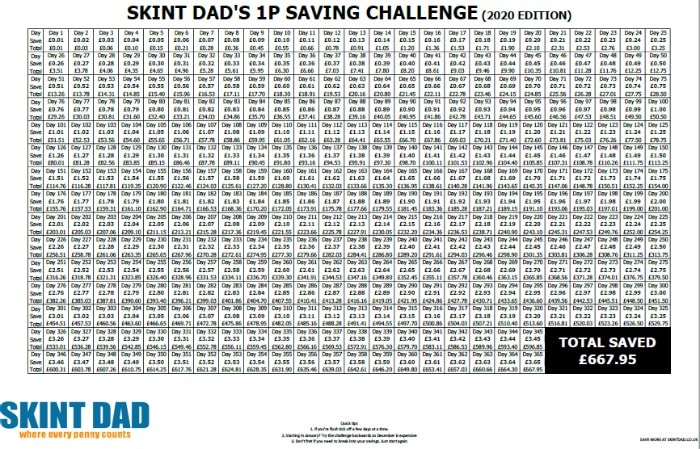 2. Set a reminder
Whether you set a daily alarm on your phone, add a calendar reminder in your Google Mail or whatever service you use or even try a bit of string around your finger, having that reminder will mean you can't forget to save.
No more having to make up three or four forgotten days as realistically, if you miss too many, you may lose momentum and give up!
3. Create a routine
I have a set routine every day. I wake up, check my phone, get up, put the kettle on, open the blinds in the kitchen, and make tea. It's the same every day. This routine makes sure that I at least make tea (not that I always manage to drink it hot!)
If you need to remember to do something every day like this saving challenge then create a routine and a schedule that you can follow. Doing the same things, in the same order will soon become a habit.
Maybe the morning is too much of a rush for you but you have more time in the evenings to count pennies into a jar? You just need to fit it in around you and what works for you.
4. Save as you can
While saving a few pennies at a time sounds easy, when you get to the larger amounts it can get harder.
If you're a bit flush and have a load of spare change then tick off a few of the bigger days.
So, although it may only be day 24 for you if you've got £2.69 in your pocket then tick off day 269.
We regularly do this and save up a load of change, then look to tick off a week at a time.
5. Save with a buddy
Sometimes going it alone can become a bore so why not try to get a mate involved and you both save together. Maybe you'd have a similar goal at the end of it (weekend away, shopping trip…?)
If you have someone to share the challenge with, it will spur you on to save. A bit of competition is healthy and it your friend can be that extra reminder to save every day.
Come on, you must have a mate who'd love to save an extra £650 with this year? Who would you pick?
If you need support, come and join the Facebook Community Group where we give each other encouragement to save.
6. Ask for change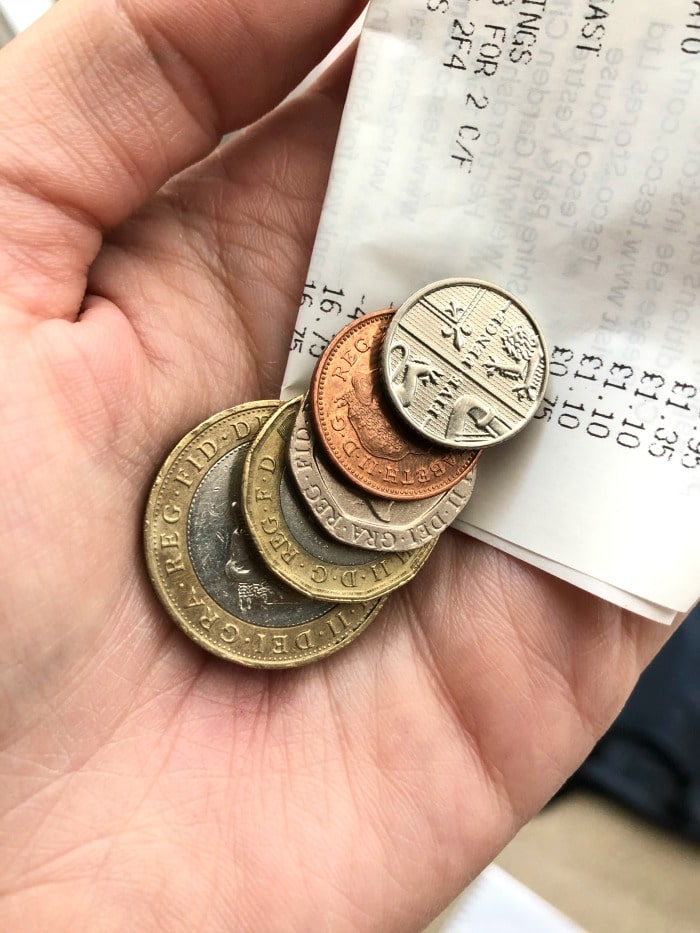 Saving a few pennies a day is easy as most people have loose change about the house but if you usually pay by debit card when shopping you're probably not going to have much cash in your purse or pocket.
It's a good idea to buy with cash every now (don't buy something every day or you'll end up spending more money!) and then and ask for change which you can put towards your daily savings limits.
7. Start whenever you want
Many, many people start the 1p saving challenge in January. New year, new you and all that!
However, that doesn't mean you need to save along with them.
If March is a better time of year then start then. If 23rd October works for you then start on that day.
8. Don't give up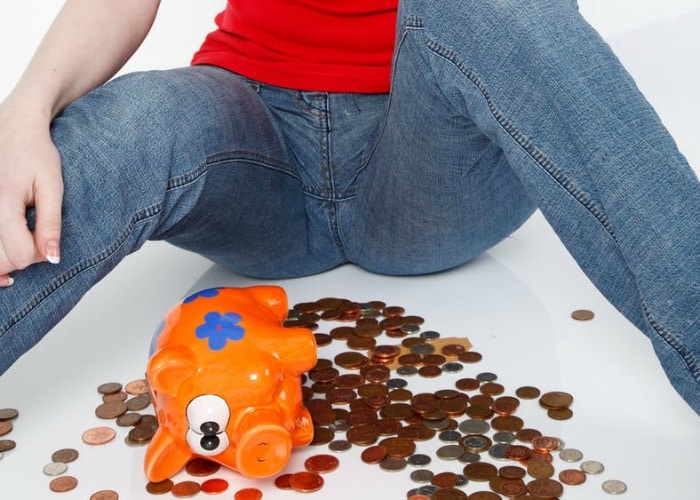 I've spoken to a few of you who start the Skint Dad 1p saving challenge then have to raid it half way through the year.
One person, in particular, was devastated! But, I saw it as a great thing!
She needed to raid her 1p savings as the car had unexpected MOT repairs and she needed new tyres. She had no other savings to pay for the work needed.
I suggested that if she hadn't started saving her pennies in the first place, there was no way she'd ever afford the repairs, without turning to credit.
While she had to stop part way, she had made a huge achievement! She had emergency savings and was able to use them for something worthwhile.
And you know what, the following week, she started the challenge again.
If you stated the 1p saving challenge it means you've got some extra money saved for an unexpected event. Yes, it's nice to plan to spend it at Christmas, or for a birthday treat, but if you need to use it for something else then it's fantastic you've got some savings there.
Don't worry if you have to stop or you need to dip into your savings. Just start again, and be thankful you had some savings there :)
9. Do it backwards
Going forward is not always the right way.
Yes, it's really easy at the start, but you can start to get put off when the amounts get higher.
Instead, look to start at day 365, and work backwards to day one so the challenge gets easier as you go.
And, when you've finished the challenge, whichever way you've done it, here is where to find free coin counting machines so you can switch it all over to notes.
Still struggling with the 1p saving challenge?
If you are really not getting anywhere with the 1p saving challenge you can still save.
Having the money laying around the house in a savings jar can prove too much of a temptation to spend it. Instead, find a way to save money more securely. Buy a sealed tin that you'd actually have to crack open, rather than saving the money in an open bowl.
Is you could get the money into a bank account on a weekly or monthly basis, you'd be certain that the cash couldn't be spent so easily. Plus if it's in the bank, you'll start earning a little bit of interest on it – even if it's only going to be peanuts!
Why not try automating your savings with this nifty app? You won't even notice that you're saving money and you don't miss it.
Instead of getting cash out of your bank, transfer money straight from your current account into a savings account. Naomi is transferring £12.50 each week in this way instead of doing the challenge. She will still have £650 at the end of the savings year but without having to count out pennies.
Or why not try a different savings challenge instead.
Have you started the 1p saving challenge yet?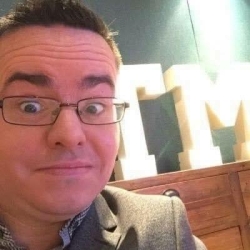 Latest posts by Ricky Willis
(see all)