Enter our latest giveaway to win cuddly Kevin the Carrot and his friends, including Katie, Jasper, Chantenay and Baby Plush, Tiny Tom, and Russell Sprout.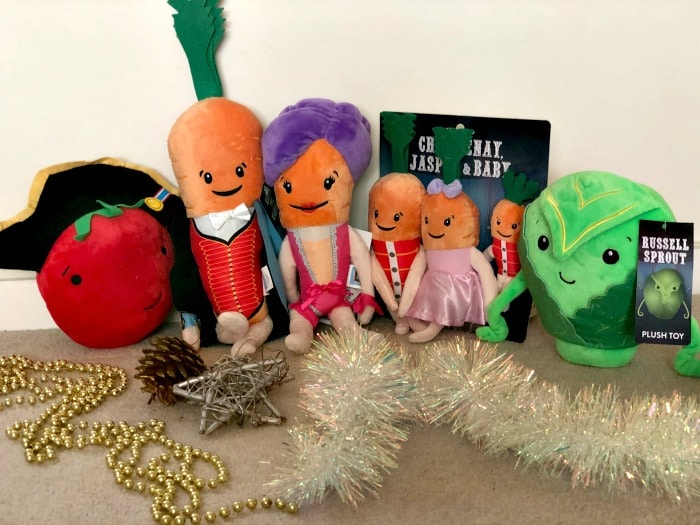 £10 BONUS OFFER: Earn easy cash by watching videos, playing games, and entering surveys.

Get a £10 sign up bonus when you join today.

Join Swagbucks here >>
Kevin the Carrot on sale in Aldi
It's not Christmas without seeing the Coca-Cola advert, and now Kevin and his mates from Aldi have fast become a Christmas tradition.
Check out Kevin the Carrot and his friends in the video below.
Each year, Aldi sells the lovable stars from their Christmas advert in store and online.
Priced at £3.99 for the cuddly toys, and £3.99 for the set of kids, you can pick them up in the middle aisle from 28 November 2019 in store.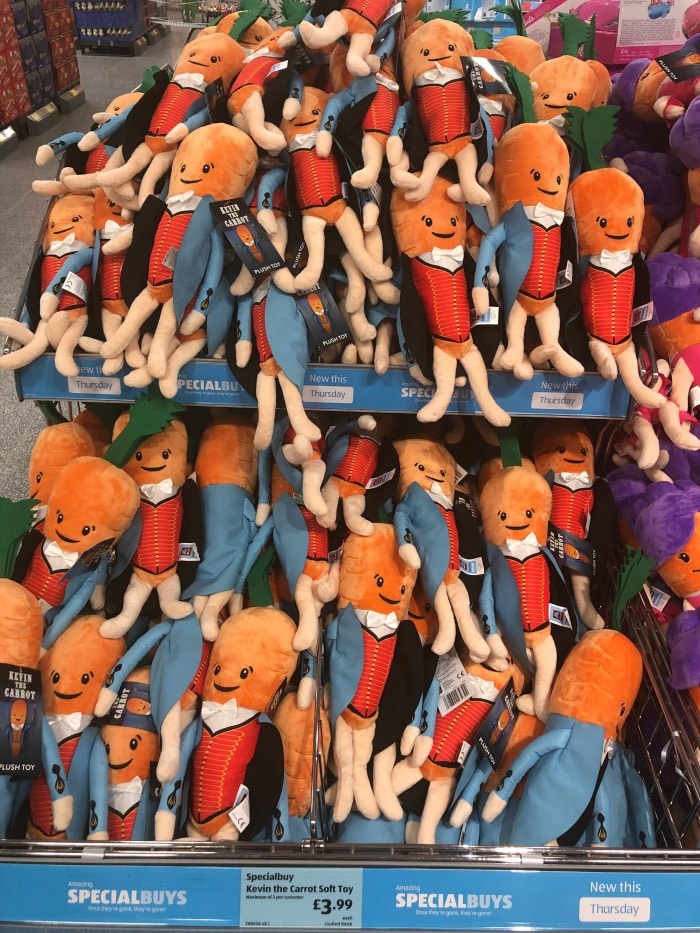 As well as cuddly toys, Aldi is also selling books, gift mugs, pencil cases and notebooks as part of the range.
They are also selling MASSIVE Kevin and Katie cuddly toys!
Priced at £19.99, you're able to buy a maximum of 2 per customer.
They really are huge!!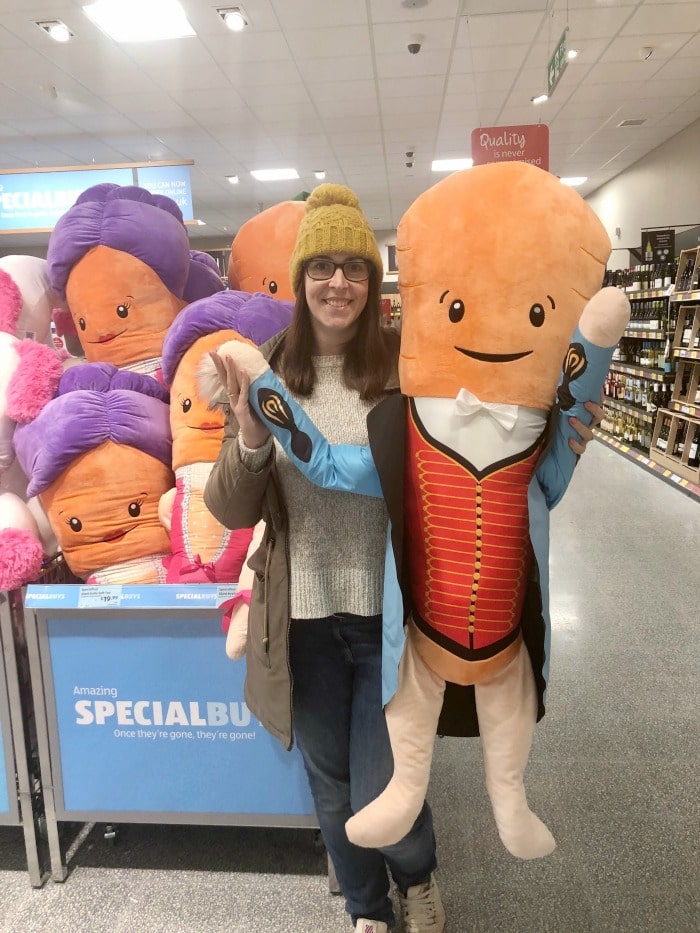 It's not just a money-making scheme for Aldi as they are donating £15,000 to the Teenage Cancer Trust from the sale of selected Kevin the Carrot products.
It's been reported there are arguments and scuffles in store as people try to get their hands on the toys. They've already sold out the bundles online!
However, it doesn't seem they are buying them for their kids but picking them up to sell on places like eBay for profit.
The cheap toys that may be high on the Christmas list for many kids are harder to get hold of the more some people try to profit at this time of year, which I find so upsetting.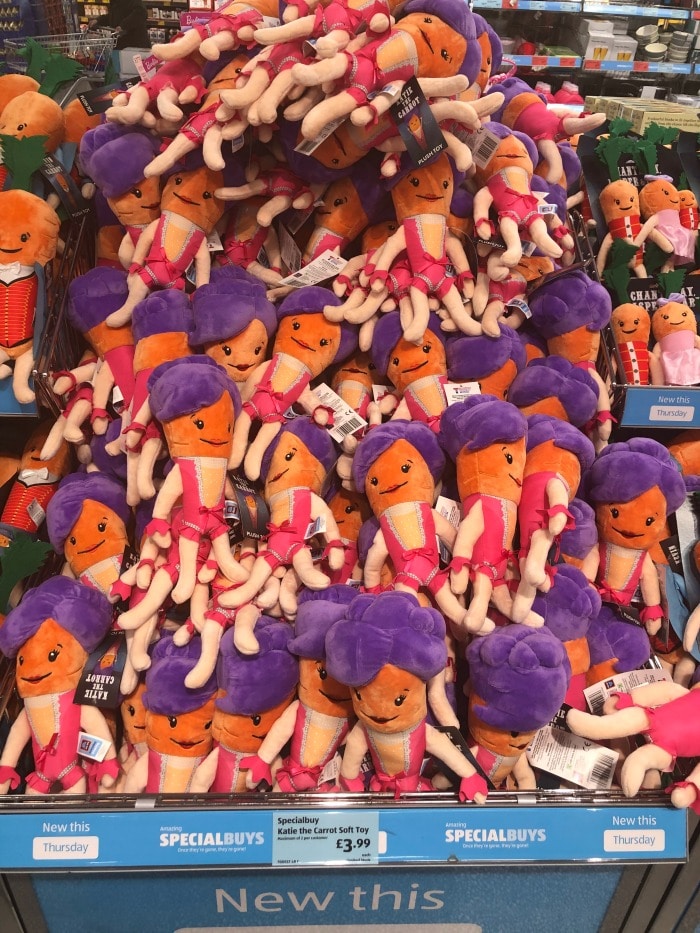 (I know people are struggling, and making a few quid off each toy may help their budgets, but do they really need to pick on the kids?! Yes, there is supply and demand, but if these eBay/Amazon sellers just left the stuff on the shelves for everyone to buy, there wouldn't be an issue or sell out of stock! Even though they are selling as 2 per customer, this doesn't and hasn't stopped shoppers buying them, putting the toys in their car, heading straight back to store and buying them again).
* gets off my high horse, sorry *
Let's get on with the point of this post…
Kevin the Carrot and friends giveaway
From 28 November 2019, Aldi's special buys include Kevin the Carrot, Katie the Carrot, the kids and the villains.
We know not everyone can get to an Aldi store this Christmas (or they may sell out too quickly), so we're running a giveaway for your chance to get your hands on the whole collection.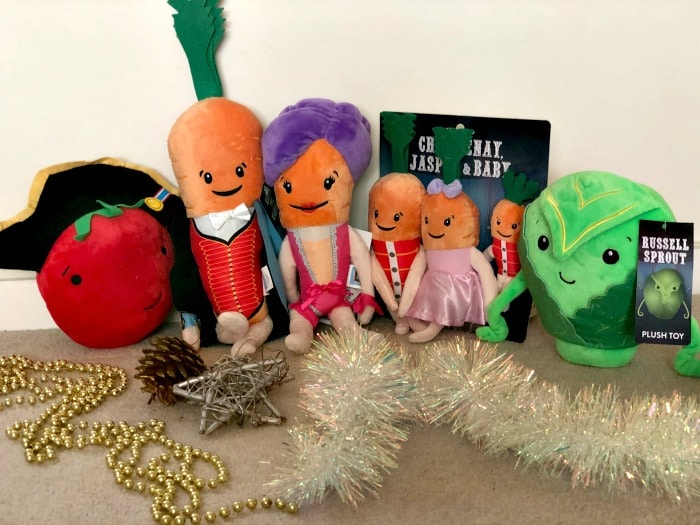 It's not just one bundle – there are will be two winners.
Here's what up for grabs in each bundle:
Kevin the Carrot – usually priced at £3.99
Katie the Carrot – usually priced at £3.99
Jasper, Chantenay and Baby Plush – usually priced at £3.99
Tiny Tom – usually priced at £3.99
Russell Sprout – usually priced at £3.99
To enter the giveaway, follow the instructions in the Rafflecopter widget below. Competition ends at 11:59 pm on the 6th of December.
Best of luck, and happy Christmas.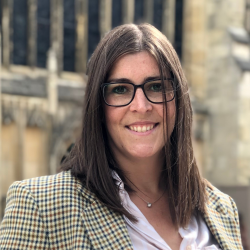 Latest posts by Naomi Willis
(see all)