Aldi's Too Good To Go Surprise Bags gets you £10 worth of food for only £3.30, helping you save money and reduce food waste.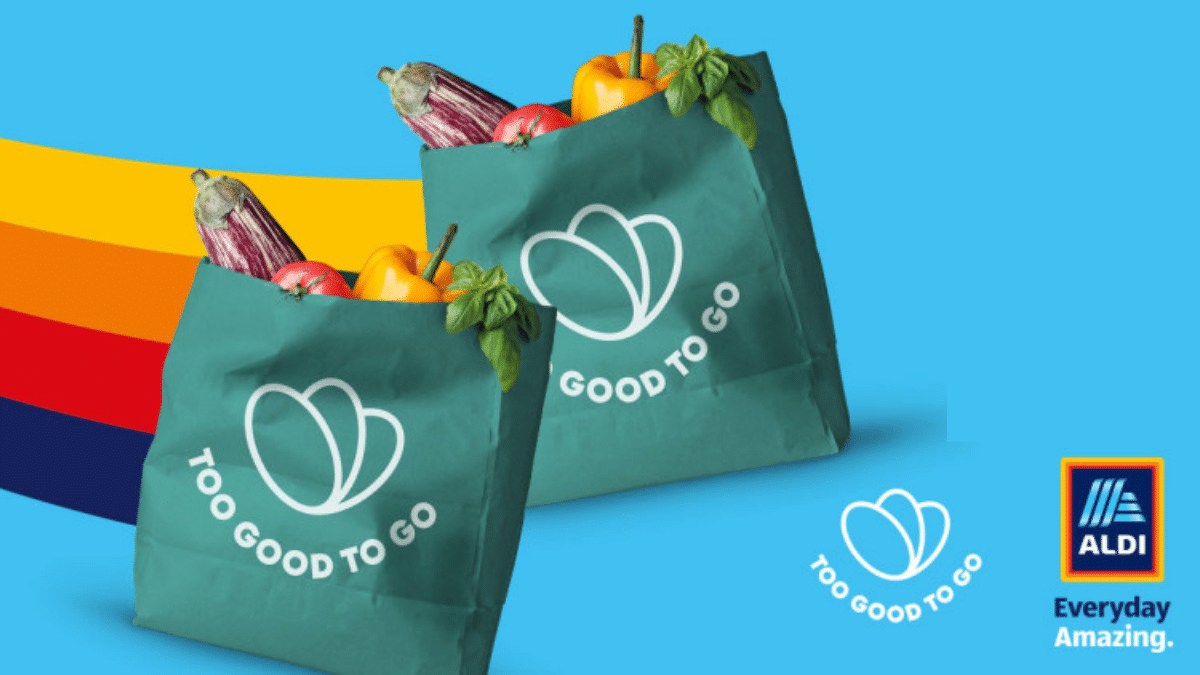 £10 BONUS OFFER: Earn easy cash by watching videos, playing games, and entering surveys.

Get a £10 sign up bonus when you join today.

Join Swagbucks here >>
Budget-friendly supermarket Aldi has teamed up with Too Good To Go to offer Surprise Bags as a way you can get cheaper food and so the supermarket can reduce food waste.
With the surprise bag, you can get £10 worth of delicious food for just £3.30.
You're not just saving a hefty 67% on your food bill but also playing a role in reducing food waste. This is a golden opportunity to keep your wallet and conscience feeling good.
Here's how it all works and how to get your hands on one.
Aldi – Too Good To Go
Aldi is selling "Surprise Bags" filled with food that would have otherwise been thrown away.
These bags cost only £3.30 but hold a whopping £10 worth of food.
The food is still good quality but maybe near its best before, or you may find the packaging damaged; however, it's still perfectly safe to eat.
What's a 'Magic Bag' or 'Surprise Bag'?
If you're wondering what a "magic bag" is, don't worry; there's no rabbit involved!
It's a bag filled with perfectly good food close to its sell-by date.
Shops would usually offer this food as yellow stickered items or end up throwing this stuff away if someone doesn't buy it.
The idea of it being a surprise is that no one bag is the same. You are getting unsold produce from that particular day, so that it may depend on stock levels.
You could find things like fruit and vegetables, dairy products, meats and snacks, with a massive saving on the original price.
How do you get one?
You might think getting one of these Aldi Surprise Bags is like capturing a unicorn, but it's actually really simple:
Download the Too Good To Go app on your smartphone.
Search for an Aldi store near you.
Reserve your Surprise Bag and pay for it through the app.
Go to Aldi at the collection time they give you and pick up your bag.
You can reserve a Surprise Bag from your local store from 8 PM each day and you then need to go out and collect it from 9:25 PM.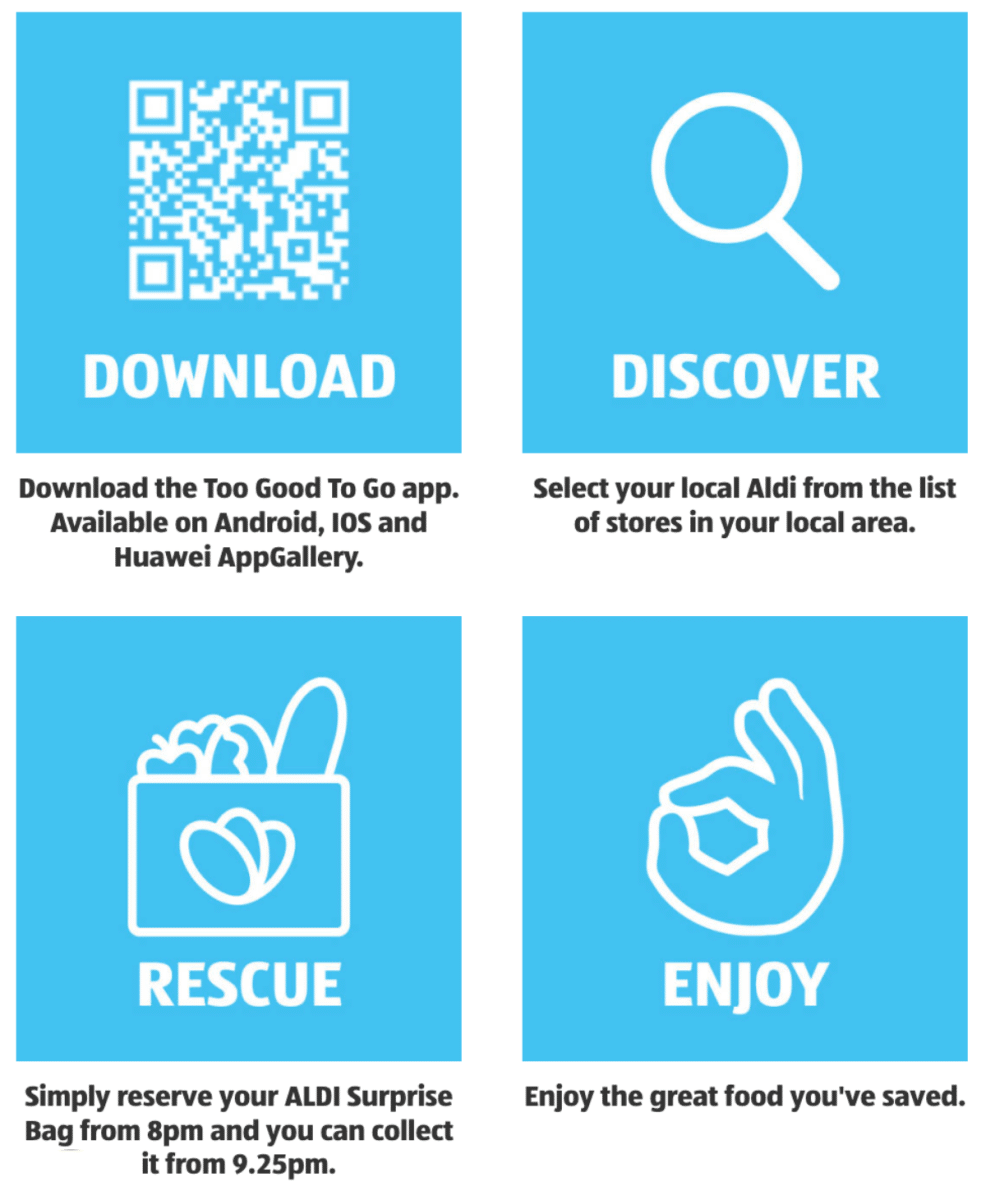 Is this the end of Aldi "yellow stickers"?
Aldi's partnership with Too Good To Go aims to reduce food waste by offering Surprise Bags at a discounted price.
This could possibly mean that fewer items end up with a yellow sticker for quick sale.
After all, the food that would have been marked down might go into these Surprise Bags instead.
However, it's not a guarantee that yellow sticker deals will vanish or even reduce significantly.
Yellow stickers usually appear spontaneously based on what isn't selling during the day, while the Too Good To Go Surprise Bags are arranged in the evening.
So, while it's a possibility that the number of yellow sticker items could decrease, it's also just as likely that both options will coexist to give all of us more ways to save money and reduce food waste.
How to meal plan when you don't know what you'll get
Since the contents of a Surprise Bag from Aldi are a surprise, the trick is to be adaptable and think on your feet.
Here are some meal planning ideas to help you make the most out of your food haul.
Base recipes
These are recipes that can work with a variety of ingredients:
Stir-Fry: If you get a mix of veggies and some meat or tofu, a stir-fry is a quick and delicious way to use them up.
Frittata: Eggs can bind together almost any combination of vegetables, cheese, and meats that you might find in your surprise bag.
Pasta Bake: Pasta, some kind of protein, and veggies can be tossed together with cheese and baked for a simple meal.
Soup or Stew: Many different veggies, proteins, and even some fruits can go into making a hearty soup or stew.
Salad: Leafy greens and various fresh veggies, maybe some cheese or nuts, can make for a refreshing salad.
Plan for flexibility
Mix and match: Think about how the items in your surprise bag could work across multiple meals. For example, carrots could go in a stir-fry one night and a salad the next.
Side dishes: Use items like potatoes, rice, or veggies to create versatile side dishes that can complement different mains.
Sauces and spices: Keep a good range of spices and sauces to flavour whatever comes your way. They can totally change the profile of your ingredients.
Extra tips
Immediate use: If something in the bag is super close to its sell-by date, aim to use it immediately, possibly even on the day you bring the bag home.
Freezing: If you find you can't use something right away, see if it can be frozen for later use. Many fruits, vegetables, and proteins can be frozen and used at a later date.
Community share: If you have too much of something, consider sharing with neighbours or family, or use the Olio app. It saves waste and fosters good vibes.
By keeping these ideas in mind, you can easily turn your Aldi Surprise Bag into several nutritious and budget-friendly meals.
So, get your cooking hat on, save some money, and let your culinary creativity run wild!
More magic bags
Aldi isn't the only place that offers the Too Good To Go bags.
Too Good To Go partners with various stores to save this food from the bin and sell it to us at a big discount. It's like a food rescue mission; we all get to be heroes.
You can pick them up from various chain cafes and restaurants, as well as local ones.
There are also a number of bigger and smaller supermarkets that offer cheaper food in this way, including Morrisons, Asda and Londis.
Lidl offers their own "wonky veg" food waste boxes and you don't need an app to get one.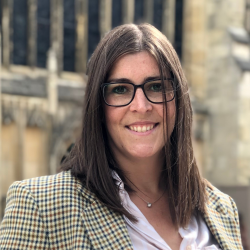 Latest posts by Naomi Willis
(see all)