As purse strings get tighter, expensive TV subscriptions get cut from the household budget first. However, we no longer need to miss out when there are cheaper alternatives to Sky TV.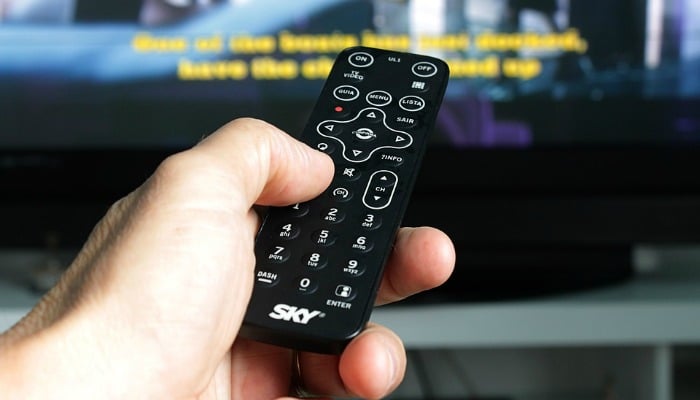 £10 BONUS OFFER: Earn easy cash by watching videos, playing games, and entering surveys.

Get a £10 sign up bonus when you join today.

Join Swagbucks here >>
What if I told you that you can ditch your expensive subscription TV, save money and still watch your favourite shows?
It sounds almost too good to be true!
While I'd usually say to stay away from things that sound too good to be true, this will save you a bucket load of money.
Watching TV is a massive pastime in the UK. In fact, we watch over 24 hours of TV a week!
While we grew up with only four channels (well I did), we can now get a wide variety of channels beaming at us every minute of the day all via Freeview. However, this still doesn't seem to stop people from choosing an expensive TV subscription like Sky, Virgin or BT.
According to Broadcasters' Audience Research Board, over 16 million people have access to satellite or cable-type services, versus 11 million who just watch terrestrial.
So it's clear it's a favourite pastime, and it's clear there's a lot of the country paying for TV, but is there a cheaper alternative?
Yes. Yes, there is!
Cheaper alternatives to Sky TV
Online streaming services in the UK are getting bigger and bigger, meaning a LOT more choices for us.
Whether you want to watch TV, box sets or films, both from your TV and smartphone, the opportunities are pretty endless.
We very rarely watch TV anymore. If we do, we make sure to record it so we can skip any adverts. This isn't an issue with online streaming, as there are no adverts at all.
You don't even need to watch them on your TV (if you don't want). You can view it from a games console, your smartphone, tablet, computer or laptop.
This guide is all about general TV shows and films. However, head to this guide if you're looking for the cheapest way to get Sky Sports without a subscription.
Here are some of the best online streaming services as an alternative to Sky:
NOW TV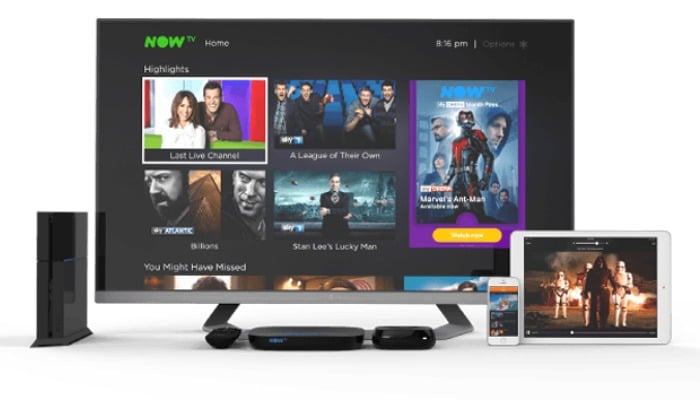 NOW TV is like having Sky without having a satellite dish attached to your house.
Cost per month:
£9.99 for films
£9.99 for TV/entertainment
£34.99 for sports
What do you get:
You're able to try out the services for free for 7 days before you need to pay anything, so it's worth just giving it a trial and then keep which passes you'll use.
There are over 1,000 films with new premieres added daily. There are 11 channels for entertainment and loads of kids entertainment (including an infamous pig!)
You're not able to get the free trials with sports.
A couple of tips to save more:
I've found that I can get it cheaper if I try to cancel. When going through the cancellation pages, it asks if I want to continue and pay less. This doesn't happen every time, but it is worth a shot.
Also, buying passes from Amazon can work out cheaper than just paying a monthly fee. They are currently selling 5 month Entertainment passes for £25 (£5 a month), which saves £14.95 if you paid directly.
You're able to get a NOW TV box if your TV doesn't connect to the internet. These start from just £14.99.
Check out more NOW TV passes offers.
Amazon Prime Video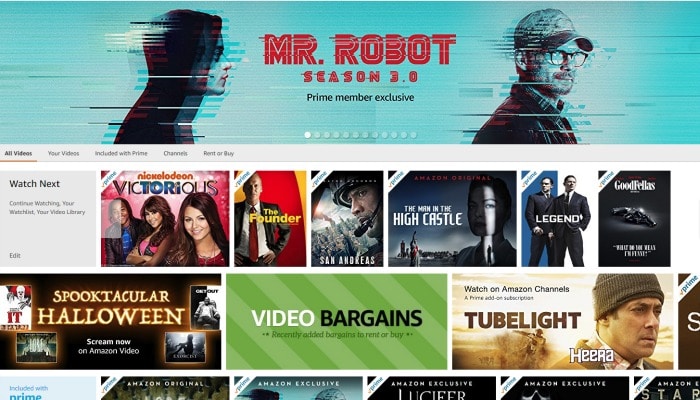 Amazon Prime Video gets you access to thousands of TV shows and films (and you don't need to be a Prime member).
Cost per month:
What do you get:
You get a free 30 day trial with Amazon Prime Video so you can see if you like what they're showing.
You're able to watch everything on the store labelled with Prime – but that's a whole lot. There are loads of TV box sets that are exclusive to Prime (so you won't get to see them anywhere else) and the quality is far better than some series you'll find on standard TV.
There are plenty of big names films as well to choose from.
If you want to watch anything else, you will need to rent it, but with so much available you probably won't find the need.
Tips for saving more:
While you can pay £8.99 a month, if you get a student Prime membership it will cost you £3.99/month (plus you get an extra 6 months free). Take a look at my guide on how to get cheap Amazon Prime membership.
Disney+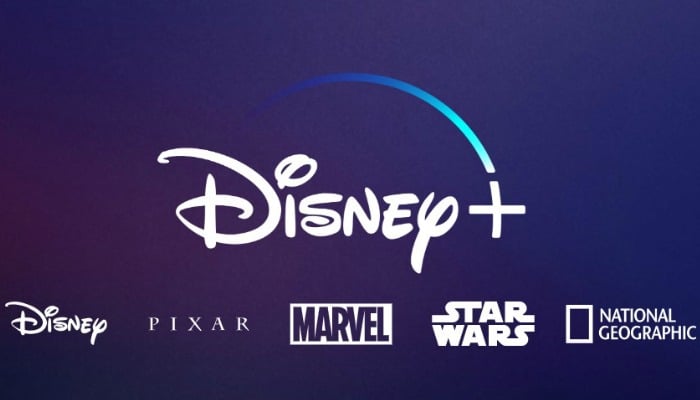 Disney+ launched on March 24, 2020, and costs £7.99 per month.
They also offer an annual fee of £79.90, which will save you £15.98 (12 months for the price of 10)
The new Disney streaming service will allow you to watch some of their most popular entertainment brands, including Disney, Pixar, Marvel, Star Wars and National Geographic.
You'll be able to view on TV and mobile devices.
In their first year, they are planning to release more than 25 original series and 10 original films, documentaries and specials.
As Disney+ will feature their own programmes, this may go on to impact what you can watch on other streaming services.
Netflix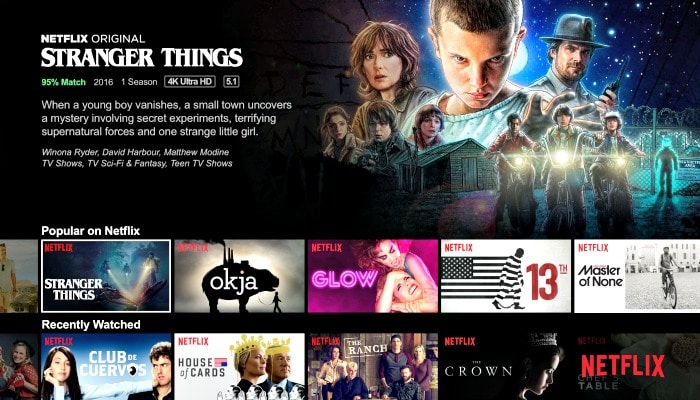 Netflix has a massive selection of TV box sets, and you can watch unlimited films.
Cost per month from:
What do you get:
Netflix is perfect if you like TV programmes. It has a massive selection to get lost in.
It doesn't have so many newer films, so if you're looking for premiers then NOW TV is a better bet for you.
Their cheapest plan costs £4.99 a month, but you need to watch ads (see more about Netflix Basic with Ads); otherwise, it's £6.99 a month
There used to be a month free trial with Netflix, but they cancelled it for UK customers in December 2019.
But you can now get Netflix for free.
TVPlayer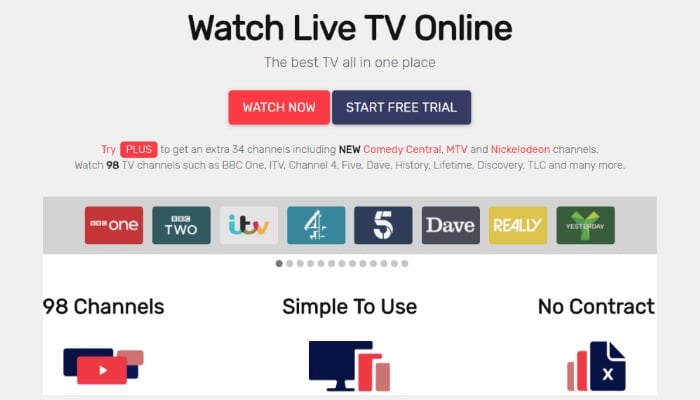 Similar to having a box with all your channels, TVPlayer is the (cheaper) online equivalent.
Cost per month:
What do you get:
With a one month free trial to kick you off, TVPlayer is just like having paid TV without the expense.
There is a free option if you just want standard channels, but for a small monthly fee, you can watch 34 channels that don't appear on Freeview or Freesat. Channels include MTV, Comedy Central, History, Discovery, Eurosport, Lifetime, TLC, National Geographic and NatGeo Wild.
If you're sold on the idea, then you can pay an annual fee of £69.90, which gives you two month free.
As an extra bonus, if you're a student (with a UNiDAYS account), you can get 50% off the annual price.
MUBI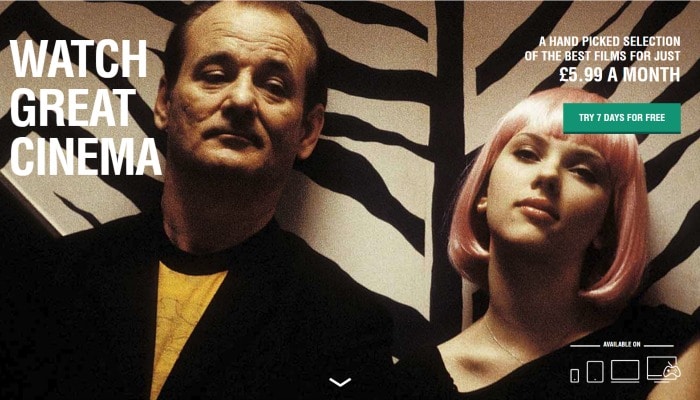 MUBI has a hand-selected range of films for total film buffs!
Cost per month:
What you get:
The first 7 days are free as part of their trial.
These films are cult classic and independent movies to really get into.
There is one new film released each day.
hayu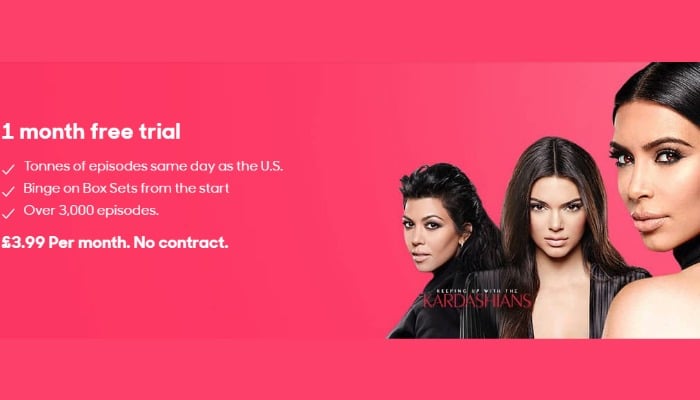 The place where all reality TV comes together!
Cost per month:
What you get:
It's free for the first 30 days so you can try to cram in as many of the 3,000+ reality TV episodes as you can.
After that, TV shows get released at the same time as the US.
Britbox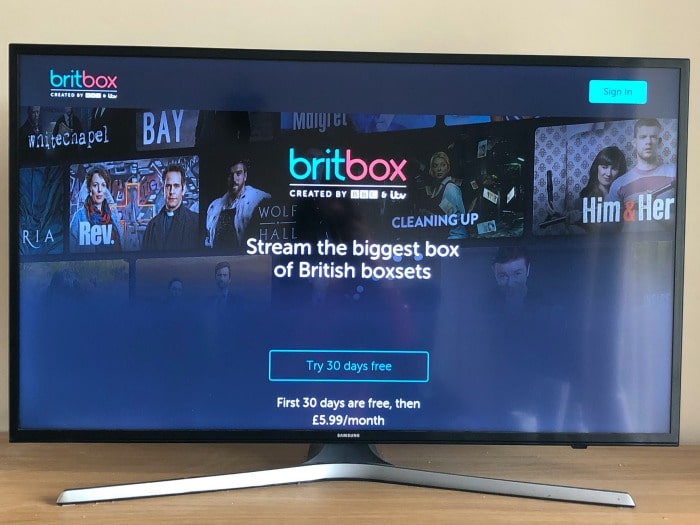 BBC and ITV have teamed up to take on Netflix and Amazon.
Britbox launched in the UK in November 2019 and costs £5.99 a month, but is free for the first 7 days.
The new streaming service will mostly feature classic series, and you will not need a TV licence to watch it. You won't be able to find more current TV shows that are still playing on iPlayer (which you do need a TV licence to watch).
There were also talks that Channel 4 and Channel 5 may join the service.
The service had been running on the US for some time before the UK launch, and it cost $6.99 (around £5.27) a month, with a 7-day free trial.
Apple TV+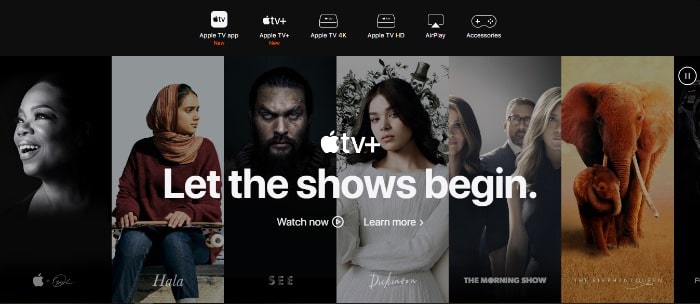 Apple TV+ launched on 1st November 2019 and comes with a whole host of new and original series.
You can get a 7-day free trial to start you off, and then it'll cost you £6.99 a month.
You're able to share the subscription with up to six family members.
Get Apple TV Plus for free
You're able to get Apple TV Plus for free for a whole year.
You can get a year for free with any purchase of an Apple item, including a new iPhone, iPad, iPod touch, Apple TV or Mac.
It could be bought from Apple directly or from an Apple-authorised reseller.
Even though the new service started on 1 November 2019, you're able to get free Apple TV Plus for purchases made since 10th September 2019.
Boxes and streaming sticks
Rather than paying a monthly subscription, you can make a one-off purchase to get a streaming stick or box that plugs into your TV. This will likely work out even cheaper in the long run.
The gadgets plug into your TV and connect to your WiFi, allowing you to stream services. This gives you access to more than what a standard Freeview box can do.
You will still have the choice of watching TV programmes, films and you'll even be able to browse the internet.
There are different options out there but some like Apple TV, ROKU and Youview can be expensive.
Here are some of the best affordable options out there are:
Amazon Fire Stick
One off cost: £29.99
> Take a look at the Amazon Fire Stick
What do you get:
There are over 7,000 apps, games and Alexa skills to use on the Amazon Fire Stick and that's before you've even watched any TV!
You can access BBC iPlayer, ITV Hub, YouTube, Sky News and more (plus monthly services like Amazon Video and Netflix) to watch TV and movies.
Plus, with the Alexa Voice Remote, you can just tell it what to do.
Google Chromecast
One off cost: £30
> Take a look at the Chromecast
What do you get:
Chromecast plugs straight into your TV and allows you to stream content from the app to your TV.
There are over 1,000 mobile apps to use as well as TV shows, movies, songs, games and more.
You can watch BBC iPlayer, All4, YouTube, 4oD and can rent movies as well.
Options to rent or buy
Instead of paying a monthly fee to watch TV or films, you can also choose services that allow you a one-off purchase. There are no monthly contracts.
If you are not planning to watch much TV at all, then this may be a winner. However, just consider that if you watched a couple of new films (at around £4 each) every month, it would work out the same cost as just paying for Amazon Prime Video.
Rakuten TV
Rakuten TV allows you to rent films (from £3.45) as well as buying TV series.
They do also have a selection of free films to watch if you didn't want to pay.
You earn Rakuten Super Points with each thing you watch that you can save up and watch films for free in the future.
TalkTalk TV Store (was Blinkbox)
With prices from 99p, you just pay when you want to watch something that catches your eye.
New films are around £4 to rent (50p more for HD), but TV boxsets get quite expensive.
iTunes/Google Play
If you prefer to watch movies on the go, you can download straight to your phone or tablet.
Prices are usually around £4.99 so, again, can get expensive.
Curzon Home Cinema
If you are a member of Curzon, then you can get discounted cinema tickets, money off food and drink, plus cheaper films to stream from home.
The films featured usually released on the same day as at the cinema.
Sky Go/Store
Only for Sky customers, so not worth talking about if you're trying to ditch Sky in the first place.
What to consider
Now, while getting rid of Sky and replacing it with one of these online services will be cheaper, if you get all of them, it will start to work out at the same cost (unless you had the most expensive package).
What's probably worth doing is taking advantage of the free trials available. Once you've used them up, then see which ones you love and which ones you don't mind not continuing.
After that, you can give your notice to quit your TV package and start saving money every month.
If your TV package was part of a bundle with phone and broadband, you will likely need to either still use your provider or get a new one. Use Broadband Choices to find the best price and availability for you. They also show deals with freebies and cashback so you can get the best balance of what you need. Prices for broadband alone cost just under £20 a month.

Be sure to take into account any download limits you have with your current broadband package. If you have unlimited downloads, you've got less to worry about, but if you have a cap then watching too much may mean you need to pay a charge.
If you've got a variable income, then having no ties to a contract is great as you can cancel an online streaming service from one month to the next.
I think it also works out well if you only watch TV/films at certain times of the year. For us, we seem to have more TV at Christmas when everyone is in the house. There is no point paying for a year with Sky when we just want the films for once in a blue moon. Instead, we can opt to add films to any of our services and enjoy at our pleasure.
How much will you save?
If we just look at the cheapest possible packages. One of the best places to look is, again, Broadband Choices who compare the costs of TV deals (as well as phone and broadband) nationally.
Because they all have different contract lengths, we will give an average monthly cost to use as a comparison.
Sky TV
Already with them? Take a look at Sky deals for existing customers.
For new customers, their cheapest bundle will cost you £26 a month, for a minimum of 18 months in a contract (total cost £468 over 18 months). That's a new customer only deal, so it could be that you're with Sky already and pay more (the cheek of it!).
If you ask them to bring your costs down, then they'll try to tie you in for a further contract.
On top of the £26 a month subscription, you need to pay a one-off set up cost of £39.95, taking the total spend to £507.95. However, you do get Netflix thrown in as part of the cost.
After the 18 months, the deal price ends, and the package goes up to £39 a month.
Average per month: £28.22
However, as all other packages below have broadband and phone bundled, here is Sky's cheapest overall: TV, Talk and Broadband is £45 a month for 18 months, with a £39.95 setup fee. This will group at the end of the contract.
Average per month: £47.22
Virgin Media
If you prefer to be a Virgin Media customer, you can get their Big Bundle for £33 a month for 12 months. However, this is not just a TV package. They are also throwing in 100Mbps fibre with unlimited downloads and Talk Weekend.
After the first year, the price goes up to £71 a month, although they've dropped the £35 set up fee.
The total overall cost works out to £421 (but you will also need to pay for phone line rental).
Average per month: £33
BT TV
The cheapest package with BT is their classic bundle. This costs £50.99 a month for an 24-month contract, they've dropped the activation fee of £29.99.
You get broadband and landline included as you have to watch their TV via the broadband for it to work.
The total cost for BT works out as £859.81 for the contract.
Average per month: £50.99
All prices were checked on 24 November 2022
Price comparison
So that's all the packages broken down. When you compare the costs of monthly online TV and film options versus a contract subscription for TV you can see the costs do add up.
While you may still need to keep broadband, adding this to a flexible package like Netflix or NOW TV means that you will be saving £10 plus per month. That's based on the lowest cost package that could be found (you may have a higher cost TV package).
It still does work out cheaper to cancel Sky, Virgin or BT and choose a cheaper alternative.
Can you ditch your TV license?
You may also be able to save more if you're not going to be watching normal TV anymore.
You need to be realistic if you think you can stop the payments to the TV license people!
Many, many people don't bother with it anymore. You can find out how to cancel TV Licence here.
The TV License website says:
You need to be covered by a TV License to

watch or record live TV programmes on any channel
download or watch any BBC programmes on iPlayer – live, catch up or on demand.
It goes on to describe how you watch TV as well:
It doesn't matter what device you use. If you watch or record live TV programmes on any channel, or download or watch BBC programmes on iPlayer, you need to be covered by a TV Licence. This includes:

TV sets (including smart TVs)
DVD, Blu-ray and VHS recorders
Laptops and desktop computers
Tablets, mobile phones and other portable devices
Digital boxes or PVRs (such as Sky, Virgin Media or BT TV)
Games consoles
Media streaming devices (such as Amazon Fire TV, Apple TV, Chromecast, Roku and Now TV)
Freeview, Freesat or YouView
So, unless you can seriously say you won't catch a few minutes of Sky News (live) or sneak a glimpse at Strictly (at any point) then cancel.
If, hand on heart, you think you can stay away then cool, save your cash. Not only will you be saving on paid subscription TV, but you'll save another £150.50 a year on the license.
It's clear there are cheaper alternatives to Sky out there. Watching TV as and when via online streaming definitely seems like the best way forward.
No longer available
DisneyLife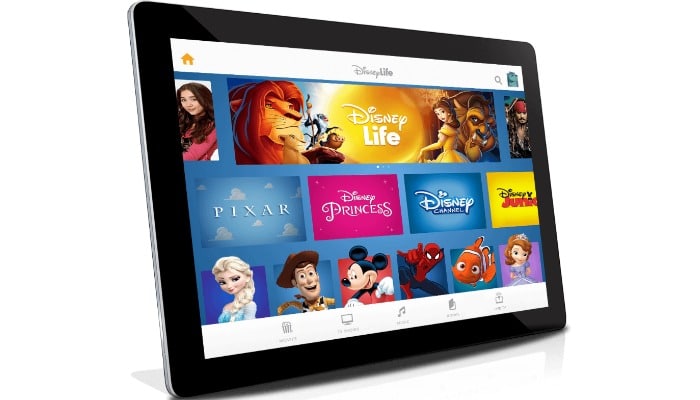 CLOSED APRIL 2020:
Love Disney? Then look no further with DisneyLife and get access to classic and newer Disney favourites.
Cost per month:
What do you get:
You get a 7 day free trial when you sign up and can access 400+ Disney movies and over 4,000 TV shows! That should keep the little ones busy!
You (or your kids) can watch unlimited Disney and also read and listen to storybooks and sing along to Disney music tracks.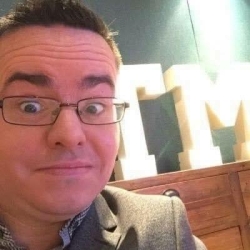 Latest posts by Ricky Willis
(see all)