Discover how to protect yourself and ensure you don't get caught out by online scams while making money online.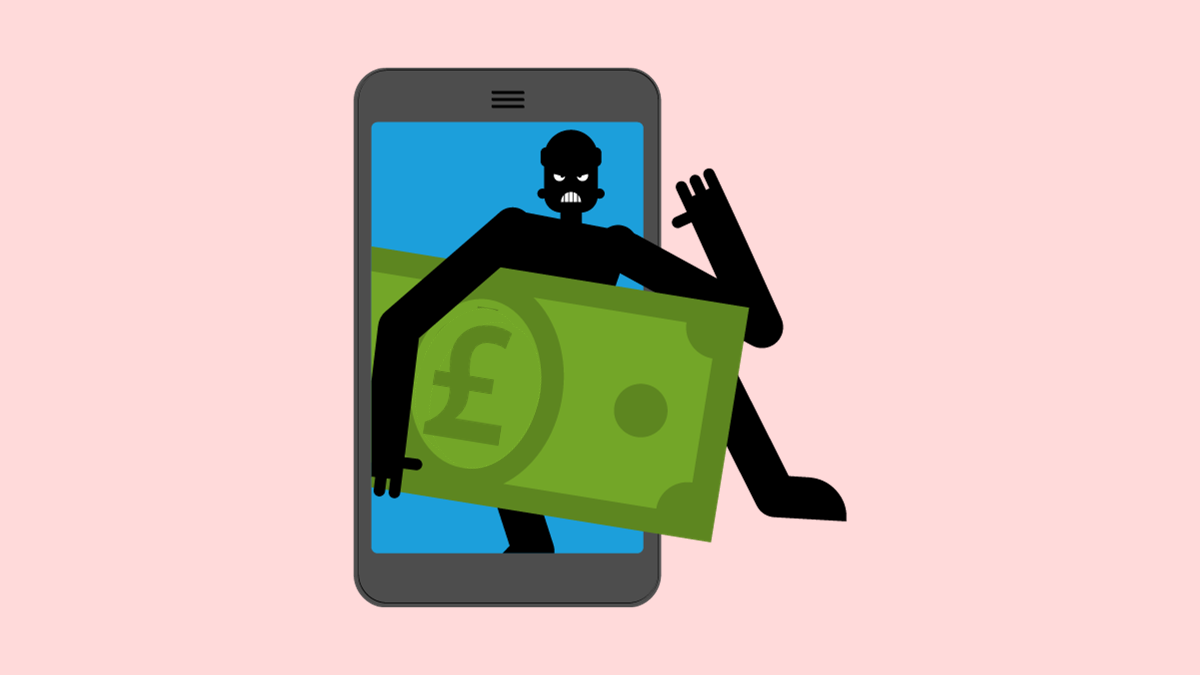 £10 BONUS OFFER: Earn easy cash by watching videos, playing games, and entering surveys.

Get a £10 sign up bonus when you join today.

Join Swagbucks here >>
If you're here, you're probably keen on making some extra money online, which is great …. but hold your horses.
The online world has some dark corners, and we need to talk about staying safe while filling up our piggy banks.
Don't leave your hard-earned money at risk.
Read our guide now and give yourself the knowledge you need to stay safe while cashing in online.
The "Danger Zone": why scams exist
Scams have been around forever, but the internet has made it even easier for people to trick us.
These scams can pop up when you're trying to sell things online, taking surveys, or even while job hunting.
Con artists purely want to make money out of us through deceit and stealing.
Let's make sure you know how to spot these scams so your hard-earned money stays right where it belongs—with you!
These tips aren't just theoretical — they're based on real experiences from our community and even from me.
Real-life: It could happen to anyone
You might be thinking, "Oh, this can't happen to me," but guess what?
Scams can happen to anyone, anywhere.
In fact, in our Skint Dad Community Group, one of our members asked about a work-from-home company they'd come across.
They weren't sure if it was a genuine opportunity or not.
And it's a good thing they asked because a bit of digging showed that the website was brand new and lacked the signs of a trustworthy business.
As for me, I even got a message on WhatsApp from someone promising work opportunities just a few days ago.
I knew it was a con immediately, but I wanted to play along with their WhatsApp scam anyway. I figure, if I can keep them busy, they won't have as much time to potentially con someone else.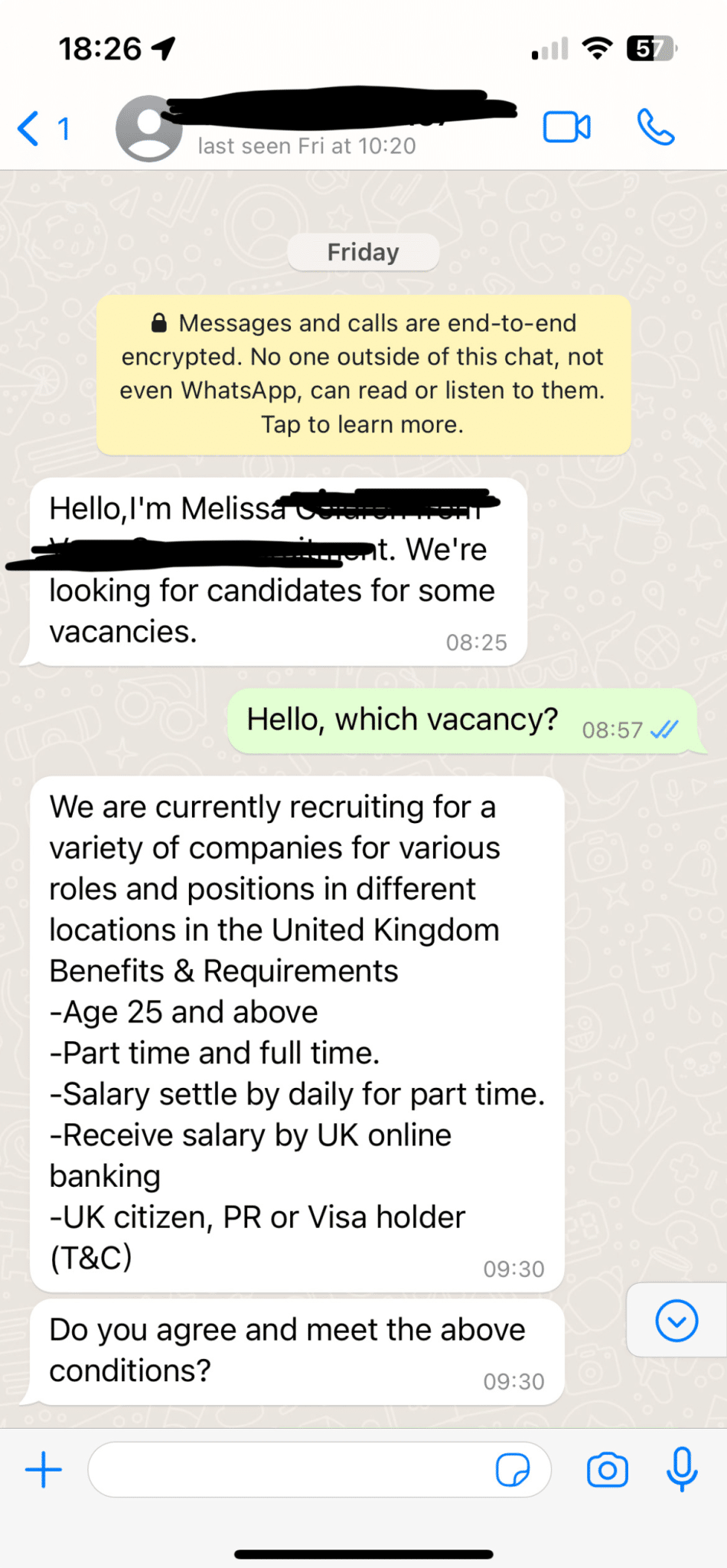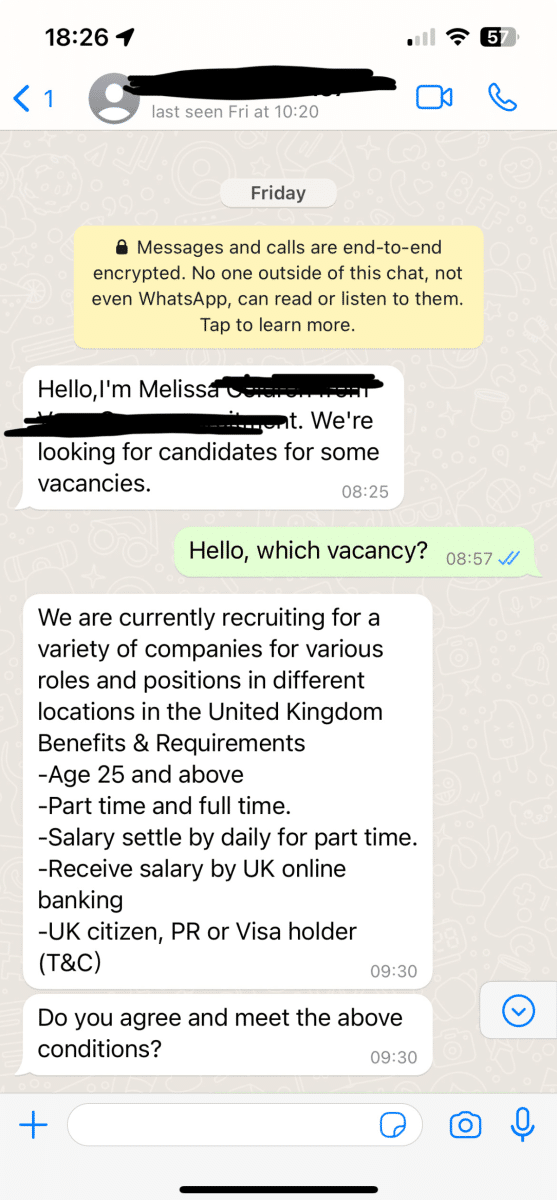 The point is: these scams are closer to home than you might think.
So remember, if you're unsure, it's always better to stay vigilant, double-check and ask around rather than jump in and regret it later.
Signs of a scam
Here are some of the red flags you need to keep an eye out for:
Too good to be true
Be careful if someone offers lots of money for very little work.
It will be a trap!
Asking for money upfront
Real jobs and opportunities shouldn't ask you for money before you start.
If they do, that's a big warning sign.
Pressure to act fast
Scammers like to rush you.
If someone says you need to decide "right now", or the offer will go away, take a step back.
Real opportunities don't rush you like that.
Tips for staying safe
Do your homework
Before you jump in, look up reviews or news about the company or person you're dealing with.
What are other people saying?
Any complaints?
Check for contact details
A real company or person should give you a way to contact them, like an email or a phone number.
If that's missing, be wary.
Never share personal info
Don't give out personal information like your bank details or password to anyone you don't trust.
Ask a friend
If you're unsure about something, asking someone else what they think is always a good idea.
Two heads are better than one, especially when avoiding scams.
Got scammed or nearly scammed?
If you come across a scam that promises to make you money but is actually designed to rip you off, it's crucial to protect yourself and others.
Here's what you can do:
Stop all contact: The first step is to stop communicating with the scammer. Don't reply to their emails, messages, or answer their calls.
Gather evidence: Collect all the information you can about the scam. This could be emails, text messages, or even transaction details if you've unfortunately already paid money.
Report to authorities: In the UK, you can report scams to Action Fraud, the national reporting centre for fraud and cybercrime. The information you provide might help catch the scammer or warn others about the scam.
Alert your bank: If you've given out your financial details or made any payments, contact your bank immediately. They may be able to stop a transaction or help you prevent further fraud.
Warn others: Let your friends, family, and social media networks know about the scam (without sharing any of your personal details, of course). The more people that know about it, the fewer people will fall for it.
Check your computer: If the scam involved downloading or clicking suspicious links, scan your computer for malware and viruses. Update all your passwords too.
Report online platforms: If you found the scam through a website or social media platform, report it there as well. Many platforms have ways to report scams or fraudulent activity.
Stay informed: Make sure you're up to date with the latest types of scams so you can recognise one if you see it again in the future.
Stay alert, stay safe
By taking these steps, you're doing your part to stop these nasty scams from hurting anyone else.
So the next time you come across a money-making opportunity, you'll be ready to dive in, but with your eyes wide open.
The best way to make money is to keep it.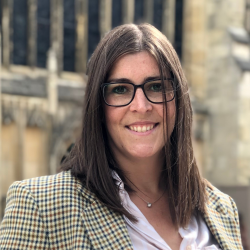 Latest posts by Naomi Willis
(see all)