Up to March 2022, 61% of all fraud in the UK started online, with some estimates suggesting that up to £4 billion was lost to fraud across the country last year. 
These are statistics you don't want to be a part of. 
In this article, we share the seven most-common scams you're likely to come across online and some tips on how you can protect yourself. 
£10 BONUS OFFER: Earn easy cash by watching videos, playing games, and entering surveys.

Get a £10 sign up bonus when you join today.

Join Swagbucks here >>
#1. The TV License scam
Your TV License is one of those expenses you probably don't think much about – set it up on direct debit and let it roll. When you get an email out of the blue telling you there's a problem, it should raise your suspicions. 
While you may get a legitimate email from the TV Licensing, they won't ask you to click on a link to make a payment or enter security details. The scam email does exactly that – hoping you'll panic and hand over money or details so they can break into your bank account. 
#2. The HMRC scam
No one wants to get on the wrong side of the tax people. Getting an email or SMS claiming to be from HMRC and threatening huge fines if you don't hand over payment or personal details urgently can be frightening. 
Again, HMRC won't ask for payment this way. Call them on a number you'll find on your last letter from them or that you find on a website that ends in ".gov.uk" to be sure you connect to the right people. 
#3. The catfishing scam
You might have heard of catfishing, but do you know what it is? When you sign up for online dating, you're probably filled with hope and optimism, but you need to be sceptical of people being not quite what they seem. 
Unfortunately, people can set up fake profiles and use fake details to try and scam money out of you. After an initially nice conversation, you might be asked to send online shopping gift cards or even a bank transfer to help out the person you've started to fall for. 
#4. The fake holiday scam
Getting away over summer can get expensive, so when you see a steal on a caravan or holiday cottage, who would blame you for going for it? Thing is, when it seems too good to be true, it probably is.
The scam goes that the "property owner" will need a huge deposit or full payment sent as a bank transfer. Then… crickets. They'll stop answering your messages, block you on social media, and disappear into the ether, with your money and hopes for a break gone with the wind. 
#5. The "make money fast" scam
Money's tight, and getting a little extra cash in your pocket is always nice. If you come across someone offering you to make quick money with little effort, it should start raising red flags. 
The way the scam plays out is, you'll be asked to send money to "invest" in something like foreign exchange or cryptocurrency trading. You'll be shown data for weeks that says your investment is going up and up, until one day, when you have no more money to send, the messages stop, and your money is gone. 
#6. The fake computer virus scam
Scammers try to prey on people's lack of knowledge, and there are plenty of people who aren't great with technology making them an easy target. You'll get a pop-up on your computer, or possibly an email, telling you your computer is infected. 
What happens next could go a couple of ways. The scammer might demand urgent money from you, usually by bank transfer since it's not refundable, and be gone. Other times, they will ask for remote access to your computer where they can start to gather your personal data and hack your bank account or steal your identity. 
#7. The desperate friend scam
"My phone's been stolen, using a friend's – can you message me on this number?" It seems like a harmless message from a friend or family member but it's the start of a scam. 
The message – which can also come as an email – is from a scammer hoping to take advantage of your caring nature. They'll pretend to be your loved one and ask you to quickly send money to help them out of a sticky situation. 
How to avoid online scams
There's a lot there to be wary of, but there are some simple steps you can take to protect yourself and stop fraud by spotting it early:
Be sceptical – don't believe everything you read or see online. Huge discounts, urgent demands for cash, or desperate pleas for help should be checked into before you do anything. 
Keep your connection secure – use an online UK VPN to hide your online location, encrypt what you send and receive online, and protect your browsing when using public WiFi. 
Stay up to date – your phone and computer will receive regular security patches from the manufacturer. Download and install them as soon as possible to keep hackers out of your device.
How do I report a scammer in the UK?
Action Fraud is a centralised police unit where you can report online fraud and cybercrime. You can pass on any details of scams, and they will connect patterns and take action where needed. 
Common UK online scams
Online fraud is on the rise, and your instincts for what is real and what is dodgy need to stay honed. If you're ever in doubt about something you see online, talk to a friend or someone else you trust to see what they think, and you can always contact your local police for advice.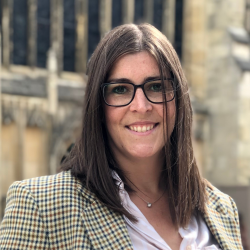 Latest posts by Naomi Willis
(see all)