If you're thinking about getting a mortgage but have no idea where to start, Sara Williams from Debt Camel has provided a guide with everything you need to know.
Once you know all about mortgages, make sure you go on to read through the actual steps of a stress free mortgage application.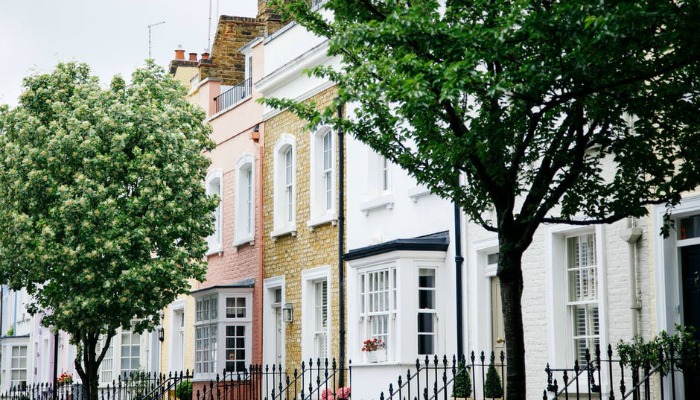 £10 BONUS OFFER: Earn easy cash by watching videos, playing games, and entering surveys.

Get a £10 sign up bonus when you join today.

Join Swagbucks here >>
Buying your first house is exciting – also nerve-wracking at times, but parts of it are fun, such as thinking what furniture will go where and what the first room you will redecorate is.
Mortgages aren't fun. But your mortgage is probably the biggest financial decision you make until… well until you get another mortgage! So it's good to understand what your options are and how the whole process works – and doing this may also take some of the stress out of buying your house.
If you're looking to buy on a budget, here are the cheapest places to live in the UK.

In this complete guide to mortgages, I'll talk you through what you can do before even looking into mortgages and the different types of mortgages. This guide should help you understand the basics of what a mortgage is and help you start the process of getting on the property ladder.
This guide to mortgages covers:
When I say house this also applies if you are buying a flat. And I'll say "bank" rather than "bank, building society or other mortgage lenders".
Why can't mortgages be easy?
A mortgage is just a very large loan that you use to buy a house. It gets complicated for two reasons:
the mortgage is "secured" on your house

If you don't make the monthly payments, the bank will be able to repossess your house and sell it. No-one wants that to happen, so there are a lot of regulatory rules about mortgages. Sometimes it can seem as those they are designed to stop you buying, but they are intended to protect you.

houses and mortgages are expensive

So people look for ways to make it cheaper, especially at the start. That's good – but some of these can end up costing you a lot over the years, so you need to know what will happen later.

"Whilst headline mortgage interest rates are historically low, be sure to keep an eye on the standard variable rate when your initial term comes to an end," comments Ruban Selvanayagam of Property Solvers.
Should you be buying?
You may be fed up with renting and love the idea of your own place. But if you are likely to move in the next few years, you may be better not buying now because the costs of buying and selling are really large.
Even if a mortgage would cost the same as you are paying in rent, it may not really be affordable. You will need buildings and life insurance. And you will have to pay for boiler repairs and replace the washing machine if it dies.
It's also harder to get benefits to help with a mortgage than with rent if things don't go well for you.
How big a deposit do I need?
A deposit is the amount of money you have saved up for the house, with the rest coming from the mortgage. 5% is usually the minimum – you will be able to get a better mortgage deal if you have 10% or more.
You can't borrow a deposit. And saving a deposit by running up large credit card bills or a big overdraft won't work either.
Banks usually talk about "LTV" which means Loan To Value. A 95% LTV means a mortgage loan which is worth 95% of the value of the property – that's the same as a 5% deposit.
But the "value of the property" is not what you pay but what the bank's surveyor thinks it is worth.
For example, a £5,000 deposit might sound right for a 95% LTV mortgage for your £100,000 house.
But if the bank says it's only worth £97,000 they will only lend 95% of that, which is about £92,000.
Unless you get the seller to reduce the price, you would need a deposit of £8,000.
Top tip: don't forget all the other costs of buying a house: stamp duty, legal fees, moving costs, furnishing the house etc. You will need to save up more than just the deposit.
How much will a bank lend me?
A few years ago banks looked at your deposit, your income and how good your credit record was… but now they do some detailed "affordability" calculations before deciding how much they will lend you.
You will be asked about a lot of your expenses and you need to supply your recent bank statements as well. The bank will be looking not just at whether you can afford the mortgage now, but in a few years when interest rates go up.
Most lenders have calculators online you can use to give you a rough idea. Try a few! Some of them assume you are paying the average amounts for household bills, but if you would like a more detailed one, look at Nationwide's.
Does it matter if I have some debts?
Banks care about debts because the repayments affect how affordable a mortgage will be and debt problems in the past may mean you get into trouble in the future. I've looked at this in detail in Getting a mortgage with debts but here is an overview:
check your credit record with Experian, Equifax and Call Credit well before applying for a mortgage so you know what problems show and can correct any errors;
banks want to know about all your debts, including any that don't show on your credit record;
the better your credit rating, the bigger your choice of mortgages;
if you have a very poor rating or your problems are recent you may not be able to get a mortgage from a high street lender. Specialist "bad credit" mortgages are very expensive – you may be better to wait a few years and clean up your debts and credit records.
The main types of mortgages
In 2017 it's really hard for a first-time buyer to get an "interest-only" mortgage, so I'm going to ignore them.
In a standard repayment mortgage, at the beginning, you are paying mostly interest. After 5 years it can be depressing to look at your mortgage statement and see how little you have paid off! But gradually you are chipping away at the amount you owe until at the end of the mortgage it is all repaid.
Mortgages are either "fixed rate" or "variable rate".
Fixed rate mortgages
Here the amount you pay each month is the same for a number of years, often two or three, but sometimes as long as ten.
More than four out of five people chose a fixed-rate mortgage in 2016. People like them because it feels safer knowing what your mortgage payment is going to be. Also with very low interest rates at the moment, people are worried that they may go up, so want to fix it now at a low rate.
So a longer fix may seem like a good idea, but it will be at a higher interest rate. Also if you want to move, you have to pay an extra fee if you are still "inside your fix" – so a very long fix can be a problem unless you know you will stay there.
All the different fixed rates on offer can be confusing. Is it better to go for a low rate for two years, a bit higher one for 3 years or a much higher one for 10 years? The different fixes all have different fees as well.
This calculator lets you compare the cost of two different mortgages.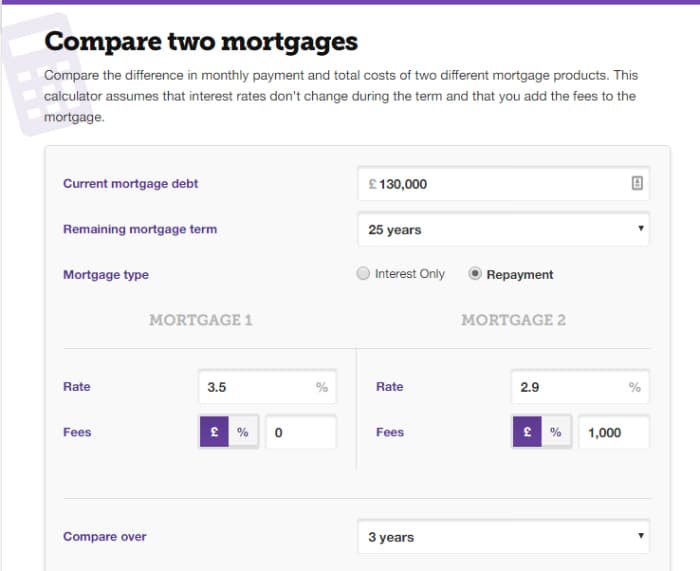 At the end of a fix, your mortgage continues for the rest of the 25 years but the interest rate changes to the lender's variable rate. At that point, you can get a new fix if you want, either from the same lender or a different one.
Variable rate mortgages
Here your monthly payments can go up or down depending on what happens to the economy. A "tracker" follows an independent rate, often from the Bank of England. Each mortgage lender also sets their own Standard Variable Rate (SVR) – this is what you usually pay when a fixed rate ends.
A "discounted rate" mortgage is where the lender charges you a set amount less than their SVR for a period. So you might be quoted "3% less than our SVR which is 4.6% for 2 years" – at 1.6% that would be cheap mortgage at the beginning but it might go up a bit over the 2 years.
Top tip: if all this seems scary, talk to a broker (see below). They are good at explaining the options and will give you advice.
How to make it easier to afford a mortgage
There are three types of ideas here:
Saving for a deposit
The Help to Buy ISA gets you an extra cash bonus if you save regularly before you buy. So does the new Lifetime ISA which started in April 2017. You need to look at both and decide which one will work best for you, depending on your age, when you want to buy etc. The details may seem complicated but this is basically FREE CASH so it's worth time sorting this out.
Top Tip: you don't have to get a mortgage from the same bank your Help to Buy or Lifetime ISA is with.
Government schemes
There are several different government schemes. In 2017 these are the main ones:
Help to buy


(this has nothing to do with Help to Buy ISAs!)
This scheme gives you an interest-free loan of 20% of the price of a new house. So if you have a 5% deposit the house price is made up from: 5% deposit plus the government 20% loan plus a 75% bank mortgage.
After 5 years you have to start paying interest on this 20% part. When you sell, the 20% part has to be repaid plus an extra 25% of any gain in the house price. Be careful: new houses usually drop in value over the first few years, so you may get into negative equity.

Right to buy

If you are a council tenant in England, Wales and Northern Ireland, you may be able to buy your house at a discount. If you are a housing association tenant, you may be able to get a discount under the Right to Acquire Contact your council/housing association for details.
Be careful: ask about service charges as these can be very high if a lot of work is done on your estate.
Shared ownership

If you don't earn enough to buy a whole house, shared ownership lets you buy between 25% and 75% of a house. You get a mortgage for the part you buy and pay rent for the rest. You can buy a bigger share in future years.
Be careful: selling a shared ownership house can be difficult. If house prices go up more than your income, it will be hard to buy more.
Some mortgage variations
Long mortgages

The simplest way to reduce your mortgage cost is often to get a longer mortgage. This reduces your monthly payments because you spread paying back the capital over a longer period. 25 years used to be the standard length but in 2015 a quarter of first time buyers got a 35 year mortgage.
Be careful: You pay a lot more interest with long mortgages.
Joint mortgages

If you can't afford a mortgage on your own, getting a joint mortgage with friends or family can seem like a great way forward. Banks will often only look at two incomes though, even if there are three or four of you buying together. The big problem here is if one person wants to leave after a year or two, perhaps because for work or to move in with a partner.
Be careful: if you have different deposits, decide how any equity is split up when the house is sold.
Rent a room mortgages

If you want a two bed flat, a mortgage that takes into account the rent a lodger will pay could help.
Be careful: not many banks offer these and the interest rates usually aren't good.
There are various ways to get help from The Bank of Mum And Dad if you are lucky enough for this to be an option. They could give you some or all of a deposit. They could guarantee your mortgage payments which can help if you have a poor credit record but these mortgages are expensive. With an offset mortgage, your parents' savings act as a deposit.
Now you know everything about mortgages, take a look at the step by step process of getting your mortgage application underway.
Latest posts by Skint Dad Contributor
(see all)