The following is a guest post from Sara Williams, a CAB volunteer who blogs about debt and the possible solutions over at Debt Camel.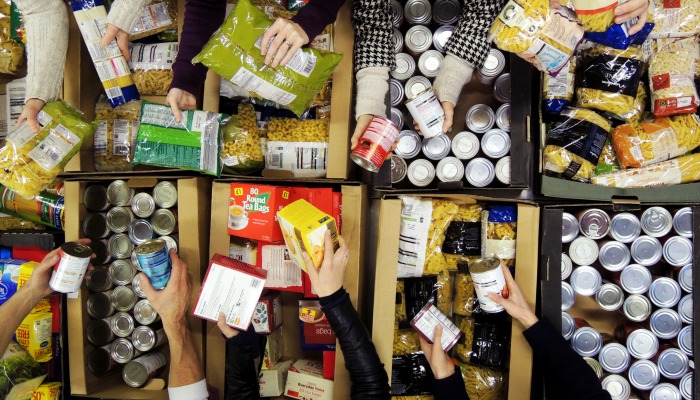 £10 BONUS OFFER: Earn easy cash by watching videos, playing games, and entering surveys.

Get a £10 sign up bonus when you join today.

Join Swagbucks here >>
'Tis the season to be giving… and eating too much… so many of us will be putting a donation into a foodbank trolley in the supermarket as we do our Xmas shopping. But do foodbanks get given everything they need? I went behind the scenes at a local foodbank to find out what happens to the donations.
My nearest foodbank is part of the Trussel Trust network, which has over 400 foodbanks across Britain. The individual foodbanks are run by churches and community organisation, because local groups know what is needed in their own area. The one I visited operates from a room in church, distributing food for three hours twice a week.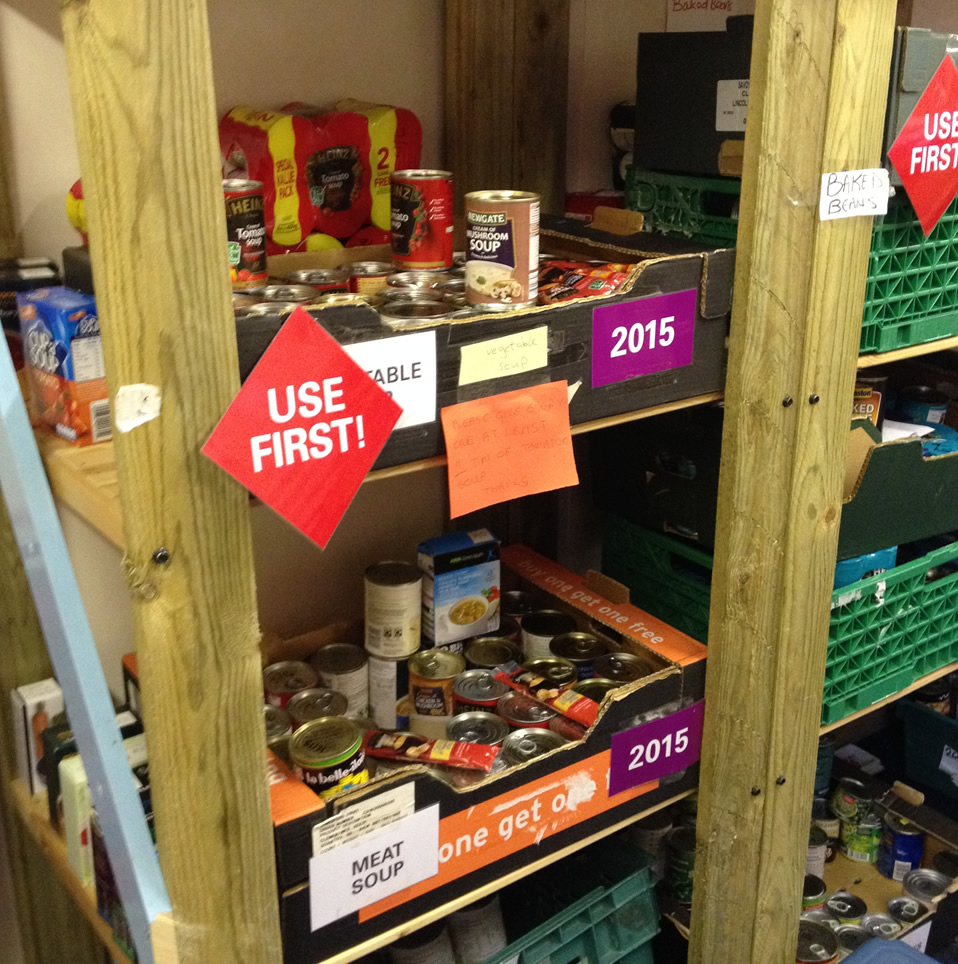 You can't just turn up at a foodbank and ask for help, everyone has to come with a completed voucher. Most referrals come from Citizens Advice Bureaus and Job Centres, but others come from social workers, schools, doctors etc. The vouchers are individually numbered so one can't be copied to get round the "three visits a year" limit.
It also has details about reason for the referral – benefit or tax credits delays and problems are the most common – which are later entered on to a PC, so Trussel Trust can produce nationwide statistics. If you are interested in why people use foodbanks, the Emergency Use Only report has real-life stories highlighted in blue boxes.
What food is given
At my foodbank, there are usually three volunteers running a session. Two talk to the clients as they come in. If this is the client's first visit, they explain that three days worth of tinned and dried food is provided, nothing perishable. They ask if there is anything the client doesn't want – perhaps they are vegetarian, don't eat pork for religious reasons, or just hate mushrooms! Sometimes they have no way of cooking anything, because they have no money for the meter or they have just been rehoused by the council in a flat without an oven or microwave yet. People are also asked if they would prefer tea or coffee and jam or marmalade.
Then the client's requests and family size are sent to the "the warehouse", a pretty grand name for a not very big room full of shelving. The food is sorted by type, with red "Use First" signs showing what is closest to its expiry date. (Anything which gets to its expiry date is given to local soup kitchens to be used up quickly.)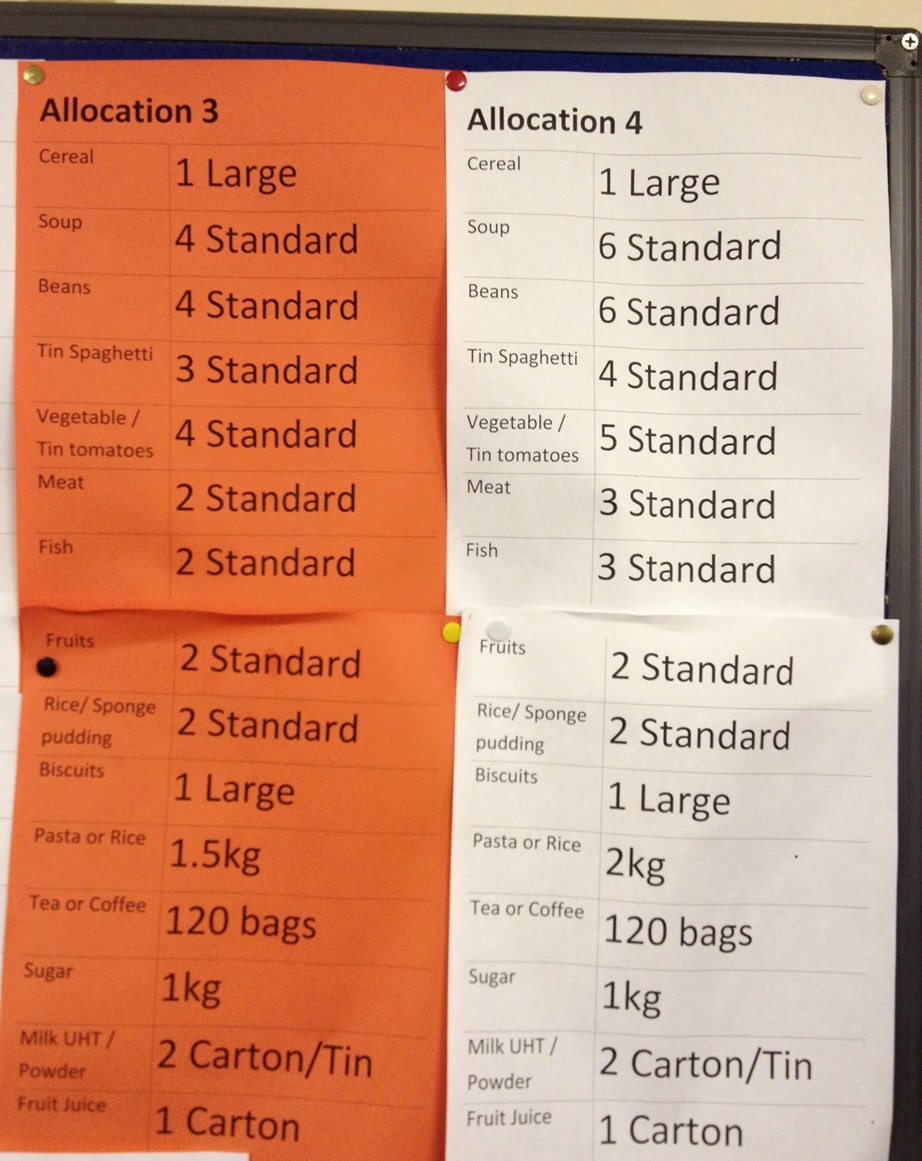 On a notice board are the Basic Amounts – guidelines for what and how much to pick for families of different sizes. For a family of four, these are:
1 large box cereal; 6 standard beans, 6 standard soup, 6 standard spaghetti, 5 standard vegetables/tomatoes, 3 standard meat, 3 standard fish, 2 standard fruit, 2 standard rice/sponge puddings, 1 large packet biscuits, 2kg pasta/rice, 120 tea bags, 1kg sugar, 2 cartons UHT milk, 1 carton fruit juice.
The warehouse volunteer doesn't need to check the guidelines because he's done it so often. After he selecting the basics, he adds extras such as jam, pasta sauce, lentils and porridge oats, depending what's in stock and how large the family is.
A welcoming place
Whilst this is being done, the client sits down with a cup of tea or coffee. The sofas and chairs are comfy, it feels nothing like a job centre where so many of the clients have had recent bad experiences. Although it is attached to a church, there is nothing religious there to make anyone who isn't Christian feel uncomfortable. Many clients feel ashamed of needing to use a food bank and want to explain what has gone wrong – the foodbank volunteers are a friendly, listening ear.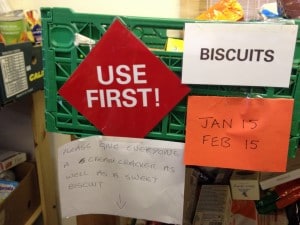 There is often an advice worker present who can make the client an appointment if they need help with benefits or debts, or signpost them to other local sources of help. This is currently funded by the local council – unfortunately the funding may be withdrawn after Christmas.
Not pasta!
I asked the volunteers what items they were most in need of – it seems quite tricky to be able to produce balanced selections for each client when you have no idea what people will be donating. "Not pasta!" was the immediate reply. They had two large store cupboards completely full of pasta… Their immediate shortage was cartons of juice and UHT milk. They use the "30% extra" in cash Tesco's gives them with each pile of donations to top up the products they are low on.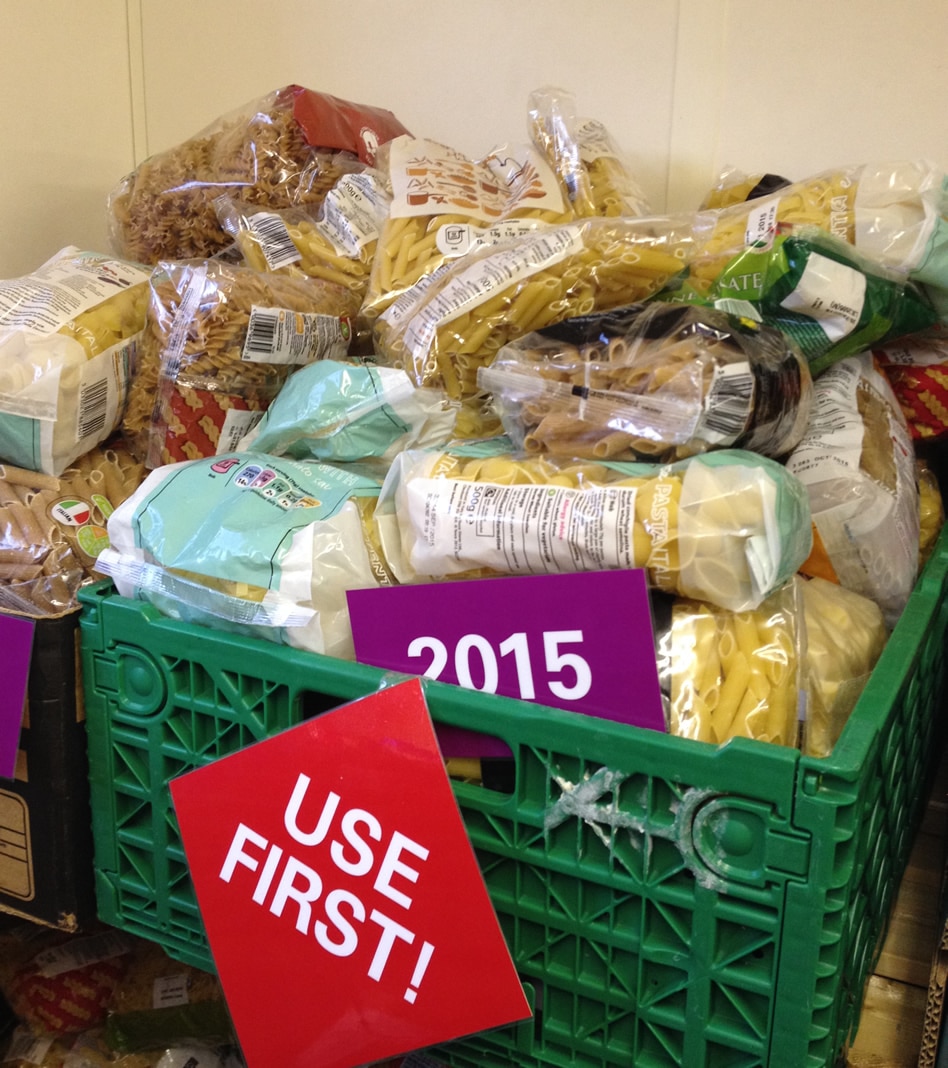 There is a lot of work that goes on outside the "opening times" – collecting donations, organising the stock and keeping records. I came away with a huge respect for the foodbank volunteers, who put into practice quietly, with no preaching, the words in the Bible: "For I was hungry, and you gave me food: I was thirsty, and you gave me drink: I was a stranger, and you took me in."
As well as the blog you can also find Sara on Twitter here.
::
If you're struggling to buy food please check out these cheap recipes. All of them work out under £5 to make and will feed a family of four. Likewise, if you fancy a treat check out our fakeaway's which also cost under £5 to make.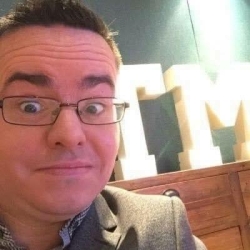 Latest posts by Ricky Willis
(see all)