Long summer holidays, ice creams, days at the seaside, BBQs with friends – I've got some awesome memories of summer.
Then…as you get older, the "fun" of summer gets quickly replaced with adulting!
Why not just use a fan?
While the warm weather is great for getting all that washing dried super-quick, it's a pain trying to cool down. And with a heatwave, it's even worse!
Hot, humid, sticky, sweaty – yuck!!
You may think grabbing a fan may be a good idea, and perhaps it is.
Trouble is, you need to pay out to get one in the first place. Then, as the warm weather hits, sales spike and they sell out!
And, let's not look at their pricing!
This fan is the number one bestseller on Amazon. Looks good, reviews are fab, and it's on sale.
However, it's not that cheap.
Using the CamelCamelCamel tool, you can see that the prices were lower a month ago when it wasn't so warm, and the price has recently headed back up!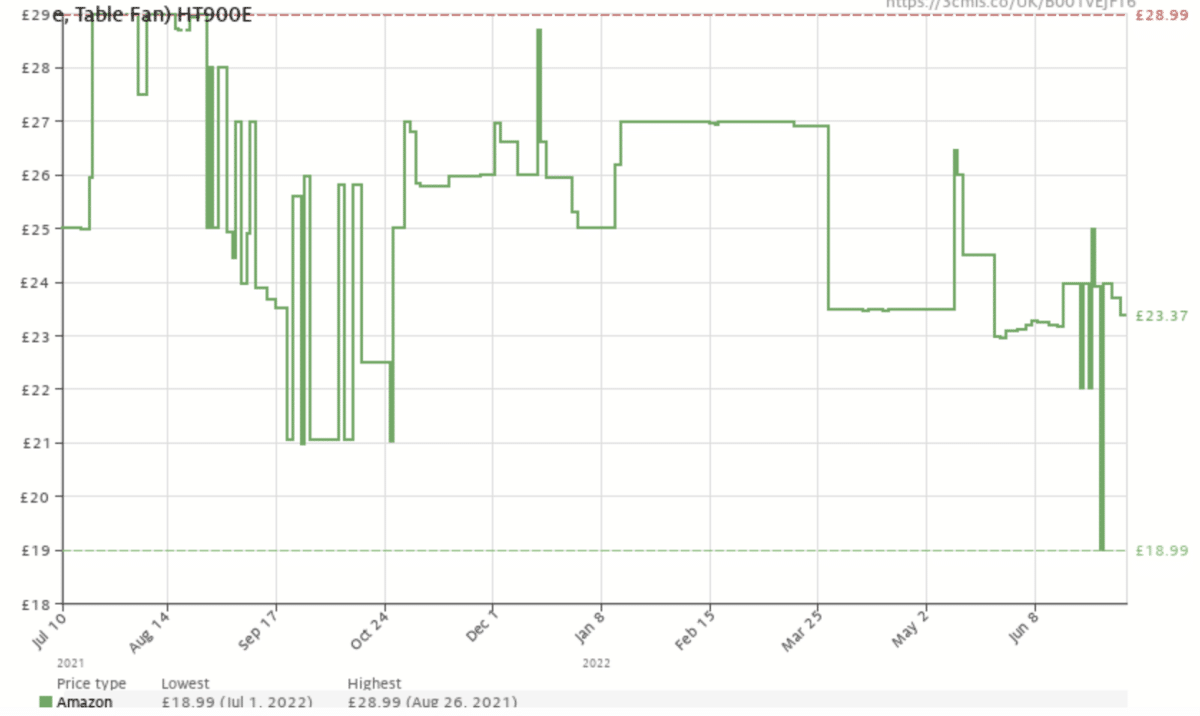 £10 BONUS OFFER: Earn easy cash by watching videos, playing games, and entering surveys.

Get a £10 sign up bonus when you join today.

Join Swagbucks here >>
I suppose if you really need something to cool you down, then you'll pay the price, but there are other ways to keep cool.
How to cool down on a budget
So, if you're skint and can't afford to buy a fan, or they've sold out, what other options do you have to cool down?
There are some really simple things you can do to make yourself and your home cooler.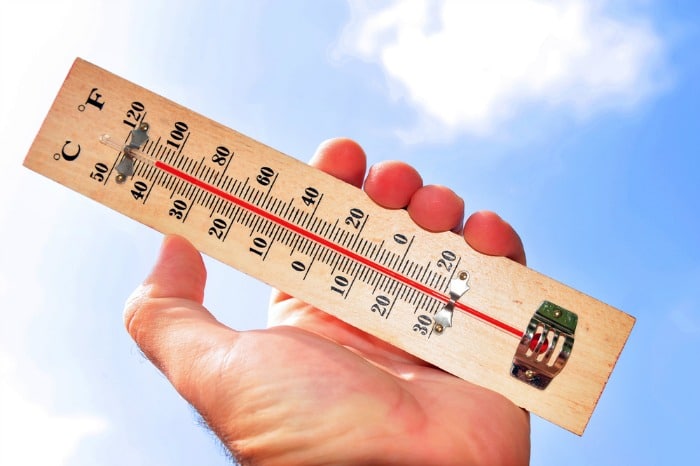 1. Don't do chores…
…well, perhaps do chores or jobs around the house after the sun goes down.
Having your household appliances running will heat up your home slightly, and running the vacuum around will make you hotter too.
As it gets into the evening, it'll be a better temperature to catch up on tasks (or you could just miss the cleaning until the heatwave is over!)
2. Stop cooking
Another suggestion is to stop doing things around the home (you're welcome :) )
The oven is hot! Keep it on for 30 minutes to cook your dinner, and you're heating your home from the inside.
Instead, look to cook using your microwave, slow cooker, steamer or outside on a BBQ grill. They actually cost less to run too.
Why not look to eat out and save costs with kids eat free restaurant deals.
3. Close the curtains
During the day, the sunbeams into your home, but that just makes things too hot!
Keeping light-coloured curtains or blinds closed in hot weather will the heat out and make things more comfortable.
When the sun comes down, open them back up.
However, if you've got thickly lined curtains or metallic blinds all you'll do is keep the heat in, so you should leave them open.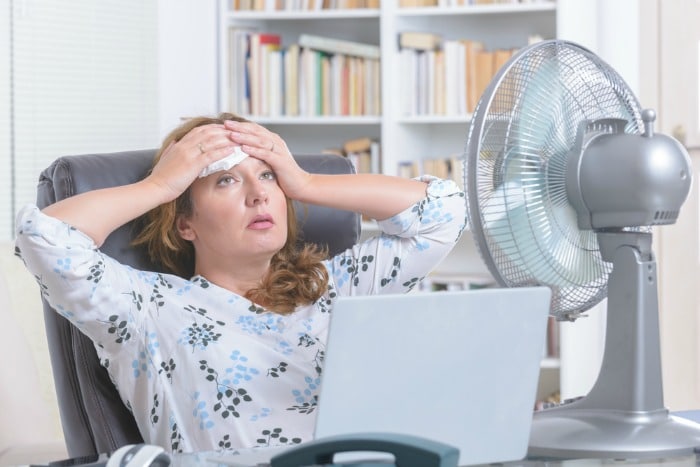 4. Close the windows
The first thing I love to do when it's hot outside is to throw open the windows to get a bit of breeze in the house, but it's not a good idea!
If it's warm outside and cooler inside, opening the window is just going to let the hot, humid air straight in.
However, when the sun goes down, and the outside temperature drops, it's time to open the windows to cool things down.
5. Film your windows
Not only is adding a layer of film to your windows great for keeping it warmer in the winter, but it can keep things cooler in the summer months too.
Adding tinted film to your windows also reduces infrared and UV rays coming into your home.
6. Visit the library
Free entertainment plus free air conditioning!
Over the summer, most libraries offer reading clubs or competitions for your kids to win a prize.
Take advantage and use the library for some fun, a bit of education and as a way to cool down.
Here are more things to do this summer.
7. Go food shopping
The idea of heading to the food shops over the summer holidays may sound like a nightmare with kids in tow, but it's worth it!
Head straight to the freezer aisle … and relax!
8. Drink water
Keeping hydrated is good at all times of the year, but when it's hot, and we get sweaty, it's even more critical.
Water can help keep body temperatures down, but mix it with a bit of fruit squash if you're not a fan of water.
And, sorry to say, alcohol dehydrates so you should avoid it! :(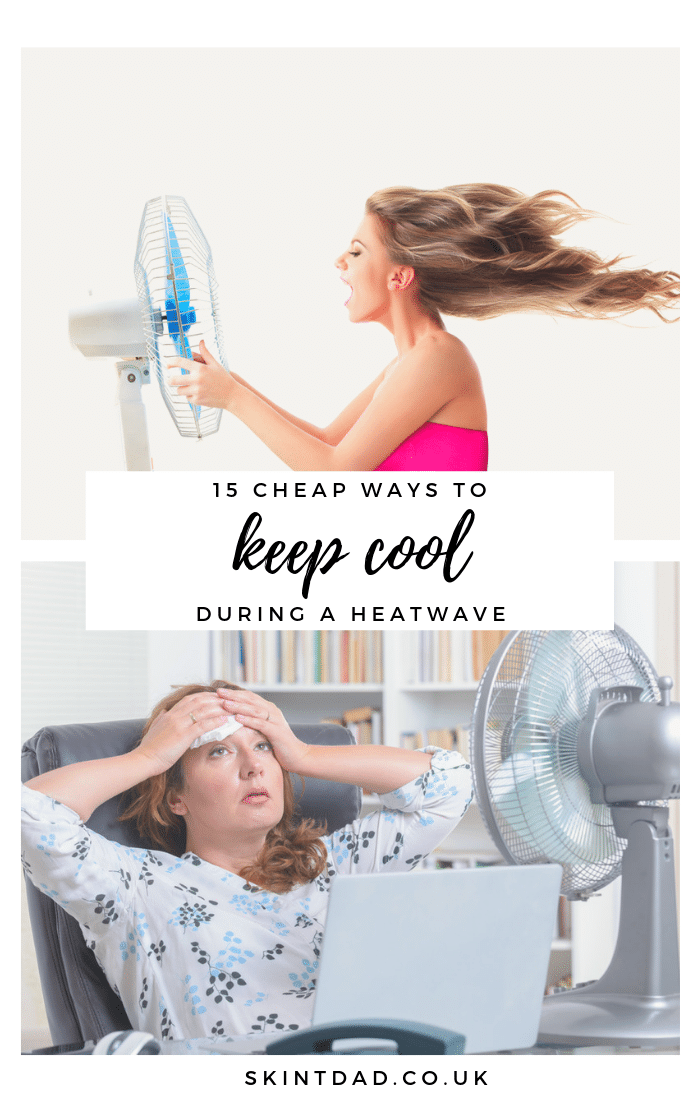 9. Make ice lollies
Liquid water isn't the only way to keep hydrated.
Instead of paying over the odds for a refreshing treat, you can make your own with cheap ice lolly moulds.
Whether you want to use water or want to boost your 5 a day with fruits and veg, they'll help you cool down.
10. Use extraction fans
Extraction fans are brilliant in the kitchen and bathroom to remove unwanted steam and smells but are great for the summer too.
They also remove heat and can suck out warmth from your rooms. Make sure to balance it out with the cost of running it.
11. Make room in your fridge
You may want to live inside your fridge, but there's not enough room! However, you can make room for smaller things.
Make room for a bed sheet, some wet wash clothes and maybe even a pillow.
When you need to cool down, grab a chilled washcloth and pop it on your forehead to cool down.
12. Have a water fight
Blow up the paddling pool and start a water fight. Not only will the kids have fun, but you'll cool down fast.
Plus, the grass and flowers will get a proper watering too (which they are no doubt desperate for!)
13. Take a cold bath or shower
Grab a book if you're taking a refreshing bath as a way to relax and cool down. Or, jump in the shower to bring your body temperature down.
Instead of using a towel to dry off, use a fan on your body as evaporation helps to cool you down.
Have an empty spray bottle? Clean it out and give yourself a cooling spritz every now and then.
14. Use cotton
Although it gets colder at night, as soon as you get in bed, everything can start to get hotter again!
Get rid of your duvet and just use cotton sheets which are breathable and can make you feel more comfortable.
15…?
Not sure if this really works…
It's certainly a cheap way to make air conditioning, and I support it doesn't hurt to give it a go :)
And, being a good samaritan, and because I believe in karma and paying it forward, it's a good idea to check in with any elderly family or neighbours when the weather gets scorching.
The elderly and people with medical conditions are more at risk during hot weather, and anyone could get heatstroke or heat exhaustion.
While offering support to those around you is reward enough, you never know that being kind may earn you a cake as a thank you :)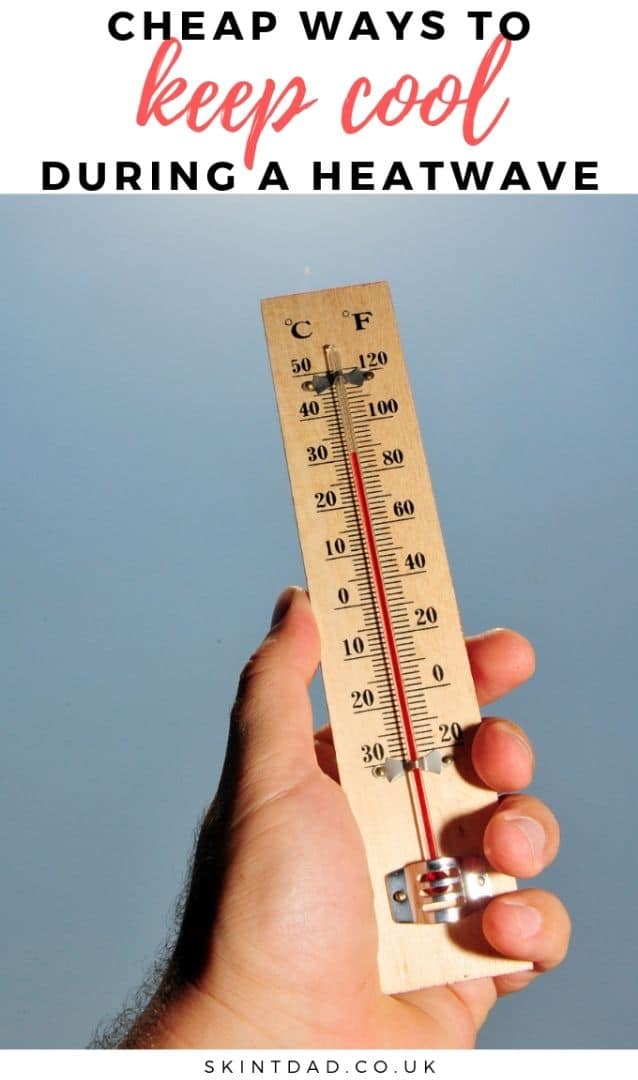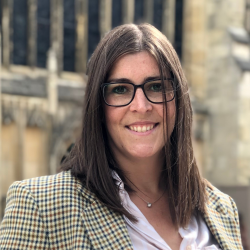 Latest posts by Naomi Willis
(see all)