Your garden should be a place where you can relax and unwind.
No matter what size your outdoor space, there are some cheap ways to block your neighbor's view and give your garden or balcony some privacy.
There are some really cheap and free ways to add some height, decor and privacy to your garden – blocking out nosy neighbors.
We've researched some easy ideas you can get to work on this weekend.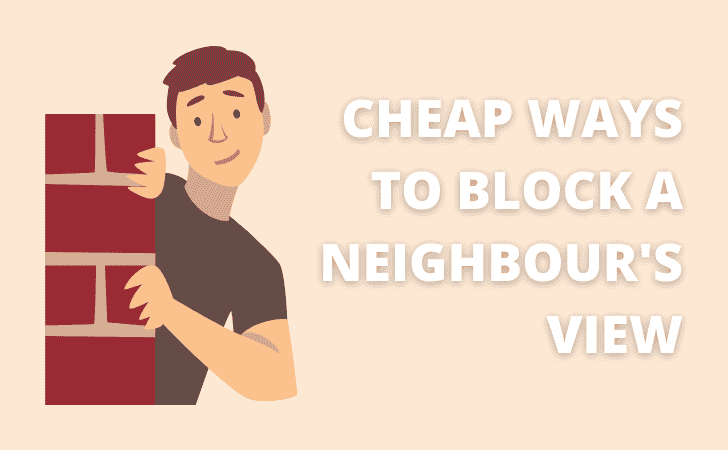 £10 BONUS OFFER: Earn easy cash by watching videos, playing games, and entering surveys.

Get a £10 sign up bonus when you join today.

Join Swagbucks here >>
Add height
Plant tall plants and evergreen shrubs – pampas grass and clumping bamboo is great for this and adds year-round screening (though it does spread, so if you don't want it to take over, plant in pots).
You may be able to ask a relative for a clump of bamboo from their garden to help keep your costs down.
Lattice screens
Wooden lattices and trellis panels can be screwed onto existing fence panels to add height or can be used to partition part of your garden – such as your seating area. Add natural or fake plants to your garden slat wall – all the details that help create a cosy seating area.
Relatively cheap, wooden panels can sometimes be picked up on second-hand selling sites. They can be painted, or you can grow plants on them too for extra privacy.
The open wooden structures of lattice panels give a lovely airy feel to your garden but still add a bit of privacy, helping to block neighbors views.
Outdoor screens are a very quick and smart way to add privacy to your outdoor space and can be folded away and stored in a garage when not in use. They're not cheap – a couple of hundred quid each but are an investment in your outdoor furniture, and you can take them with you should you move.
Hang outdoor curtains
You can create your own cheap outdoor screens and hang curtains outside.
Outdoor curtains can be hung onto wooden poles or draped around a pergola giving you the ultimate hiding place from peeping eyes. Pick up curtains from charity shops and add fairy lights. Draw your curtains across for complete privacy.
We have even seen some frugal gardeners hanging patterned shower curtains up – which adds outdoor decor and is a great idea.
Create outdoor screens
And talking of pergolas, these wooden structures are perfect for creating height, interest, and overhead shades for your seating area.
You can pick up low-cost pergolas to install at home for a few hundred pounds depending on the quality and size.
Plant trees
If you're green-fingered, try growing tall flowy plants to create a natural screen for your neighbours. Eucalyptus, ivy, bamboo, and ferns will all work well. Look out for cheap planters at boot sales and charity shops.
Install a corrugated metal fence. If the fence is 2m high metal fences, you don't need planning permission. Soften the look by painting the panels and adding hanging baskets and bird boxes, or use a mix of metal and wooden fence panels with lattice screens with climbing vines.
Cheap ways to block neigbours view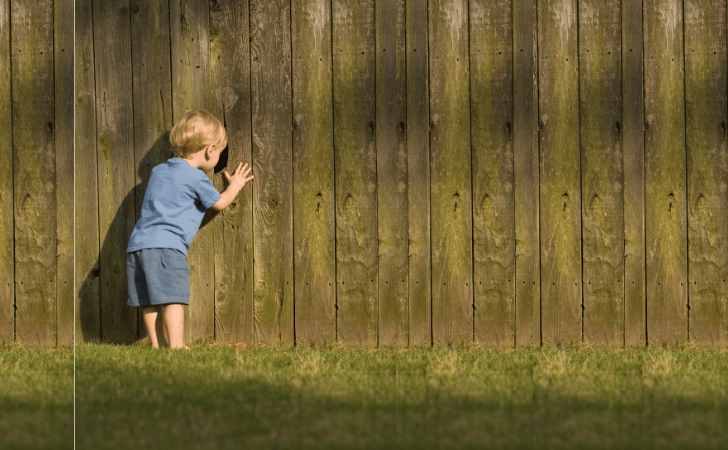 Paint and decorate wooden pallets and use them as fencing or to create height in your own garden. People often give wooden pallets away for free on local selling sites, and there are ways to get free paint. You can hang beautiful plants or thread natural materials between the wooden bars and create your own outdoor privacy deck screens.
If you're on a limited budget for your backyard garden and are desperate to create some instant privacy, there are cheap ways to block neighbours' views using chicken wire. We have seen people using chicken wire stretched edge to edge nailed to poles or bamboo canes. You can then hang garden decor, curtains and plants from the wire fence.
If you're pretty crafty, chicken wire can be used to create sculptures and decor in your garden.
DIY tutorials online show you how to make dragonfly sculptures, nature wreaths, and homemade bird feeders. You can use homemade materials such as clean tin cans threaded to twine to create a space to hand tealights.
Vertical gardening
Move your gardening against a wall, creating cascading landscapes or hanging outdoor plants from tall wooden fencing.
Vertical gardening is a term used for growing plants up from your garden rather than flat on the ground. Perfect if you are short on space, and the vertical screen helps give you a cosy hideaway and a privacy screen. You can use pallets, bamboo canes, and chicken wire to create a vertical wall and then hand your decor, fake ivy, string lights, or herb pots.
Block your neighbour's view
Create multi-level cascades of plants, trees, and rocks. You'll need to use your muscles for this; look on Pinterest for ideas and check out the Facebook marketplace. People often give away sacks of pea shingles, rocks, and hardcore left over from gardening projects. If you have the budget, you can use a landscape architect or simply look on their website for inspiration.
Hanging greeneries
Hang your plants from walls and screens to help create privacy. Pot up trailing ivy, colourful blooms or even strawberries and tomatoes. Block part of the view with hanging baskets and add interest and colour to your garden. You can install hanging baskets on fence panels and stone walls.
Use household objects
If you haven't got too much money, don't worry. You can use household objects you may have lying around for your hanging greeneries. Plastic milk bottles, old colanders, and even old wellie boots can be re-used, painted, and decorated with plants. You can add cheap herbs and plants.
Create outdoor decor and make plastic bottle flowers, homemade wind chimes and bug hotels.
Grow trees
Plant tall trees – relatively cheap and will last for years. Use eucalyptus, cherry trees, and willow. The younger the tree, the cheaper it will be, but within a few years, you will have natural privacy for years to come.
Planting a hedge will ultimately provide long-term, natural borders and complete privacy, but you will need a bit of patience for this one. Try quick-growing evergreen trees like Italian cypress and arborvitae or a sheared privet.
Recycle in the garden
Look out for old wooden doors and shutters and use these to create unique privacy panels. Check out eBay and Facebook Marketplace, add a dash of colour, and you'll have an effective and stylish privacy screen that's easy on your pocket too.
An old metal bicycle rim can be propped up against a gap in any fencing and decorated with climbing plants such as roses or ivy.
Bamboo canes and even large sticks can be easily fixed together to create a wigwam – you can grow climbing roses or sweet peas over to add interest and privacy to your garden.
Frugal gardening
Check out book fairs for rustic ornaments that can be used to act as screening – old garden gates, bicycles, butler sinks, and even old chest-of-drawers can be painted and used to grow plants from.
Look out for part-used pots of paint at boot fairs, as these can be used for giving old outdoor furniture a freshen up too.
Certain tall structures such as old ladders are one of the cheapest privacy ideas.
Paint in vibrant colours and add potted plants to each step. Add cascading plants to soften the steps.
Create privacy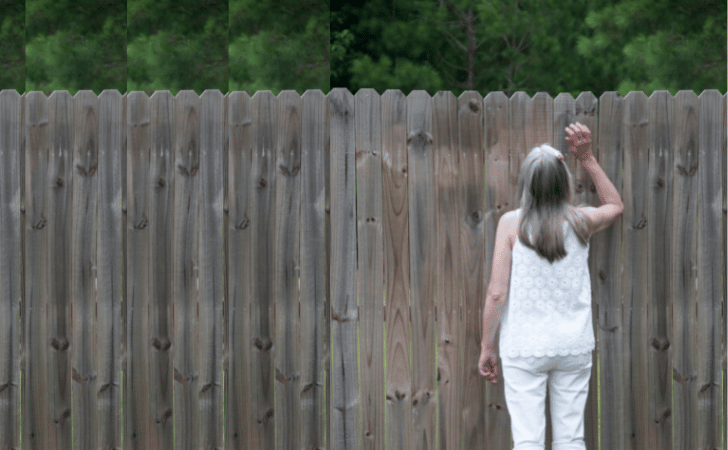 Parasols and sun shields – will give overhead shade and help a block neighbors view. Depending on space, you can use a traditional parasol or sails that stretch across a section of your garden and tie to poles, minimizing taking up space on the floor.
Ornamental grasses are cheap and easy to grow and give a natural privacy wall from nosy neighbours in your outdoor living space. Zebra grass is just one example of using long grass as a natural fence.
Bamboo screening reeds are relatively cheap garden structures, costing around £20 for a screen that will roll out and cover two fence panels. You may be able to pick up bamboo screening and other tools for your shade structure from your local hardware store.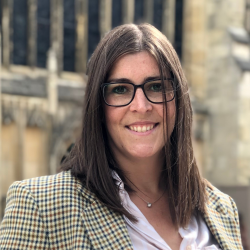 Latest posts by Naomi Willis
(see all)