With the high energy prices in the UK, it's understandable that you might be looking to keep costs down as it gets colder, and one excellent way of doing that is to find the most affordable solution to home heating.
Well, in this article, we'll discuss the cheapest electric heaters to run without breaking the bank.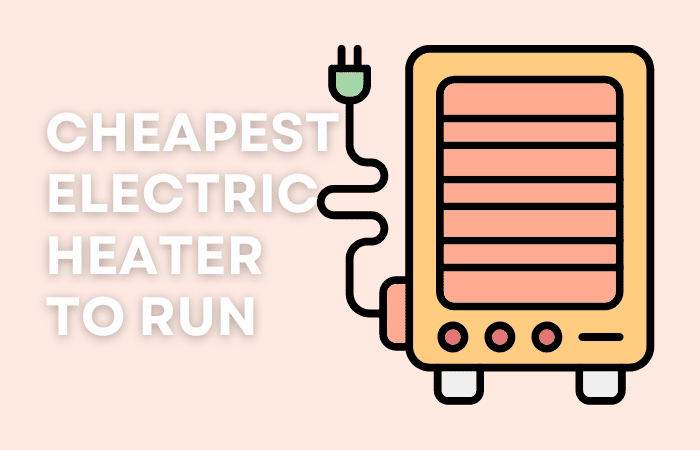 £10 BONUS OFFER: Earn easy cash by watching videos, playing games, and entering surveys.

Get a £10 sign up bonus when you join today.

Join Swagbucks here >>
Before we begin: Is central heating better?
This is a challenging question to answer, primarily because there are many variables to consider. For example, if your house is poorly insulated, electric alternatives such as ceramic and infrared heating may be better.
However, central heating costs less than electric heating because the gas price is almost half that of electricity. But, central heating may prove excessive if you only need to heat a single room. In that case, electric heaters will do just fine.
Now, let's get to it: what is the cheapest electric heater to run?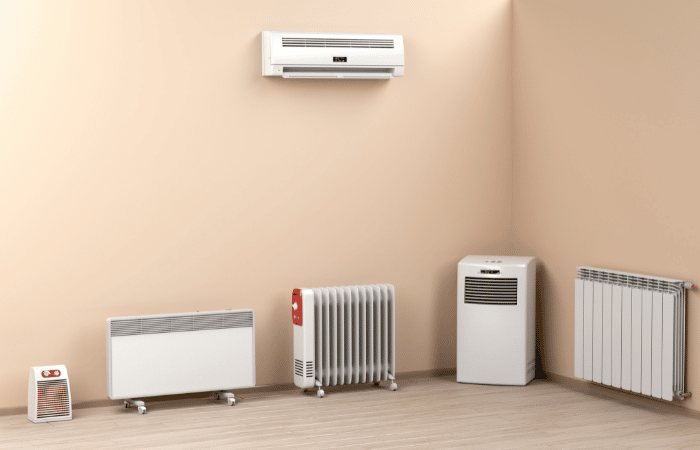 Convection heaters
Convection heating is the quickest way to heat a room and is excellent, particularly in small or medium rooms where you need heat for a couple of hours or more. However, the problem with this kind of electric heater is that it relies on the movement of air, and in old homes and houses with poor insulation, a lot of heat is wasted.
However, if your home is adequately insulated and you're considering your options, here are our top picks for the cheapest convection heaters:
Product recommendations
The products are among the best in their respective heating methods.
1) Warmlite WL44002 Thermo Fan Heater
One of the primary reasons you'd get a fan heater is its lower initial cost and because, with the proper insulation, it doesn't do a lousy job heating a room. This fan heater is portable, well-designed, and quiet.
2) PureMate Oil Filled Radiator 2500W/2.5KW
This product stands out for its impressive heating ability (being able to heat a room even on lower settings), straightforward controls (with a 24-hour timer and three heat settings), and portability, as you can move it around on wheels.
This smart-looking storage heater is quite expensive. However, it works incredibly well. It boasts easy-to-use controls, holiday mode, and an LCD display. Although they're expensive initially, storage heaters can save you money in the long term.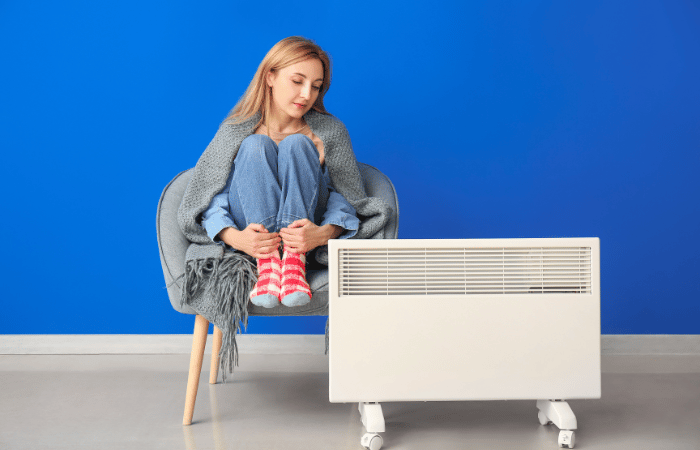 Oil-filled electric heater
Oil-filled radiators, while presumably outdated, are still being made today because of their energy efficiency. They help lower your energy expenses, and they're practically completely silent. They work by channelling electricity into a resistor which turns energy into heat.
Oil-filled radiators heat the room slowly, unlike fan heaters, so while you won't experience instant heating, over time, it'll quite effectively heat the entirety of the room. You can also get one with a digital timer so that when you arrive home, it will already be nice and warm.
You'll need to apply the same rules as you do with fan heaters; make sure to keep the door shut and close the windows.
Fan electric heater
Out of all the electric heaters we've mentioned today, this is the one that people are most familiar with. They're worth mentioning here because of how cheap they are to purchase. However, their energy inefficiency doesn't put them in a good light. If the room isn't draft-proofed, then a lot of the hot air will not stay in the room.
In addition, once you turn it off, that's that; the heat dissipates. Our main piece of advice with fan heaters would be to ensure that, in whatever room you use them in, the door and the windows are closed. And if you have a chimney, block that as well.
Storage electric heater
Storage heaters store thermal energy generated during the evening and release this heat during the day, as needed. Using electricity, they heat clay or ceramic bricks inside them.
You'd want to use these types of electric heaters if you either have an Economy 7 or Economy 10 time-of-use electricity tariff, as these have cheaper nighttime electricity rates. However, even though they're a nifty way of saving money, they're costly to purchase initially, so they may not be worth it in certain situations.
In addition, installation is complicated, and they have to be mounted onto a wall: they're pretty heavy, so it's not easy to move them around either.
Do you use central heating?
Radiant heaters
Radiant heaters generate heat internally and radiate this heat to nearby people and objects. The sun, for example, would be considered a radiant heater. These electric heaters are highly energy-efficient, although they often cost more initially than convection heaters.
Here are some of the cheapest radiant heaters you can buy today:
Product recommendations
So, where can you buy electric heaters, and which one should you buy? Here are our recommendations for the cheapest radiant heaters:
1) Pro Breeze 2000W Mini Ceramic Fan Heater
The advanced ceramic heating elements that this radiant heater provides will help you save on your energy bills. It boasts three power settings, an adjustable thermostat, and advanced safety features.
2) Daewoo Oscillating Halogen Heater
This halogen heater oscillates to spread the heat to 75 degrees of surroundings to ensure everyone feels warmed up. It also has several heating settings, including 400W, 800W and 1200W. And like the ceramic heater, it boasts safety features ( it'll turn off if it falls over).
3) Warmlite WL42013 1KW Carbon Infrared Heater
This freestanding infrared heater heats up the area in seconds. You can choose between two heating settings, 500W or 1000W. Further, the heater is lightweight at just 2.2kg and has a carry handle for easy moving.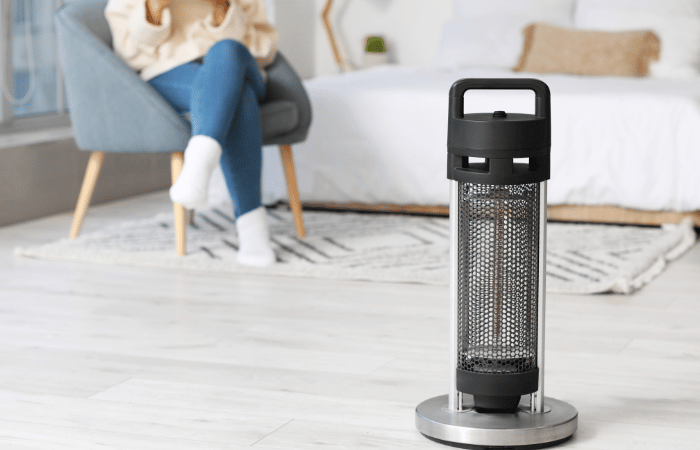 Ceramic electric heater
Ceramic heaters are worth mentioning because they're easy to come by: they work by heating a ceramic plate using electricity, which then radiates heat. Some also have a fan to circulate the air better.
In addition, ceramic heaters waste almost no electricity – they retain heat exceptionally well and take longer to cool down; this means that your room will keep warm for longer. And unlike traditional radiators, ceramic heaters are small, compact, easy to install, and can be used in large and small spaces.
This isn't even mentioning how they need next to no maintenance.
Halogen electric heater
Instead of electric coils, halogen heaters use halogen lamps (with their unique orange glow) for energy-efficient heating. What they do is heat objects and people around them, so if you already own one of these and have found your dog hanging around it for long periods, now you know why.
What's nice about these is that, unlike traditional radiators, halogen heaters don't get heated up and therefore pose no risk to someone who might touch it while it's on, such as a child. And, if that's not enough to sell its safety, then get this: these electric heaters can't produce any carbon monoxide.
And, unlike ceramic heaters, you don't need to worry about keeping the door shut as radiant heat doesn't work by heating the air.
Infrared electric heater
Like halogen heaters, infrared heaters work by heating objects around them instead of the air. And although they have a higher up-front cost than a traditional heater, they're ultimately cheaper because of their excellent energy efficiency.
Unlike most electric heaters, an infrared heater is perfect for old homes that don't keep heat in well. Although they are quite expensive initially, you'd have to be prepared to make a much more extensive than usual initial investment.
Infrared heaters can be used portably; however, they can also be ceiling or wall-mounted.
Find more ways to save money on energy bills.
FAQs
What is the most energy-efficient electric heater?
Infrared heaters are likely the most energy-efficient electric heaters, giving off all their heat through infrared, making them efficient for home heating. Each watt of energy is made into usable heat, with none lost due to air escaping the room.
What is the cheapest way to heat a room?
There are many cheap electric ways to heat a room, with infrared heating likely being the most inexpensive. However, gas central heating is still the most affordable way to heat a room. And although it might not be as efficient, the fact that it's so much cheaper than electricity makes it a better option.
Many have suggested using terracotta heaters with candles as a much cheaper option than using gas or electricity, but it's not very safe.
Are oil-filled heaters efficient?
Oil-filled heaters are very efficient, in fact, 99% energy efficient. Compared to an electric fan heater, which uses a lot of electricity in a short time, they're far superior.
Do plug-in heaters save money?
The thing is, heating with electricity costs over double what heating with something like propane might cost. In addition, it depends on what plug-in heater you use. Ceramic heaters, for example, waste next to no electricity.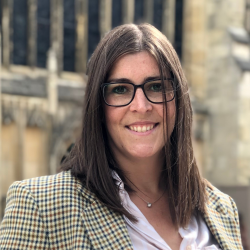 Latest posts by Naomi Willis
(see all)