The cheapest supermarket of 2021 has been revealed. Do you think it works out the cheapest when you shop?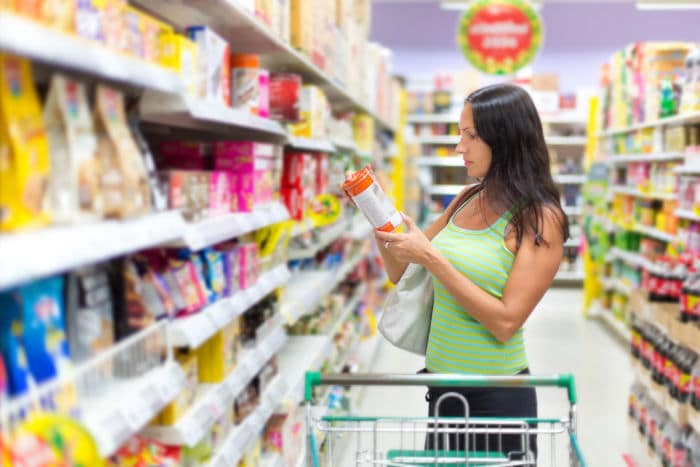 It's a hotly debated topic and one that gets asked a lot in our supermarket savings community – where is the lowest priced place to shop?
The thing is, I don't really think there is a one size fits all answer.
Sure, for ME, and the stuff I buy, one supermarket can work out cheaper.
However, we don't have young kids, so save on the additional costs, and no one in the family has allergies or intolerances to food.
Just because the basket of food I buy one week is cheaper, the stuff you buy might work out more expensive.
Which is the cheapest supermarket in the UK?
Trying to use a bit of methodology, consumer group Which? has been monitoring prices of groceries across six major supermarkets (* that must have been a fun job *).
First of all, they made a shopping list of 23 items that they thought would be in a typical shopping basket.
Their list included stuff like own label-bread, crisps, butter, cheese, cleaning products, pet food, soft drinks and other everyday items.
They then worked out the average price (including discounts but not multibuys) for each item every month and then compared it.
So what did they find?
Without further ado, they found the lowest price supermarket of November 2021 … drum roll, please …
…
…
Cheapest supermarket November 2021 – Aldi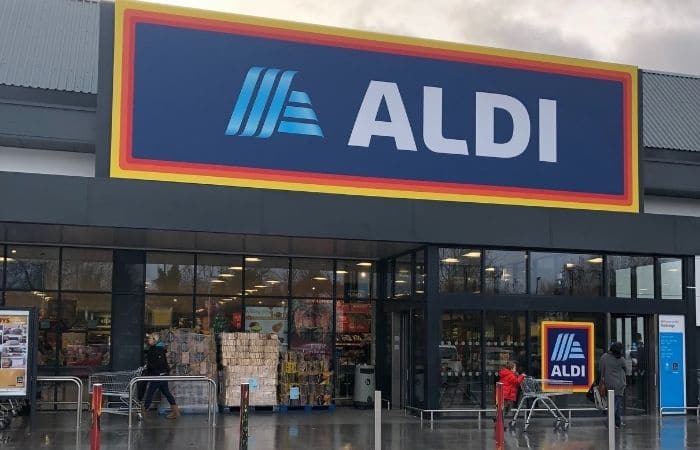 Getting 23 items from Aldi added up to £24.64, with Lidl as the second cheapest at £25.51 and Asda in third place costing £25.57.
Waitrose (maybe not so surprisingly) was the most expensive costing £34.79.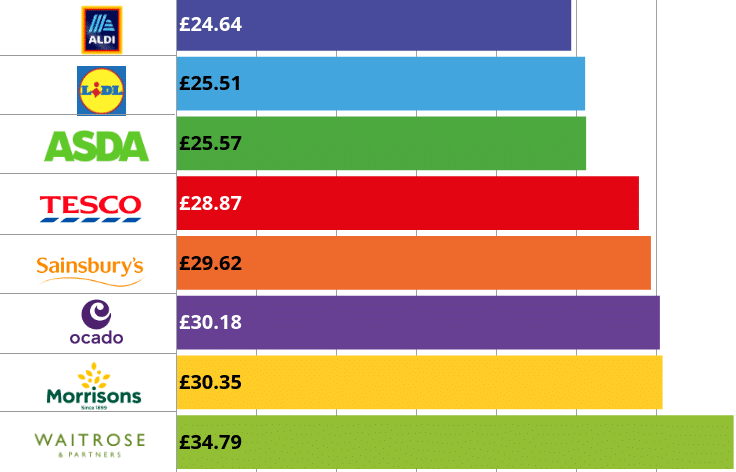 Each time they track food prices, the basket they compare changes. This is because they look to make sure products are available in every store. Foods compared included own-label free-range eggs and raspberries as well as branded products including Chicago Town pizzas.
When you look at the prices on a monthly basis, you can see how much the prices have crept up over the year. And you can tell why it's so difficult to budget for a grocery shop!
Month on month – which supermarket is the cheapest?
Which? tracks the costs of items on a monthly basis.
Here are the supermarkets that have been cheaper over the year, so far:
January 2021 – Aldi and Lidl were tied – £18.45
February 2021 – Lidl – £19.13
March 2021 – Lidl – £22.48
April 2021 – Aldi – £22.64
May 2021 – Lidl – £22.66
June 2021 – Aldi – £21.61
July 2021 – Aldi – £23.59
August 2021 – Lidl – £24.11
September – Aldi – £24.03
October – Aldi – £24.24
November – Aldi – £24.64
December – TBC
Cheapest supermarket UK 2020
In 2020, Lidl was named the cheapest place to shop.
It was 34p cheaper than its rival Aldi.
Ocado and Waitrose were at the bottom of the list as the most expensive supermarket.
Tracking on a month by month basis, Aldi looked like it was cheaper than Lidl. However, instead of using the monthly summaries, they tracked the 2020 lowest priced supermarket by items they could get hold of.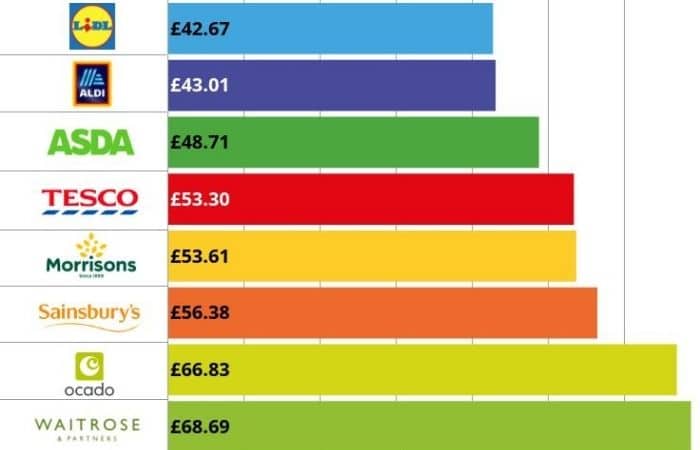 The basket used in the price comparison used 45 popular branded and own-label products, including Hovis bread, Knorr stock cubes, eggs, cucumber and tomatoes.
UK's cheapest supermarket 2019
As a price comparison of 53 items over the course of 2019, here's how supermarkets stacked up:
| | |
| --- | --- |
| Supermarket | Average cost of trolley (53 branded items) |
| Sainsbury's | £107.01 |
| Asda | £107.65 |
| Morrisons | £109.13 |
| Tesco | £112.40 |
| Ocado | £116.40 |
| Waitrose | £117.81 |
For comparison, in 2018 the UK's cheapest supermarket in their study was Morrisons, followed by Asda and then Sainsbury's.
Read next: Find out the cheapest online supermarket
What's wrong with their old research?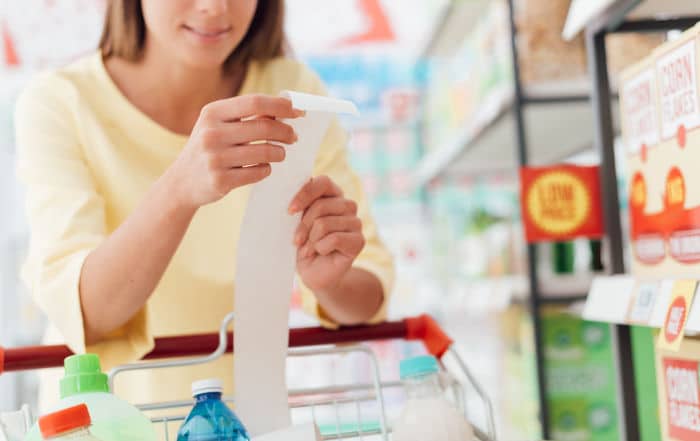 While I'm sure Which? has done their tracking and research perfectly well, I'm not sure it's a true reflection of how people actually shop.
Missing supermarkets
For many years, they'd only been comparing six supermarkets and they used to miss both Lidl and Aldi up until 2020.
Their rationale?
They used MySupermarket to track pricing and, as Aldi and Lidl don't offer online shopping, the pricing wasn't used.
They also haven't monitored food pricing on Amazon and, if you're going to buy branded, you may find you save loads of money if you shop on Amazon Fresh or even Morrisons via Amazon.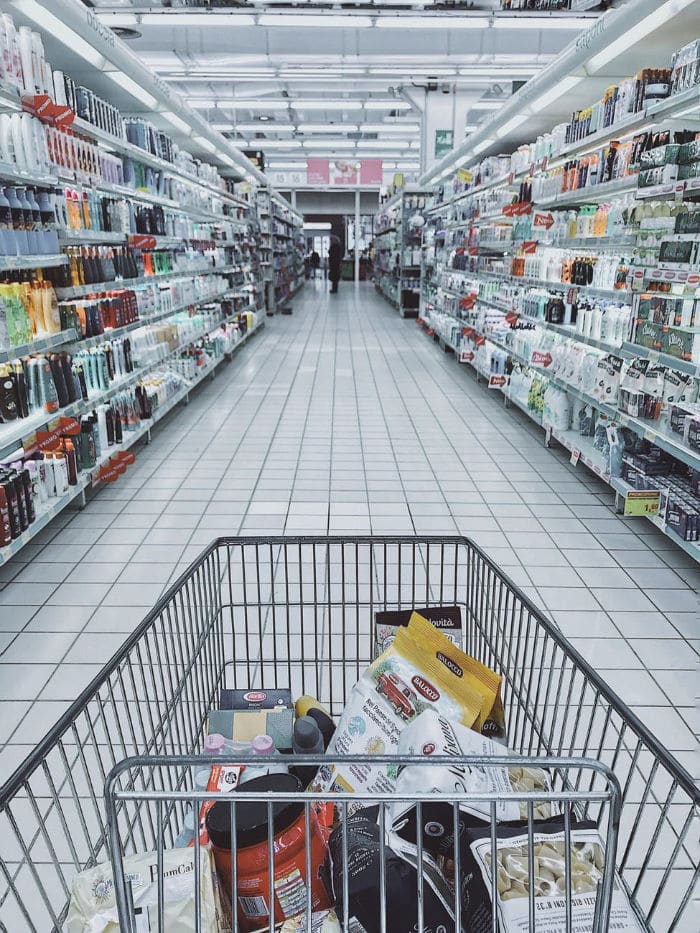 Natalie Hitchins, Which? Head of Home Products and Services, said:
"Your weekly supermarket shop can have a significant impact on your wallet.
"Our analysis shows how important it can be to shop around to ensure you get the best price for your groceries."
Will you change habits for lower prices?
Does the research from Which? sway you to shop at another store because it's "cheaper" than another supermarket in the UK?
Or, are you happy with your own research to know where to shop?
:: Come and join thousands of other savvy shoppers in the Reduce Your Supermarket Spend Facebook community to find out tips and tricks to save money on your food shop.
Enjoy this post? Why not also sign up to receive our newsletter.
We send out all the best money saving news and tips from the site and as an added
bonus you'll get an exclusive £16 cashback from Quidco (new members only)
Latest posts by Naomi Willis
(see all)