Start using Chip this January for a chance to win £20,000 cash, plus enter the promo code in the app to get £20 free when you join today.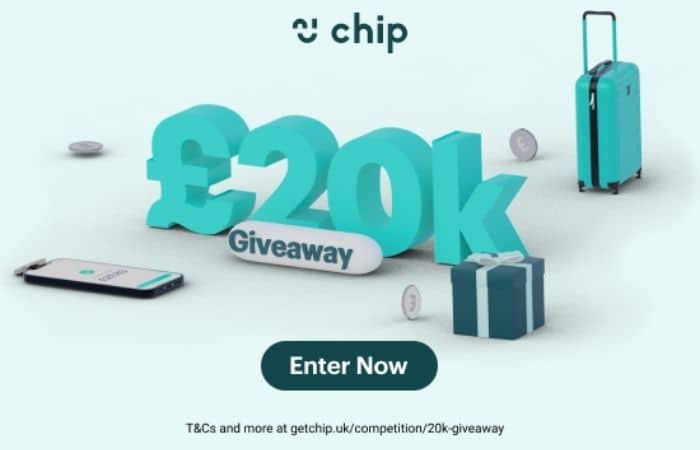 £10 BONUS OFFER: Earn easy cash by watching videos, playing games, and entering surveys.

Get a £10 sign up bonus when you join today.

Join Swagbucks here >>
Ad feature written in collaboration with Chip
What would you do if you won £20,000?
With 14 million adults in the UK having less than £100 of savings, a win this big is a life changing amount.
To help more people, Chip are on a mission to build the best savings account in the world. And, with the average Chip saver getting a rate x7 better than their bank, it's easy to see how.
Get started with the app today by registering with your name and email here – you've also got the chance to win £20k!
Win £20,000 Chip giveaway
Sign up with Chip before 19th February 2022, and you'll be in with a chance of winning £20,000.
Don't worry if you're one of the hundreds of thousands of people already using Chip – this giveaway is open to all existing Chip users, too – YAY!
How to enter
Head to this page and register with your name and email address to get started.
This will give you one entry to Chip's £20k giveaway.
But wait – you can also get £20 for free, exclusive to Skint Dad readers.
Once you've downloaded the app (check your email after registering on the Chip site), go to your Profile Tab, scroll down to Promos & Referrals and enter the Chip promo code.
Read up more in our Chip review and how people are effortlessly saving an extra £3,000 without lifting a finger!
Boost your chances of winning
You can just sign up, and that's you in the draw.
But there are more ways you can increase your chances of walking away with a life changing £20k.
As you're using Chip, you might find yourself wanting to do some of these anyway…
Make a deposit into your new Chip account + 50 entries
Deposit just £1, and you've nabbed yourself another 50 entries.
Plus, you've made your first save!
Turn on Chip's award-winning auto savings feature + 10
Using clever AI, Chip takes into account what you usually spend on direct debits, standing orders and random transactions week to week.
It then works out small amounts to save, which won't leave your bank empty at the end of the month.
You won't notice that you're saving little sums, and it will blow your mind when you see your savings building so quickly.
On the app's home screen or within your Profile, make sure to turn on the AI-Saving.
This will ensure the app is doing all the hard work, and you can forget about it.
Doing this will also get you 10 entries closer to winning £20,000 in this mega giveaway.
Turn on their popular Payday Put Away feature + 10
To help build your savings, you can take some control instead of allowing the Chip AI to work out your savings.
With payday put away, you can choose to set aside a set amount of money each week or month at the same time.
You don't even need to wait until payday. Why not just put aside £1 every Friday? Those small amounts add up over the year!
Find the Payday Put Away in your Profile and under Auto-save settings and get 10 extra entries when it's up and running.
Set up a savings goal + 10
What are you even saving for?
With millions of people having less than £100 in savings, when you see the money going up, you might start to wonder how you'll blow the lot? Or maybe you'll keep saving?
The best thing to do is make a plan.
Head to the Goals tab in the app and decide what you want to save for. Plus, you'll get 10 more entries.
Perhaps you want a shopping spree or to put cash aside for next Christmas?
Maybe you want to go bigger and have a huge holiday, get engaged or save for a house deposit?
Whatever you decide, choose from their options or create your own and set an amount you want to reach.
Chip will even work out a target date to show when you'll likely save up the whole amount.
Refer a friend to Chip + 50
For each mate you refer onto Chip, you'll earn another 50 entries.
Plus, your friend will also get 50 entries when they sign up and make at least a £1 deposit.
You can refer more than one friend, so your entries could really build up here.
---
So, what are you waiting for?
Sign up to Chip now and fingers crossed for £20,000!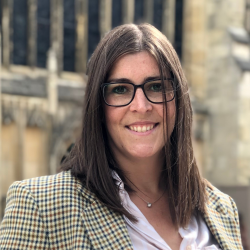 Latest posts by Naomi Willis
(see all)