Today I reduced my debt by another £1,000. Although it's not been easy, in 16 months we've reduced our total debt from £42,000 to £27,000.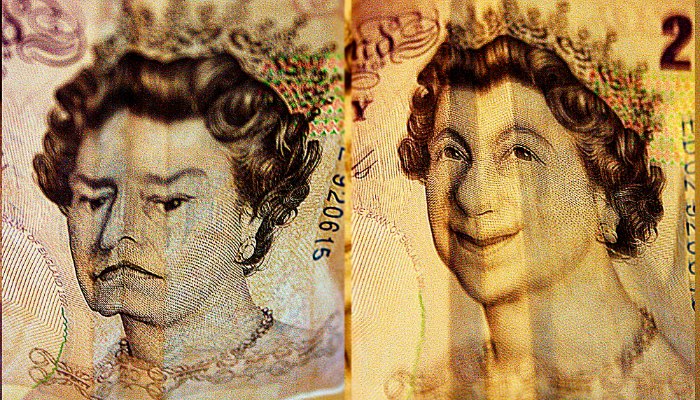 £10 BONUS OFFER: Earn easy cash by watching videos, playing games, and entering surveys.

Get a £10 sign up bonus when you join today.

Join Swagbucks here >>
It's been a while since I've shared what's going on with our debt. I used to talk about it quite often as sharing our journey to be debt free has empowered me and kept me accountable.
You, dear reader, keep checking up with me too to make sure I'm on track – so thank you! It's not that I haven't shared what we've been doing for any reason, I've just been genuinely busy and getting on with "normal" life.
We've been making our payment arrangements as planned and finding ways to up our income so we can clear our debts quicker.
I am writing today as something a little more out of the norm happened.
Two letters arrived in the post for me today and I opened them. I had been waiting for them for the last few days and it just so happened that they arrived at the same time.
I picked them up off the doormat and studied the envelope for a few minutes. They were both plain white with an ominous return address on the back.
I took the letters into the kitchen, put them on the side and made myself a cup of tea but my eyes did not leave the letters for one moment.
I wanted to open them and see what was inside however I tried to drag the time out because I wanted the feeling of excitement to stay with me for as long as possible.
This is totally the opposite feeling from just 18 months ago.
A letter would arrive on the doormat and I would sigh – another bill! Who else wanted money? Who else was chasing me for late debt payment? I hated getting anything in the post.
Letters would pile up anywhere that was out of site. The drawers were full of unopened letters or they just used to get piled up somewhere and left to gather dust. To be honest I never had an intention to open any of them.
However, today is different. Today I am not scared by what these letters may hold.
I have taken control. I am controlling my debt and it is no longer controlling me.
Sitting down with a cup of tea, I opened each letter slowly and had to skim read them because I was too excited to see what they said.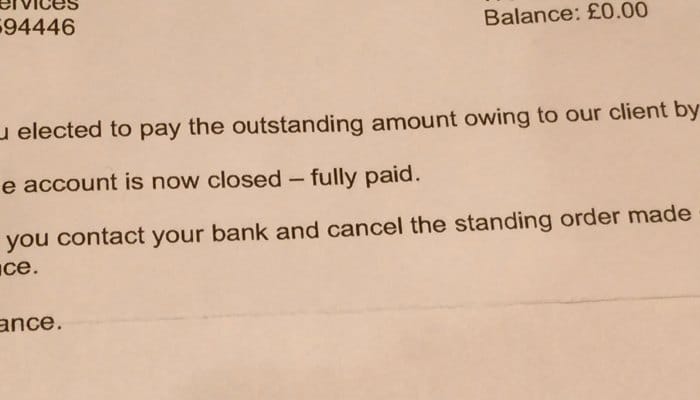 The other letter was similar:
Dear Mr Willis
We refer to your recent communication with this office and confirm that the balance required to redeem on the above account is £0.00.
I continued to drink my tea and I smiled.
I re-read the words again – FULLY PAID – CLOSED – £0.00 – WHOO HOO!!
Another One (or actually two) Bites the Dust!
In total, with these two gone, that's another £1,000 cleared! What originally started off at around £42,000 of debt now sits at just over £27,000 left to pay. We started really clearing our debt in September 2013 and in 16 months we have cleared over £14,000.
We have done this by reducing our outgoings to the bare minimum, managing our money so that every penny is accounted for and hustling like crazy.
We haven't stopped living and in that time we have managed to get married as well!
Slowly but surely we are clearing our debt. We are doing it. It is possible!
For anyone who has been with me since the beginning (big respect for still being here and *high five*) you will know how adamant I am to clear my debt and the lows I have experienced.
There is still more to go but I'm kicking it. I WILL BE DEBT FREE.
There is a light and freedom, I can see it and feel it!
Now, dear reader, pump yourself up and join me and Freddie for a sing along!
Image via Flickr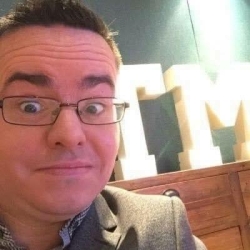 Latest posts by Ricky Willis
(see all)