Having a baby not only changes your life in every way possible but it also has a huge impact on your finances, especially for new parents.
£10 BONUS OFFER: Earn easy cash by watching videos, playing games, and entering surveys.

Get a £10 sign up bonus when you join today.

Join Swagbucks here >>
I'm expecting my first baby this summer and the amount of information I've been bombarded with is crazy.
Until recently, I never fully appreciated the burden many parents have (especially women) with job security, flexible working and childcare choices.
Preparing your finances in time for your new arrival is definitely a top priority. The last thing any new parent wants to worry about is money when they have a baby to fuss over.
Money and work
One of the first things I looked into was Maternity Pay, which affects everyone differently.
If you're working, your employer should have some form of maternity policy in place.
Maternity pay is usually a combination of Statutory Maternity pay and Company Maternity pay which is often dependant on your length of service.
If the policy is anything like mine you'll need the enigma machine just to decipher it.
Partners are also entitled to 1-2 weeks paid paternity leave, again this is dependent on service so be sure to ask.
Talking it through with your employer, an HR contact or even colleagues familiar with the process should help you understand things better.
You can find detailed information about maternity/paternity pay on the Government website.
Also, if you receive certain benefits you may also be eligible for a Sure Start Maternity Grant and all parents normally qualify for Child benefit which starts at £20.70 a week.
Paid parental leave is not exclusive to expectant women.
Nowadays there are many options for families such as shared parental leave and adoption pay for adoptive parents – it's always worth checking what you may be eligible for.
Work out your finances
Overhauling your personal finances is essential.
Keep a budget, know what your outgoings are and tackle them one by one.
I frequently call my utility providers to negotiate better deals, I make sure credit card interest is always at 0% and I'm never loyal to the same supermarket.
Saving any additional income you can now to bridge the gap between maternity pay and your usual income is also a great idea, having a little nest egg of money (however tiny) provides some reassurance.
Baby shopping
Getting carried away with baby shopping is easily done.
There are far too many products and gadgets out there to tempt us and if it's your first child you will naturally go a little overboard.
I've got my eyes on lots of nice things but the only way I'll allow myself to buy them is if I can get a deal.
I like nice things but I don't like paying full price, so I've done a few things to help me sniff out the bargains.
I've set up deal alerts on HotUKDeals to notify me when a deal is posted that contains one of my key words, so that might be things like 'nappies' or a brand such as 'Tommee Tippee'.
It's well worth taking a look at the Lidl Baby Event when it next comes up as you can get massive deals on leading products.
Free baby stuff
I've joined every supermarket baby club going to ensure I don't miss out on promotions and I've signed up to brand websites like Pampers and SMA to gain free coupons.
Freebie websites like LatestFreeStuff often feature baby-related freebies too, last month I got a Bepanthan sample through the post and a self-sterilising bottle.
A useful event to attend is The Baby Show, held in London and Birmingham throughout the year (I've even seen free tickets about).
Like most exhibitions, you will come across free samples and exclusive "show offers" on certain products.
It's also a great place to get inspiration and see everything you could possibly need under one roof.
Even choosing a pram feels like picking a car, I don't know my Bugaboos from my Quinnys so to see them all in one place and give them a whirl is going to be really helpful for a newbie like me.
Second hand
You may also decide that brand new isn't for you so aside of the usual eBay and Gumtree sales, attending an NCT Nearly New sale is a great place to pick up some bargains.
I've found local car boot sales to be full of goodies.
Most babies grow out of clothes so quickly that the clothing sold at car boots is often hardly worn.
Get prepared now
Necessities such as nappies, wipes and possibly formula milk will all become part of your regular shop, so why not get used to the added expense now by introducing them into your shopping.
Buying a few packs of wipes each week along with your groceries until the baby arrives will help you build a nice stockpile.
I tend to pay attention to the actual unit price per nappy and I will definitely consider Aldi's much loved Mamia brand which comes highly recommended by lots of parents.
Possibly the most valuable piece of advice I have is just to network.
Chat with other parents, find out what did and didn't work for them.
Ask what products they cannot live without, what's collecting dust in the garage and always, always shop around!
Our parents survived without bottle-makers and nappy bins so chances are we can too.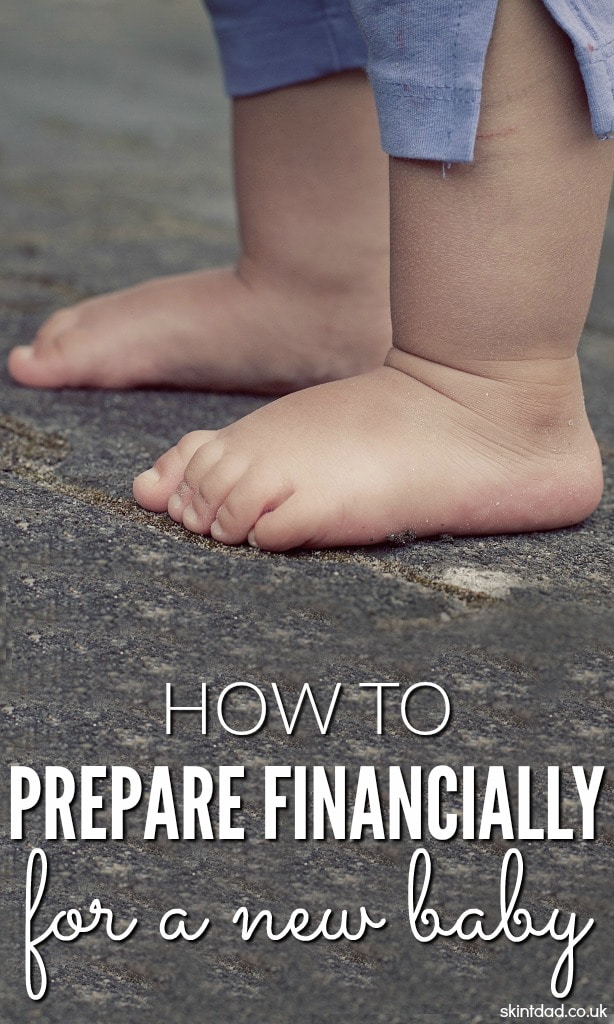 Latest posts by Skint Dad Contributor
(see all)